A retailer's supply chain is a network of companies involved in sourcing, manufacturing and distributing its products. This dynamic web spans multiple business functions, including procurement, warehousing, inventory control, partnerships with third-party logistics companies and more. With so many moving pieces involved, retailers need to optimize every link of their supply chains to maximize their output and meet customer demand, while keeping their costs as low as possible.
That's particularly important today, with retail businesses under pressure to deliver more products to more customers faster than ever. Find out why a strong supply chain is essential to modern-day retail businesses and how to optimize supply chain processes from start to finish.
Key Takeaways
Superior supply chain performance gives a powerful advantage to retailers that want to reduce costs, keep up with customer demand and maximize profits.
Retailers can take advantage of multiple opportunities to optimize their processes, at every stage of the supply chain — from inventory management and warehouse automation to source-tagging and pricing strategies.
Integrated supply chain management software provides retailers with real-time visibility across the supply chain, helping them make data-driven decisions to improve efficiency and maximize profits while driving down costs.
The Importance of a Strong Retail Supply Chain
Consumer purchasing habits have shifted dramatically in recent years. The rise of online shopping, combined with an accelerated shift to digital channels in response to the COVID-19 pandemic, has put more pressure on retailers to meet customer demand, while remaining agile enough to adapt to market fluctuations.
With fewer people shopping in stores, retailers also need greater visibility into their supplier networks, warehouses, inventory levels and logistics processes to deliver a wide variety of goods to more locations than ever, including buyers' homes and local drop-off centers. What's more, retailers need to accommodate returns from more locations than ever, which requires flexible reverse logistics.
A strong supply chain helps retailers remain competitive, providing a real-time view of their processes so they can adjust to changing conditions on the fly, whether they need to redirect a shipment, move warehouse processes from overseas to a closer, more reliable location or optimize their inventory to match demand forecasts.
In addition to providing a competitive advantage and helping retailers build customer trust, a smooth supply chain also helps businesses keep their inventory costs in check. Better demand forecasting, the ability to balance procurement orders with storage capacity, knowing the ideal moment to clear dead stock that won't get sold — all of these advantages stem from visibility and optimization of the retail supply chain.
11 Ways Retailers Can Improve Their Supply Chains in 2023
An effective supply chain is an exercise in efficiency. Done right, it allows retailers to meet customer demand and maximize profits. In contrast, an inefficient and disjointed supply chain can lead to delays, inventory challenges and dissatisfied customers, all of which may eat into a retailer's bottom line and compromise its customer relationships. For example, a toy manufacturer whose orders are delayed during the holiday season will not only face a logistical nightmare in managing late deliveries and canceled orders, it could face backlash from customers who may become reluctant to purchase products from the company again.
Following are 11 ways retailers can improve their supply chains from end to end. The tactics highlight the need for complete visibility across every step of the supply chain, with a focus on managing inventory levels as products move through the stages of procurement, receiving, warehousing, packing, shipping and delivery.
1. Choose the right strategy for your business.
When developing a retail supply chain strategy, the primary focus typically revolves around what customers expect of a particular company. After all, an optimized supply chain often means different things to different retailers. For instance, a chain of grocery stores might prioritize local sourcing and speed of delivery to prevent food waste, while a luxury fashion brand might prioritize working with exclusive textile manufacturers to ensure the use of high-quality fabrics.
Other factors to consider when choosing the optimal strategy include the ever-growing customer preference for online shopping, which demands two-way fulfillment and returns procedures, use of automation to speed up warehouse and inventory processes, and the ability to increase scale on demand. For instance, a new smartphone manufacturer might want to capitalize on its unique value proposition by embarking on a global manufacturing and selling spree before the competition can catch up and match its phone features.
Regardless of the chosen supply chain strategy, it is important that retailers track their success by relying on clear metrics that correspond to their goals. For instance, the grocery store chain might set the goal of cutting delivery times by 15%, while the luxury fashion brand might look to cut dead stock in its inventory in half. By setting clear, measurable goals, retailers and their partners can remain accountable for, and continually work toward, ensuring a smooth supply chain that allows the business to be as successful as possible.
2. Benefit from technology investments.
The right technologies can elevate a retail supply chain, allowing it to operate as a lean and agile machine. Supply chain software can provide retailers with visibility into customer demand and inventory levels through every step of the product journey. Many retailers opt for cloud-based software that collects and consolidates data from every process and department in their supply chain in real time.
The ability to crunch large volumes of data quickly means inventory can be continuously forecasted and evaluated, based on a company's latest intelligence. Some retailers also employ artificial intelligence and machine learning algorithms to help analyze data. These tools draw on both current and historical information and can process enormous datasets to accurately predict customer demand and potential bottlenecks in a retailer's processes. This helps retailers build a responsive supply chain that can adapt to market fluctuations while creating a buffer for any potential setbacks.
3. Organize your source tagging and radio frequency identification (RFID).
One of the best ways to assess how smoothly a retail supply chain is operating is to track products through every stage of their journey. Many retailers rely on a process called source tagging to follow products from the manufacturing plant and warehouse all the way through to the time of purchase to identify the product's exact location at any point in time.
Source tagging involves the application of a "smart" label or barcode on a product. That tag not only allows managers to track products through their supply chains, but also helps alert retail staff if someone tries to steal goods sold in stores. Source tagging is often combined with radio frequency identification (RFID), which uses electromagnetic fields to monitor inventory and prevent theft.
Together, source tagging and RFID provide retailers with complete and precise visibility across their product supply chains. Newer tagging systems, including electronic article surveillance, take tracking to the next level by providing real-time visibility into inventory throughout the supply chain, as well as access to data on customer demand. This information might include the volume of products available to sell online at a given moment in time or the number of products needed to restock shelves in a brick-and-mortar location.
4. Improve your forecasting.
Effective forecasting helps predict what products customers are likely to buy and in what volume, which, in turn, enables retailers to meet that demand and project future revenues. In addition, accurate forecasting lets retailers optimize their inventory, avoid both overstocks and stockouts and maximize their profits by striking the ideal balance for maintaining inventory levels to meet customer demand.
Retailers may rely on third-party experts to provide demand forecasts that are based on tracking the market's performance. Although this information is valuable, other retailers often prefer to draw quantitative insights from their own internal and historical data, since this information offers a direct line to their own customers' preferences.
Demand forecasting is necessary for accurate inventory management. Effective forecasting ensures that a retailer will have enough inventory to capitalize on every sales opportunity and avoid overstocks and unnecessary storage expenses.
5. Consider closer sources.
Shipping and transportation costs make up a large proportion of a retailer's supply chain. While many brands have no choice but to source raw materials from overseas, others can keep their shipping and distribution costs in check by sourcing locally. As a bonus, local sourcing tends to result in faster delivery times for customers, which builds trust and fosters repeat sales.
Retailers often partner with local fulfillment centers, dropshipping agents or third-party logistics providers (3PLs) in locations where they sell their products, which takes the burden of managing this last mile of the supply chain off their plates.
6. Communicate across the supply chain.
With business growth come new challenges, especially when managing a complex retail supply chain. The key to overcoming these challenges is to ensure that every stage of the product journey is integrated and that every team involved communicates frequently and openly.
The retail supply chain depends on collaboration among many parties, from manufacturers and warehouse managers to procurement workers and logistics providers, and these teams may include internal employees and external suppliers. Each of these teams has its own priorities to manage, but all can also provide valuable insights on how to make the supply chain more efficient and cost-effective.
When a business gathers more insights into the needs of stakeholders throughout the supply chain, it gets a more complete picture of how performance can improve for every department involved in the chain. When combined, these insights can lead to greater supply chain output, at reduced cost.
7. Monitor performance with big data.
Supply chain optimization comes down to informed decision-making based on in-depth data. Tracking metrics — such as inventory turnover, warehouse capacity, the cost of storing products, the time required to prepare and ship orders and fulfillment accuracy — tells a retailer how the business is performing, as well as how it can improve.
The scale of data involved is difficult to effectively manage manually. Instead, large-scale data analysis — also known as big data analysis — is a top priority for growth-oriented retailers looking to process billions of data points to understand the best ways to optimize their supply chain processes. Automation of these processes may prove critical to success.
Ignite Your Retail Success Today
Take your retail supply chain from good to great with our quick guide to Supply Chain Analytics. Unlock game-changing strategies and level up your retail success with the power of data-driven insights.
Get Your Free Guide

(opens in a new tab)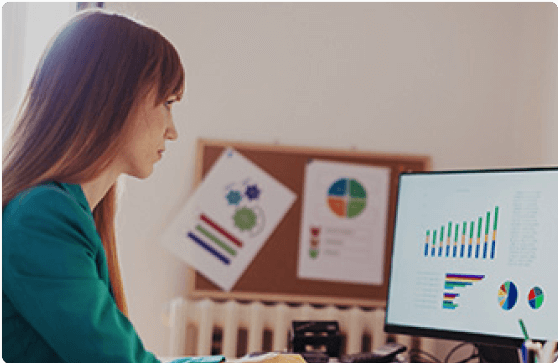 8. Automate your warehouses.
To optimize inventory control measures, retailers often use automation to handle the movement of products in and out of their warehouses to process items more quickly, reduce the risk of error and alleviate the burden of labor-intensive work for warehouse employees.
Warehouse automation might involve the use of autonomous robots to move heavy packages from one part of a warehouse to a shipping bay. Similarly, warehouse automation software may be used to record the movement of a retailer's inventory, diverting this time-consuming task from employees to a computer program that can perform the job in seconds.
Retailers may purchase their own automation technologies, or they may partner with third-party providers. For example, retailers might adopt an IT vendor's warehouse management platform to monitor inventory data or rent autonomous warehouse robots, rather than building and maintaining these items in-house.
9. Analyze pricing strategies.
Retailers naturally want to maximize their profits while keeping costs to a minimum, but their final pricing strategy will depend on a number of factors, such as the cost of product acquisition and how competitors price the same or similar items. Pricing also may change and evolve with market conditions — for example, clothing and technology retailers tend to follow up the holiday season rush by offering heavy discounts on their products in January, which helps them clear overstock and make room in their warehouses and stores for the next season's products.
The goal is to adapt pricing constantly in order to strike the right balance between gaining immediate profits and planning for long-term revenue. One popular option for retailers is to build a private label for products they can manufacture in-house. Compared with the traditional approach of buying goods at wholesale prices and selling them at a 50% markup, this approach, called white labeling, gives retailers more autonomy and control over how they price their products. White labeling tends to work best when selling large amounts of products at scale, as more competitive pricing generally requires retailers to move higher volumes of products to meet their profit goals.
10. Don't forget reverse logistics.
Sometimes customers change their minds. Sometimes they buy multiple sizes of a sweater to find the right fit. And sometimes they may receive faulty or unsatisfactory products they don't want to keep. Whatever the reason, returns are an inevitable fact of life for retailers. Enter reverse logistics, which allows retailers to retrieve products from customers and return the products to the appropriate manufacturer or seller. In this era of online shopping, when a customer's impression of a retailer is shaped by every interaction from purchases to returns, it's important for businesses to make sure they've created a smooth reverse logistics process.
Reverse logistics covers multiple steps, from providing return labels with every product sold online and processing refunds to inspecting returned items and shipping replacement products in exchange. The complexity of accepting returns from people's homes and drop-shipment locations, rather than at brick-and-mortar stores, spurs many retailers to work with 3PLs that specialize in managing the logistics of the return process.
11. Sync marketing and supply chain management.
Since the retail supply chain touches multiple business departments, communication among marketing, sales, procurement and other interrelated business functions is integral to the supply chain's success, especially when it comes to demand forecasting and supply chain planning.
This is especially true of the relationship between supply chain managers and marketing and sales teams. Marketing and sales departments gather key insights into customer behavior that help supply chain teams prepare to accurately meet customer demand. For instance, customers that put themselves on a waiting list for a new product expect to buy that product as soon as it goes to market, and they expect immediate delivery. So retailers need to make sure they acquire enough products to satisfy those expectations.
Manage the Unique Challenges of Retail Supply Chain With NetSuite
To maintain a successful supply chain, retailers need to manage the flow of goods from their suppliers through their manufacturing facilities and into their customers' hands. NetSuite for Retail ticks every one of those boxes, helping businesses meet customers' needs across every sales and fulfillment channel.
In addition, NetSuite Supply Chain Management allows businesses to keep their production and delivery schedules running smoothly, ensuring that products reach the right place at the right time. Meanwhile, with NetSuite Inventory Management, retailers can automate and simplify inventory management tasks, allowing them to track products across locations, while working more efficiently and driving down costs.
Thanks to NetSuite's integrated procurement features, retailers can maintain an open channel of communication with their suppliers to ensure that shipments are accurate and arrive on time. From there, demand planning, inventory management and predictive data analytics help businesses optimize their production strategies, based on real-time insights into their production data, financial reports, inventory levels and orders.
With planning, procurement and production processes aligned, retailers can ensure that every stakeholder along their supply chain can rely on a single view of the same data, leading to increased profitability, improved cash flow and reduced risk for businesses.
A strong supply chain is one of the most powerful tools in a retailer's arsenal, helping the business manage a complex network of suppliers, manufacturers, warehouses and logistics providers to drive sales and deliver products to customers quickly and easily.
In today's market, consumers expect smooth and speedy retail transactions. Retailers can meet customer demand by adopting an integrated approach to supply chain management, backed by powerful software that aligns all of their supply chain functions and drives collaboration among teams. A strong supply chain allows a business to maximize profits, while running the most efficient organization possible.
Improve Supply Chain in Retail FAQs
How can a retail company improve its supply chain?
Retailers can take many steps to improve their supply chains, from tracking and optimizing inventory to working with logistics partners to ensure reliable fulfillment. At the core of their strategies should be a global view of all the processes across their entire supply chain, from suppliers and warehouses to distribution and customer demand.
What are the four supply chain strategies?
A supply chain strategy guides the flow of goods and services from their creation to their end destination — i.e., their customers. Strategies can revolve around four factors: demand planning, rapid planning and integration, sustainability and efficiency.
What are the three P's in a supply chain?
The three P's in a supply chain are people, processes and products. Supply chain management involves optimizing each of these elements of the chain to maximize output and profits, while minimizing costs for the business.