Connect project activities with company financials
What is NetSuite Project Accounting?
NetSuite SuiteProjects project accounting enables companies to monitor and manage revenues, expenses and profitability over the lifetime of a job. Ensure clients are billed accurately and on time, automate complex revenue calculations and allocations and support multiple revenue scenarios on a project-by-project basis. And, with every transaction tied to a general ledger account, it's easy to gain a complete view into a project's financial health.
---
With NetSuite, we are able to see any potential issues ahead of time, which allows us to become very proactive rather than reactive.
NetSuite Project Accounting Benefits
---
NetSuite Project Accounting Features
---
NetSuite project accounting is integrated into your general ledger, accounts payable, accounts receivable, purchase order and inventory management systems to deliver visibility, productivity and efficiency benefits throughout the project lifecycle.
Invoicing
Centralize, manage and automate billing — from simple services invoices to more complex recurring, time-and-materials and fixed-fee projects. Manage approvals based on the customer or project with an end-to-end invoicing engine, and view outstanding balances in real time. Scale billing across the organization with standardized business rules that streamline approvals and ensure financial compliance.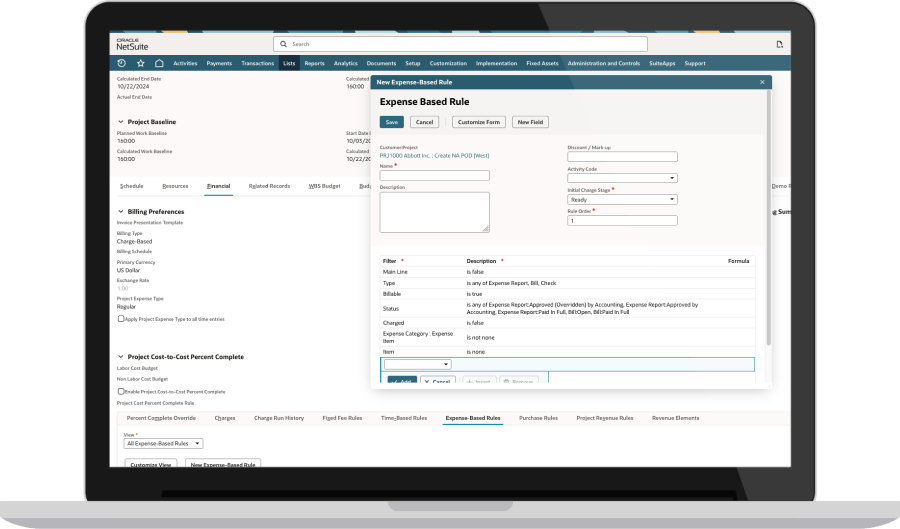 Revenue Recognition
Recognize revenue according to your unique schedule and guidelines, including multiple revenue rules, like labor, fixed, percent complete and other charge-based rules. Leverage revenue recognition that's separate from project billing to support how your organization measures profitability.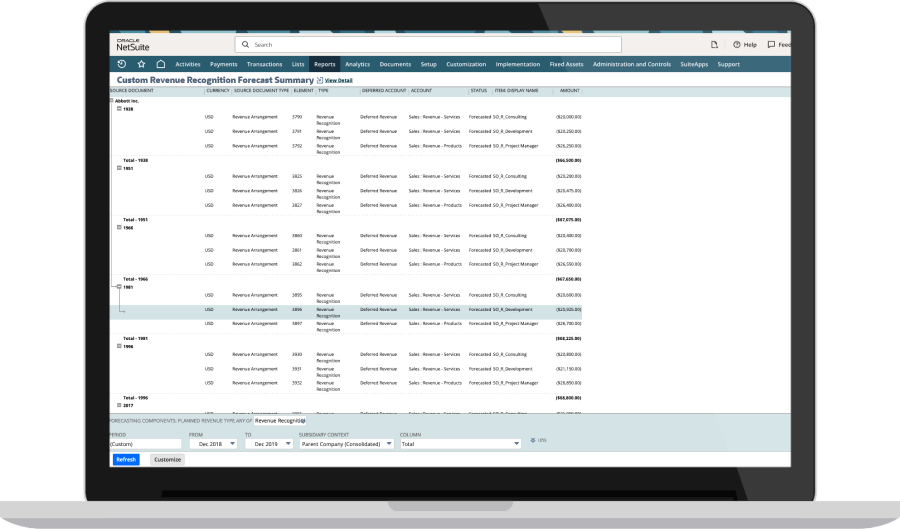 Job Costing Allocations
Identify, aggregate and assign purchase orders to costs for specific projects, and allocate direct and indirect costs against project budgets. Granularly assign costs associated with separate projects to the correct customers for more accurate project financials. Budget more effectively by identifying where each cost is allocated, on a per-project basis, and gain insights into all billable and nonbillable costs tied to specific projects.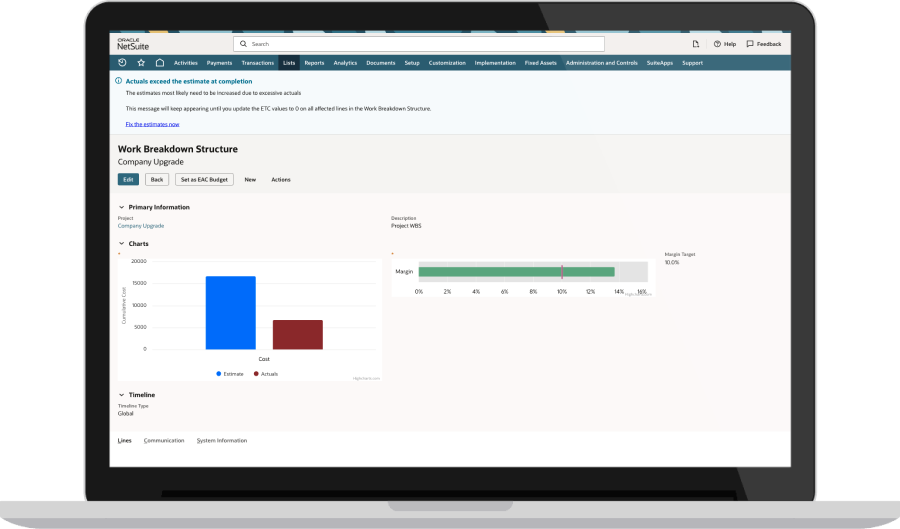 Forecast Tracking
Forecast charges attached to future activities, and measure overall project profitability for improved insights and predictability. Track revenue in detail or via summary reports to make informed decisions, and monitor in real time how project performance affects the organization. Easily view project profitability metrics and compare budgets versus actuals so projects stay on course.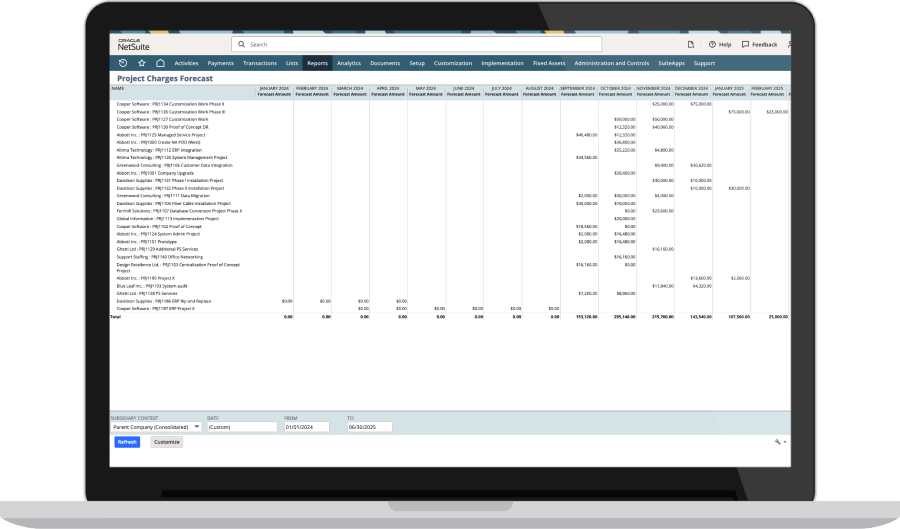 Dashboards and Reporting
Dashboards and reports can be easily configured, giving all stakeholders real-time access to vital information. Monitor billing and revenue summaries, and generate easy-to-read graphs and reports that show detailed project-level data, including profitability metrics, revenue logs and project budgets versus actuals.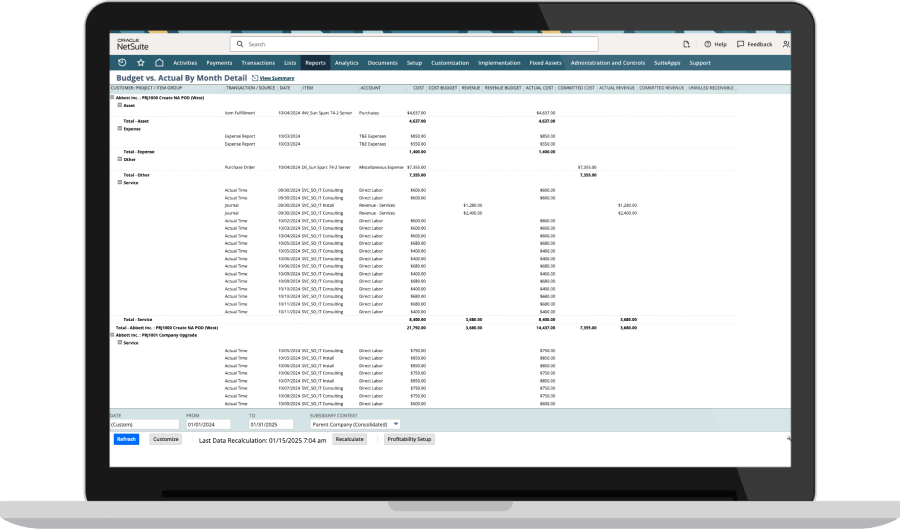 Challenges NetSuite Project Accounting Solves
---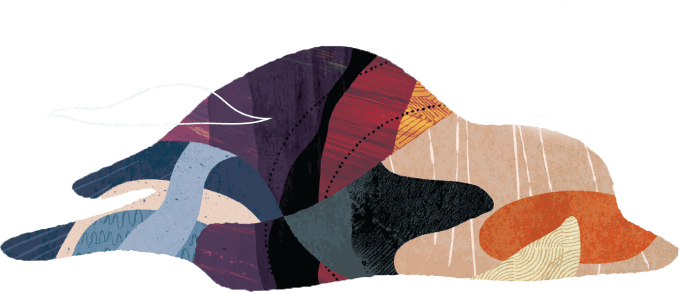 How Much Does NetSuite Project Accounting Cost?
Companies of every size, from pre-revenue startups to fast-growing businesses, have made the move to NetSuite. Looking for a better way to run your business but wondering about the cost?
Users subscribe to NetSuite for an annual license fee. Your license is made up of three main components: core platform, optional modules and number of users. There is also a one-time implementation fee for initial set up. As your business grows, you can easily activate new modules and add users — that's the beauty of cloud software.
Project accounting capabilities are included with the NetSuite SuiteProjects or Project Management modules.