Automate your accounts payable process
What is NetSuite Accounts Payable?
NetSuite accounts payable (AP) automates the review, approval and payment of supplier invoices, giving you greater control over the full procure-to-pay process. Maintain detailed vendor records, create and manage purchase requests and improve data accuracy by automatically matching invoices to the correct vendor and purchase order. Automated journal entries eliminate the need to manually enter debits and credits, saving time and ensuring payments are recorded accurately.
---
Go Beyond Basic Automation
Simplify and automate your entire accounts payable process by removing paper and manual invoice keying, matching, and payment processing. NetSuite AP Automation provides a fast and secure way to process invoices and pay bills directly through NetSuite.
---
Information at Your Fingertips
Gain real-time access to key accounts payable information including AP aging, check registers, invoices awaiting approval and payments in transit.
---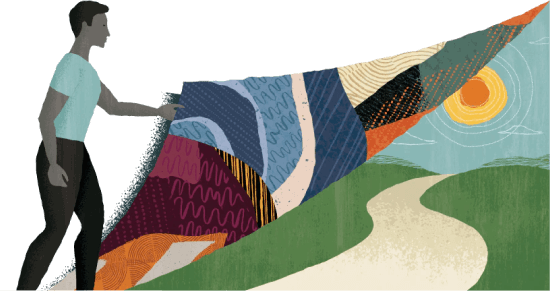 Power of the Suite
With NetSuite, accounting, sales, operations, purchasing and other departments can share information, seamlessly. Manage the entire procure-to-pay process on a single platform, monitor budgets to prevent overspending, automate approval workflows and time payments to preserve cash.
NetSuite Accounts Payable Features
NetSuite accounts payable automates the processing and payment of invoices. AP-specific dashboards, reports and KPIs put you in total control of your company's procure-to-pay process.
Accounts Payable Dashboard
User-configurable dashboards, KPIs and alerts keep accounts payable processes running smoothly. Track open purchase orders, invoices awaiting approval, invoice due dates, scheduled payments and other key information in real-time.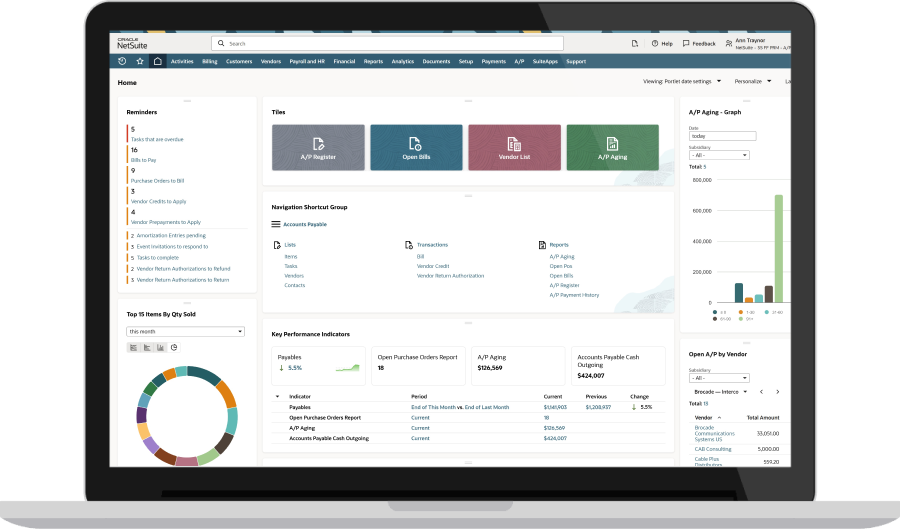 Vendor Records
Maintain detailed records on all suppliers, including contacts, mailing addresses, banking information, purchase orders, past payments and credit memos. Easily compare invoices received to vendor details to ensure accuracy, avoid late payments and reduce the risk of fraud.
Purchase Orders
Easily create and track purchase requests, automatically submit them to the appropriate managers for review and convert to purchase orders upon approval. Match vendor bills to POs and receiving documents to avoid overpayments or duplicate payments and reduce the risk of invoice fraud.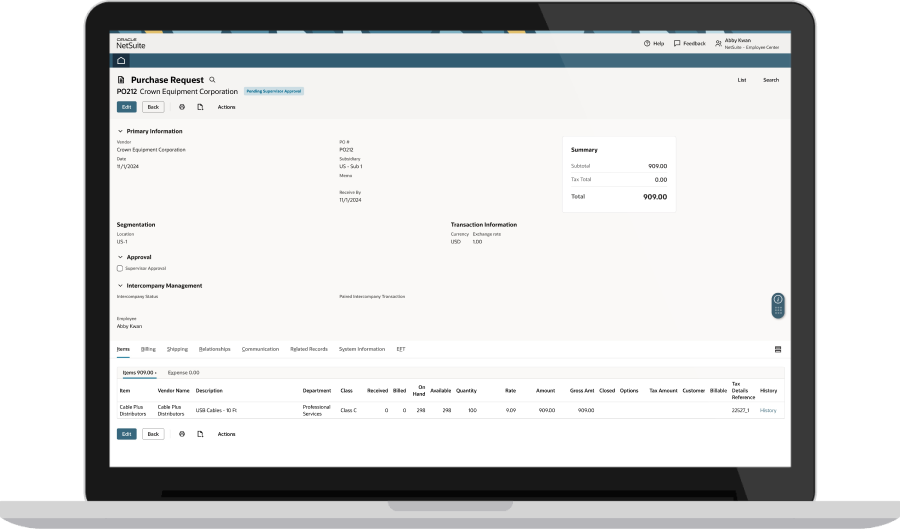 Invoice Management
NetSuite AP Automation provides a fast and secure way to process invoices and make payments. Simply drag and drop digital invoices into NetSuite. Invoices are scanned, and relevant details are converted into digital text and entered within NetSuite. Take advantage of embedded banking services provided by HSBC to pay bills directly through NetSuite.
Payments
Schedule payments via cash, check, credit card or electronic transfer based on invoice due dates or apply custom rules to capture early-payment discounts. Automatically schedule and approve recurring invoices, such as utilities or subscriptions, that fall within predefined thresholds. Easily track and apply vendor credits to outstanding invoices.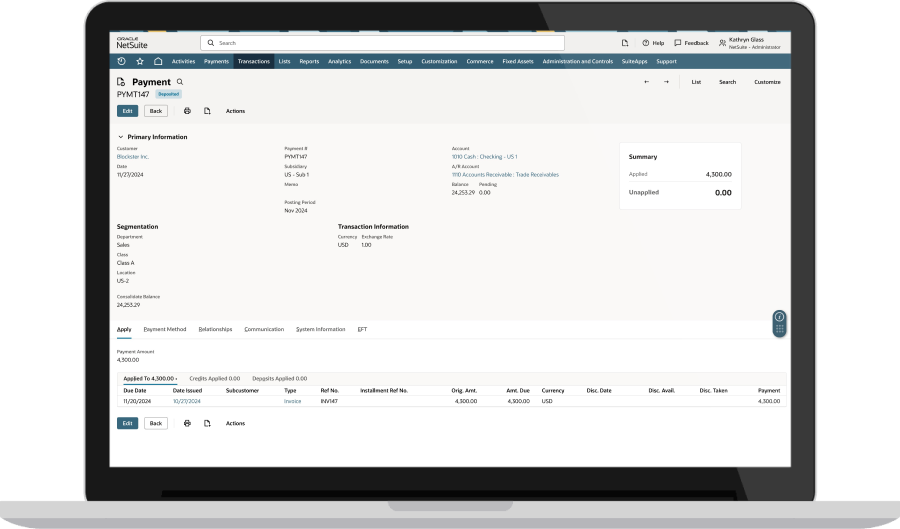 Reporting
Standard AP reports, custom reporting segments and saved searches allow detailed analysis by expense category, department, location and virtually any other relevant criteria. Track payments by date, status and vendor. Record prepaid expenses, sales taxes and contractor payments for 1099s and other tax forms.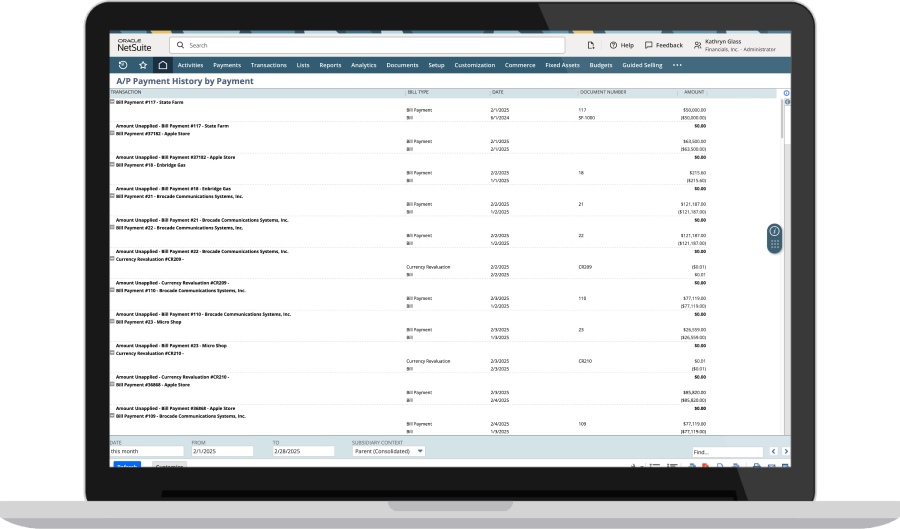 Because of NetSuite, we haven't had to add additional headcount to manage AP and the procurement process.
NetSuite Accounts Payable Benefits
---
See How NetSuite Can Help You With Your Role
---
Challenges NetSuite Accounts Payable Solves
---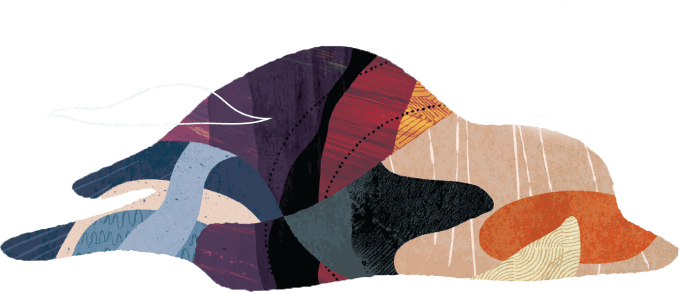 How Much Does NetSuite Accounts Payable Cost?
Companies of every size, from pre-revenue startups to fast-growing businesses, have made the move to NetSuite. Looking for a better way to run your business but wondering about the cost?
Users subscribe to NetSuite for an annual license fee. Your license is made up of three main components: core platform, optional modules and the number of users. There is also a one-time implementation fee for the initial set up. As your business grows, you can easily activate new modules and add users — that's the beauty of cloud software.
Accounts payable capabilities are included with the NetSuite platform license.