Startups are joining companies outgrowing entry-level accounting systems like QuickBooks and those saddled with older, on-premises enterprise resource planning software and turning to cloud ERP systems to run their core business processes.
Oracle NetSuite and Sage Intacct were two of the first cloud ERP software providers and are often on the short lists of companies making ERP buying decisions. While both are true cloud ERP solutions with multitenant architectures and popular choices for growing and midmarket companies, there are some important differences that any business making an ERP purchase should consider.
Three major evaluation points where the solutions are substantially different are the ability to support an international business, manage multiple entities, and easily pull reports on any piece of the business. NetSuite also offers industry-specific versions of its software with the features, configurations, and reports and dashboards companies in those sectors need.
What Is ERP?
ERP is a suite of applications that automate a company's core operations, including financials, inventory and order management, customer service, procurement, sales, marketing, and more. Because all modules operate from a single database, a modern ERP system delivers automation, collaborative workflows across departments, and sophisticated business reporting. More robust ERP systems also offer human resources management, professional services automation, ecommerce, and other capabilities.
Key Takeaways
NetSuite and Sage Intacct are two popular SaaS ERP systems with some similarities, but they have meaningful differences in functionality and system architecture.
Intacct may have a lower upfront cost, but after a recent price increase Intacct's cost per full-access user license is now more than twice that of NetSuite. In addition, Intacct charges extra for subsidiaries, reporting, and customization that can quickly drive up the total cost of ownership.
NetSuite's native capabilities for financial consolidations, reporting, CRM, and professional services automation (PSA) stand above Intacct's, and the vendor lacks a solution comparable to OneWorld for multinational and multisubsidiary businesses.
NetSuite's SuiteSuccess implementation methodology that helps customers go live faster at a predetermined price is a key differentiator, as are the platform's numerous tools to customize and integrate the software with other applications.
NetSuite vs. Sage Intacct: An Overview
Both NetSuite and Intacct are cloud-based ERP systems with multitenant, software-as-a-service (SaaS) deployment models. In a cloud ERP deployment, the software vendor maintains the software and database in its own data center. Customers access the software via the internet and typically pay a subscription fee.
With multitenant cloud suites, all customers are on the same version of the software thanks to automatic upgrades, which makes updates easier and creates economies of scale. Customer data is separated at the database level for privacy.
While there is some overlap between NetSuite and Intacct, their differences can best be summed up by the fact that NetSuite was designed to run an entire business, while Intacct was built to handle only accounting and finance. NetSuite offers significantly more breadth, including modules for robust customer relationship management (CRM), manufacturing, ecommerce and human capital management (HCM).
Intacct fills in some of these gaps with add-on applications, but the product doesn't offer the same level of functionality as NetSuite's modules. For example, Intacct's subledger architecture inherently limits reporting, and its English-only support and difficulty with currency conversions pose challenges for those that conduct business internationally.
Additionally, NetSuite has a larger partner ecosystem and advantages when it comes to implementation services that ERP buyers may want to consider.
NetSuite has a greater breadth of functionality with modules for additional functions, so businesses can start with a core financial package and add features as they grow.
How 4 Companies Dropped Intacct for NetSuite
See how these four businesses transformed billing, international expansion, and integrations—all by switching to NetSuite. Dive into the details to find out if that's the best move for your business.
Read Now
Product Maturity and History
NetSuite was cofounded in 1998 by Evan Goldberg, an entrepreneur and early Oracle employee, and Oracle founder Larry Ellison. Goldberg approached Ellison with an idea for a new venture after struggling to find a single system on which to run a previous business he had started. The resulting company, NetSuite, was a pioneer of the SaaS model and went public in 2007.
Sage Intacct was founded in 1999 as a suite of accounting applications for small and midsize businesses by David Chandler Thomas, an economist and professor at Ball State University, and Odysseas Tsatalos, a technologist. It received several rounds of venture funding but never filed for an IPO.
While the software products are close in age, NetSuite boasts a much larger customer base and an expansive global footprint. It has more than customers in 200-plus countries and territories. Intacct has roughly 22,000 customers, mostly in North America. It also has operations in Australia, South Africa, and the United Kingdom, but little support for businesses with non-English speakers.
Video: NetSuite vs. Intacct
Acquisitions by Sage and Oracle
NetSuite was acquired by Oracle in 2016 for $9.3 billion and is now run as a separate business unit within the company. Oracle's backing enabled NetSuite to more quickly expand its international operations and open new data centers based on the powerful Oracle Cloud Infrastructure (OCI)(opens in a new tab).
The Sage Group plc acquired Intacct in 2017 for $850 million. At the time, Sage operated a variety of on-premises accounting systems used primarily in the UK and had made little progress shifting to the cloud. The acquisition of Intacct gave it a bigger footprint in the United States and a viable cloud offering.
NetSuite vs. Sage Intacct: Vertical Industries
Below is a breakdown of core industries that NetSuite and Intacct serve.
| Industry | NetSuite | Intacct |
| --- | --- | --- |
| Financial Services | | |
| Software | | |
| Wholesale Distribution | | |
| Manufacturing | | |
| Retail and Ecommerce | | |
| Professional Services | | |
| Healthcare | | |
| Restaurants and Hospitality | | |
| Construction and Real Estate | | |
| Advertising, Media, and Publishing | | |
| Nonprofit | | |
| Transportation and Logistics | | |
NetSuite also offers editions for what it calls "microverticals" in areas like apparel, footwear and accessories, food and beverage manufacturing, health and beauty, campus stores, education, professional sports, and more.
NetSuite vs. Sage Intacct
While there are obvious similarities in their cloud-based approach to financial software, there are some significant differences between NetSuite and Intacct that buyers need to consider before making a purchase. The most obvious is NetSuite's suite-based approach to its platform. Beyond financials and HCM, which are standard ERP offerings, NetSuite offers modules for CRM, ecommerce, and PSA, as well as functionality for product-based companies like supply chain and warehouse management.
Although Intacct typically has a lower upfront cost than NetSuite, some businesses find themselves quickly outgrowing the software. While Intacct typically provides the functionality needed for those switching from an entry-level accounting system, as they expand, growing companies often confront limitations, like a limited number of reports and complexity that makes building new reports difficult. The costs to add the capabilities these companies need, starting with more users, add up quickly, as shown below.
Total Cost of Ownership with Intacct
New users
Each new full-access Intacct user now costs $3,000 per year, more than twice what NetSuite charges.
Subsidiaries
Intacct charges extra for each entity that uses the system, such as branch offices or country-specific operations. Consolidation of those entities for accounting and reporting purposes comes at an additional cost. Further complicating matters, Intacct has three different consolidation methods, each with different price points. In all, this can add as much as tens of thousands of dollars to your annual bill.
Customization
If an organization needs to create custom fields, reports (which still have limitations), or views, they must purchase Intacct's customization service. This costs a few thousand dollars per year.
Interactive Custom Report Writer
Users have limited ability to customize or create custom Intacct reports unless they buy the interactive custom report writer.
Interactive Visual Explorer
The Intacct equivalent of NetSuite's SuiteAnalytics reporting engine, the Interactive Visual Explorer, offers more ways to visualize data. However, unlike with SuiteAnalytics, users can only visualize certain linked datasets in the system. The Explorer adds another four figures to the yearly bill.
Platform Services
If a business wants to customize other elements like workflows, email and XML templates, and custom menus, they need to subscribe to Intacct's expanded platform services. Note that the platform services subscription eliminates the need for the customization service subscription.
Web Services
If companies want to handle integrations between Sage Intacct and other applications themselves, they must purchase a web services developer license for around $2,000 per user, per year. Since Intacct does not have a wide selection of modules like NetSuite, you'll likely need to integrate your ERP with other systems, and the cost of those connections add up quickly.
Sandbox
Intacct's test environment only includes four free sandbox refreshes per year—after that, customers must pay professional services' hourly rate. NetSuite, on the other hand, includes one complimentary sandbox refresh for each month the customer has the license.
In all, customizing Sage Intacct to meet the needs of your business over time can add a substantial amount to the annual contract. With NetSuite, all of these capabilities are included in the licensing cost.
NetSuite offers the financial functionality that businesses moving off spreadsheets or entry-level accounting systems need while continuing to support them as they grow. In fact, 62% of technology IPOs since 2011 are NetSuite customers. And that support extends to firms growing internationally—the system's multilanguage, multicurrency, multisubsidiary, and international tax and regulatory compliance capabilities simplify global operations.
Additionally, NetSuite's comprehensive, well-honed implementation methodology gets customers up and running quickly and lets them add functionality as they need it.
What happened with us on the Intacct side was that there weren't a lot of opportunities to have the application grow with us. NetSuite so far has been able to grow with us.
How NetSuite Compares to Sage Intacct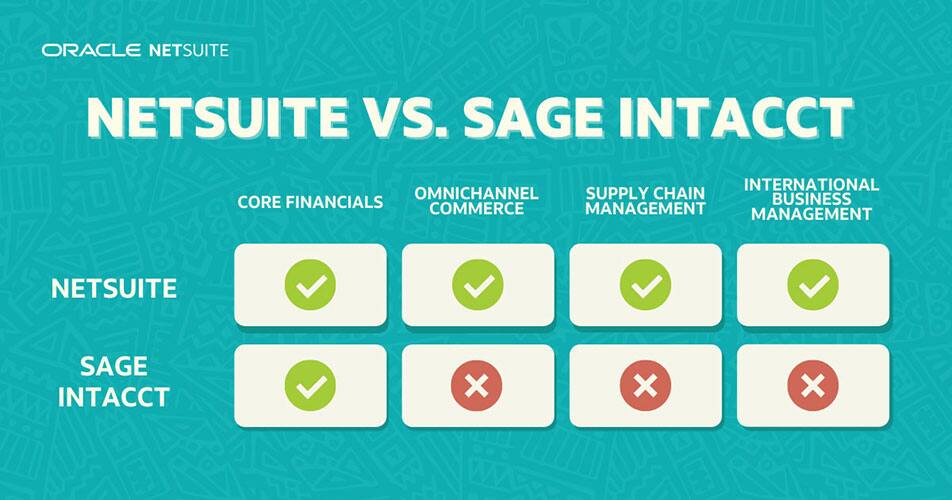 Financials
While there is overlap when it comes to the products' financial management capabilities, Intacct's licensing structure introduces cost and complexity, as the total cost of ownership table illustrates. To access features like value-added tax (VAT) compliance and advanced reporting capabilities, for example, Intacct customers must purchase additional modules. As we've seen, all of this adds to the total cost of ownership and can hinder growth. Companies require more features as they grow and evolve, and with Intacct, each of those represents an added expense.
| Core Financials | NetSuite | Intacct |
| --- | --- | --- |
| Accounts Payable | | |
| Accounts Receivable | | |
| General Ledger | | |
| Cash Management | | |
| Native Customizable Reporting | | |
| Fixed Assets Management | | |
| Subscription Billing | | |
| Revenue Recognition | | |
| Forecasting and Budgeting | | |
| Multicompany Consolidation | | |
| Multicurrency | | |
| Financial Planning and Analysis | | |
| Global Accounting and Consolidation | | |
| Global Tax Management | | |
| Governance, Risk, and Compliance | | |
= Native capabilities
= Some capabilities or requires partner support
International management
For businesses with global operations, or those hoping to expand internationally, there are some important considerations when choosing between NetSuite and Intacct. NetSuite ERP includes multilevel consolidations out of the box. NetSuite OneWorld supports 27 languages, more than 190 currencies, transactions in 90-plus bank formats, and tax and reporting standards for more than 100 countries. That explains why NetSuite has customers in 200-plus countries and territories.
NetSuite OneWorld also offers multicurrency consolidations, allowing businesses to easily roll up data from subsidiary to parent level, and the system facilitates intercompany consolidation. That helps organizations establish consistent business processes. Additionally, your number of subsidiaries or need for customized reports does not impact NetSuite OneWorld pricing.
Intacct supports only English and as a result does not have a significant presence outside of English-speaking countries. Each business entity requires its own licenses and, because of Intacct's subledger architecture, entities cannot access real-time data. Customers must subscribe to Intacct's customization or platform services to run custom reports on subsidiaries.
Multisubsidiary consolidation is also difficult with Intacct, requiring a separate consolidation module and multiple consolidation methods to choose from with varying costs. Intercompany reports also require subscriptions to Intacct's customization services, platform services, or custom report writer.
CRM
Intacct does not have a CRM offering. Instead, it relies on an integration with Salesforce.com. NetSuite has its own full CRM suite that includes sales force automation, customer service management, and marketing automation. And, because the CRM module is built on the NetSuite platform, it has real-time access to important data, like billing and inventory. That gives sales, customer service, and marketing teams the information they need to do their jobs better.
NetSuite also offers a connector to Salesforce.com CRM, and businesses that use it will benefit from the fact that those CRM records sit inside of NetSuite. That means an organization's vast CRM data elements are fully searchable and reportable for valuable insights.
Some businesses may not have a need for CRM today. But that could change, especially as they add more products or a services component. By choosing Sage Intacct, sales and marketing will not realize the benefits of a CRM that's embedded in their ERP system.
| Customer Relationship Management | NetSuite | Intacct |
| --- | --- | --- |
| Sales Force Automation | | |
| Customer Service | | |
| Marketing Automation | | |
| Sales Reporting and Analysis | | |
| Salesforce.com (SFDC) Integration | | |
= Native capabilities
= Some capabilities or requires partner support
= No native capabilities
Human resources management system (HRMS/HCM)
NetSuite and Intacct also differ in their core human resources functionality.
NetSuite SuitePeople covers payroll, employee recognition and performance management, and workforce management. Together, these provide accurate and on-time payments to employees, staff scheduling and time tracking, clear employee goals, and timely performance reviews. The system's comprehensive payroll functionality eases what can be a difficult process—without the right software, making sure employees are paid properly and promptly is complex and time-consuming.
NetSuite SuitePeople also provides the sophisticated analytics and reporting needed to manage a global HR organization.
Intacct offers some core HR functionality via its Sage People application. However, this is a separate software package, as is its payroll offering powered by ADP. Both require complex and expensive integrations.
The value of NetSuite's unified data model again shows with HR software. Like with CRM, native support for HR means an organization can easily map data to NetSuite even if it doesn't use SuitePeople for payroll or HR. This is not the case with Sage Intacct because the solution has never offered native HCM/payroll capabilities. This means Sage Intacct ERP and Sage People use separate data models that make it more difficult to see information on payroll and operational productivity side-by-side, for example.
| Human Capital Management | NetSuite | Intacct |
| --- | --- | --- |
| Human Resource Management | | |
| Unified Platform for HR, Payroll, and ERP | | |
| Workforce Reporting and Analytics | | |
| Global HR | | |
= Native capabilities
= No native capabilities
Reporting and analytics
NetSuite and Intacct both offer business intelligence and analytics capabilities with reports and dashboards, including self-service reporting. But once again, there is a significant difference in the depth of the offering, along with data model limitations. Intacct offers 60 reports for core financials out of the box compared to NetSuite's 200.
Intacct offers a report writer that allows users to combine operational and financial data, but it carries an additional charge, and there are limits to its configurability and the data elements that may be included. This is due to Intacct's architecture—it has separate data tables, each with information on a specific part of the business. Customers can access greater functionality with a range of bolt-on solutions, though these are often difficult to use and bring added expense.
In online reviews, businesses evaluating cloud ERP systems have reported that Intacct's dashboards are more difficult to use than expected based on the demos they were shown. This is because screens and dashboards shown during the demonstration are suggestions for the finished product rather than a standard part of the software package. The solution you get depends largely on the competence and experience of your implementation team, adding uncertainty.
There are no concerns about data tables with NetSuite because it stores and shares all data in the same database. This makes it much easier for staff to get the data they need from the system. NetSuite provides self-service reporting through what it calls "Saved Searches," and its global search bar and reminders portlet can access any information across the system—finance, supply chain, CRM, HR, and more. Dashboards and reports sorted by role and industry are populated with real-time data from the platform and easy for your staff to adjust to their preferences.
Finally, Excel exports from NetSuite maintain formats and formulas so various employees can conduct ad-hoc analysis as needed. There's no simple way to do that with Intacct.
Professional services automation
Both NetSuite and Intacct deliver functionality for services businesses, but NetSuite's offering is more robust. With SuiteProjects, it provides a full PSA application with billing, project management for collaboration and status updates, resource management to ensure the right people are on the right job at the right time, project accounting to connect projects directly to the finance system, timesheet management, and expense management. SuiteProjects also includes Project 360, which gives project managers a single dashboard to track critical KPIs and project performance through visualizations. This helps them make decisions that boost bottom-line results and mitigate risk.
Intacct offers some of this functionality, but it's not as fully developed an application. For project management, the company offers some Gantt charts and a projects module that provides billing along with some resource, expense, and timesheet management features. But Intacct's projects solution only comes with five reports, compared to 20-plus with NetSuite SuiteProjects.
| Professional Services Automation | NetSuite | Intacct |
| --- | --- | --- |
| Timesheet Management | | |
| Billing | | |
| Project Management | | |
| Project Accounting | | |
| Resource Management | | |
= Native capabilities
Production and supply chain
For businesses that manufacture, sell, or distribute physical goods, production and supply chain capabilities are another key consideration when selecting an ERP system. Below is a breakdown of how the capabilities of Intacct and NetSuite compare in areas that matter to these organizations.
| Production Management | NetSuite | Intacct |
| --- | --- | --- |
| Product Data Management | | |
| Work Order Management | | |
| Demand/Supply Planning and Forecasting | | |
| Quality Management | | |
| Manufacturing Execution System (barcoding, HMI) | | |
| WIP and Routing | | |
| Supply Chain and Warehouse Management | NetSuite | Intacct |
| --- | --- | --- |
| Order Management | | |
| Inventory Management | | |
| Procurement | | |
| Global Supply Chain Planning and Execution | | |
| Warehouse and Fulfillment | | |
| Warehouse Management System (WMS) | | |
| Demand Planning | | |
= Native capabilities
= Some capabilities or requires partner support
= No native capabilities
Omnichannel commerce
When it comes to omnichannel sales, NetSuite offers more functionality than Intacct through its SuiteCommerce modules. Here are how the two solutions compare in key functional areas:
| Omnichannel Commerce | NetSuite | Intacct |
| --- | --- | --- |
| Real-time Omnichannel Tracking | | |
| Native B2B Functionality | | |
| Embedded Promotions Tool | | |
| Content Management Tools | | |
= Native capabilities
= Some capabilities or requires partner support
= No native capabilities
Mobile support
NetSuite and Sage Intacct are both cloud applications accessed through an internet browser, meaning teams can access their data from anywhere with an internet connection. One key distinction is that Intacct does not have a mobile app, while those on tablets and smartphones can take advantage of NetSuite's free mobile app for a better experience.
Intacct encourages users to access the system through mobile browsers, but consider the advantages of a dedicated app:
Better user experience and adoption. Many employees prefer mobile apps over mobile websites, as suggested by the fact that they spend 88% of their time

(opens in new tab)

on mobile apps and just 12% of their time on mobile websites.
Enhanced safety and security. Native apps must meet security standards to earn approval from the major app stores where users download them.
Greater efficiency. A well-designed mobile app is generally much faster than a mobile site. Apps usually store their data locally on mobile devices instead of the web servers that websites use, meaning data retrieval is faster in apps.
Ability to work offline. Apps might require internet connectivity to perform most tasks but can still offer basic functionality to users in offline mode. Mobile sites may be able to use caching to load web pages without a connection, but it's unpredictable and limited.
Implementation Considerations
Intacct and NetSuite are both cloud-based systems, which negates the need to install and maintain hardware and data centers, as required by on-premises ERP systems. However, there are still many challenges in an ERP implementation that can disrupt a business's operations. That makes finding a trusted partner well-versed in proven ERP implementation best practices a vital factor in an ERP selection.
NetSuite customers often work with NetSuite Professional Services or a NetSuite partner to complete their projects successfully. NetSuite has also pioneered an ERP implementation and customer engagement process it calls SuiteSuccess. The SuiteSuccess methodology is based on data gathered over NetSuite's 25 years of successful ERP implementations and includes industry-specific best practices, templates, rapid implementation methodologies, and custom code. It provides dashboards and KPIs that are customized by role and industry.
| Customer Experience | NetSuite | Intacct |
| --- | --- | --- |
| Implementation Type | In-House Emphasis | Partner Emphasis |
| Implementation Price Model | Fixed Bid | Time & Expense |
| Depth of Integration Experience | | |
| Customer Engagement Methodology | | |
| Dedicated Account Management | | |
| Preconfigured Instance | | |
| Cloud Customer Community | | |
= Native capabilities
= Some capabilities or requires partner support
= No native capabilities
As a result, SuiteSuccess customers can get their ERP systems up and running in as few as 100 days. And, SuiteSuccess includes post-implementation support to help businesses expand beyond core financials into areas like CRM, PSA, HR, and ecommerce when they're ready to do so.
While Intacct's small in-house team—or, more likely, its partners—implement the system for customers, the provider has nothing analogous to SuiteSuccess. The quality of the finished product depends largely on the knowledge and expertise of the implementation partner.
Database and Architecture Considerations
NetSuite runs on the Oracle Database. And, since its acquisition by Oracle, NetSuite has migrated most of its customers to instances hosted in OCI data centers spread around the globe. Additionally, as NetSuite transitions to Oracle's Gen 2 Cloud Infrastructure, customers will enjoy even greater security, availability, scalability, and expandability, plus a path to the advanced Oracle Autonomous Database(opens in a new tab) and artificial intelligence.
Intacct also runs on the Oracle Database in two data centers based in Sacramento and San Jose, California, that are run by Quality Technical Services and Equinix, respectively. Both are third-party data center service providers. It also operates a data center in Dublin for UK customers and Montreal, Canada, via Amazon Web Services (AWS) Canada.
Platform and Integration
Both vendors offer developer platforms based on industry-standard JavaScript for customers and partners who wish to develop their own customizations, functionality, and applications. Both also provide integrated development environments (IDEs) and APIs to connect other applications to their platforms. However, Sage Intacct is starting to charge for API calls, while NetSuite does not charge per call or for the total number of API calls made.
Beyond these capabilities, NetSuite offers integration and platform tools including out-of-the-box REST- and SOAP-based web services APIs to connect the ERP system with other applications; a JavaScript API to create custom REST endpoints; a no-code workflow designer called SuiteFlow; VS Code and WebStorm IDEs that make it easier for developers to write code in NetSuite; and a SQL connector to export data from the system.
NetSuite's platform API options give developers and partners flexibility so they can build powerful business applications called SuiteApps that enhance the ERP solution's capabilities.
NetSuite's integration API options give integrators and developers flexibility since it comes with standard support for JSON/XML data formats and options to define custom integration formats. Developers can define powerful server-side business logic and expose it for external RESTful consumption to extend out-of-the-box APIs to support additional automation and complex integrations.
NetSuite also empowers developers to query and analyze data by issuing SQL statements via REST API with SuiteQL. This enables RESTful access to NetSuite datasets created with SuiteAnalytics tools.
The Sage Intacct accounting platform also offers customization and integrations through open, Xms-based APIs and software development kits (SDKs). But it cannot match NetSuite's robust customization options and customers must pay for access to REST API.
For both NetSuite and Intacct, customizations automatically carry forward with each upgrade.
| Platform | NetSuite | Intacct |
| --- | --- | --- |
| True Cloud | | |
| Partner App Store | | |
| Mobile | | |
| Seamless Upgrades | | |
| Ease of Customization | | |
| All Customers on Latest Version | | |
| Single Data Model | | |
| Customizable Workflow Automation (Beyond Approvals) | | |
= Native capabilities
= Some capabilities or requires partner support
= No native capabilities
Partner Ecosystems
Intacct offers three distinct partner programs: one for value-added resellers, one for accountants, and a marketplace where partners have built around 50 complementary applications on the Intacct platform. Other offerings on the Sage Intacct Marketplace are primarily integrations partners have created to connect their solutions to Intacct through Web Services. In all, Intacct features just 200 or so complementary add-on applications.
NetSuite's partner ecosystem also offers programs for value-added resellers, solution providers, and an accountant-specific program, along with an Alliance Program for global system integrators and a business process outsourcing (BPO) partner program for companies that offer accounting, customer support, and ecommerce services.
Its SuiteApp.com(opens in a new tab) marketplace features nearly 700 add-on apps that are either built on the NetSuite platform or tightly integrated with it.
NetSuite Pricing vs. Sage Intacct Pricing
Both Intacct and NetSuite base their pricing on the per-user/per-month model that is typical in the SaaS industry. Both vendors offer more functions for additional monthly fees, and both require one-year contracts renewed annually, at a minimum.
Intacct charges extra for each entity that uses the system, such as branch offices or country-specific operations. Companies with more than a handful of subsidiaries pay a flat fee rather than for each one separately. Either way, that can quickly get expensive for growing businesses or franchisers. The price of NetSuite OneWorld, however, does not change based on the number of subsidiaries.
Support Services
NetSuite has live customer support available 24 hours a day, seven days a week. It also assigns a dedicated account manager to each customer. The company offers three levels of support—Basic, Premium, and Advanced—supplemented with a self-serve knowledge base called SuiteAnswers and a user community to help answer questions.
Intacct provides multiple levels of support, but its live agents are only available 24 hours a day on weekdays. After that, it sends urgent issues to an after-hours line. The company also has a user community that may help answer questions. Businesses that use Intacct must log into an entirely separate system to view and manage their support tickets.
What Are the Functional Differences Between NetSuite and Sage Intacct?
Let's look at three specific areas.
Subledger architecture
Unlike Intacct, NetSuite's unified database does not rely on subledgers or batch processing. NetSuite saves all transactions in real time and transfers full details to the general ledger for more complete data.
Subledgers are a series of transactions grouped by type, such as sales accounts or fixed asset accounts. Systems like Intacct rely on subledgers. Intacct transfers items from journal to ledger to financial statement in a linear order—because the system cannot unify all the data in a single database, that linear process is the only way to keep inaccuracies from entering the general ledger. Batches are then posted to the books.
Even though Intacct claims "real-time batch processing" or "continuous batching," a significant portion of its help documentation is dedicated to helping customers navigate batch discrepancies, subledger reconciliation implications, and subledger cautions/considerations. This problem never has nor will exist with NetSuite.
Subsidiary management
Intacct's subledger architecture also makes multisubsidiary consolidation difficult and dependent on an additional consolidation module, as noted earlier. In contrast, NetSuite users have easy access to detailed subsidiary data through its Subsidiary Navigator tool. They can also click through consolidated reports for a more detailed view of any one entity.
The consolidations process in Intacct blocks the ability to drill drown to source transactions from the consolidated trial balance. Customers find themselves spending considerable time on workarounds to calculate a fully auditable trial balance. Intacct's subsidiary management mimics intercompany accounting by using customer books and custom journal entry methods without posting real entries into entity-level books. This makes the process fast and easy in some ways, but you lose traceability of the consolidations process.
NetSuite also provides out-of-the-box tools to make intercompany accounting easier. The system's multientity capabilities automate matching and elimination of intercompany transactions to simplify the intercompany netting process. It makes numerous intercompany accounting reports available out of the box.
In contrast, Intacct does not provide intercompany reports out of the box. Instead, Intacct delivers interentity reporting as a customized reporting package, thus users must subscribe to customization services or platform services to access it. Even then, accessing reports for varied business units or countries requires navigating multiple dropdowns and browser tabs.
Workflows
Both Intacct and NetSuite offer configurable workflows, but Intacct's are more constrained and support only basic processes. This may create a lack of visibility that could grow into a compliance issue.
NetSuite SuiteFlow lets employees automate business processes without writing any code through a drag-and-drop, What You See Is What You Get (WYSIWYG) interface. SuiteFlow is a powerful tool that works across modules and lets companies automate complex processes based on configurable business rules.
Intacct also has a tool to create automations, but it is not as visual or simple as SuiteFlow and has limited applications. With Intacct, you can only set up basic approval processes for items like journal entries and purchase orders.
Find the Right ERP for You
Discover nine questions you should ask software vendors and the specific system capabilities you need in this one-page guide.
Download Guide

(opens in new tab)
NetSuite Is a System for Growth
While Intacct often offers a lower upfront cost, NetSuite is typically the financial software of choice for growing companies, particularly those that require the more advanced functionality and scalability that NetSuite delivers and may be targeting IPOs. Companies with international operations or aspirations also tend to select NetSuite OneWorld thanks to its multilanguage, multicurrency, and multisubsidiary management capabilities.
NetSuite vs. Intacct FAQs
Is NetSuite easier to use than Sage Intacct?
Both NetSuite and Sage Intacct have intuitive user interfaces accessible through web browsers. However, some customers have reported it's difficult to tailor dashboards to their needs in Intacct, which is a straightforward process in NetSuite. It can also be challenging to drill down to the source data in certain Intacct reports compared to NetSuite.
Are NetSuite and Sage Intacct cloud-based solutions?
Yes, both NetSuite and Sage Intacct are cloud systems provided via a SaaS model. This means the vendor manages all infrastructure, upgrades, and other updates, so all customers are always on the same version of the software.
Does NetSuite offer more advanced reporting and analytics capabilities than Intacct?
NetSuite comes standard with more reporting capabilities and out-of-the-box financial reports than Intacct. The architecture of Intacct can lead to certain limitations with reporting and require add-ons that aren't necessary with NetSuite because all information is in one shared database.
Does NetSuite offer better customer support and training than Intacct?
Both software vendors offer multiple levels of support, but NetSuite has live agents available 24/7 while Intacct customers must contact an after-hours line on weekends. In addition, NetSuite Learning Cloud Support (LCS) provides extensive training options with on-demand access to role-based curriculums and live trainings.
How customizable are NetSuite and Intacct to meet specific business needs?
NetSuite and Intacct are both designed to be configured and customized to meet the unique needs of your business. The two systems have tools that let business users build workflows, but NetSuite SuiteFlow is more powerful than Intacct's offering.
Which software is better for ecommerce businesses, NetSuite or Intacct?
Ecommerce is one of the core industries NetSuite serves and there are many well-known online retailers that use NetSuite. NetSuite also has SuiteCommerce, a native ecommerce solution for B2B and B2C sites, which Intacct lacks. Both providers have solutions to integrate the ERP system with popular ecommerce software like Shopify and Magento.
Does NetSuite or Intacct offer better multicurrency support?
Intacct has some issues with currency conversions and only supports English, so most of its customers are in North America. NetSuite OneWorld has multicurrency and language support, which is why customers in more than 200 countries and territories use the software.