Visibility, collaboration and control to drive on-time project delivery
What is NetSuite Project Management?
NetSuite Project Management enables teams to collaborate and keeps managers current on the status of projects using real-time data, so companies can proactively identify and head off potential issues. With NetSuite's cloud-based solution, stakeholders gain complete visibility and control — they can monitor and report on project status anytime, anywhere. The result is a significantly improved project completion record, more satisfied clients and fewer nonbillable work hours.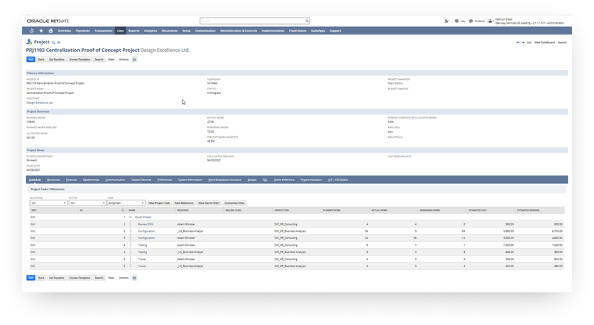 ---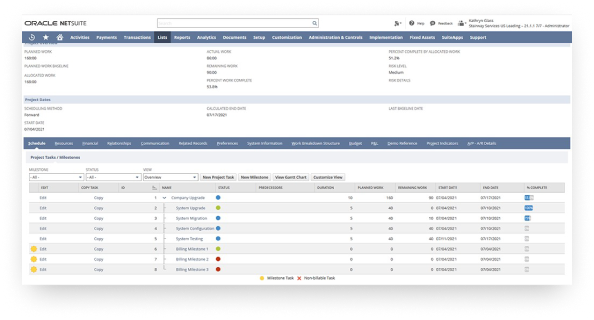 Drive Successful Projects
Manage multiple types of projects, including time-and-materials and fixed-price jobs. Easily plan projects, collaborate with others, stay organized and keep efforts on track. Managers can monitor all relevant financial metrics, including project budgets, estimates, bookings, work in progress and percentage complete, invoices, billing milestones, actual costs and more.
With NetSuite, we are able to see any potential issues ahead of time, which allows us to become very proactive rather than reactive.
NetSuite Project Management Benefits
---
NetSuite Project Management Features
---
NetSuite project management seamlessly integrates with NetSuite accounting, allowing you to monitor and manage revenues, expenses, billing and profitability over the lifetime of a project.
Project Setup
Take advantage of reusable project templates that provide starting points for projects, speeding and standardizing the creation process. Required items can be tied to sales orders, and bulk project creation saves significant time. Assign project managers based on preset template criteria.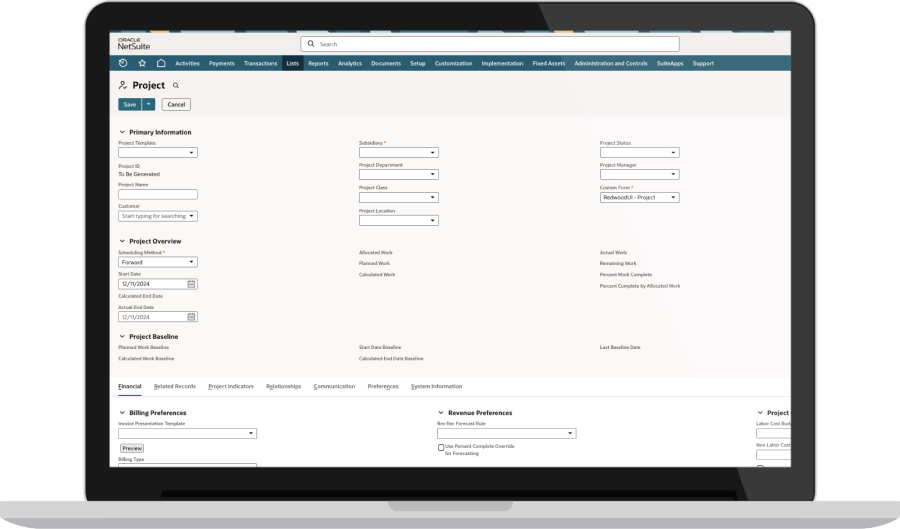 Project Dashboards
The Project 360 Dashboard gives project managers a consolidated status of all their projects. Gain complete visibility into an entire project, including Gantt charts, resourcing, and project profitability. View important KPIs at a glance, and quickly drill down into detailed focus pages for each project area. Take corrective or proactive measures using actionable links for faster mitigation. automatically opinion an up-to-date view of the current health of projects down to the task level.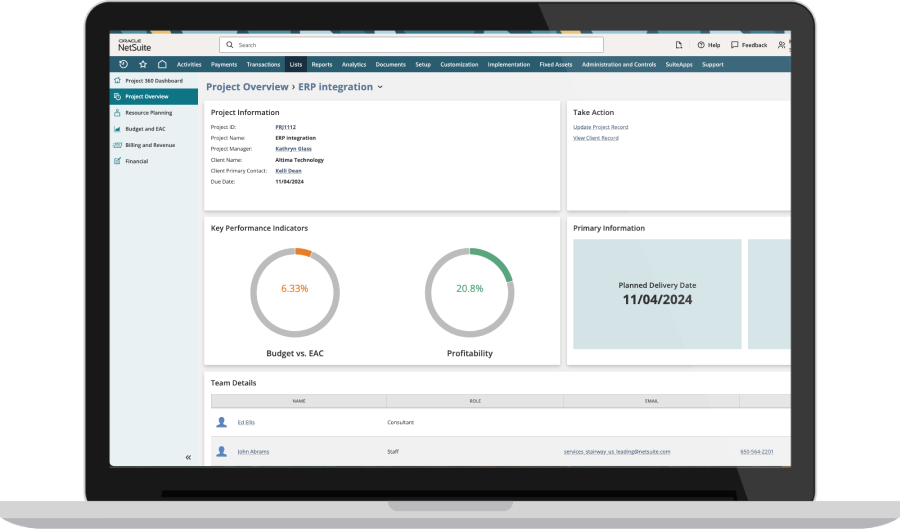 Project Center
NetSuite delivers a convenient way for managers to view summary information about their projects and quickly enter transactions against those jobs. Gain vital visibility and improve collaboration by assigning project resources a standard consultant role, with access to the project center.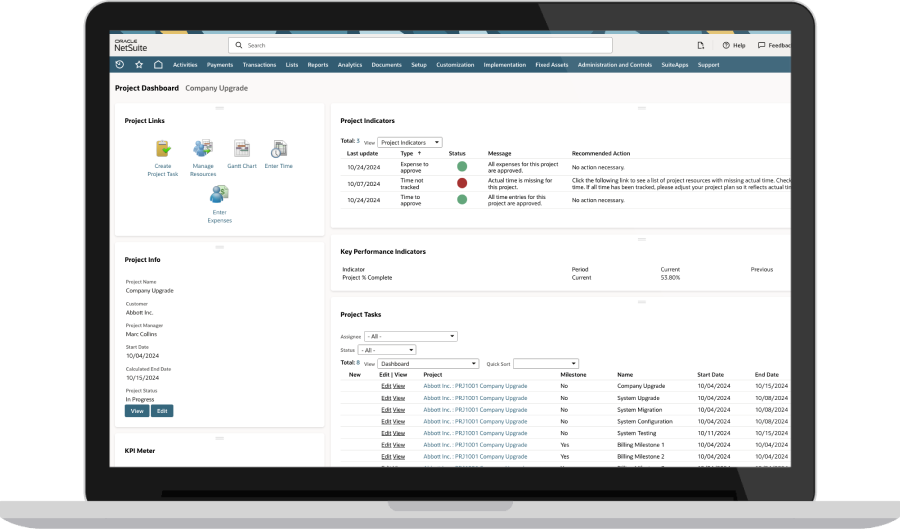 Project CRM
Organize calls, events and tasks and link them to specific projects. Now, all information regarding a client is managed in one place, resource tracking and real-time collaboration are more effective, customer satisfaction improves and teams can easily find all the information they need so projects proceed efficiently.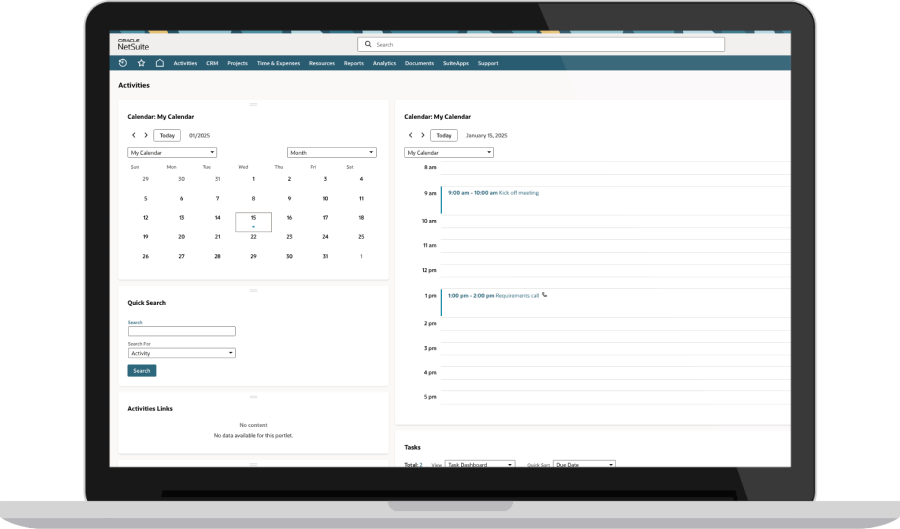 Project Budgeting
Create revenue and cost budgets to predict margins, and measure those estimates against actual transactions. Track progress and monitor the costs associated with each project to keep on top of financial performance — and adjust as needed to stay on time and on budget.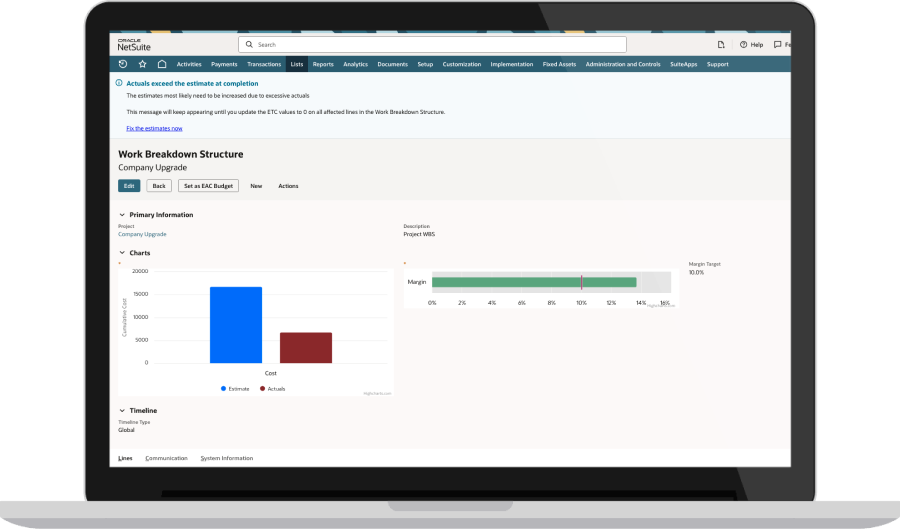 Challenges NetSuite Project Management Solves
---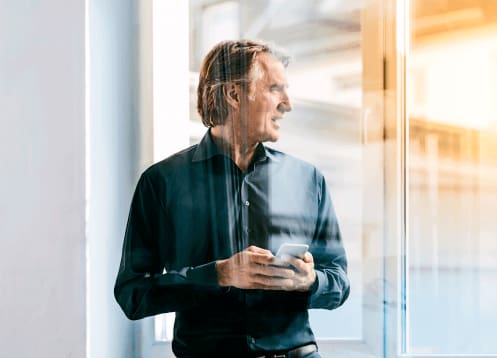 Faster Time to Value
NetSuite has packaged the experience gained from tens of thousands of worldwide deployments over two decades into a set of leading practices. These practices pave a clear path to success and are proven to deliver rapid business value and get you live on NetSuite in a predictable timeframe. Intelligent, stepped implementations begin with sales and span the entire customer lifecycle, so there's continuity from sales to services to support.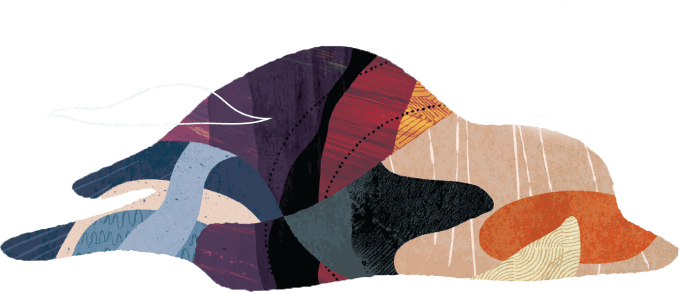 How Much Does NetSuite Project Management Cost?
Companies of every size, from pre-revenue startups to fast-growing businesses, have made the move to NetSuite. Looking for a better way to run your business but wondering about the cost?
Users subscribe to NetSuite for an annual license fee. Your license is made up of three main components: core platform, optional modules and number of users. There is also a one-time implementation fee for initial set up. As your business grows, you can easily activate new modules and add users — that's the beauty of cloud software.
Project management capabilities are included with the NetSuite SuiteProjects module or available to purchase as a separate add-on module.