Quick and easy time entry
What is NetSuite Timesheet Management?
NetSuite SuiteProjects timesheet management provides a quick and easy way to submit detailed timesheets, whether team members are in the office or on the road. Define approval workflows that match your unique business requirements. Track hours worked, and allocate time directly to projects or tasks to expedite project management and accounting.
---
Track Time from Anywhere
When it comes to employees entering timesheet information, the keywords are "simple and easy." NetSuite's intuitive, mobile-oriented time entry solution allows users to update hours spent on projects and tasks accurately and efficiently, ensuring complete information is captured the first time, every time.
NetSuite gave us the ability to have not only the SuiteProjects module but also a manufacturing module, all live in one ERP.
NetSuite Timesheet Management Benefits
---
NetSuite Timesheet Management Features
---
Keep a granular record of hours spent on projects and tasks and easily integrate that data with the rest of your NetSuite solution. Once time is logged, it can be accounted for automatically by posting it to your general ledger.
Timesheet Entry
Customize time-entry processes to align with business rules, include hours for multiple projects on a single timesheet and track and submit time logs in bulk. Connect timesheet data to the rest of the suite to flag how time-off requests and holidays may impact project heath.
Timesheet Approvals
Define user- and project-level approvals, amend approved timesheets, reject individual time entries on a timesheet and empower users to self-reject timesheets when necessary. Be notified when new timesheet entries are ready for approvals, and track approval progress through intuitive dashboards.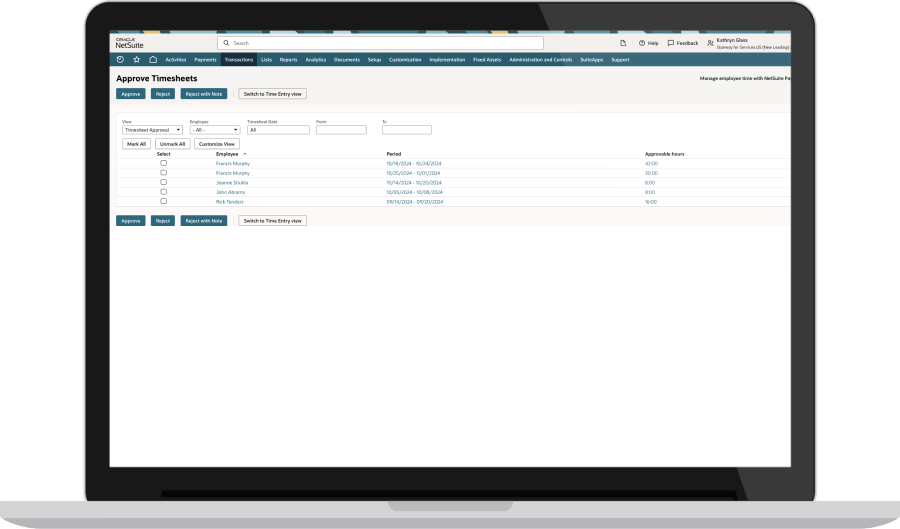 Mobile Access
Use your mobile device to create and submit time reports after completing a job or task. Directly upload images of receipts, view individual entries and manage approvals. Easily approve timesheets, even on the road or out of the office, so that projects aren't bogged down with backlogs of administrative tasks.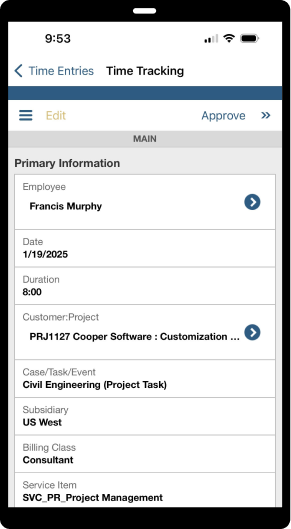 Challenges NetSuite Timesheet Management Solves
---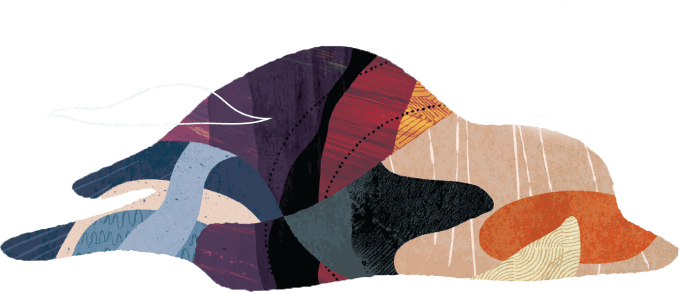 How Much Does NetSuite Timesheet Management Cost?
Companies of every size, from pre-revenue startups to fast-growing businesses, have made the move to NetSuite. Looking for a better way to run your business but wondering about the cost?
Users subscribe to NetSuite for an annual license fee. Your license is made up of three main components: core platform, optional modules and number of users. There is also a one-time implementation fee for initial set up. As your business grows, you can easily activate new modules and add users — that's the beauty of cloud software.
Timesheet management capabilities are included with the NetSuite SuiteProjects module.