If your company still handles its accounts payable (AP) manually, you're missing out on an opportunity to save time, money and aggravation. By automating the AP process, your finance team can reduce errors, minimize the risk of fraud and — maybe most important — free up time to tackle bigger projects that will move the company forward.
That focus on business advancement is a key theme for CFOs and other business executives. According to a Brainyard survey, 80% have positive or very positive outlooks for this year, with respondents pegging using data more effectively and identifying areas for both savings and strategic investment as the Top 3 priorities for their finance teams.
No one mentioned "manually shuffling paperwork" as a contributor to success in a growing economy, which is why automation is a key area of investment across multiple finance functions, including AP.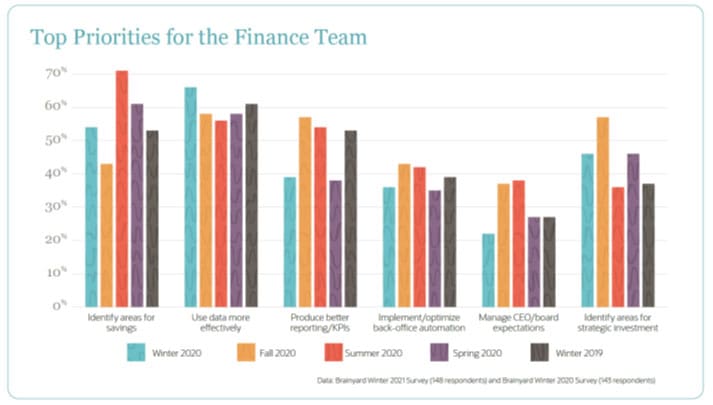 What Is AP Automation?
AP automation software removes manual steps from many of the steps involved in the accounts payable process, such as coding received invoices, matching them to POs, routing them for approval, initiating payments and reconciling bank data with the general ledger. Moreover, finance software that powers AP automation may also tap into a variety of data to populate dashboards and provide analytics capabilities that keep the business on top of its cash flow.
For example, if a bill for a company's monthly office rent is in line with the expected amount, the proper general ledger (GL) code may be assigned automatically, and the bill routed to the COO or office manager for approval. If that amount suddenly jumps 20%, however, the AP system should flag the charge for investigation. For one-off bills or those without a matching PO, the system might suggest a GL code, but an authorized user will have to confirm accuracy.
Key Takeaways
AP automation saves time, reduces errors and fraud and frees finance teams to work on projects that drive the business forward.
Tasks that may be automated include data entry, invoice/PO matching, assigning GL codes, routing invoices to approvers and initiating payments.
With finance automation, companies often gain better control over cash flow and the ability to take advantage of early-payment discounts.
Why Use AP Automation Software?
Traditionally, accounts payable workflows have been manual and prone to error and fraud. As companies grow, AP teams must process more and more invoices. This increased workload exacerbates existing problems and may delay the process of getting bills paid, potentially making the company lose out on discounts or even alienate suppliers. To cope, many companies hire additional team members, an expensive solution that may be avoided by investing in more-capable financial software.
In addition, more users in the system and a higher volume of transactions may open the company to AP fraud, such as kickback schemes, and manual errors that can cause headaches and wasted time.
Automating processes, including AP, that were previously handled manually will resolve many of these issues.
How and Why to Automate Your Accounts Payable Processes?
AP automation increases productivity, allowing existing personnel to accomplish more, so companies can hold off on hiring additional accounting staff. And, as discussed, automating the AP process minimizes errors and fraud by creating detailed audit trails, enforces compliance with purchasing policies, automatically flags outliers and may make for better relationships with suppliers.
Automating processes that were once handled manually using paper, spreadsheets and disconnected systems also enables finance to generate reports that authorized team members across all departments can analyze to spot unexpected charges or simply stay aware of spending trends. That's a proactive step that helps achieve the perennial goals of using data more effectively and identifying areas for savings.
As an example, an incumbent provider might be steadily raising its prices, though not by enough at any one time to trigger a decision-maker to take notice. By providing the budget owner with a report showing a steady upward trendline, finance has uncovered an opportunity to start a conversation with the supplier.
For companies just beginning to automate, AP is a good place to start because it's a time-consuming effort that must be managed on an ongoing basis; has historically relied on paper invoices sent through the mail, a costly and uncertain process; and tends to be an area auditors focus on, simply because it's a common source of errors and fraud.
Who Uses AP Software Automation?
The accounts payable software that powers automation is used by members of the accounting team, which may include a dedicated AP staff, plus the controller or CFO, mostly to approve check runs, and by line of business leaders to approve payments. It's often part of a larger financial system that may tie in to other business software, like ERP, HR or CRM systems, to provide a central source of data on cash flow.
Setting up AP software with automation capabilities initially may require input from experts able to help your company evaluate various options, such as SaaS versus an on-premises system. Defining rules, roles and parameters will be a task involving staff who understand exactly how your current accounts payable processing works.
Who Benefits From AP Automation?
CFOs who oversee the financial strategy and health of the business benefit from more up-to-date data, better analytics capabilities, more productive staff and an improved profile for the team with business units.
Controllers who handle accounting and financial reporting and are responsible for compliance and controls will appreciate a cleaner audit trail, fewer errors, reduced risk of fraud and improved cash flow.
Accounting managers who oversee the AP department's activities benefit from the ability to get more done with the same staff.
Bookkeepers who manage the day-to-day business of accounting will spend less time handling paperwork and chasing approvals and will appreciate being able to focus on exceptions.
Line-of-business leaders who are responsible for reviewing invoices gain not only one-click approvals but the ability to generate reports that show exactly where their budgets are going.
Types of AP Automation Software
There is a solution to enable AP automation appropriate for most businesses, ranging from basic accounting software that manages just one aspect of the payment process to more advanced solutions that tie in to other core business systems.
Advanced solutions. Companies serious about gaining the benefits of automation should look for a solution that can handle the complete invoice-to-pay-to-reconciliation process, with robust reporting and customization. Manual intervention won't be completely eliminated; most invoices will still need to be approved, exceptions will need to be corrected and a payment run will need to be approved by the appropriate accounting or finance manager. Still, the more autonomous the system, the bigger the benefits.
More robust AP systems manage the entire accounts payable lifecycle with minimal manual intervention and are part of a larger accounting and financial software suite that may also be integrated with other core business software, such as the company's ERP system. Financial data flows into a central database and is available for robust analysis and reporting.
Basic solutions. On the lower end are basic scanning and data-capture apps. As invoices come in, they are scanned, if necessary. An AP specialist applies proper coding and routes them for necessary approvals, then for payment and reconciliation. These basic systems require more human intervention and are best for firms that process a small number of invoices every month.
5 Key Benefits of AP Automation Software
Automating accounts payable processes adds value while freeing up your team to focus on managing exceptions. Here are five specific benefits of AP automation:
Saved time: No more email tag or, worse, leaving paper invoices on someone's desk for approval. With automated routing, teams reduce the amount of time it takes to approve, reject or revise invoices prior to routing them for payment.

Reduced costs: Processing invoices by hand takes time, and time is money. By automating the accounts payable process, companies can significantly reduce the amount of time it takes to manage invoice presentment, coding and other steps in the accounts payable process. And don't forget managers who need to approve invoices in a timely manner; modern AP software delivers on the "one click" promise.

Fewer errors: When employees aren't manually entering data, the likelihood of human error is greatly reduced. With a fully automated system, data on each invoice is automatically matched up with PO information, which makes it easier to identify supplier errors, like duplicate billing or overcharges.

Increased visibility: AP automation software tracks and displays "at a glance" the complete payment cycle on every invoice. This insight leads to more accurate and reliable reporting and supports good decision-making.

Fraud protection: With a high percentage of companies being targets of payments fraud, taking steps to protect your business has never been more important. Modern accounting software enables companies to define rules so that only authorized employees have the authority to, for example, clear exceptions or release payments over a certain dollar amount. Companies can then build approval workflows with multiple signoffs, which increases the chances of catching fraudulent invoices before a payment is released.
AP Software Automation Features
Software vendors understand that not every company manages AP the same way and have developed a variety of capabilities designed to meet business's specific needs. Useful features to look for include:
The ability to automatically calculate available early-payment discounts and ensure the company receives all possible price reductions.

To the greatest extent possible, eliminate manual data entry. Modern software accomplishes this by, for example, easing automatic bill submission and providing advanced and accurate OCR capabilities to convert scanned documents into a format usable by the AP system.

Look for the ability to define and automate exception processing, when invoices do not match purchase orders or receipts, while ensuring that potential errors over a certain dollar amount are flagged to the level of seniority that the company is comfortable with.

Machine learning capabilities can ensure no invoice is lost or paid in duplicate and may spot and flag anomalies that may indicate a fraudulent transaction.

Real-time reporting throughout the A/P process is critical. Finance teams should be able to quickly pull up bills, receipts and contracts and drill down into individual transactions.

Based on your audit and compliance needs, look for appropriate reconciliation and accrual processes and detailed financial statements.
Finally, companies may want the ability to shop an app marketplace for third-party tools that integrate with their AP solutions, from specialized providers, and help with, for example, expedited global payments or industry-specific requirements.
Key AP Automation Trends
As technology continues to advance, financial software vendors are adding new capabilities to their platforms to better address customer needs and pain points.
Machine learning (ML), a subset of artificial intelligence (AI), can be particularly useful in AP. With ML, the system "learns" from previous transactions what is normal versus what could indicate an error or fraud and alerts finance teams of even small anomalies that could easily be missed. And, as machine learning software analyzes more diverse and larger data sets, it gets faster, more accurate and more attuned to anomalies. In AP, machine learning can help with a number of tasks, such as automatically routing invoices based on factors such as supplier or keyword and performing PO matching operations.
The difference between ML, which looks at existing data and learns how to spot outliers, and AI is that artificial intelligence ups the automation ante by adding context. For example, a true AI-enabled AP system might be able to query internal and external data sources to learn the average price of lumber in a specific date range and the volume of materials used by a home builder, and use that data to automate approval of invoices that fall within expected parameters — or flag those that indicate more material was billed for than used.
How to Transition to AP Automation
Automating systems isn't always easy; there are structural, technology and cultural hurdles. It can be particularly challenging for companies that depend on paper-based, manual processes and that use point solutions that don't talk to one another.
The good news is the benefits of automation far outweigh the issues that might surface during the installation and implementation phase. It won't take long for team members to appreciate technology assuming most of the repetitive work associated with invoice receipt, approval, payment and reconciliation. Most businesses find that rather than losing control, automation actually provides greater control; this is a key reason companies implement accounts payable automation.
To ensure a smooth transition, start by finding a solution that meets your company's needs — see the next section for more information on selection criteria. Examine your current processes, and see what AP challenges are causing issues for finance staff; maybe it's slow processing, matching errors or paying invoices before a service or product is delivered. Next, estimate both your current and expected invoice volume, out at least three and preferably five years.
A frank self-assessment is a critical step because you won't gain efficiency if you don't account for growth or simply try to automate inefficient manual processes.
Modern financial software providers have worked with thousands of companies and can help you bring methods up to par. For example, maybe your practice is to batch and pay invoices on the 15th and 30th of each month. With automation, you can be much more flexible — move quickly on invoices that offer early-pay discounts, for example, while waiting until the due date to settle those that do not offer incentives.
Consider your AP KPIs, such as average cost to process an invoice, top payment methods, invoices processed per employee, average approval times and percentage of supplier discounts captured.
Now, count the number of "touches" required for each invoice, and map out who handles each of those interactions. Based on all these metrics, consider your goals: Do you want to eliminate manual data entry? Do you need better reporting? Are you trying to cut down on errors and potential fraud? All of the above?
These are all important points to discuss with your IT team, software vendor or consultant. Then, your implementation partner can help design a system and workflow that addresses your needs while ensuring robust financial controls.
Finally, come up with a target budget and return on investment (ROI) goal for your software purchase based on the potential cost and time savings outlined in this article.
Choosing the Right AP Automation Software For Your Business
The AP goal setting and ROI analysis you did is the foundation as you begin shopping for AP automation software. While the process is normally led by internal IT, your technology service provider or a specialized consultant, bring your team members into the conversation by having them sit down and discuss their biggest pain points, issues they're seeing with the AP process overall and their goals and expectations once automation is in place.
Using these responses, your implementation partner can develop a list of top criteria to use when developing a "short list" of solutions to evaluate.
Other factors to assess:
Your current technology infrastructure: Are you mostly using on-premises software, or is your company, like many, moving to software as a service (SaaS) to gain benefits such as faster deployment and lower upfront costs?

Where your finance team works: Are you across many regional and home offices? If so, cloud has an advantage. Also consider the structure of your AP department to determine how comprehensive the solution needs to be.

What, if any, integrations will be needed — common examples are expense management systems and budgeting software. What can this solution do to reduce double data-entry across systems?
The "best" AP software solution is the one that will support your complete accounts payable operation, mesh seamlessly with other finance and core business systems and grow with your company. Doing your homework and working with a knowledgeable consultant will ensure you're making the right choice for the long term.
AP Automation Software Comparison
AP automation options range from contained, standalone systems developed by smaller vendors to expansive platforms supported by very large, established providers.
Here's a basic overview of the platforms that include AP automation:
NetSuite's financial management software is part of a unified solution that combines accounting, procurement, supply chain and other ERP capabilities on an integrated, cloud-based platform, improving the productivity and operational efficiency of businesses of all sizes.
AP Automation Case Studies
Professional services providers, including accounting firms, often derive major benefits from automation. AP is a pain point in project accounting, for example, because these businesses need a real-time view of each project's financial performance; that requires constant tracking of all costs, including often big-ticket employee T&E expenses and contract labor. Bank reconciliation can also be tedious and time-consuming, especially with high transaction volumes, multiple bank accounts or multiple currencies to reconcile. Again, automation can free up significant — and often billable — hours.
Startups often look to automate from the get-go. Brex, a young fintech company offering corporate credit cards for fellow startups, has been able to grow without adding additional headcount to manage AP and the procurement process, and without sacrificing on checks and balances. AP automation helps generate accurate data for founders to make smart business decisions.
Finally, small companies that still rely on paper checks, spreadsheets and highly manual processes are finding themselves the targets of fraud. Payment controls enabled by AP automation limit risk by, for example, implementing segregation of duties to make it more challenging to forge approvals, requiring dual-factor authentication to decrease the possibility of account takeovers, automating PO matching and flagging anomalies.
Why Is NetSuite the Right Solution for Businesses of All Sizes?
Companies of all sizes and across all industries can automate the accounts payable process with NetSuite's financial management platform. Specific AP capabilities include:
The ability to easily match purchase orders, item receipts and vendor bills.
Configurable payment criteria to optimize cash flow using NetSuite's SuiteFlow graphical workflow tool.
A vendor portal where suppliers can see the status of any invoice; this lessens the burden of responding to inquiries and promotes good vendor relations.
The ability to automatically prepopulate and verify relevant invoice information, based on PO matching.
Handle exceptions while automatically approving invoices that comply with predefined rules.
Today's built-in automation capabilities benefit businesses small and large, across industries. For AP specifically, automation means less time spent on mundane, repetitive tasks and more opportunity to improve cash flow, take advantage of discounts and drive down errors and fraud.
CFOs and IT and line-of-business executives who advocate for automation technology to help their finance teams work smarter will also see improved job satisfaction and retention. It's a win/win.
Top FAQs About AP Automation Software
Q: Why should we switch to an automated AP system?
A: Companies benefit by switching to an automated accounts payable system because manual AP processes are highly labor-intensive and prone to errors and fraud. Legacy AP practices hurt productivity, efficiency and the bottom line. As businesses grow, these processes become even more complex and unwieldy. To cope, many companies hire additional finance team members. But that's an expensive fix that may be avoided by adding AP automation.
Q: What processes will AP software handle for me?
A: AP automation software converts invoices into a digital format, manages coding and PO matching and routes them through a digital workflow that culminates with payment being issued and reconciliation. AP automation platforms may integrate directly with the company's core business software, including CRM, ERP and HR systems. This integration allows for more functionality, including automated approval of expense reports and the ability to access more data and use machine learning to spot anomalies.
Q: What are the benefits of AP automation?
A: There are many benefits of automating AP, with labor savings, error reduction, enhanced data insights and improved fraud detection being some of the biggest. AP automation can drive down processing costs while enabling the business to grow without hiring more people.
Q: How does AP automation help reduce fraud?
A: An estimated 81% of companies were targets of payments fraud in 2019, according to the AFP Payments Fraud and Control Survey. AP automation software can help businesses safeguard against fraud by controlling which employees have access to AP systems and are authorized to release payments and by requiring multiple layers of approval. Automated systems are able to spot anomalies and mismatches between PO and invoice. They may then catch fraudulent charges before the payment is processed.
Q: What will the automation AP solution of the future look like?
A: In the future, AP automation systems will likely leverage artificial intelligence (AI) and machine learning (ML) in new ways to further reduce the workload of accounting teams while ensuring accurate payments. As these advanced technologies help AP systems understand what is "normal" for each business, they assist human finance experts in helping drive growth.