In short:
The leisure & hospitality landscape has changed drastically over the past two years. Expect long-term shifts as demand rebounds.
Traditional metrics have become more important than ever as companies track and respond to dynamic customer preferences and expectations.
Using metrics to optimize revenue per customer can reveal new income opportunities.
The leisure and hospitality (L&H) industry is arguably anything but leisurely. While a vital pillar in the global economy, the sector is one of the most vulnerable to events ranging from recessions to climate disasters.
For L&H companies, a black swan event like the COVID-19 pandemic, in conjunction with continuing disruptions, signaled a time to rethink "business as usual." In the second installment of this ongoing series, we'll look at how hospitality organizations can use metrics to manage the changing travel landscape. We'll also tap into insights from Edgewood Companies, a leader in the hospitality space, to gauge how it is moving forward using its numbers as a guide.
In the first part of this series, we discussed how the environment in which companies benchmark performance has changed dramatically over the past two years, meaning it's time to reassess the relevance and usefulness of all metrics used in the business.
Our Source
For this article, we spoke with:
Aaron Hartwig
Hartwig serves as the CFO of Edgewood Companies), a Lake Tahoe-based company owning 500 acres in Nevada including a resort, golf course, casino and water company. Its main property is the Forbes four-star Lodge at Edgewood Tahoe, a 235-acre lakefront resort with an award-winning golf course.
A Pulse Check on Travel and Hospitality
COVID-19's lockdowns had a profound effect on travel, and in turn the hospitality industry. The sector was hit perhaps the hardest by the pandemic and is one of the few that has not come close to regaining its pre-pandemic demand.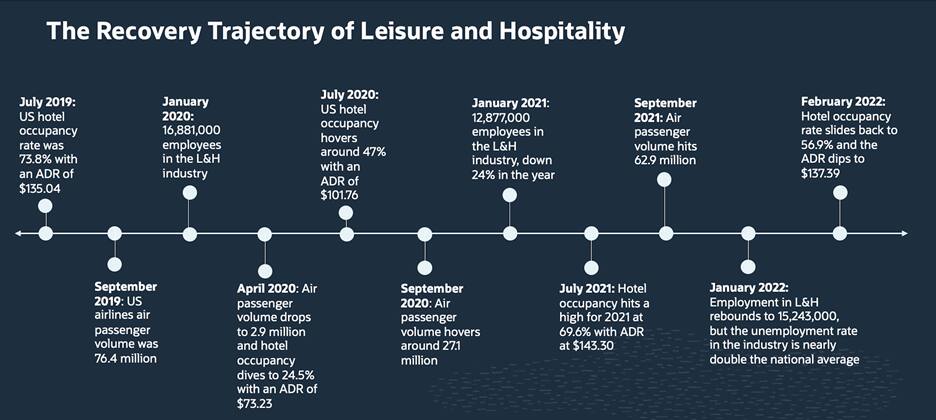 For hotels, many traditional revenue management metrics are still the ones to track, despite the shifting landscape. Prepandemic research conducted by the Hospitality Sales and Marketing Association International (HSMAI) showed over 77% of respondents selecting RevPAR as their preferred way to measure revenue performance. A study by OTA Insight showed only 44% of revenue managers rethinking their KPIs in June 2020.
Fast forward to March 2022, when a roundtable hosted by HSMAI made it clear that RevPAR and ADR were still the top choices for hotels. However, participants also noted the increasing importance of using a suite of metrics, not just one or two, to better understand their company's performance amid changing demand and preferences.
Occupancy Rate: The ratio of occupied units at a given time compared with the total number of available units.
Average Daily Rate (ADR): The average revenue earned for an occupied room per day.
Revenue Per Available Room (RevPAR): Measures a property's ability to fill its available rooms at an average rate. It can be calculated using one of two formulas.

Average Daily Rate x Occupancy Rate
Total Room Revenue / Total Number of Rooms Available

Average Length of Stay (ALOS): Identifies the average length of stay of guests. Generally, a higher number is better as a shorter stay reduces profitability due to increased labor costs.

Total Occupied Room Nights / Number of Bookings

Cost Per Occupied Room (CPOR): Helps hotels understand their profitability by looking at the average cost of a guest occupying a room, including housekeeping, laundry, heating, air conditioning and Internet. Lowering CPOR can directly boost a hotel's profitability.

Total Costs of Room Operations / Number of Rooms Sold

Gross Operating Profit Per Available Room (GOPPAR): This metric examines how much operating profit is being made from each room available in the hotel, not just the rooms sold. It shows how revenue compares to the hotel's operational performance by factoring in revenue sources beyond just rooms, like restaurants and bars, and including expenses like labor.

Gross Operating Profit / Total of Available Room Nights

TRevPAR: Assesses the total income a hotel generates — including revenue from room, food, beverage, spa and other offerings — on a per-available-room basis.

Total Net Revenue / Number of Available Rooms

Transient Segment Mix: Percentage of business received by non-group guests.

Transient Segment Bookings / Total Bookings
Transient Segment Revenue / Total Revenue

Group Mix: Percent of total business received from group guests.

Group Segment Bookings / Total Bookings
Group Revenue / Total Revenue

Loyalty Mix: Percent of business received from members of hotel's loyalty program

Loyalty Program Bookings / Total Bookings
Loyalty Program Revenue / Total Revenue

Channel Mix: Percentage of business received from a given channel.

Bookings from Channel / Total Bookings
Revenue from Channel / Total Revenue
Edgewood Companies: Metrics for Resilience
For Edgewood Companies, these metrics have become integral as it weathered not one but two shutdowns over the past couple of years. The Lake Tahoe-based real estate and hospitality company was forced to also shut down due to the massive Caldor Fire in 2021.
"I would say that our use of KPIs and understanding of them increased as we went into the shutdown for the pandemic and then for the fire," said Aaron Hartwig, CFO at Edgewood Companies. "Those KPIs allowed us to quickly analyze what is our best model for the business and our employees".
The main focus, The Lodge at Edgewood Tahoe, is a 235-acre lakefront resort with 154 guest rooms, three restaurants, an 18-hole golf course, a spa and salon, a ballroom and more.
The metrics the finance team uses haven't changed much. Traditional resort-style data points like ADR, occupancy rate, RevPAR and CPOR still rule Edgewood's dashboards, particularly as Hartwig and his team work to achieve the tricky balance between ADR and occupancy rate. Yet the insights these metrics provide and how they inform Edgewood's tactics has shifted.
Prior to the pandemic, the lodge catered to many groups, including corporate meetings and weddings. However, capacity restrictions on private and public gatherings in Nevada drastically reduced group travel. As restrictions eased, Hartwig anticipated group bookings would rebound. Yet, concerns around liability and new COVID-19 developments continued to hinder that segment from committing to reservations.
With group bookings suffering, Edgewood shifted its strategy to transient guests, which allowed for a higher ADR as there are no group discounts.
"Our KPIs showed quickly how our groups were diminishing and our leisure travel is growing rapidly, allowing for us to increase our ADR and make up for that," said Hartwig.
In addition to targeting marketing efforts toward transient customers, Edgewood analyzed where its bookings were coming from to see how that might've changed.
"Interesting enough, it hasn't been from online travel agents, which would be your Expedias of the world," said Hartwig. "There have been some [from them] but most of it has been from high-end luxury consortiums where people are going for a specific experience, and we happen to offer one that fits perfectly into the pandemic".
Location helps. Travelers from the San Francisco area can easily get to the resort.
"Outdoors, small, boutique, lake view … we just happen to fit that niche perfectly with everybody itching to get away and go do something," he said.
Looking forward, Hartwig has the benefit of this year being somewhat similar to 2021, meaning that historical KPIs can help inform decision-making. Visibility into last year's ADR and occupancy rates can help him determine whether they are pacing ahead or behind and what actions need to be taken as a result.
"We try to look at what's on the books today and what was on the books as of last year," said Hartwig. "Say we are 10% behind for the month of June. Do we lower our ADR to try and make up occupancy? Or is our ADR high enough that our revenue is going to be strong enough that we don't have to make up the occupancy? If we need to make up occupancy then we can do different packages and a promotion of some sort."
He's gathering future-looking trend and historical data and blending them with what's happening today to generate useful insights.
More Resources From NetSuite
A data-driven CFO makes decisions based on timely information that's relevant to where the business is and where it's headed. This guide covers how to select the right KPIs, use associated metrics to keep employees on track and more.
In this on-demand panel discussion, three top CFOs discuss strategies they've found effective in becoming a strategic partner and balancing long-term and short-term company needs.
Taking action based on metrics is much easier when you can be confident that you're working with accurate and timely data. See how NetSuite SuiteAnalytics seamlessly serves up insights on performance across departments.
Extras Deliver Revenue
As Edgewood continues its data-driven tactics, there is one metric that it works to optimize.
Research conducted by Skift and Oracle shows that non-room revenue has been rising in importance since 2020, with 67% of surveyed executives agreeing that onsite amenities will represent an increasing share of their organizations' revenue in the next five years.
With focus on these products and services growing, tracking that activity has become critical.
"The thing that we are striving as a company to get to is determining how many guests who come stay with us eat in multiple restaurants, golf or go to the spa and try to marry that together," said Hartwig.
The metrics not currently reigning on Edgewood's dashboard? Labor.
"Traditionally, labor metrics are huge for us," said Hartwig. "There is such a fine balance in labor [that we look at it daily.] But right now, it is set aside because the only metrics we are worried about right now are hiring ones."
Takeaway: Metrics-Based Tactics Require Real-Time Insights
Even as demand increases, Edgewood's story shows that the recovery is about more than simply watching hotel occupancy rates pick up as visitors return. Some trip types will fare better than others, and some demographic groups will lag others.
Travel, Leisure and Hospitality Trends
Decreased corporate travel
Domestic travel still leads, international lags
The emergence of remote work warriors
Shorter booking windows
Uptick in hospitality industry M&A
More target marketing efforts
Occupancy lower midweek and higher on weekends
Increase in non-room revenue from source like food & beverage and spa services
As the hospitality industry grapples with long-term shifts in consumer demand and preferences, companies will need to keep a close eye on metrics to quickly capitalize on trends, as well as determine their niches and competitive advantages.
Key areas requiring deeper and continuing understanding are:
"Typical" visitor profile: Why has a person chosen your hotel, and what is their market segment? What are they looking for out of their stay? How did they book their reservations? Key metrics: Group mix, transient segment mix, loyalty program bookings, channel mix.
Consumer behavior: How is consumer sentiment impacting actions? Key metrics: ADR, occupancy rate, cancellation rate, booking lead time, no-show ratio.
Occupancy trends: How many guests are staying, and how long are they staying for? Key metrics: ALOS, ADR and occupancy rate.
Performance of marketing efforts: What marketing efforts are working in this new landscape? Key metrics: Engagement, CTR, CPC, conversion rate.
Non-room revenue: What revenue is being generated from alternative sources? Key metrics: GOPARR, TRevPAR. Depending on amenities, metrics could get more granular to analyze revenue from catering, spa services, banquet rooms and other offerings.
From there, tweaks can be made to improve performance in the hotel's new competitive landscape.
One example of adjusting tactics based on metrics) comes from Expedia Group partner Janet Chen, general manager of the Beimen WOW Poshtel in Taipei. After noticing a trend of shorter booking windows, Chen worked to make early booking more appealing by creating several promotions that gave discounts based on how far in advance travelers booked their stays. These efforts resulted in a 150% increase in net room nights and a 392% increase in revenue.
To successfully track, understand and use these metrics, companies can't rely on static reports or manual efforts rooted in spreadsheets. Trends are changing rapidly and proving prone to events like new variants, country restrictions, inflation and customer sentiment — all of which vary in their effects based on demographics.
To keep up, companies will need real-time insights into their financials, operations, customer bases and marketing efforts. ERP, CRM, point-of-sale, and planning & budgeting software can help hospitality firms get their needed numbers quickly and delve in deeper to understand what tactics will most help performance.
The Bottom Line
As Stanford economist Paul Romer once said, "A crisis is a terrible thing to waste." Successful L&H companies are taking the resiliency and adaptability lessons learned over the past two years and putting them to work, with metrics guiding the way.