They say that death and taxes are the only two certainties in life, but most businesses would agree there is (at least) one more: vendor bills. When a business fails to pay its bills on time and in a secure manner, it harms not just its reputation but also its bottom line. However, many companies still rely on manual accounts payable (AP) practices that are both time- and resource-intensive and highly prone to error.
The problem starts with having to keep track of too much paper — invoices, purchase orders, shipping receipts and other documents. All are perfect candidates for digitization, which paves the way for AP automation. Together, digitization and automation minimize the time and effort required to manage bill payment and cash flow, plus they provide businesses with timely financial insights and free up working capital to fund more strategic projects. In fact, it may be the best way for companies whose employees work remotely to conduct back-office operations.
How to Digitize Accounts Payable
Digitization of the AP process mitigates a lot of paperwork, replacing hard-copy invoices and other important records with electronic versions that leading AP software with optical character recognition (OCR) technology can "read" and extract information from. In turn, the entire AP process can be automated, helping companies cut costs, boost operational efficiencies, improve working capital management and strengthen supplier relationships, among other benefits.
The AP process covers all of the steps involved from the time a company receives a vendor invoice to the point that it makes a payment. This includes feeding data into the AP system, coding invoices for the general ledger (GL), verifying the details and scheduling a payment, all the while ensuring the process is secure and free from error and fraud.
Key Takeaways
Digitized AP systems eliminate and streamline paper-based manual processes and provide real-time access to important payment-related data.
AP digitization also enables organizations to pay their vendor bills electronically, as well as schedule payments and track and apply vendor credits and discounts.
By digitizing and automating the AP process, AP staffers are freed up to work on more value-added projects. A scalable solution also reduces the need to hire more staff as the company's AP needs grow.
Digitized AP has become a necessity for companies whose employees, including back-office teams, work remotely.
Accounts Payable Digitization Explained
When an organization digitizes AP, it eliminates paper-based processes, including printing vendor invoices, manually entering data from the invoices into an accounting system, and writing and mailing checks. Instead, AP data is extracted, consolidated and made accessible to authorized employees electronically. AP digitization systems also allow companies to pay their bills using a variety of electronic payment formats — such as credit and debit cards, automated clearing houses and digital wallets — and apply any credits and discounts a vendor has offered, such as a discount for making an early payment.
What Is AP?
Accounts payable is the amount a company owes to its suppliers and other trade creditors for goods and services. It also includes chargebacks, which is the money owed to a customer following a disputed transaction. It does not, however, include long-term debt or payroll expenses. AP appears as a liability on the company's balance sheet. Once a payment is approved and issued according to the terms of the invoice, the completed payment is recorded.
Why Digitize Your Business AP
If we've learned anything from the onset of the pandemic, it's that organizations that had already transitioned away from paper were able to quickly respond to the large-scale shift to remote work that ensued and, for many, continues today. Digitizing AP enables organizations to establish an efficient invoice processing workflow to more accurately, securely and quickly carry out all the steps in the AP process. It also reduces errors, prevents fraudulent invoices from slipping through the cracks and speeds the entire payment process. In addition, growing businesses no longer have to worry about missing invoice deadlines, which can strain vendor relationships and impact their ability to stay ahead of the competition.
Benefits and Drawbacks of AP Digitization
AP digitization has far more benefits than drawbacks for businesses, but it's important for organizations to be aware of both the advantages and disadvantages to make an informed decision about whether to move forward.
AP digitization can benefit organizations by:
Accelerating the rate at which bills are processed and paid.
Ensuring that invoices are properly coded, authorized, approved and paid.
Authorizing new vendors and keeping all vendor information accurate and secure.
Reducing many types of errors inherent to manual processes, such as lost bills that don't get paid or are paid late, payment duplication, payment of fraudulent invoices and GL miscoding.
Reducing the time and effort required to process exceptions, such as when purchase orders and invoices don't match.
Creating searchable audit trails that link all documents and messages to maintain regulatory compliance.
Tracking timing to optimize cash flow and take advantage of discounts and early-payment incentives.
Providing real-time, data-driven insights that inform business decisions.
Creating backups of AP data.
Reducing the need to hire and train more staff as the volume of invoices grows.
Reducing the need for office storage and equipment.
Potential drawbacks to digitizing accounts payable include:
Changing company culture, which can be unsettling for employees used to completing tasks a certain way.
Training employees on the new system, which takes time away from their day-to-day tasks (albeit temporarily).
Incurring upfront costs for an AP digitization system.
Creating technology silos within the organization that can occur without proper planning and integration.
Should you digitize your AP process?
Digitizing the vendor payment process requires planning and teamwork. That's why we created the CFO's Guide to AR/AP Automation – jampacked with in-depth information about automation as an added benefit to digitization. Download the guide now to learn more!
Get Your Free Guide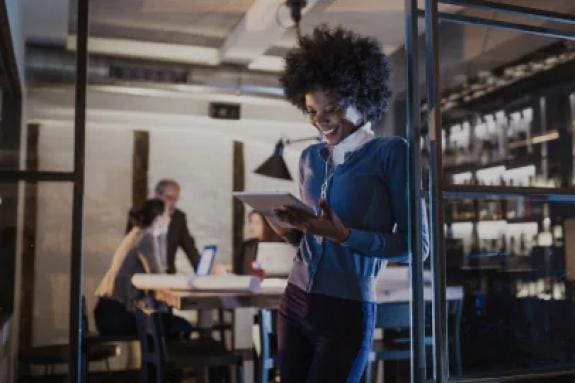 5 Ways to Digitize Your Business's Accounts Payable
Digitizing accounts payable is the first step to automating the entire process. Here is how to ensure a smooth transition for your business.
1. Migrate to automated invoice processing.
Manual invoice processing is time-consuming and costly. Automation lets organizations process invoices more quickly and efficiently, eliminates the possibility of redundant manual data entry, supports good supplier relationships and ensures that all bills are paid on time or even early to take advantage of possible discounts.
Automated invoice processing software relieves AP staff of most of the heavy lifting, giving them more time to investigate anything the software flags as problematic and also to focus on more strategic projects. Some invoice processing automation platforms integrate with other systems across the business in a centralized enterprise resource planning (ERP) platform, which helps improve cash management and expedites the financial close process.
2. Create workflows for invoice routing and approvals.
A traditional invoice routing and approval process includes the following steps:
A paper invoice is received or printed.
The invoice is verified, checked for any irregularities or exceptions and entered into the AP system as an "open AP."
The invoice is matched to the corresponding purchase order and often the shipping receipt.
The invoice is coded in the GL.
The invoice is routed to the appropriate approver, delivered either by hand or scanned and emailed.
The invoice is coded and approved.
A check is printed and payment is mailed to the vendor.
AP digitization takes that paper invoice out of the equation. Invoices are received either electronically or scanned to a digital format and then follow the above AP workflow, and each step is automated. Most AP applications include configurable templates to ease and streamline the process.
3. Eliminate manual data entry.
The process of automating AP is as cultural as it is technical. Organizations must look for all instances in which AP data is being manually entered and integrate them into the overall digitization initiative. OCR technology eliminates the need for re-entering data from hard-copy bills, and automated workflows can ensure that all steps in the workflow are followed and completed accurately.
4. Automate invoice matching and verification.
The process of invoice verification includes matching the invoice to a purchase order, known as two-way matching, and often to its delivery receipt, known as three-way matching. The purpose is to make sure all details align and the correct amount is paid. However, this crucial step is resource-intensive — starting with tracking down all of the paperwork — and is prone to costly errors, especially as a business grows and makes more purchases. Digitization does away with all of the paper so that matching can be automated.
5. Stop manual ledger coding.
General ledger coding is an important part of the AP process. Codes are used to track expenses by assigning a specific code to an expense type. This makes it easier to determine where and how money is being spent, but it takes only one small mistake when coding manually — typing a one instead of a zero, for example — to bill the wrong department. AP digitization and automation systems provide a flexible structure that eliminates the need for manual ledger coding, providing the tools companies need to maintain accurate financial records and avoid costly and frustrating errors.
Digitize AP With NetSuite
Eliminating paperwork is the first step in an end-to-end automation process. NetSuite Accounts Payable provides all the benefits of digitization, from procurement through payment, to eliminate error-prone, manual data entry, minimize the time and effort required to process and pay bills, and capture early-payments discounts.
NetSuite AP automates the review, approval and payment of supplier invoices and automatically matches invoices to the correct vendor and purchase order. Automated journal entries eliminate the need to manually enter debits and credits, saving time and ensuring that payments are recorded accurately and are sent to vendors in a timely manner.
As part of a suite of accounting, sales and operations systems, NetSuite AP data can be seamlessly and securely shared across the organization. User-configurable, roles-based dashboards display real-time financial and operational data. These dashboards can be customized to present KPIs and alerts to track open purchase orders, invoices awaiting approval, invoice due dates, scheduled payments and more. NetSuite AP supports and streamlines every accounts payable scenario a business may encounter.
Accounts payable is a critical accounting function that becomes increasingly time-intensive as a business grows. Digitizing accounts payable eliminates paper-based processes, such as data entry, physically routing invoices for verification and payment, and writing checks. AP digitization paves the way for organizations to automate, and thus accelerate, AP processes, freeing staff to perform less tedious and more interesting work. Real-time access to AP data and analysis can improve cash flow and forecasting, increase profitability and help manage suppliers.
How to Digitize Accounts Payable FAQs
How do you digitize an account?
Digitization replaces hard-copy invoices and other important records with electronic versions that leading AP software with optical character recognition (OCR) technology can "read" and extract information from. In turn, the entire AP process can be automated, helping companies cut costs, boost operational efficiencies, improve working capital management and strengthen supplier relationships, among other benefits.
Why do we digitize accounts payable?
With a growing number of suppliers, global supply-chain issues, regulatory mandates and an increasingly geographically diverse workforce, AP teams are busy and are only getting busier. By digitizing accounts payable, AP teams can automate many mundane and repetitive tasks so they can focus on more valuable activities, while ensuring accurate and timely payments.
How do I digitize an invoice?
Technically, a simple scanner is all it takes to digitize a paper invoice. The next step is to use AP software with optical-character recognition to automatically extract and add pertinent data to the system, without the need for error-prone, manual data entry.
How do you automate accounts payable?
Digitization is the first step to automating AP. Once paper is removed from the picture, organizations can build on that digitization by using software or services that automate the routine steps involved in the AP process, such as receiving and coding invoices, routing invoices for required approvals, payment and reconciliation.
Why does the data structure matter?
Structured data bridges the gap between human-written and machine-readable content. Structured data — data arranged in a specific and standard way — is required to automate the processing of digitized invoices and other AP information.
What is the AP process?
The basic AP process includes the following steps, with variations possible depending on a specific company or industry:
The organization receives an invoice from a vendor for supplied goods or services.
The organization reviews the invoice, matching it against a purchase order and, potentially, a bill of materials for the goods or services received.
The organization codes the invoice for the general ledger.
The organization sends the invoice to authorized staff for approval.
Authorized staff approve the invoice, if the amount requires it.
The organization pays the invoice.