Nearly 45 years ago, technology vendors released the first accounting software and forever changed how accountants do their jobs. Systems that ran on computers replaced paper ledgers and the basic tools that helped bookkeepers crunch numbers.
As accounting software matured, it took another major leap forward with the invention and advancement of cloud-based accounting systems. Much like other cloud software, these solutions gave businesses game-changing flexibility while reducing capital expenditures and maximizing human resources.
Cloud accounting offers clear advantages over previous approaches to this critical business function, which explains why it has gained widespread adoption.
What Is Cloud Accounting?
Cloud accounting refers to performing basic accounting tasks, like managing and balancing the books, using software that resides in the cloud and is often delivered in an as-a-service model. Staff or third-party accountants can manage accounts payable, accounts receivable, the general ledger and much more within the application. Just like other cloud-based systems, cloud accounting software runs on a cloud provider's platform rather than on a local hard drive or server. Users access the tools they need through the internet, meaning employees or third-party accountants do not need to be in a certain location to understand the financial state of the business.
As of 2019, nearly 60% of U.S. companies used cloud software to manage finance and accounting. Additionally, only 22% of businesses do not plan to take advantage of cloud finance technology in the future, down a few percentage points from the previous year.
Cloud Accounting vs. On-Premises Accounting: What's the Difference?
Early accounting systems were available only on-premises, meaning they ran either on the accounting team computers' hard drives or on a server owned and maintained by the company. Generally, anyone who wanted access to the software needed a computer with the right software installed or to be within close proximity of the server. Moreover, all information was stored locally, rather than on the cloud, meaning it was vulnerable to loss or damage.
While early on-premises accounting software offered major advantages over manual methods, like paper ledgers, these systems could not match the flexibility or scalability of cloud software. For example, the business was responsible for upgrading the software, which could be an expensive and time-consuming exercise. This is a key difference from software-as-a-service (SaaS) systems, a popular type of cloud software where the software provider takes care of all maintenance and upgrades and customers pay an annual licensing fee.
It's important to note that SaaS is just one type of cloud accounting software. With a multi-tenant SaaS cloud accounting solution, multiple companies share the same infrastructure on the public cloud. Companies may also use the private cloud, meaning they have servers dedicated to their software instance. There are also hybrid models that use both the public and private cloud. It's important to note that these private cloud and hybrid deployment models put more responsibilities in the hands of the company rather than the vendor.
Cloud vs. On Premises Software
| | Cloud | On Premises |
| --- | --- | --- |
| Where is software installed? | Software resides in the vendor's cloud data centers, which are usually very large and well-managed. | Software is installed on a server that is kept in the company's data center or server closet. |
| What do we pay for? | Cloud software is usually delivered in an as-a-service model where companies pay monthly or annually for what they use. | Companies pay for server hardware, software, data center or server closet space, data storage and expertise to manage the system. |
| How do we back up and secure our data? | The owner of the cloud data center shares responsibility for backing up and securing the software with customers and end users. | The company is fully responsible for backing up and securing the software and the data. |
| Who updates and maintains the software? | The cloud provider. | The company's IT department. |
| How do we add new users? | Cloud software is scalable; companies pay for what they use and can add new seats quickly. | The company may need to purchase new hardware and licenses to serve additional users. |
How Cloud Accounting Works
In cloud accounting, accountants, controllers, CFOs and other relevant parties receive login credentials for the system and access it through a web browser, whether on a laptop, smartphone or tablet. The provider may also offer a mobile app to improve the user experience on phones and tablets.
The software is typically integrated with the company's bank accounts, so all transactions automatically post to the correct digital ledger. Users often have a home dashboard that displays the financial information most critical to their roles, like available cash, bills due in the next five days or past-due payments from customers. All numbers update immediately as the software receives new information, and users can drill down into the data for additional details.
Accounting is one of the key components of an enterprise resource planning (ERP) system. An ERP platform unifies essential business functions like accounting, financial planning and budgeting, inventory and order management, human resources (HR), customer relationship management (CRM) and more on a central database. This database connects modules designed to manage different aspects of the organization and thus supports cross-functional processes, many of which need to tie back to accounting. Payroll, purchase orders and the value of inventory on hand, for example, all need to be recorded in the accounting system as they happen.
Benefits of Cloud Accounting Software
The major benefits provided by cloud accounting software explain why it's become the tool of choice for many finance professionals in a short period of time. These benefits also highlight why cloud accounting is becoming the standard.
Automation: When bank accounts are connected to the accounting system, transactions post automatically, meaning no time-consuming data entry or manual imports. This software can also automate account reconciliations, matching bank statements and invoices to ledgers to help you close the books more quickly. Some accounting applications can also automatically pay vendors and send invoices to customers on user-defined dates.
Accessibility: As noted earlier, all anyone needs to access a cloud accounting solution is an internet connection, web browser and login credentials. They can access the solution on mobile devices like smartphones and tablets. Employees and other users don't need to be on a certain computer or in a specific location to see information or complete tasks in the system. That also allows, say, your accountant from a CPA firm to easily find all the data they need and alert leaders to anything that requires their attention.
Lower overhead expenses: Organizations that adopt cloud technology often spend less than those who manage their tech stacks in-house. More than 60% of IT executives said reducing cost was their primary concern, according to cloud research firm Datometry. Much of those savings stem from the fact that you don't need to purchase hardware or pay a large IT staff to manage the system. Avoiding upgrades and maintenance that often result in big bills from the vendor or a partner lower the total cost of ownership, as well.
Data security: The security protocols of top cloud software vendors are far more extensive than what most businesses can do with on-premises systems. Cloud providers regularly back up your data to servers in multiple locations, reducing the risk that a fire or natural disaster could compromise your instance of the system and information. People in your office cannot steal hard drives or devices with sensitive information because data is not stored on the device itself. And, there's no need to share data through insecure methods like flash drives or emails.
Scalability: Organizations can take advantage of just about any computing resources they might need with cloud software. As the business and its needs grow, they can add server space as they need it. They don't need to purchase new hardware or make other adjustments if they require additional functionality, either. This is another key advantage of outsourcing all the infrastructure. Cloud accounting solutions can be implemented in multiple locations or geographies must faster at a lower cost.
Increased collaboration: Cloud accounting software facilitates collaboration because all data is accessible and viewable to all authorized users. There is no single information gatekeeper, so if a marketing leader, for instance, wants to see sales numbers from last quarter, their permissions can be changed to let them do so. Visibility encourages cross-departmental projects and teamwork.
Faster implementation: Companies can usually get up and running on a cloud solution faster because there are no servers to purchase and set up and no IT team to train. Additionally, top vendors have done thousands of implementations and have developed efficient, repeatable processes that will allow you to quickly reap the benefits of the new system.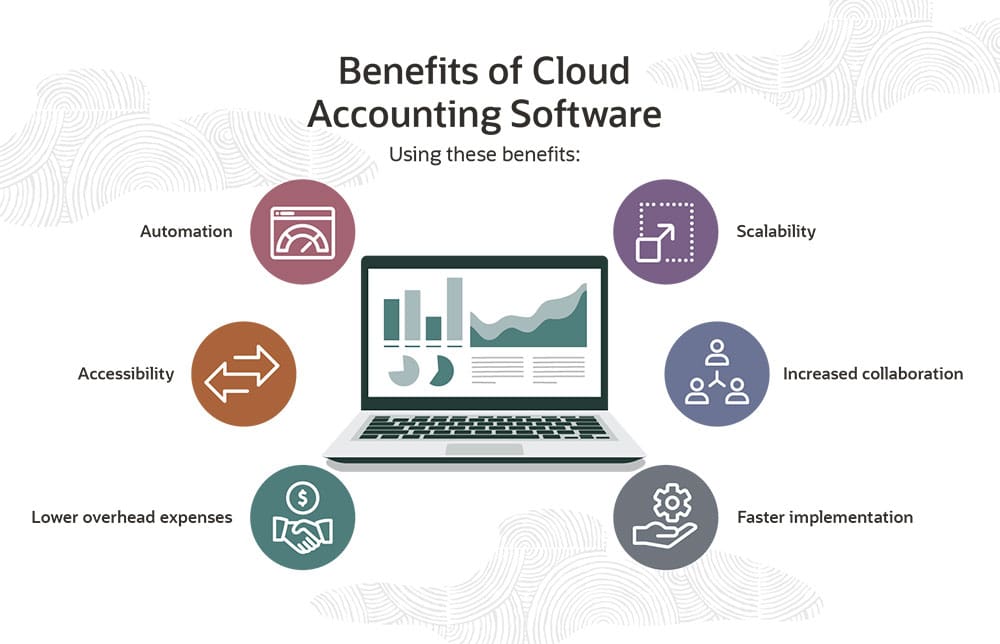 Challenges of Traditional Accounting Software
While those benefits may sound promising, perhaps you feel like your aging on-premises accounting software is still getting the job done. What might you be missing out on by hanging on to that system?
Expensive, long upgrades: On-premises systems are infamous for frustrating upgrades that drag on for months (or longer) and force customers to reinstall or reprogram customizations. The bills from these projects, which rarely go as planned, tend to pile up quickly. That's why many companies avoid upgrades, meaning they can't capitalize on the latest features and functionality that their competitors may have access to.
Poor security practices: Backing up all the data within your accounting application is no small task. Backups can be expensive and labor-intensive to set up, so companies often complete this process infrequently, if they do it all. That means you're constantly at risk of losing weeks' or months' worth of critical data to a successful ransomware attack or act of nature.
Limited access: With traditional accounting software, users often need to be on the company's network or log into a VPN to access the system, which can limit where and how they use it. Not only is this a hassle, but it adds costs — the business has to purchase VPN or similar software. That can limit the ability for key stakeholders to see data that might affect their strategy and decisions.
End of Life (EOL): As cloud accounting becomes more of the standard, many on-premises accounting software providers are ending support for their solutions. This poses a major risk because if you're on a solution that reaches end of life, you're forced to move to the cloud or take complete ownership of outdated, unsupported on-premises software. With cloud accounting, the software is constantly updated and is unlikely to be sunsetted.
When Should a Company Use Cloud Accounting?
Given the major advantages of cloud accounting and its lower upfront costs, many newer companies adopt a cloud accounting solution from the start. Even entry-level accounting systems now offer cloud versions and may push customers in that direction.
Finance and accounting are at the root of what all businesses do — they need a way to monitor transactions and gauge their financial health at any moment. Without sound financial practices, a business will not last long and risks noncompliance with major financial and tax regulations. When a company is first getting started, it may use spreadsheets or other manual systems to manage their general ledger and other accounts. However, this approach is error-prone and cumbersome and often quickly proves unsustainable.
A cloud accounting system addresses all these common issues. There is software available for everything from sole proprietorships to multinational enterprises, so it's a logical option for just about any business, in any industry.
6 Reasons to Use Cloud Accounting Software
Cloud accounting software can enable better business practices that will help your company thrive. Here are a few big reasons to move your accounting to the cloud:
Cheaper to own and operate: A cloud accounting system is generally a cheaper option than the on-premises alternative. There's no need to buy hardware, nor does the business have to worry about bills adding up from upgrades and maintenance, as the vendor takes care of all of that. Additionally, the company doesn't have to purchase VPN software or any other type of middleware that allows employees to work away from the office.

More predictable costs: Since the company doesn't have to worry about the costs mentioned above, it's much easier to know how much it will likely spend on the accounting solution annually. With SaaS in particular, everything is packaged into a single price, and the cost for additional users or functionality is clear. That will keep your IT budget from cutting into other areas of the business.

Take advantage of the latest technology: Frequent and regularly scheduled system upgrades mean users can realize the advantages of more advanced and emerging technologies that can bring additional business gains. A small or midsize company may be unlikely to invest in machine learning or robotic process automation (RPA) to boost the efficiency of its financial operations on its own, for example. But an upgrade might add that functionality, and the organization can benefit without any additional investment.

Best-in-class infrastructure: Leading cloud vendors support thousands or even tens of thousands of organizations, and supporting all those customers requires best-in-class infrastructure. Their data centers are engineered in a way that delivers unmatched performance, security and scale. Most businesses cannot match the vendors capabilities in any of these areas on their own because of the capital and expertise required. But these same businesses can reap the rewards of this infrastructure by buying accounting software from such a top provider.

Improved business continuity: The data stored in your accounting system is both expansive and critical, and losing it could be devastating. Cloud software offers a security blanket because your information is stored on a remote server and backed up to data centers in other locations. So if a flood or tornado wipes out one data center, your business can continue to operate as normal. That's not the case with on-premises systems hosted on an in-house server — with cloud, it's there from day one.

Unify your business: There are cloud solutions available for every aspect of operations, and cloud accounting software can serve as the foundation for running your business on the cloud. For instance, tying these solutions together allows you to track customers as they progress from lead to paying client, and then automatically posts that transaction to the general ledger. Once all systems are on the cloud, employees can access information and make necessary adjustments from anywhere.
Cost of Cloud Accounting
Cloud accounting software is often less expensive than on-premises systems because it offloads many expenses to the vendor. There's no need for the company to purchase hardware or expand its IT staff to monitor and maintain the system.
While costs vary by vendor, SaaS solutions charge an annual license fee for access to their service. That license fee is usually based on a starting price, plus the number of users and products used. For example, a small products company may need only basic accounting software, while a subscription-based business with complex billing processes may require an add-on module to meet revenue recognition requirements.
The modular pricing model of SaaS allows customers to pay only for what they need, when they need it. Organizations can easily add users or modules as the organization grows and evolves.
On the other hand, hybrid cloud accounting solutions may still have a perpetual license typical of on-premises systems. Customers pay a large, one-time fee for this license and also foot the bill for maintenance and support for as long as they use the system. There will also be hosting fees charged by the cloud provider that are typically based on the computing power the business requires.
Both hybrid and SaaS solutions may also charge a one-time implementation fee that will varies based on the complexity of the system and your exact needs.
Future of Cloud Accounting
The cloud has become a hub for technological innovation as adoption continues to grow. There are a few different technologies that could lead to additional time and cost savings.
AI & Machine Learning
Artificial intelligence (AI) — and specifically machine learning, a subset of AI — have practical applications for accounting software. A system with machine learning capabilities can review large amounts of data and compare it to similar entries to flag anything that doesn't follow the same pattern, as this often signals a mistake. Machine-learning algorithms become smarter over time as they process more information and can sometimes make decisions independently.
This ability to review massive amounts of data also allows AI to evaluate broader industry trends and performance to help individual companies make better financial projections. It can spot potential problems coming down the road, whether with suppliers, customers or a certain team within your organization. This helps leaders plan for different possible outcomes so they're not left scrambling and can help minimize the impact of disruptive events.
Blockchain
Much like AI, blockchain is another buzzword you've likely heard. Blockchain is a digital, distributed — that is, there's no single, central authority — ledger that tracks the movement and exchange of assets in detail. Once a transaction is posted, it cannot be altered, reducing the likelihood of fraud. That creates a clear chain of ownership showing who has what and is owed what, or where items traveled in their journey from raw material to end customer.
Blockchain records can also eliminate or reduce the work that comes with maintaining financial records and the verification that happens before financial institutions settle transactions. When the ledger is updated to reflect that a customer received goods ordered from you, that could trigger an automatic, immediate payment to your business so you don't have to spend time and money collecting.
Blockchain and AI together could even make it possible to audit every single transaction, automatically.
App integration
As noted earlier, just about every type of software is now available in the cloud. That includes applications that address niche needs and are designed to be plugged in to your accounting system, as well as complementary systems for inventory and order management, payroll and CRM.
While these integrations are not as complex or time-consuming to set up as they once were, there is still plenty of room to make them more seamless. In the years to come, more applications will be developed in a way that allows users to access their functionality within the accounting solution. That will prevent users from manually moving data around and negate the need to frequently switch systems to perform various tasks or find information related to financials.
Work Smarter With Cloud Accounting Software
When selecting cloud accounting software, businesses should consider established vendors that offer cloud-native solutions — that is, systems built from the start to run in an as-a-service model versus those simply reworked to run on remote servers. For example, NetSuite offers a cloud-based accounting and finance solution that goes beyond real-time financial data and ledgers, with support for multiple currencies, compliance with global tax laws, automatic invoice payments, collections management and more. This accounting system is the foundation of NetSuite's unified cloud platform, which includes complementary modules for planning and budgeting, revenue recognition, advanced billing and more.
NetSuite offers a number of other cloud applications as part of its ERP platform for related functions like inventory and order management, procurement, human resources (HR) and payroll, which are all integrated with financials. These applications are natively integrated with a common user interface, and all information is unified on a single platform, eliminating the need to move between systems to manage different aspects of your business. And as a SaaS solution, NetSuite customers automatically receive new releases with key updates twice per year and don't have to worry about hardware or maintenance.
Cloud accounting is no longer just the future — it's something businesses need to adopt now to avoid falling behind and operating at a competitive disadvantage. The benefits of using a cloud accounting system are similar to those of other cloud software, but are even more crucial because financials form the basis for everything a business does. Running a company without accurate and real-time financial information is like driving a car without a speedometer or fuel gauge. That's why a cloud-based accounting system is such a critical investment for businesses today.
Cloud Accounting FAQs
Q: Is cloud-based accounting safe?
A: Cloud applications often protect your data better than on-premises systems. Leading providers of cloud accounting software back up your data on servers in multiple locations to mitigate the risk of a fire or natural disaster. Employees are also less likely to share information through insecure methods like flash drives because authorized users can log into the system from any device, wherever they may be working.
Q: Is the cloud secure?
A: The cloud hosts many of the systems we use and data we access in our personal and professional lives, and security protocols have increased accordingly. Top software vendors encrypt all your data and use cybersecurity software to keep it safe. Your system is also password-protected and often has two-factor authentication for an additional layer of security.
Q: What companies use cloud accounting?
A: Companies across industries and locations and of all sizes run on cloud accounting software, and many now start this way. Since financials are central to every aspect of the organization, it benefits everyone.