For companies of all sizes, efficient supply chain management is critical to business success. Enterprise resource planning (ERP) systems enable companies to coordinate and streamline the complex chain of activities that turn raw materials into finished products and deliver them to customers. By integrating essential supply chain management capabilities — from demand planning and procurement to manufacturing and distribution — ERP systems help companies efficiently meet customer demand while controlling costs.
What Is the Role of ERP in Supply Chain Management?
ERP systems are all-in-one software suites that companies can use to run almost every aspect of their business. That includes managing the supply chain — the complex, interdependent set of activities involved in analyzing demand, sourcing materials, manufacturing products and distributing those products to customers. Leading ERP systems include modules that handle key supply chain management functions, such as planning, procurement, manufacturing, inventory management, warehouse management and order management. They enable businesses to coordinate, streamline and automate these activities so they can consistently meet customer demand while reducing operating costs.
Because ERP systems store all business data in a single database, companies gain a unified view of supply chain operations alongside their financials and other important information. The integration among ERP modules helps companies better plan sourcing and manufacturing based on customer demand. This built-in integration also reduces or eliminates the challenges typically associated with integrating multiple applications to handle different supply chain functions. ERP systems also enable companies to automate supply chain operations, leading to time and cost savings while reducing the risk of human error.
Integration among ERP modules improves the flow of information between business units, making teams more collaborative and efficient. For example, access to accurate data on supplier contracts, supply chain capacity and customer demand helps procurement managers buy the right quantities of raw materials to maximize output and meet customer commitments, all while keeping costs under control. Similarly, a complete view of supply chain performance helps logistics leaders spot opportunities for efficiency gains.
Key Takeaways
ERP systems with supply chain management capabilities help businesses match supply to customer demand, reduce operating costs and respond quickly to changing business conditions.
Leading ERP systems include modules that streamline and automate supply chain management activities, such as planning, procurement, inventory management, warehouse management and order management.
Using ERP modules for supply chain management provides companies with a unified view of business data and reduces application integration challenges.
Benefits of Using ERP in Supply Chain Management
By using ERP to integrate essential supply chain tasks, such as demand planning, sourcing, manufacturing and order management, businesses can realize a wide range of benefits. Here are some of the most common ones:
Improved efficiency. ERP systems improve supply chain management efficiency in multiple ways. They enable companies to streamline supply chain functions through automation. They improve visibility across the supply chain, so stakeholders can quickly make informed decisions about how to reduce costs in manufacturing, logistics and procurement.
Increased customer retention. By integrating supply chain data and processes, ERP systems facilitate better planning, streamlined production schedules and more accurate estimates of delivery dates. These gains help businesses ensure that they can reliably fulfill their promises to customers. This consistent performance builds customer loyalty and retention.
Workflow automation. Cloud-based ERP systems automate the flow of data within and between departments, accelerating supply chain processes while greatly reducing manual effort. For example, the system can automatically alert purchasing groups if the inventory of key raw materials falls below predetermined thresholds.
Reduced overhead and operational costs. With better visibility into supply and demand, companies can optimize inventory — buying just enough to meet demand without overstocking. This can result in considerable warehouse space and cost savings. Automated processes also reduce administrative costs and errors — like ordering the wrong amounts of raw materials — that can have costly knock-on effects throughout the supply chain.
Fewer IT issues. Using an ERP system for supply chain management can streamline IT as well as supply chain operations. Companies no longer need to tackle the complexities of integrating data from different software systems or learn how to operate applications from different vendors. ERP modules all share the same data in real time, eliminating the need to convert data between applications.
Flexible supply chain solutions. Flexibility is essential to a modern supply chain. Companies must be able to quickly detect and respond to rapid shifts in supplier capacity, shipping routes and customer demand. Predictive analytics and scenario planning capabilities help companies identify and address potential risks before they affect operations.
Fewer bottlenecks. Each step in the supply chain is dependent on preceding steps. For example, poor planning leads to a failure to procure materials at the right time, which leads to inadequate inventory and manufacturing bottlenecks. ERP systems help businesses identify potential bottlenecks, inform the teams involved and allocate the resources needed to maintain production capacity and keep delivering orders to customers on time.
13 Ways to Use ERP to Improve Supply Chain Management
ERP can enhance supply chain management at every stage, from planning and procurement to inventory management, manufacturing and delivery. Here are 13 ways companies can use ERP to improve supply chain management:
Planning: Planning capabilities in ERP software enable companies to predict inventory and production requirements based on factors such as historical demand, seasonal variation and sales forecasts. The software schedules manufacturing to meet the volume of customer orders and ensures labor, machinery and materials are available to keep production running smoothly and on schedule.
Purchasing: Replacing manual, paper-based steps with automated purchasing can reduce cost and improve control over the buying process. Companies can streamline purchasing by automating time-consuming, manual approval steps. Enhanced purchase order tracking helps companies get a clear view of what's been ordered and when it will arrive.
Procurement: ERP systems enable companies to centrally manage the entire procurement process, from evaluating and approving suppliers to managing supplier bids and tracking orders. Procurement software helps to minimize cost by ensuring that orders are directed to preapproved suppliers and take advantage of negotiated contract terms. Dashboards and reports provide real-time views of spending and supplier performance.
Supply chain execution: ERP software helps companies efficiently manage complex production processes, coordinating inventory, manufacturing resources and logistics to ensure on-time completion and delivery. Businesses have real-time visibility into all stages in the production process, from sales orders to fulfillment.
Monitoring: Traditionally, supply chain monitoring required businesses to manually pull and consolidate data from many different systems. This complex and time-consuming process was prone to error and made it almost impossible to get up-to-date information. With supply chain data integrated into an ERP system's database, businesses can use real-time dashboards to monitor performance across their entire supply chain. This helps them quickly adjust to problems, such as delays in delivery times or manufacturing equipment breakdowns.
Maintenance: Maintenance and asset management applications integrated into ERP suites help companies track equipment utilization, schedule maintenance to keep production running smoothly and monitor asset costs.
Measurement: Successful supply chain management depends largely on the ability to collect, analyze and gain actionable insights from data. ERP solutions provide extensive measurement and reporting capabilities that gather data from internal and external sources. Companies can use customizable dashboards and reports to monitor key performance indicators (KPIs) and supply chain metrics, such as production cycle times, inventory levels and supplier performance.
Collaboration and communication: ERP systems facilitate communication and collaboration within the company and with external suppliers. Procurement, production, sales and inventory management teams all use the same shared database; information updated by one group is immediately available to everyone else. Portals enable suppliers and customers to efficiently track order status and communicate with the business.
Inventory management: Sophisticated inventory management systems help companies ensure that they maintain the right amount of inventory to feed production processes and fulfill customer orders. For example, ERP systems can alert purchasing groups when it's time to reorder items, based on factors such as seasonal sales data, predicted customer demand and supplier lead times, in addition to current inventory levels.
Warehouse management: Warehouse management systems (WMS) integrated into ERP suites enable companies to run warehouses more efficiently, helping to reduce costs and fulfill orders quickly. WMS can help companies optimize warehouse space, monitor inventory, track productivity and improve picking and packing efficiency.
Material management/material requirements planning (MRP): Material requirements planning software systems help businesses plan efficient production schedules by ensuring that the right materials are available at the right time. The software determines the quantities of raw materials and other inventory that will be required to meet demand, and when the materials will be needed. Advanced MRP systems allow businesses to optimize production and delivery by analyzing the impact of multiple potential scenarios, such as different shipping locations.
Vendor performance assessment: Continuous assessment of vendor performance enables businesses to pick suppliers that consistently meet requirements. ERP software provides analytics that companies can use to measure and compare supplier performance based on metrics such as lead times, on-time delivery, order accuracy and cost.
Global visibility: ERP systems can provide better visibility into raw materials, subassembly and final products as they move from supply to production and delivery — both within and outside the company. This supply chain visibility is critical to increasing operating efficiency and improving relationships with customers and suppliers. For example, organizations can track raw materials as they move from vendors to company warehouses, monitor them in inventory and throughout production and finally track the delivery of finished products to the customer.
Implementing Supply Chain Management and ERP Integration
Because the integration of supply chain management with the rest of the business is critical to business success, it's important to select an ERP solution that matches your needs in terms of functionality, scalability and implementation complexity. Cloud-based ERP solutions are a better fit than on-premises systems for many businesses because they don't require companies to buy, implement and maintain on-site hardware and software. Leading cloud solutions are also highly scalable, and staff can access the system from anywhere with an Internet connection. Whether you're switching ERP systems or implementing an ERP system for the first time, it's important to think about supporting future business growth as well as your immediate needs. For example, companies that source or sell internationally — or plan to do so in the future — benefit from a solution that supports multiple languages, currencies and tax regimes. Companies that need additional specialized supply chain applications should consider whether those can be integrated with widely used ERP systems. Also think about whether you'll need additional cloud ERP features in the future, such as integration with robotics and AI-based predictive analytics.
Improve Supply Chain Management With NetSuite ERP
NetSuite cloud-based supply chain management solutions help companies analyze demand, allocate resources and schedule production to meet customer needs — all while controlling operating costs. The integration of supply chain capabilities into NetSuite ERP ensures that production data, financial information, inventory and orders are updated in real time, so procurement, planning and production groups always work from the same up-to-date information. Demand planning and inventory management capabilities help businesses accurately predict and analyze demand and create replenishment strategies to maximize product availability and sales.
Procurement software helps businesses streamline purchasing, communicate with suppliers and increase order accuracy. Small businesses as well as multinational corporations can take advantage of NetSuite ERP manufacturing software to optimize production through scheduling of labor, machinery and materials. Companies with international operations can manage multiple subsidiaries from a single ERP system; support for 27 languages, 190 currencies and local accounting and tax requirements makes it easy to work with customers and suppliers around the world.
7 Steps to Build Your ERP Business Case
Here's how to fully assess the benefits, costs and risks of implementing an enterprise resource planning system for your organization.
Get Your Free Guide

(opens in a new tab)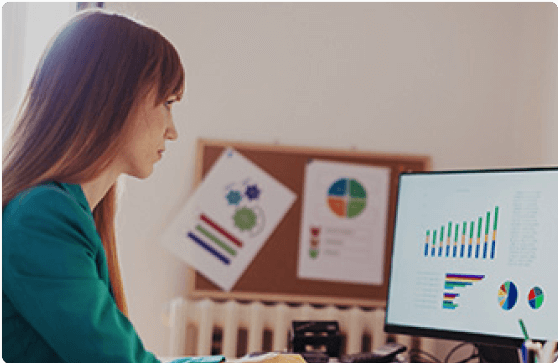 Even small organizations may need supply chain management software that can handle the complexities of sourcing materials, managing production and shipping products in a globalized economy. ERP systems integrate and automate supply chain activities, from demand planning and procurement to manufacturing and distribution, helping companies meet customer demand while reducing cost.
Supply Chain in ERP FAQs
Is supply chain management part of ERP?
Leading enterprise resource planning (ERP) systems typically support supply chain management (SCM) activities, including planning, procurement, manufacturing, inventory management and order management. ERP software also supports a comprehensive set of other business functions, including finance, payroll and customer relationship management (CRM).
How does ERP affect supply chain management?
ERP improves supply chain management by supporting key supply chain processes — from planning and procurement to logistics — and increasing efficiency through integration and automation. ERP systems that provide global visibility into supply chain operations also facilitate better decision-making, helping businesses optimize operations and reduce costs.
How does ERP fit with ecommerce and supply chain management?
Supply chain management plays an integral role in any ecommerce operation, as retailers must source, store, deliver and accept returns for their products — often across a global network of suppliers and customers. ERP software helps retailers optimize inventory management, warehouse management, logistics and more so they can deliver on customer expectations while keeping costs in check.
What can ERP do for your supply chain?
ERP systems bring visibility and automation to supply chain management. With insight into real-time data from across the supply chain, stakeholders can make better-informed decisions about how to manage functions, from procurement to inventory management. Automation accelerates supply chain operations, leading to both time and cost savings, while reducing the risk of human error.
What does ERP stand for in a supply chain?
ERP stands for enterprise resource planning. ERP systems are all-in-one business software suites that help organizations manage a broad range of functions, from payroll and production to sales. Leading ERP systems support supply chain management functions, such as planning, procurement, inventory management and manufacturing.
Is ERP the key to supply chain success?
Supply chain management can be extremely complex, especially for companies dealing with complex networks of suppliers. ERP can significantly improve supply chain processes by making them more scalable, efficient and easy to manage. These systems help businesses integrate data from across the supply chain, streamline and automate key processes and gain better supply chain visibility to help improve efficiency and respond to problems.
How can ERP systems improve supply chains?
ERP systems consolidate and deliver global visibility into supply chain data, giving businesses a holistic, real-time picture of performance so they can quickly make informed decisions to improve operations and respond to challenges. ERP systems also automate essential supply chain functions, accelerating responsiveness while reducing the administrative burden and risk of human error.