The process of acquiring goods and services can be complex and involve multiple stakeholders. Procurement teams must carefully balance the needs of the departments they serve with budget limitations. They must also manage external vendor relationships and ensure contracts are in compliance with terms and regulations. Procurement management involves the oversight of all these activities.
Procurement management helps organizations reduce their costs, boosts productivity and provides transparency from the initial purchase request through payment. Procurement managers often turn to technology to automate manual steps in the procurement process.
What Is Procurement Management?
Procurement is the act of sourcing and purchasing goods and services needed to support an organization's operations. The "procure-to-pay" processes that purchasing teams use to optimize these activities, including finding and sourcing goods and services from external sources, negotiating contract terms and receiving and paying for orders, all fall under procurement management. A procurement management system that tracks each stage can help companies meet deadlines and make timely payments.
Key Takeaways
Procurement management is the key to operational efficiency and controlling expenses when acquiring goods and services.
Successful procurement management starts with a clear strategy, which ensures purchasing practices align with the needs of internal stakeholders and larger business strategies.
Procurement management software can provide greater visibility and control over the entire process.
Procurement Management Explained
Procurement management, also known as supply management, describes the process of identifying, obtaining and managing goods, services and suppliers that are essential to an organization's operations. It involves vendor sourcing, requisitioning, ordering, inspection of orders and reconciliation. Whether sourcing computers for employees, contracting consulting services or purchasing materials for an external project, organizations that efficiently manage their procurement activities run more smoothly, are more productive and stay within budget.
Procurement costs can be split into two categories: direct spend and indirect spend. Direct spend refers to goods or services a company purchases to incorporate into its finished products, from raw materials to specialized parts. Indirect spend refers to other costs associated with running the business, such as marketing and consulting services or office supplies.
How Does Procurement Management Work?
Procurement management is guided by a procurement strategy that aligns with an organization's business goals. The strategy provides a procurement team with a plan for how to obtain goods or services cost-effectively from external suppliers. Solid vendor relationships are key to ensuring the procurement process goes smoothly and everything is received on time and on budget.
Procurement teams oversee this entire process. They are responsible for finding suppliers, defining terms and costs, tracking orders, diversifying suppliers and ensuring all parties fulfill their obligations. They also help the business build a base of approved vendors for future needs.
Why Is Procurement Management Important?
The procurement process can be cumbersome given the number of steps and stakeholders involved. This is why effective management is imperative. Efficient procurement management helps an organization control costs and successfully complete its projects, which in turn leads to a more productive and profitable operation. In addition, procurement management helps a business acquire the products and services it needs and from the right suppliers to fulfill sales forecasts or production plans.
Standardizing processes reduces the risk of error and the possibility of missed deadlines, leading to a better customer experience. It also facilitates strong vendor relationships, simplifies contract negotiations and helps to ensure all parties comply with contract terms and regulatory requirements.
Procurement Management Process
Companies purchase their goods and services from many different vendors, so managing the procurement process and supplier relationships is both complex and crucial. Certain industries, like retail or wholesale manufacturing, invest heavily in inventory as part of their operations, making the role of procurement managers all the more strategic for these organizations.
The key to successful procurement management is to implement a solid framework, automate steps where possible and monitor vendors' progress and performance over time. The following infographic shows the flow of a typical procurement management process:

Benefits of Procurement Management
Successful procurement management helps companies buy goods and services at the best cost, in an efficient and repeatable manner. When programs are well managed, procurement professionals are better positioned to negotiate favorable contracts and can have greater confidence in the quality of their purchases. Moreover, procurement management builds strong vendor relationships and keeps processes running smoothly, which benefits all parties involved.
As a company grows and it becomes harder to scale manual tasks, the benefits of automated procurement management become more apparent. Automated processes speed up procurement, eliminate manual errors and, importantly, help managers make more informed decisions.
Functions of Procurement Management
Procurement management handles the company's procurement transactions and the associated data streams. It also encompasses vendor management, which includes vetting, sourcing and negotiating contracts with suppliers. In addition, procurement management helps the business enforce a purchasing strategy that ensures procurement practices align with the needs of internal stakeholders and broader business strategies. Procurement management is typically composed of five functions:
Purchase requisition: An employee within the company creates a document requesting the purchase of a good or service. This request may be either direct or indirect spend, depending on the needs of the project. This document is sent to the procurement department.
Purchase order (PO): The procurement group sends the vendor a PO that specifies the goods or services and quantities of each to be bought and delivered. Each PO includes a tracking number for the purchase, a description of the items ordered and relevant quantities.
Invoice approval: The process of reviewing and approving vendor invoices before paying them. Each invoice must be sorted and forwarded to the appropriate stakeholder for approval. Many businesses log approvals in their ERP systems.
Vendor management: This includes finding suppliers, monitoring and tracking vendor performance, obtaining quotes, negotiating contracts and timelines and making payments. Vendor management continues to grow in importance, especially in organizations that have tight deadlines and cannot afford costly delays.
Contract management: This covers all the processes involved in the management of vendor agreements, from contract creation to execution. The goal is to ensure vendors meet their requirements while mitigating any contractual or regulatory risk for the business.
6 Steps to Building a Procurement Management Plan
No matter a company's business or industry, an organized procurement management plan is essential. Consider it a detailed map of everything needed to complete a project.
A clear and robust plan will help ensure all deliverables are met, with minimal time or money wasted. While procurement plans will vary according to the specifics of a business's projects and vendor relationships, most follow six basic steps:
Outline roles and responsibilities: Before even laying out a plan, the first step is to establish all the parties involved in the procurement management process, along with their roles and responsibilities. These might include internal stakeholders, individual vendors and the procurement team members responsible for the project. Some larger organizations employ a chief procurement officer (CPO), who is ultimately responsible for all procurement-related activities.
Create a schedule: A clear and realistic schedule creates accountability for all parties involved, from the moment a vendor is sourced to the execution of a contract. A typical schedule includes project deliverables and timelines, with a clear indication of which tasks are a priority. The schedule also outlines additional contracts or subcontracts required to complete the project — for instance, the hiring of mechanical system installers as part of a new building construction.
Identify and mitigate risks: Every contractual relationship comes with some degree of risk, be it financial, regulatory or something else. Preparation is key. By identifying possible risks and establishing a mitigation plan in advance — like securing backup suppliers or using a vendor with multiple locations around the globe — a procurement team is better positioned to establish favorable contract terms and minimize any subsequent disputes.
Determine costs: Once the plan's foundation is in place, the company can negotiate prices and add them to the contract. The type, quantity and quality of items purchased, as well as contingencies for unforeseen circumstances, are all factors to consider.
Set an approval workflow: All stakeholders must sign off on all requisitions and contract submissions, revisions and final approvals. An approval workflow ensures these are completed in a timely, consistent and legally compliant way.
Establish vendor management: Procurement teams tend to work best with a consistent approach to vendor management. Not only does this simplify the procurement process for all parties involved, but it leads to closer and more collaborative relationships between the business and its suppliers.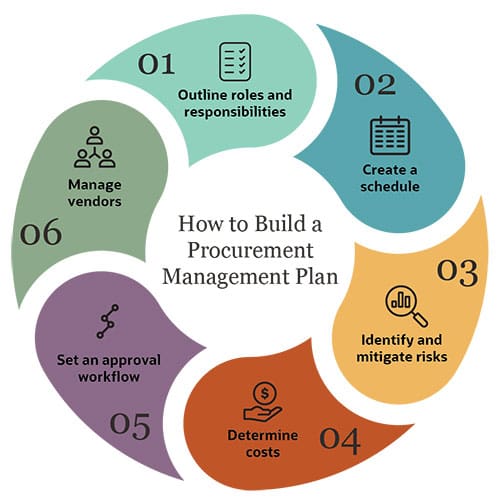 5 Reasons Why You Should Digitize and Automate Procurement Management
Procurement management has many moving parts. Traditionally, organizations have tracked the process manually, documenting it on paper or spreadsheets and communicating by phone calls and email. However, these methods are error-prone and time- and labor-intensive. Automating procurement management eliminates those problems. Reasons to digitize procurement management include:
Manage spend better: With high-level views of spending across all vendor relationships, procurement management teams can better control their spending and stay within budget. If a company's manufacturing process is delayed due to an overseas vendor's shipping issues, procurement officers can push back the start of other, related vendor contracts to minimize overall expenses.
Increase efficiency: Instead of manually searching through paper documents and spreadsheets for the specifics of a vendor contract or procurement plan, procurement teams can find all the information they need in seconds. This efficiency also translates to lower labor costs, helping projects stay on track and on budget.
Remove bottlenecks: Manual processes can hold up any stage of a project, triggering a domino effect of costly delays through the procurement workflow. Digital processes eliminate these bottlenecks and minimize disruption for the business and vendors alike.
Increase visibility: Access to information is the foundation of sound decision-making, especially on complex, fast-moving projects. With all procurement management data accessible on a single platform, key stakeholders can make informed decisions based on a real-time view of timelines, deliverables and vendor relationships. This allows them to act quickly while complying with contracts.
Better compliance: Digital processes create a clear, transparent audit trail. This helps procurement teams identify and mitigate contract or regulatory compliance risk at every stage of the procurement workflow.
Which Roles Take Part in Procurement Management?
Even in a digital procurement operation, key stakeholders are responsible for authorizing and managing every step of the process. These include the procurement team and leaders, accounts payable and the individuals or teams within the business that are requesting purchase of goods and services. That could include employees focused on operations and supply chain and potentially sales. Executives may also want a high-level overview of overall spend, purchasing patterns and delivery schedules.
The number of people involved in a procurement management process may also depend on the value of the goods or services requested, with high-value purchases often requiring authorization from more senior stakeholders.
5 Areas to Target to Improve Procurement Management
Like most business processes, the procurement process can always be improved. Transitioning from manual and paper-based processes to a digital approach addresses many of these areas. They include:
Approvals: Paper-based approvals are notoriously slow and prone to delays, requiring all parties to print, sign and transfer physical copies of contracts to each other. Digital forms make approvals faster and simpler by allowing parties to sign remotely and making it easier to customize fields for specific needs.
Invoice matching: Matching invoices to POs and receipts is time-consuming and requires attention to detail, especially when comparing line items manually. Digital procurement management software can compare that information with relevant supporting documents in seconds.
Notifications: With paper-based procurement workflows, stakeholders can wait days for updates on a contract's status. As a result, actions — and therefore project timelines — can be delayed. With digital processes, all relevant parties have up-to-date status information and are immediately notified when they need to take action.
Integration: The creation of procurement documents can take days, especially when it involves multiple parties on different teams. Integrated procurement processes allow for real-time document creation, reviews and approvals. They also encourage collaboration between procurement management stakeholders.
Data storage: Paper- or spreadsheet-based record-keeping not only makes data difficult to find but can also stall workflows. Physical files can also take up a lot of space. Digital storage has many well-documented advantages over paper processes, particularly when the data is stored in the cloud and is easily accessible.
How NetSuite Can Help with Procurement Management
Procuring goods and services is a core function of every products-based organization, but it is time-intensive and costly when handled manually. Moreover, paper- and spreadsheet-based processes are prone to errors and compliance issues. NetSuite's procurement management software helps to eliminate these issues by:
Automating many of the business processes involved in a new project, thereby speeding up the average "procure-to-pay" timeline and optimizing cash flow.
Collecting quotes from multiple vendors to quickly find the best options at the lowest prices.
Achieving cost certainty with costing methods that increase costing accuracy and stabilize gross profit.
Matching purchase orders to specific transactions to simplify audits and improve financial controls.
Procurement management covers everything from identifying potential vendors to receiving goods and managing relationships with suppliers, and it involves many internal and external stakeholders at different stages of the process. Efficiently handling procurement activities helps organizations run more smoothly, become more productive and stay within their budgets. Digital procurement management platforms that eliminate time-consuming, error-prone tasks enable companies to keep projects moving forward and make sound decisions that lead to long-term success.
Procurement Management FAQs
What are the four main processes of project procurement management?
Procurement management involves a variety of processes, but four key ones are planning, selection, management and payment. Planning includes mapping out the deliverables, time frames and vendor requirements. This is followed by the selection of an appropriate vendor or vendors for a project's needs. Once a contract has been signed, the procurement team manages the vendor relationship until all obligations are fulfilled. Once the deliverables have been received, the vendor is paid.
What is the purpose of procurement?
The goal of procurement is to help companies find the goods and services they need to bring their projects to life. Procurement management helps them to do so more quickly and on budget while using the most cost-effective suppliers that meet their quality standards.
What are the seven stages of procurement?
The procurement process can be broken down into seven stages. The first stage is to identify the goods or services a business needs to purchase from an external vendor. Next, the procurement team evaluates potential suppliers and chooses one. Contract negotiation is the third stage, followed by the creation of a purchase order, which is sent to the vendor. Fifth, procurement receives the vendor's invoice and processes the payment. Next, procurement receives and inspects the order. Last, this department records and stores a record of invoices.