Cloud enterprise resource planning (ERP) adoption has risen exponentially in recent years, and that trend shows no signs of slowing down. In April 2021, a press release from research firm Gartner stated that businesses would spend nearly $121 billion on software-as-a-service (SaaS) applications in 2021, up nearly 15% from the previous year.
This popularity is well-founded — cloud ERP offers a number of advantages over an on-premises system and can help organizations drive operational improvements across the board. Even so, making the switch isn't an easy decision. The transition often requires a lot of work, but there are several benefits to cloud ERP that make moving an intelligent choice.
What Is Cloud ERP?
A cloud ERP system is similar to on-premises ERP in that it connects multiple departments and business functions on a single platform to unify processes and information from across the business. Unlike on-premises systems, however, cloud ERP is run on hardware owned and managed by the ERP software vendor — saving companies time, money and space. That model empowers users to log into the system from anywhere using just a web browser, without the need to be in the office or use only work-issued laptops.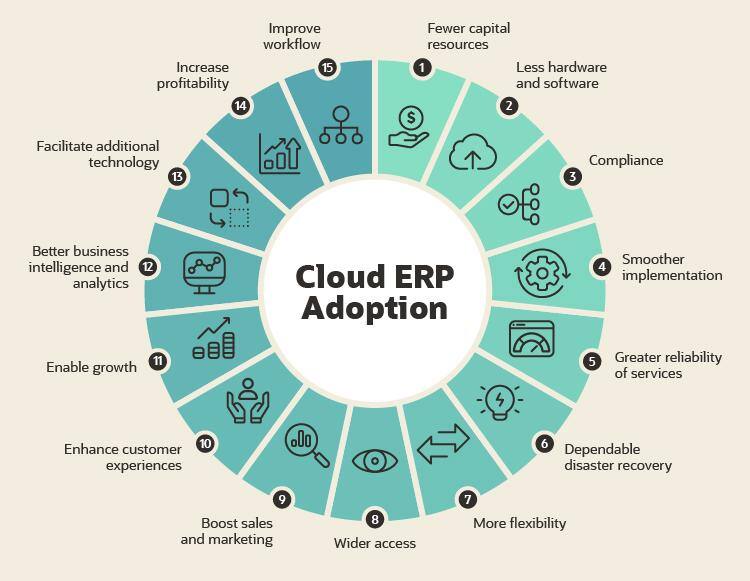 10 Reasons to Adopt Cloud ERP
Traditional on-premises ERP systems are typically too rigid to keep up with the shifting demands of today's businesses. Since they're difficult to customize, expensive and disruptive to upgrade, many businesses stick with older versions of the software, making it difficult to adapt to new business trends.
Cloud-based ERP leverages the power of the internet to offer companies increased flexibility and scalability. What other benefits does cloud ERP offer businesses?
1. Fewer Capital Resources
Managing cloud ERP systems doesn't require purchasing hardware or hiring additional IT personnel, as that's provided by the vendor. The upfront costs of cloud ERP are usually lower than other solutions, costing organizations about 30% less than on-premises systems. That is because cloud ERP users pay a recurring subscription fee that covers all hardware, software, security, updates and maintenance. With on-premises systems, the customer is responsible for hardware and security and pays and annual fee for maintenance and support.
2. No Hardware
Since the ERP vendor provides the infrastructure, companies can avoid the upfront and ongoing costs of hardware. On-premises systems require enterprise-class servers, cooling systems, backup and storage equipment, sophisticated networks and other expensive equipment — not to mention the electric bills all this equipment produces. Cloud ERP only requires a device with an internet connection, a current web browser and adequate processing power, requirements that most computers and mobile devices on the market today meet.
3. Compliance
ERP systems must adhere to ever-changing regulations, which can be difficult with on-premises systems, particularly if a business is running on an older version of the software that may need to be upgraded before enhancements can be made. However, leading cloud ERP vendors are proactive about complying with state, federal and international laws and regulations regarding accounting, taxation and customer privacy. Requirements for HIPPA, GDPR, GAAP and other regulations are built-in to cloud ERP software and updated regularly and automatically so that companies are always in compliance.
4. Faster, Easier Implementation
Companies that opt for cloud ERP solutions typically go live faster than on-premises systems. That's largely a product of the all-in-one nature of cloud ERP that eliminates the need to identify and set up the proper hardware and find qualified IT personnel. Implementation can also be less of a burden for staff due to the more modern design and user interfaces of cloud ERP systems. That reduces the amount of training that staff has to undergo and shortens the adjustment period. Cloud ERP can also be implemented faster at multiple locations or geographies and reduce implementation teams travel expenses.
5. Greater Day-to-Day Reliability
Cloud ERP vendors often aim for 99.999% uptime, which equates to fewer than eight minutes of unplanned downtime per year. Individual businesses cannot devote the same sort of resources to supporting a system on their own that a cloud ERP vendor can, thanks to economies of scale.
6. Dependable Disaster Recovery
This increased reliability also translates into faster recovery in the rare instances of fire, flood, theft and other catastrophic data loss. Cloud ERP services are designed with disaster recovery in mind. With daily backup routines included in the SaaS subscription, cloud ERP vendors can restore the entire system quickly. On-premises ERP customers are responsible for their disaster recovery measures.
7. Easier Upgrades and Integrations
Because cloud ERP vendors only need to support one version of the software, configuration and customization are simpler. Customizations and integrations carry forward automatically with every upgrade. That makes upgrades much easier and ensures companies stay current rather than avoiding updates out of a fear of the expense and disruption.
This makes it easier for cloud ERP to integrate with a companies' other existing systems as well as new technology.
8. Wider Access
Cloud ERP allows employees to access the system from anywhere — and therefore glean insights into any relevant component of the company. That includes back-office staff in operations, accounting and HR, front-office customer service employees and even the customers themselves.
This access from anywhere also means that companies can hire and retain the best people for the job, regardless of where they live without having to worry about troublesome VPN connections.
9. Enable Growth
Cloud ERP can more easily scale with small-to-medium-sized businesses as they grow. Because of its lower cost of entry, smaller businesses can access cloud ERP early on and, because of the ease of adding new licenses or modules, more storage it can grow with the business.
Additionally, remote access means that companies can expand to other regions or even globally without setting up a new ERP instance. Small groups of workers, or even a single professional, can establish a new branch, log in to the ERP system and get to work immediately rather than waiting the days, weeks or months it can take to move in and set up an on-premises system.
10. Facilitate Additional Technology
Because Cloud ERP solutions are built on a unified platform, it is easier for partners to build complementary software and integrations. As software companies shift their attention to the cloud, channel partners and other software companies are more likely to invest development in cloud-based technology at the expense of older, on-premises systems.
Finding a Cloud ERP Provider
Cloud ERP is one of the fastest, most cost-effective ways to optimize finance, supply chain, sales and marketing, human resources, operations and other business functions. However, companies need to first find the right solution, and it then must be implemented and configured in a way that allows the business to get the most out of the technology.
To start, businesses should partner with a vendor that has deep experience implementing systems in their industry. A cloud ERP provider, or its partner ecosystem, must be able to assist with project management, educate users on the technology and help drive innovation.
This relationship and collaboration shouldn't end once the implementation is complete. The vendor should be available to address issues, answer questions and provide ongoing guidance to ensure that companies continue to reap maximum value from a cloud ERP solution as they adapt new modules or launch new business models.
Move to the Cloud With NetSuite ERP
Businesses of all sizes are migrating to the cloud at a rapid pace. NetSuite is a leading provider of cloud ERP software, helping more than customers grow revenue and market share without driving up costs. NetSuite's cloud ERP solution provides a broad range of functions in a unified platform that has the flexibility to adapt to the needs and processes of a vast array of companies.
NetSuite's ERP platform offers different modules that help it meet the varying needs of different companies and the requirements of businesses in different industries. Some modules are licensed separately from the base ERP, but are still built for NetSuite and built natively on the system. Modules provide additional capabilities such as point-of-sale, project management and billing and warehouse management.
Cloud ERP solutions reduce costs, increase scalability and offer more advanced capabilities than on-premises ERP systems. There's no denying that migrating to the cloud is an immediate need for businesses across industries. Let NetSuite help your company move forward with your cloud migration.