If they are successful, small businesses quickly outgrow their improvised processes and rudimentary technologies. A company that goes from dozens of customers to hundreds and then thousands, that opens additional offices and that has a growing staff is going to have a hard time managing its affairs with the spreadsheets and paper records it relied on during startup. But the people running these companies are often not sure what type of software they need — basic accounting functionality or something broader. Such companies typically end up weighing the pluses and minuses of accounting systems against those of enterprise resource planning (ERP) systems.
What Is ERP?
ERP is an integrated suite of software applications that businesses can use to run almost every aspect of their organizations. The databases of ERP systems generally include inputs from accounting, human resources, manufacturing, marketing, sales, supply chain and other departments. Thus, business managers can use an ERP system's unified view of enterprise data to automate business processes and generate insights across multiple departments. Company managers can use ERP systems to identify process improvements and drive efficiencies.
ERP came into the lexicon of corporate technology in 1990 when Gartner first identified it as a distinct class of software. Many of the world's biggest and most successful companies have been using ERP systems for decades. Now, smaller companies are joining the ranks of ERP users, attracted by the availability of cloud-based ERP systems.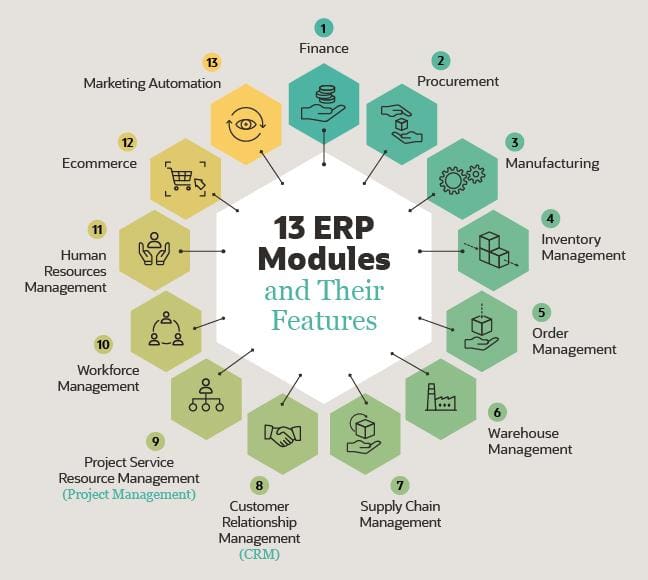 What Is Accounting Software?
By definition, accounting software is focused solely on a company's financial activities. An accounting system helps companies manage their accounts payable and accounts receivable, along with their bookkeeping activities. For instance, an accounting system helps with the generation of a trial balance, an integral part of double-entry bookkeeping. Accounting software also helps companies put together financial statements, such as profit and loss reports and balance sheets.
What Is the Difference Between ERP and Accounting Software?
The big difference between ERP and accounting software relates to scope. Accounting software helps manage and automate a companies' financial activities, and in so doing it can move small companies beyond their initial manual processes and spreadsheets. ERP software offers accounting functionality but also has many other capabilities.
Key Differences
When they reach a certain size, many small businesses find themselves spending more and more time managing their books. An entrepreneur who starts a business making and distributing meal kits — home-delivered ingredients with easy-to-follow cooking instructions — might be perfectly happy doing their accounting by hand, or on some sort of spreadsheet, when they have 50 or 60 customers. But if their business booms and they end up with 1,000 customers — and then 5,000 and then 10,000 — the accounting and bookkeeping will get overwhelming pretty quickly.
This is the point at which entrepreneurs generally start looking for software systems to make their businesses run more efficiently. Their first thought might well be of an accounting package, since their biggest problem when they are growing rapidly is organizational: keeping track of sales, collecting payments, paying suppliers and calculating profitability. An accounting package can certainly help with these things, but no accounting package on its own can keep track of suppliers, help manage a growing staff or provide a view of warehouse costs and activities.
Instead of entrepreneurs having their data in separate places — the accounting data in one software package and the HR, manufacturing and customer data in a patchwork of spreadsheets — they can have it all centrally located and get a view of their entire business in one ERP system. In doing so, small businesses can gain insights they wouldn't otherwise have and make decisions that increase their companies' profitability.
Key Differences of ERP & Accounting Software Capabilities
| ERP | Accounting Software |
| --- | --- |
| Can manage virtually all aspects of a business | Focuses on bookkeeping — general ledger, chart of accounts, accounts payable & receivable |
| Able to generate insights for all business operating areas | Analysis limited to financial data |
| Produces reports for all business aspects, incorporating financial and operational data | Produces reports based solely on financial information |
| Scales from small businesses to large enterprises | User seats or licenses and customer record numbers limit scalability |
| Costlier, but cloud-based offerings are affordable | Relatively inexpensive for small businesses |
| Requires a business case with needs analysis before deploying | Easy to deploy, even ad-hoc |
| Substantial learning curve to exploit full capabilities | Easy to learn; self-training usually sufficient |
ERP systems represent a unified approach to managing all business operations, whereas accounting software focuses strictly on the finances.
Why ERP Is the Right Choice for Growth
When companies start out, their way of doing things is typically very ad hoc. As they grow, this must change. It may no longer make sense to maintain inventory in, or send out orders from, the founder's garage. New resources, a mile away, a state away, half a world away, are now handling aspects of the business. And those resources must be managed.
Because ERP has so many modules to it — modules for supply chain management, customer relationship management (CRM) and HR, among others — it is often the most scalable option for a company that's growing. For instance, suppose an office supply product your company recently created and patented has a long list of distributors and retail suppliers. You wouldn't be able to keep track of the orders, shipments and supplies on an accounting system. If that's all you have, this data is most likely going to end up in different spreadsheets. But if you have an ERP system, you have a way to organize this information and quickly access the portions you may need at any time.
In addition to managing the different ways your business will be doing things as it grows, ERP software gives you an integrated view of your business; it puts all your business processes and functions in a single database. This can make a business much more efficient. Take the example of a company that uses an order-to-cash process in which a sales team gets the order — or maybe the order comes through a web purchase — and sends it to the warehouse. Then a pick list has to be created, meaning someone must take the product off the shelf, record it as deducted from inventory and bring it to the shipping department. When the product is shipped, accounting needs to send an invoice. If these activities are all recorded manually, the process will be slow and have a high chance of errors. With an ERP system, many parts of the order-to-cash process would be automated.
The integrated nature of ERP — being able to see all aspects of your business together in one place and connect them with each other — could lead to other improvements, as well. You could become better at production planning and scheduling, and you could automate some aspects of your supply chain.
Video: ERP vs. Accounting Software
Choose Growth, Choose NetSuite
As they get to that sought-after moment when sales take off, the first thing small companies usually think of is accounting software. Their initial goal is to streamline and automate financial tasks that are starting to become overwhelming. NetSuite ERP has a core of financial and accounting functions that can provide companies with an immediate solution. Companies can use NetSuite ERP not only to automate aspects of their accounts receivable and payable, but also to quickly see important financial metrics and to stay in compliance with accounting standards and tax codes.
However, most fast-growing small companies soon realize that other parts of their business would also benefit from automation and software. One company, for instance, may want a better way than email for doing order-processing. Another may want something better than a spreadsheet for its inventory management. NetSuite ERP offers these operational capabilities and many others, including inventory and order management, HR, customer management, warehouse management, project management and supply chain management.
Conclusion
"I need accounting software" is often the first thought of a small-business owner when their business starts to expand. Such entrepreneurs often feel pressure to get their financial systems under control. But most small businesses would also benefit from other types of software — to manage their customers and their supply chains, to process orders and to handle a variety of other operational activities. Enterprise resource planning systems integrate a wide range of business functionality. For many business owners wondering how they are going to scale, a cloud-based ERP system is well worth considering.
ERP and Accounting Software FAQs
Is accounting an ERP?
Accounting software is typically included as one part of the functionality of an ERP system. But accounting software has a narrower purpose and the two types of software are not identical.
Is Xero an ERP?
Xero is a cloud-based accounting system for small businesses, not an ERP system. It is designed to help with bill-paying, expenses and certain banking activities. It does not have the broad functionality of ERP.
What is the difference between traditional accounting systems and enterprise systems?
Accounting systems help companies manage the financial aspects of their businesses. Accounting software is often used by small businesses early in their growth trajectories. Enterprise systems perform accounting tasks but have considerable functionality beyond that, including supply chain, distribution and customer management.