Accounts receivable (AR) can refer to the amount of money customers owe a company for the goods or services they received or the process that converts that debt to cash. This is why managing AR is such a critical business processes, and the quality of AR can affect whether a company thrives or declines. A dashboard that visually presents accounts receivable data can provide key insights about an organization's state of receivables and help paint an accurate picture of a company's cash position.
Dashboards dedicated to AR metrics provide transparency and insight across AR processes. This can help a company shorten the order-to-cash cycle and maximize its working capital success.
What Is Accounts Receivable (AR)?
The term accounts receivable (AR) typically refers to an asset account on financial statements, and it represents the amount customers owe for past sales. AR is a current asset because payment is expected within a short period, not to exceed 12 months. Other times, AR refers to the function within an accounting department that handles invoicing and processing payments from customers. AR departments are tasked with getting cash in house from sales revenue.
What Is an Accounts Receivable (AR) Dashboard?
Automated accounting dashboards are often compared to the gauges and alerts in a cockpit. They provide real-time information about the company's state of receivables and can signal potential problems. An AR dashboard is a graphical display of information that shows key performance indicators (KPIs), important summary data, alerts and trends for both the accounts that owe money to the company and the AR team processing them. Automated dashboards pull real-time financial and operational data from an organization's enterprise resource planning (ERP) system and can be customized for different company roles.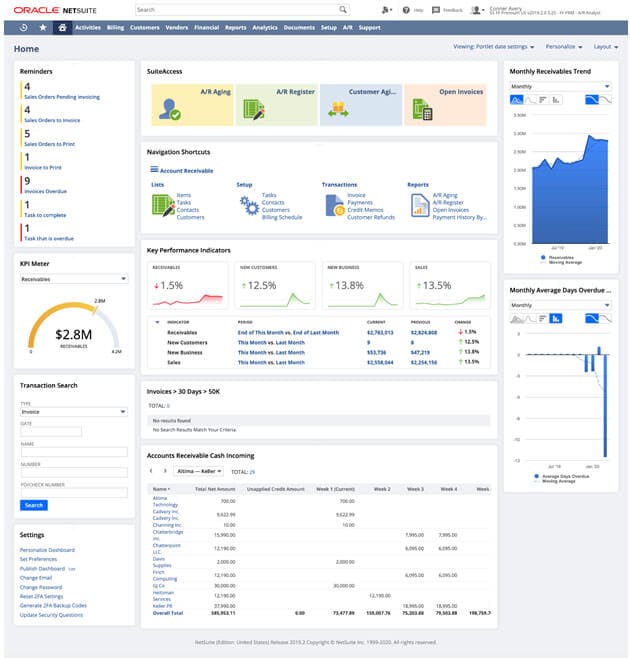 What Does an Accounts Receivable (AR) Dashboard Track?
An AR dashboard highlights details of a company's receivables, including KPIs such as AR turnover and days sales outstanding (DSO), as well as aging reports and customer master files. The dashboard also tracks how an AR department is performing using KPIs like processing output, ability to collect amounts owed and error rate.
Why Is an Accounts Receivable (AR) Dashboard Important?
The core of any company rests on selling to and collecting payments from its customers. A well-managed AR workflow can accelerate incoming cash and speed up payments. An AR dashboard helps by putting easily digestible data in front of AR staff to help with day-to-day tasks. Plus, an AR portlet on the dashboard of a senior executive or business owner can help support high-level decision-making, giving them the option of using that portlet to drill deeper into AR data. Access to real-time, summarized AR data can improve working capital management and cash flow forecasting, increase overall profitability, reduce customer credit risk and enhance employee management.
AR dashboards also highlight trends and provide transparency into the AR process, which can help companies avoid the costly effects of a substandard AR workflow. These include unbilled, misbilled or uncollected sales, unauthorized credits and deductions, misapplied payments, strained customer relationships, an underproductive staff and even fraud.
Who Uses an Accounts Receivable (AR) Dashboard?
Who uses an AR dashboard varies depending on the size of the organization, but many people can benefit from different subsets of the data that populates a typical AR dashboard. In small companies, the bookkeeper might have an AR dashboard, or a more general dashboard customized with a section of AR-specific KPIs. In midsize businesses, AR clerks might require AR-specific dashboards with more tactical information than their AR manager, who needs to monitor department operational performance. A CFO's dashboard will likely include an AR portlet among its mix of operational and strategic KPIs. As an organization's layers of financial management, sales volume and staff increase, so does the need for multiple customized dashboards that deliver AR data at assorted levels of detail.
What Are the Benefits of an Accounts Receivable (AR) Dashboard?
The efficiency and effectiveness of the AR function is vital because of its role in cash flow and to maintain positive customer relationships. The benefits of an AR dashboard derive from its ability to pull data from the ERP accounting system — a single, shared database — in a timely way, freeing stakeholders to act on the data and metrics rather than having to find or create them. Bolstered by automation and integration with such systems, AR dashboards provide:
Real-time data for better budget and sales monitoring and timely decision-making. Current data is especially critical because the likelihood of AR collection declines as the time from sale increases.
Continuous visibility at a glance using select KPIs, trends and customer information to monitor progress toward goals.
Better insight into AR department productivity to enhance workflow, customer relationships and human resource management.
Companies that use AR dashboards benefit from tighter control of cash inflows and working capital, more accurate forecasts, lower customer credit risks and greater human resource efficiency.
Accounts Receivable (AR) Dashboard Key Features
Leading ERP systems offer role-based dashboards, including for AR, with many features that will appeal to different users. However, some features are more commonly used than others. These features include:
Customization
Some AR dashboards can be customized based on log-in permissions to deliver useful and appropriate data for different roles involved in AR. An AR clerk, for example, has different priorities than the AR manager or a collections clerk. Meanwhile, a controller or a CFO can add AR data to their customized higher-level dashboards. Customization and role-based dashboards provide consolidated summary information without data clutter.
Automated alerts and reports
Many dashboards deliver automated reminders and KPI alerts that might link deeper — to recurring reports, for example. Because this data comes from the ERP's centralized database, everyone is working with the same information. Cash flow management dashboards that include forecasts are common because of their importance in working capital management.
Filters and drill-down tools
These enable greater visibility into AR data. Filters sort data based on variables such as customer name or segment, time period, salesperson, AR clerk or location. Drill-down capabilities provide for more thorough assessments of AR data and individual processes.
How to Set Up an Accounts Receivable (AR) Dashboard
When setting up a new AR dashboard, the objective is to provide the most valuable information in an efficient, intuitive way. Cloud-based ERP systems typically offer dashboard templates with preselected KPIs as a starting point, from which users can customize the KPIs displayed, their location on the dashboard and how they appear. A dashboard that integrates with an organization's ERP system ensures data integrity and provides the ability to drill down into KPIs, while robust ERPs include the dashboard.
Without such a modern ERP system, the more traditional approach to setting up a new AR dashboard usually has these three steps:
Determine specific KPIs and metrics to track based on company goals and the user's role. AR dashboards typically include a mix of AR account information, AR KPIs and department performance KPIs.
Gather user input to ensure the interface is intuitive. Determine the use of charts, graphs and other graphics to present data in a quickly digestible way.
Consider how each person will use his or her dashboard, including on which devices and how often it will be accessed.
Monthly Accounts Receivable (AR) Dashboard Example
An example of an AR clerk's dashboard is below. Key information and features an AR clerk may want at a glance include:
Reminders that identify time-sensitive to-do items, such as customer invoices to send and new items requiring attention.
KPIs, which visually display real-time data for selected performance metrics. Users can switch between different KPIs and change periods to view trends over time.
Transaction search for quick access to transaction details in any stage of the AR process.
Suite access shortcuts into various parts of the AR/billing system, such as invoice register and master customer files. Multiple aging reports at varying levels of detail can also be accessed here.
Navigation shortcuts for easy access to AR reports and other information, such as transaction types and lists.
Invoices > 30 days > $50k, spotlighting unpaid, overdue customer invoices over a specified value threshold, as of a certain point in time. Those value and time variables are customizable to align with company goals.
Accounts receivable cash incoming, which reflects projected weekly cash flow by customer. This is critical for forecasting, working capital management and treasury.
Monthly receivables trend and monthly average days overdue, presented as easy-to-read graphics of KPIs over a period of time.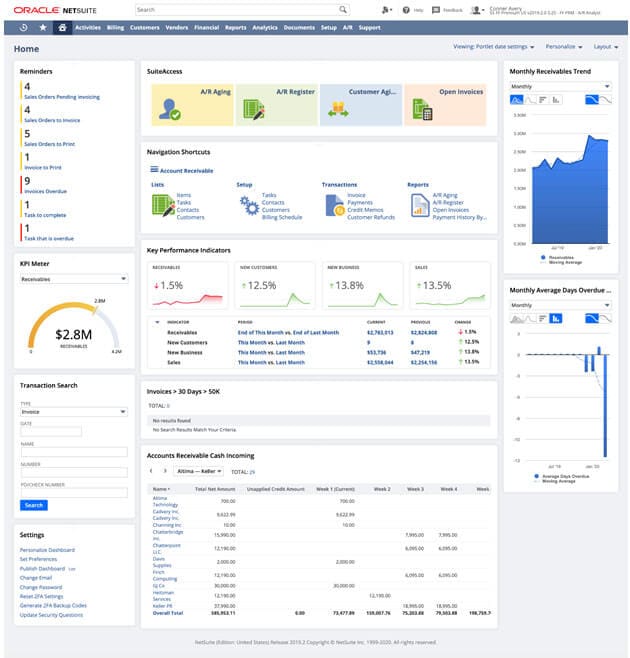 Accounts Receivable (AR) Dashboard KPIs & Metrics
Building the right AR dashboard requires selecting a mix of KPIs that reflect a company's unique set of goals. Most AR dashboards compare KPIs to budgets and forecasts, performance in prior periods or industry benchmarks. The following KPIs, which are likely to appear on most AR dashboards, are organized into separate categories for customer payment analysis and departmental performance analysis.
AR KPIs for customer payment analysis
AR KPIs that relate to customer payments, cash flow, receivable balances and credit risk include the following.
Total accounts receivable: Shows the total value of outstanding customer sales made on credit at a specific point in time. AR dashboards typically compare this balance to historical trends or other points in time.
Accounts receivable aging: Groups all customer invoices based on the age of invoice — the length of time it has been outstanding. Typically bucketed in 30-day increments, AR aging helps determine which invoices are most at risk of nonpayment and might have to be sent to collections. This KPI also provides insight on the percent of overdue receivables.
Current accounts receivable: Focuses on the current bucket of AR aging, meaning unpaid sales that are still within the company's billing terms. A high AR ratio, calculated by dividing current AR by the total AR balance, is generally better because it reflects fewer past-due invoices. A variant of this KPI is the current AR aging by invoice date.
Accounts receivable turnover: Reflects how many times a company collects its average AR balance in a period, typically a year. The AR turnover ratio provides insight into the pace of cash inflow, the efficacy of extending customer credit and the efficiency of collecting amounts owed.
Days sales outstanding (DSO): Measures the average time in days it takes to get cash in house from customers. This metric measures the very heart of the AR process. DSO is also known as average days receivable, average days to pay or average time to receive payment per invoice. Current days sales outstanding focuses on the current bucket. It's also important to monitor DSO performance over time, such as a six-month period, to uncover trends.
Top customers: Ranks customers most commonly by either the amount owed or transaction volume. Two common versions are top delinquent accounts and top-paying customers.
Average days delinquent: Displays the number of days on average that payments are past due. This metric is important for both AR risk and to monitor a collections team's performance.
Cash summary: AR dashboards may have various reports related to incoming cash flow from collected AR to help proactively manage working capital. Cash summaries by day, week or month are typical for more accurate forecasting, as is projected cash receipts.
AR KPIs for department performance analysis
KPIs that measure the AR department's performance include the following.
Customer invoice volume: Monitoring the total number of invoices billed by the department helps analyze productivity. This can identify trends and show comparisons over time periods or by employee. Number of revised invoices, an offshoot of this KPI, shows the error rate for customer invoices.
AR expense as a percentage of revenue: Measures the cost to run the AR department. It "common sizes" the measurement by expressing it as a percentage of revenue.
Accounts receivable process cost: An efficiency metric that estimates the average cost of the AR process by invoice, cash receipt or active customer. Processing costs often include labor, systems, overhead and mailing costs.
Activities by collector: Indicates how effectively each member of the collection department is securing cash payments from the customers they are responsible for. This metric has many variations, including number of customers per collections employee and number of contacts per payment. These metrics can be analyzed individually or with other metrics in a summary of collection activities in a customized AR dashboard.
Collections effectiveness index (CEI) per collector: CEI shows how many accounts are cleared in a certain time frame. CEI per collector divides the CEI by the number of full-time collection employees.
Tracking Accounts Receivable (AR) With Accounting Software
An AR process that runs smoothly and keeps cash flowing steadily into the organization is vital to its longevity. Companies of all sizes have been using versions of AR or billing software to monitor AR for decades, but the most successful now use AR dashboards. An AR dashboard provides a visual workspace of key AR performance metrics that show the state of invoice payments and department performance. An AR dashboard can help increase productivity and align the different roles involved in the AR process by working from the same, easy-to-understand data. Many AR solutions are cloud-based, such as NetSuite's cloud financials and accounting software, which makes customizable dashboards with real-time insight accessible from anywhere.  
Conclusion
Accounts receivable success results in healthy cash flow — one of the biggest concerns for most businesses. AR dashboards are a useful tool for monitoring whether customers are paying on time and getting cash in-house quickly. They also help manage and increase an AR team's productivity. Key dashboard features, such as customization by role and integration with accounting systems, let AR teams display real-time data and drill down into KPIs to increase a dashboard's usefulness and benefits.
Accounts Receivable Dashboard FAQs
What is current accounts receivable?
Accounts receivable is the amount customers owe a company for products or services they have received. Current accounts receivable is invoices that are outstanding but not due to be paid yet given the agreed-to billing terms.
What does an accounts receivable entry show?
The journal entry to establish an accounts receivable shows a debit to accounts receivable and a credit to sales. When the customer remits a payment, cash is debited and accounts receivable is cleared using an offsetting credit.
How do you report accounts receivable?
Accounts receivable is reported in the asset section of a company's balance sheet. Accounts receivable due within a 12-month period are classified as current assets, while those beyond 12 months are considered long-term receivables.
How do you measure accounts receivable performance?
Most AR key performance indicators relate to the time to get cash into the company. Typical KPIs are days sales outstanding (DSO), accounts receivable turnover (ART) and collection effectiveness index (CEI).