Define, manage and maintain product data to accelerate design and development
What is NetSuite Product Data Management?
NetSuite product data management capabilities help establish and maintain all of the master data needed for R&D and design of new products, or the redesign of existing ones. A central repository for all product data — including design and manufacturing specifications, bills of materials (BOMs), revision levels, costing information and design progress — ensures that all stakeholders share a common understanding and that production engineering changes propagate end-to-end and are reflected in downstream BOMs, plans and inventories.
---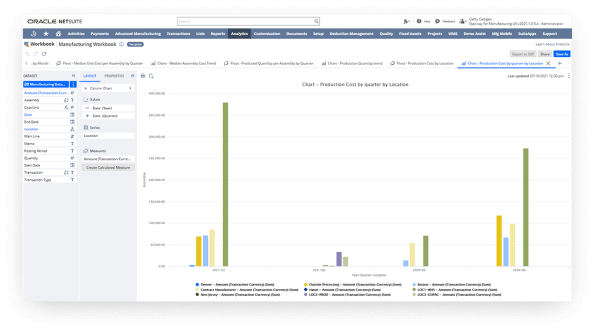 Keep an Eye on Costs
Routing definitions allow companies to track labor costs and overhead and set defaults for individual locations. Work centers and costing templates accurately record the resources required for production.
---
It would be impossible to continue to grow as we have without NetSuite. We have customer financial, production and manufacturing data all in one place.
NetSuite Product Data Management Benefits
---
NetSuite Product Data Management Features
---
Manage all your product data in one place, simplify the design process and reduce time-to-market for product launches.
Assembly Items
Establish and maintain BOMs with minimal effort through the use of assembly items. This approach ensures consistency as users create and edit the information required to effectively manage multilevel BOM structures. Advanced options include the ability to mark items as phantoms, define expected yield, maintain revisions and set effectivity and expiration dates to ensure you always build the right version of your product.
Advanced Bill of Materials
For companies that want more control over product data structure, optional advanced BOM functionality delivers many additional features. Once enabled, users can create and maintain multiple BOMs for each item — for example, separate engineering and production BOMs. Additionally, each BOM can be location-specific or linked to multiple end SKUs — ideal for companies that sell the same items under multiple brands. Integration with CAD applications allows businesses to simplify costing by easily importing BOMs.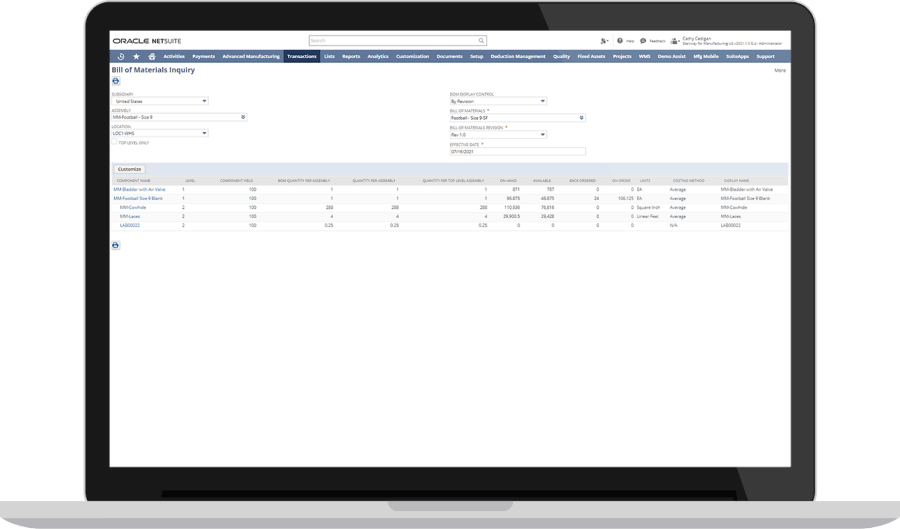 Item Management
A unique approach to item definition, in which all items start from the same screen and users select the type of item they wish to create, allows NetSuite to present an item definition screen tailored to that specific item type that shows and requires only necessary information.
Location Management
The NetSuite "item master" enables companies that manufacture or stock inventory in multiple locations to not only define how an item is stocked and replenished, but how it is manufactured on a location-specific basis. This provides a high degree of flexibility.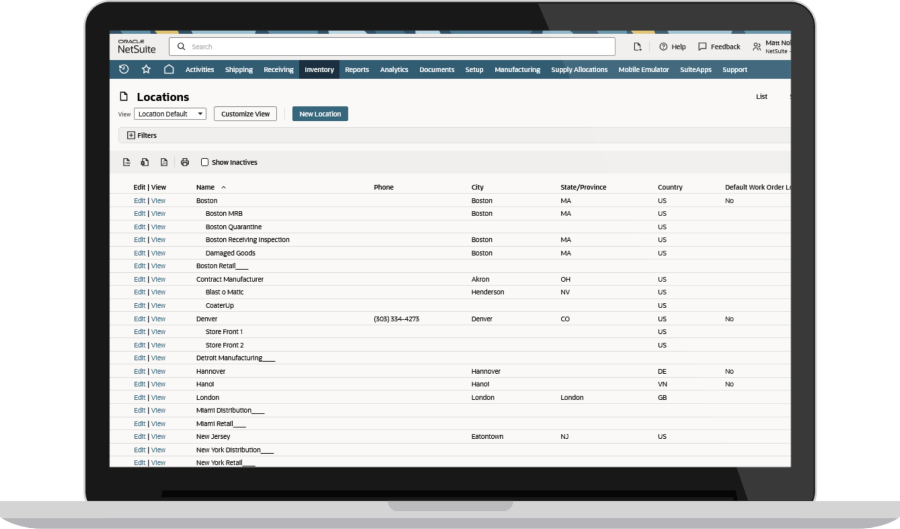 Engineering Change Orders
Capture, document and share requested changes with all interested parties, gather approvals and then automatically implement accepted changes. Easily categorize change orders by type, and update process and documentation changes in addition to material product changes. When used in conjunction with quality and case management features, NetSuite product data management provides complete control over the lifecycle of your products — ensuring that you always plan, manufacture and deliver current and correct designs.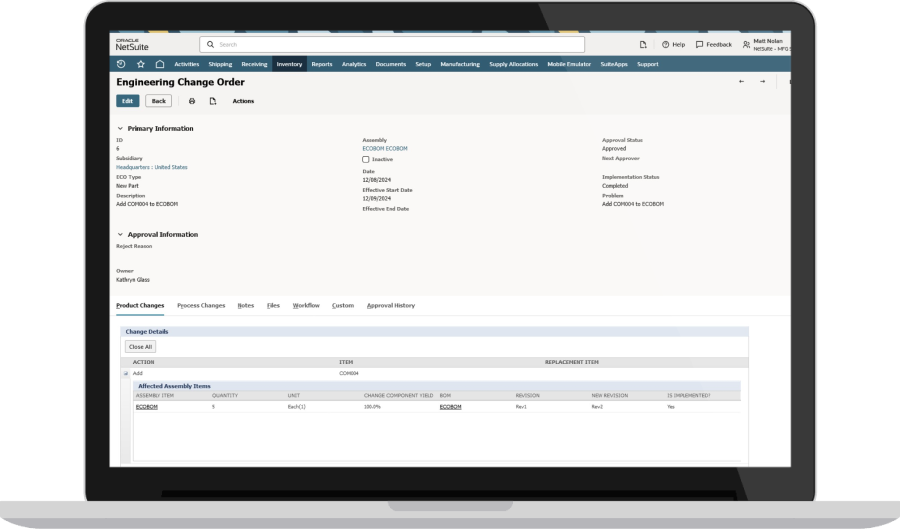 Routings
Easily define the people, machines, work centers and time it takes to produce a product. This information, combined with cost templates, yields expected labor, machine and indirect costs and enables you to track the level of cost detail appropriate to your manufacturing process. NetSuite Advanced Manufacturing feature adds the ability to automatically generate a finite capacity schedule by defining additional characteristics unique to your facility. Additionally, location-specific routing functionality may be defined where necessary.
Document Management
The NetSuite File Cabinet was designed as a central repository for all the documents, files and attachments that you need to run your business. Files may be uploaded and attached to virtually any NetSuite record, including Customers, Vendors, Orders and more. Automatically upload and update files by dragging and dropping them from your desktop. Files are stored in folders with unique security permissions.
Challenges NetSuite Product Data Management Solves
---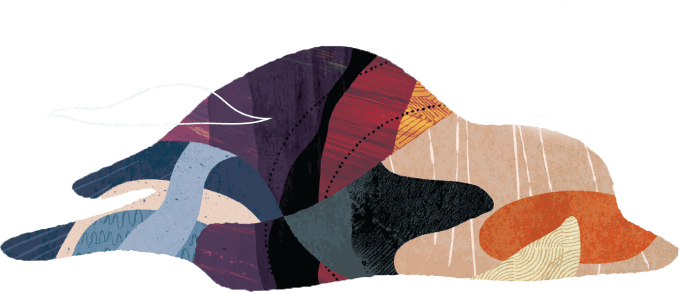 How Much Does NetSuite Product Data Management Cost?
Companies of every size, from pre-revenue startups to fast-growing businesses, have made the move to NetSuite. Looking for a better way to run your business but wondering about the cost?
Users subscribe to NetSuite for an annual license fee. Your license is made up of three main components: core platform, optional modules and the number of users. There is also a one-time implementation fee for initial setup. As your business grows, you can easily activate new modules and add users — that's the beauty of cloud software.
Product data management capabilities are included in the NetSuite license.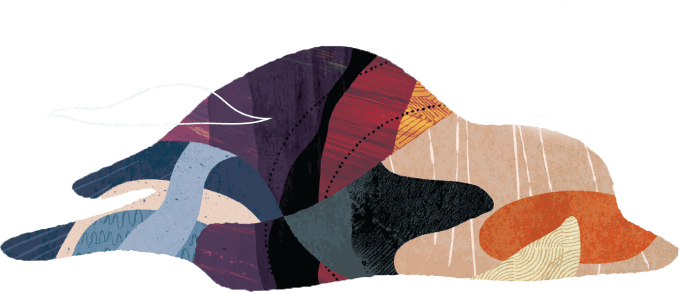 Resources
---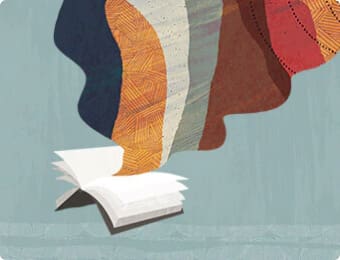 Data Sheets
Access specifications, features and benefits of NetSuite Product Data Management.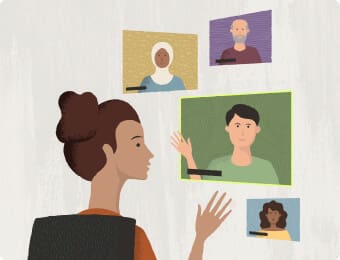 Webinars
View our on-demand webinars, which deliver insights from NetSuite and industry experts.