After employee payroll and benefits, corporate travel and entertainment (T&E) is the second-largest controllable expense for companies. Because it makes up such a large chunk of a company's financial outflow, travel expenses shouldn't be managed using paper records, crumpled receipts and Excel spreadsheets.
By automating the expense management process, companies can save considerable time, improve accuracy and reduce the time it takes to reimburse employees for their expenses.
What is Expense Management Automation?
Companies benefiting from expense management automation use software to manage the process of recording, tracking, approving and paying for reimbursable expenses incurred by employees. Following the company's expense management policy, the software also helps assure that the company isn't overspending on approved—or unapproved—expense areas.
Expense management automation also implies use of analytical tools to make smarter spending decisions and help organizations maintain compliance and accountability by accurately tracking and reporting on all expenses.
Why Automate Expense Management?
Manual expense management requires a lot of paper and spreadsheets; that can make the process inefficient, time-consuming and error-prone. One survey of almost 600 finance professionals showed that 43% of companies(opens in new tab) use manual processes to manage expense reports, and 46% don't track the costs associated with that work.
Of those that do, 25% say it costs more than $11 per record; for 8%, that figure rises to $31 or even more.
Still, cost isn't the main driver for automation. According to the 82% of companies that have either invested in or are planning to invest in technology to improve expense management, simplifying the expense reporting process for employees and managers is a key reason for the move.
Other motivations include gaining access to real-time insights for visibility into spending trends and a desire to have all of the company's expense data on a single platform—versus scattered across spreadsheets and paper-based systems.
Traditional Expense Management Process
11 Steps to Processing an Employee Expense Report
Employees gather paper receipts as they accumulate expenses.
On a monthly or quarterly basis, they take those receipts and record them in a spreadsheet-based expense report.
The report is reviewed by the accounting or finance team and the employee's direct supervisor.
The report is sent to the appropriate approvers—managers, senior executives—for review.
The expense report is approved in whole or in part, with any unapproved expenses sent back to the accounting team and, subsequently, the employee for review and revision.
The report is sent to the accounts payable coordinator to be posted and set for payment.
All submitted receipts are verified as legitimate.
The receipts are entered into the file for tax and accounting purposes.
The accounting team enters the correct tax codes into the expense report.
The expense report is posted in the company's accounting system or ERP for auditing and accounting purposes.
The reimbursement payment is authorized and issued to the employee or credit card company, as applicable.
Traditional vs. Automated Means to Expense Management
Expense management tracks employee spending behavior and determines how the organization will reimburse them for the costs incurred.
With traditional expense management, companies use a paper- and spreadsheet-based system of processing, paying and auditing their employees' expenses. These expenses typically cover travel, accommodations, meals and other expenses incurred while an employee is conducting "official business," but employees may also expense work-from-home costs, software as a service, office supplies and more.
Using automated expense management systems, companies can simplify the report submittal process, eliminate paper, reduce errors and the risk of expense fraud, and reimburse their employees faster.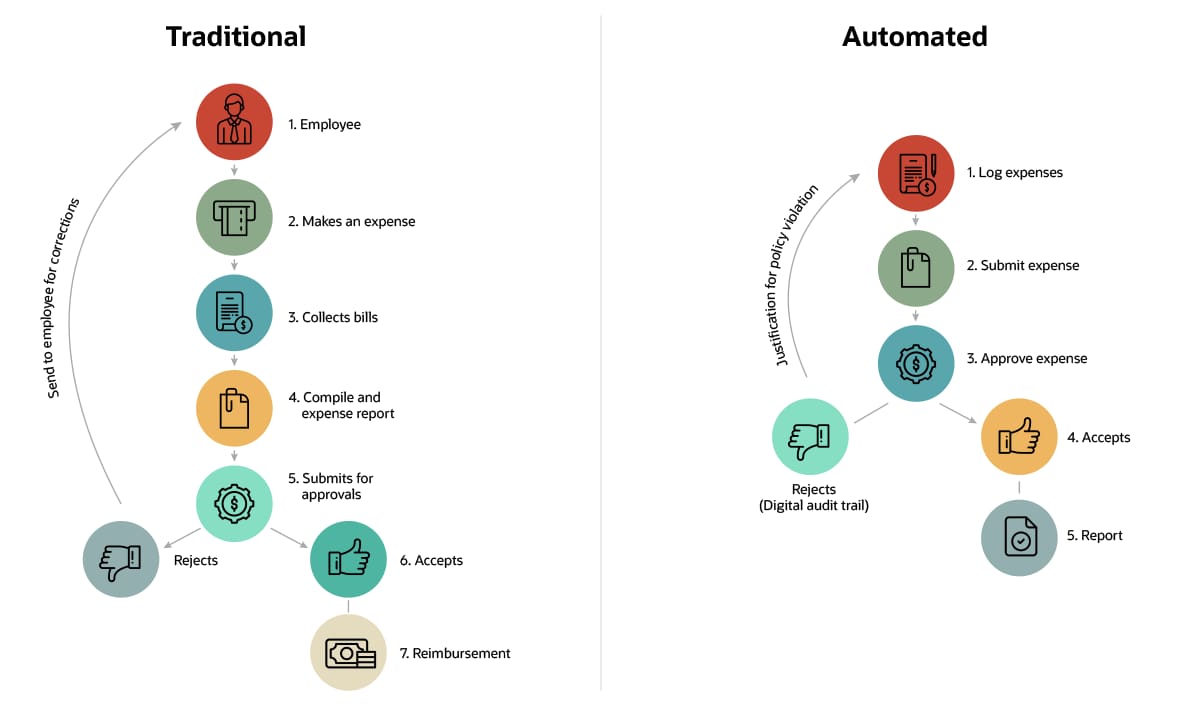 Benefits of Automated Expense Management
Companies can gain significant benefits by automating their expense management processes. On average, it takes 20 minutes and costs $58(opens in new tab) to manually process a single expense report, according to the Global Business Travel Association.
If errors are found in the report, one correction can add 18 minutes of time and $52 in costs to the process. That's a high price to pay for what might be a simple paperwork error.
The GBTA says companies process an average of 51,000 expense reports each year; that translates to about $2,650,000 in costs. The association says 19% of those reports contain errors, adding an additional $562,000 and 3,000 hours to the effort.
By automating the expense reporting process, companies can reduce the amount of time spent gathering records, getting those records approved and then fixing mistakes. This, in turn, dramatically reduces the costs involved.
Additional benefits of automation include:
Better compliance.
Improved accountability.
Less expense fraud and fewer duplicate entries.
A system that directly aligns with your company's expense management policies.
Elimination of spreadsheets and paper records and reports.
An accounting department that has time to work on more important projects.
Real-time visibility into financial data for company-paid expenses.
Easier identification and remediation of underlying problems, such as outdated or noncompliant expense policies that employees are still following.
Employees who aren't bogged down by paperwork and receipts.
An automated system also speeds up the approval process and helps employees get reimbursed faster. This leads to better job satisfaction and less frustration for associates who are eagerly awaiting reimbursement for expenses that they paid for themselves.
Features of Automated Expense Management Solutions
Automated expense management solutions help accounting teams track expenses, obtain fast approvals on employee expense reports and reimburse associates on time. They also help eliminate errors and fraud and provide accurate spending data that results in better decision-making.
The key features of these systems include but aren't limited to:
An easy way for employees to submit and manage their expenses.
A process for submitting expenses from anywhere via a web browser or mobile device.
Automatic data extraction of, for example, costs, tips, taxes and seller information, to simplify the filing process.
Real-time verification of corporate expense policies and immediate notifications of any that are violated.
Integration with corporate credit card reporting systems.
A dashboard that administrators and approvers can use to view and approve expense reports.
Multiple levels of authorization for approvers, as required.
Direct integration into the company's ERP or other central financial and accounting systems.
Documented proof of all receipts, interactions, acceptances and rejections in case of an audit.
Data reports and insights that help companies track spending and control their budgets.
Choosing the Right Automated Expense Management Software
When shopping for automated expense management software, you'll quickly learn that not all systems are the same. Look for a solution that eliminates paper, enables better tracking and compliance, maximizes the accuracy and timeliness of expense reporting and enhances the overall user experience for everyone.
You'll also want to make sure the solution offers the right level of functionality, can accommodate your company's specific needs and comes with the necessary after-sale support. Most importantly, find a solution that integrates directly with your ERP or other financial systems. This will help eliminate manual data entry, reentry and associated errors.