Cloud computing has become an increasingly attractive option for growing businesses. Rather than owning on-premises IT infrastructure, with the attendant time-consuming and expensive configuration, maintenance and other requirements, companies are turning to the cloud to rent the services they need for operations.
Many find cloud computing lowers their costs while increasing their ability to scale and innovate.
But what exactly is cloud computing? With so many variations and deployment options available, the first step in choosing the right cloud strategy is to understand how the technology works and which cloud approach is best for your organization.
What Is Cloud Computing?
Cloud computing is the delivery of computing services on demand over the internet. For businesses, these services range from storage and databases to data analytics and customer intelligence, to specialized operational software like enterprise resource planning (ERP) and human resources (HR) platforms. Typically, companies subscribe to and pay only for the cloud services they use, which can save them considerably not only in costs and time required to set up and manage these services, but also the cost of buying infrastructure. Many different technology vendors provide, or "host," cloud services. Some offer integrated solutions covering the breadth of their customers' IT requirements, while others provide specialized cloud software designed to serve specific line-of-business or industry needs.
From a business perspective, available services range from storage and databases to data analytics and customer intelligence to specialized operational software, like enterprise resource planning (ERP) and human resources (HR) platforms. Typically, companies subscribe to and pay only for the cloud services they use, which may save them a significant amount of time and money.
Individual users can access these services from wherever they are, which became a huge benefit during the pandemic. The numbers show just how huge: According to global research and advisory firm IDC, by the end of 2021, most enterprises will accelerate their shifts to cloud-centric digital infrastructure and application services, moving twice as fast as before the pandemic. Spending on cloud services, the hardware and software components underpinning cloud services, and the professional and managed services opportunities around cloud services will surpass $1 trillion in 2024.
Consumer vs. Business
Cloud computing is now a part of most people's daily lives. From streaming music from Spotify to viewing movies on demand from video-streaming platforms like Netflix to using an email service such as Gmail, cloud computing has freed consumers — and their hard drives — from storing files locally. And because data resides on remote servers "in the cloud," we can get to our music or email from any device, anywhere.
Many cloud providers charge a monthly fee for their services, with tiered options that correlate to, for example, the amount of storage needed or the number of devices accessing files.
Businesses also rely on the cloud for storage, along with related data backup and recovery features, but that's only part of the picture. For companies, the cloud also serves as a high-performing computing environment designed to support complex operations. Cloud computing supplants the need for a business to purchase its own expensive IT infrastructure and hire staff to maintain it. The cloud also provides a platform for application development. With a cloud provider handling the IT heavy lifting, businesses can instead focus on reaching their strategic goals.
Key Takeaways
Cloud computing enables all businesses to access up-to-date, well-protected technology resources on demand via the internet.
Users can opt for a public cloud deployment model, a private cloud of their own or a hybrid approach.
The pandemic supercharged cloud computing adoption. Companies big and small rely on the technology to support their operations.
Cloud Computing Explained
Unlike traditional, on-premises IT systems, the cloud (read: the internet) is everywhere. Companies can access their cloud-based applications and data from anywhere, regardless of which vendor supplies their solutions or where its servers are located and using many different devices. The software and services are hosted by the vendor and provided as a service to businesses and deliver the same, or better, functionality as on-premises systems without most of the downsides, like upfront licensing fees or the need to maintain hardware.
Cloud is especially useful for managing a distributed team. Consider an energy company whose field engineers move around constantly and need real-time access to grid data to fix outages, or a supply chain operation whose managers require a centralized view of supply, demand and inventory on their mobile phones. Cloud computing takes physical and operational barriers out of the equation so companies can run in a more integrated and efficient way.
How Does Cloud Computing Work?
The cloud is a decentralized information technology environment where compute services and digital information are shared. Cloud computing services are accessed via a web browser or mobile app with an internet connection, rather than through a company's own network. The vendor is responsible for the application, data storage, the underlying operating system, its servers, the physical data center infrastructure and installing security updates and feature upgrades. Customers manage endpoints and login rights so employees access only the data and services to which they are entitled and pay as they go for services, typically on a subscription basis.
The companies that host these applications generally run them in advanced data centers with more computing power, security and storage capabilities than all but the largest enterprises could afford.
The breadth of cloud services available to businesses continues to grow. Some companies rely on the cloud for simple data storage. Others need a boost in processing power to run complex applications or want to experiment with innovative technologies, like artificial intelligence (AI), that require significant computational power and specialized coding expertise. As remote working grows in popularity, businesses are increasingly using cloud applications to enable collaboration and secure data sharing among an ecosystem of remote employees and partners.
Why Is Cloud Computing Important for Businesses?
The importance of cloud computing for businesses can be divided into three categories: financial, operational and strategic. Overall financial benefits come from cost savings on IT infrastructure and management; operational benefits include improved data access and collaboration among employees; and strategic benefits relate to ways companies can use the cloud to boost productivity, scale their offerings and ultimately gain competitive advantage.
An added financial incentive for businesses is they can treat their cloud computing spend as operating expenditures (OpEx) rather than capital expenditures (CapEx) because they are paying for a service rather than a physical asset. This, in turn, lets them spread out their IT costs over time instead of being handcuffed to short-term budgetary constraints. Subscription model pricing also makes IT spending more predictable and accurate in a forecast, eliminating hidden or unplanned IT expenses such as when a server issue or security breach occurs.
Cloud Computing Uses
The rising popularity of cloud computing has led to a step-change improvement in the way businesses approach almost every element of their operations. Much like streaming content has virtually eliminated traditional music and video sales, cloud computing is now leap-frogging on-premises IT infrastructure, with many new companies electing to build their operations entirely on cloud infrastructure and platforms.
So who uses cloud computing?
Cloud computing is used in virtually every industry and every department of a modern organization. Finance teams use ERP cloud systems to track and monitor business performance. HR teams use cloud platforms to manage the employee experience, from payroll to performance review. Marketing departments use customer relationship management (CRM) and analytics software in the cloud to get closer to buyers and engage them with more personalized communications.
The cloud also offers businesses a test-bed for innovation. Developers can benefit from the computing power of cloud-based development platforms to build, test and fine-tune cutting-edge services without investing in the necessary infrastructure. Large companies with lots of legacy systems can now launch digital-first services built in the cloud to reach new audiences and modernize their business models.
Cloud Computing Use Cases
Cloud computing offers companies a way to access and tailor IT systems for a specific set of needs, whether internally or for customers. New use cases emerge each day, but following are some of the most common cloud computing applications that apply to virtually any industry.
Data storage and backup
Businesses have never had more data about their customers or operations, and all signs point to exponential growth for data collection in the future. By storing this information in the cloud, companies don't have to keep expanding their own storage capacity.
Data collection and analytics
Companies can gain invaluable insight from their data, but the challenge is consolidating information from different sources into one repository. The cloud can make it simpler to unify data from different teams and sources to gain a holistic view of the company.
For procurement teams, cloud-based data on vendor relationships ensures on-time payment and project delivery. For retailers, this translates to a better understanding of customers across omnichannel touchpoints. The list goes on.
Break down departmental silos
By bringing together data from different sources, cloud computing promotes information- and idea-sharing. Such interdepartmental, integrated business planning and collaboration is the backbone of successful business operations. For instance, alignment of data and processes between HR and finance teams is crucial to accurate reporting and employee management.
Improve data security
While some organizations have built robust security around their data, many businesses simply lack the expertise, computing power or budget to adequately protect information. Leading cloud providers have the resources to configure first-rate data security architectures across their data centers, networks and software. Companies that sell software-based services also update and patch their code for every customer, simultaneously and immediately.
Deliver services on-demand
This benefit lies at the heart of cloud computing, in which businesses and consumers alike can access what they need, when they need it. There are a variety of ways for services to be delivered, depending on the nature and sensitivity of information involved. Customers subscribe to these services, paying only for what they use.
Test and build new services or features
Application building and testing require significantly more computing power than everyday business operations, especially when emerging technologies like machine learning are involved. By testing and building new services and features in a cloud environment, companies can reduce their development costs. They can also scale their cloud investments based on their current computing power and data storage needs.
Types of Cloud Computing Deployment
One of the cloud's key selling points is that companies can choose among several deployment models to find the one that best meets their requirements. Some firms, particularly startups and digital-only businesses, may choose a public cloud service to ensure they can scale rapidly. Others, such as banks and insurance companies, may opt for a private cloud to maintain full control over sensitive financial data.
Here is a breakdown of the four deployment options available to businesses today.
Public cloud
Perhaps the most well-known cloud computing model, public clouds are "multitenant," which means customers share computing resources — including hardware, applications and development platforms — that are delivered on demand. Resources are accessed via a web browser and managed by third-party cloud providers, which have significant computing power and storage capabilities.
Crucially, public cloud services are highly scalable, so they can accommodate a growing number of users and capabilities. For instance, a cloud-based videoconferencing platform may need to scale up its cloud licenses with each new enterprise that begins to use its service to stream video and share files in real time.
Private cloud
Unlike the public cloud, private cloud deployments are typically built by a business, with the business's data behind internal firewalls. All resources are dedicated to one business only. This is an attractive option for companies that manage sensitive data and/or that deal with complex regulatory frameworks. But private clouds have some limits. The main one is that few businesses have the ability to grow their private clouds on the same scale as a public cloud provider.
That said, private cloud deployments are a popular entry point into cloud computing, with many companies eventually moving to a hybrid or public cloud model.
Hybrid cloud
Many businesses using the cloud today opt for a hybrid model, in which part of their data and services reside in the public cloud while sensitive data and projects reside in a private cloud. Some data and services are shared between clouds. In this way, companies get the best of both worlds — the scalability of a public cloud deployment and the control of a private environment, where needed.
Financial services institutions, healthcare providers, public-sector companies and other organizations that manage confidential data tend to gravitate toward hybrid models so they can keep innovating while evolving at their own, secure pace.
Multicloud
As the name implies, businesses that opt for a multicloud deployment use several cloud services from different providers. Some choose this option because they don't want to be locked in to one vendor. Others prefer different sets of applications for different operational needs from different vendors.
Multicloud deployments also ensure a certain level of redundancy, so an issue at one cloud vendor will affect only a portion of the business's IT capabilities.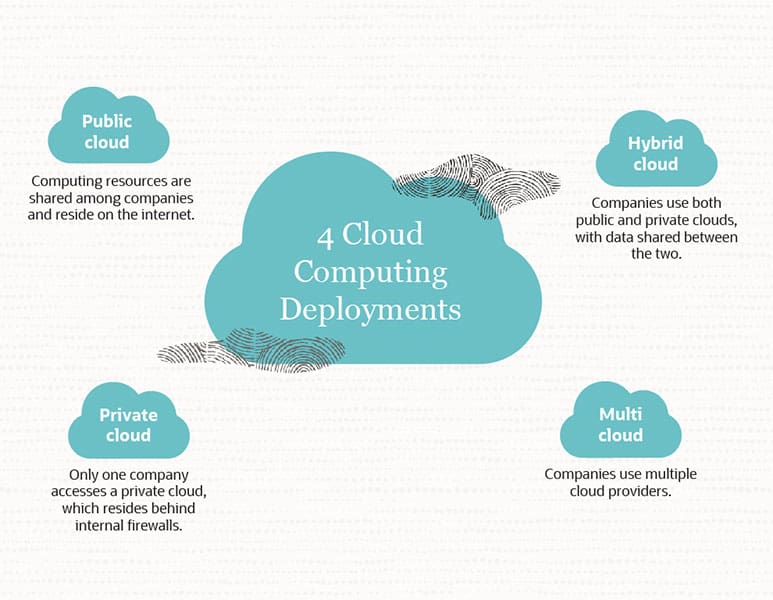 Benefits of Cloud Computing
Cloud computing offers numerous benefits that can lead to a company's long-term success. From more flexible cost structures to improved employee productivity, cloud systems stand to help companies boost performance at virtually every level of their operations.
Cost
With public cloud computing, businesses eliminate the direct cost of purchasing, maintaining and upgrading on-premises hardware and software. They also save the time and cost of paying staff who would handle those responsibilities. Cloud computing shifts what was once a capital expense — the cost of physical IT infrastructure — to an operating expense since users pay only for what they use, typically as a subscription. This makes costs more predictable and frees budget for other endeavors more relevant to the business.
Of course, the company needs to keep an eye out for overprovisioned and idle or orphaned resources.
Agility
Cloud computing lets businesses purchase and deploy a range of powerful applications and services in minutes. Such agility helps them innovate quickly and stave off competition by providing access to powerful computing capabilities and expertise that growing companies once could not have hoped to afford.
Users can quickly set up the storage and analytics engines they need to roll out a range of services, be it a SaaS operating system for wearable devices or a companywide data lake to support machine learning and AI algorithms.
Scalability
Cloud computing makes it possible for any size business to build services quickly and scale in line with customer demand. Businesses simply pay for more storage, greater computing power and new features as their offerings evolve, demand increases and they branch into new markets. For example, a logistics provider that wants to expand into foreign markets simply has to invest in new cloud licenses and storage capabilities, with no need to build new IT infrastructure of their own.
Performance
With cloud computing, users can tap into service providers' substantial computing power as needed. Cloud services can adjust dynamically to a company's performance requirements, automatically assigning server power during spikes in demand and dialing back power during quieter periods.
Take, for example, Cyber Monday, when online retailers discount their goods and services to jump-start holiday sales. Without additional computing power during that 24-hour period, their ecommerce sites could buckle from a surge in traffic.
Speed
Compared with on-premises solutions, cloud computing services are simple to set up and roll out. Indeed, access to resources is just a few clicks away.
The speed to market with new products enabled by cloud is also a competitive advantage, whether introducing a new application or adding new features.
Reliability
Cloud computing services stand out for their reliability and availability. Vendors typically mirror their customers' data to ensure business continuity and disaster recovery. Cloud software is also designed for optimal network performance, which means vendors generally deliver better application availability than equivalent systems built in-house. In the case of critical services like email or enterprise collaboration platforms, businesses tend to rely on cloud-based providers for management so they can focus on core strategic initiatives.
Productivity
Cloud computing systems can help companies remove data silos so teams can more easily collaborate. For instance, in companies where finance and HR teams work closely to manage employee performance and payroll, cloud-based ERP systems integrated with cloud HR software can create a data bridge between departments.
Data access has also become more relevant as more businesses embrace remote or hybrid working models, allowing employees to work productively and securely from any location.
Security
Data security, backup, disaster recovery and data loss prevention are growing concerns for businesses, and for good reason. But many lack the expertise or resources needed to secure their data from end-to-end. Cloud-based providers offer a level of security that few businesses can match or afford, especially for growing organizations with limited financial resources.
Sustainability
Just like commuters taking a train or bus to work is better for the environment than each person driving a car, cloud computing cuts down on the amount of equipment needed if each company were to build everything itself. Among the benefits: less energy consumed and a smaller carbon footprint.
In fact, cloud computing could help keep 1 billion metric tons of carbon dioxide emissions out of the atmosphere by 2024, according to market researcher IDC.
Disadvantages of Cloud Computing
While the cloud offers many benefits, businesses must be mindful about a few disadvantages. Generally, these relate to new cost structures and the risk of not choosing the right cloud deployment for data security and compliance.
Cost over time: While the upfront cost of cloud computing is significantly lower than for the outright purchase of on-premises IT infrastructure and systems, cloud services are not necessarily less expensive over three to five years because there is no depreciation. As a result, some companies may choose to buy an on-premises solution for long-term software requirements and pair it with a cloud-based approach to support new product development and innovation.
Loss of competitive edge: By using the same applications available to any company, some leaders believe they're giving up a competitive advantage. In these cases, many choose to purchase core business applications, like productivity, HR and accounting software, as cloud services and devote development efforts to "secret sauce" technology specific to the business. Examples might be a personalization engine for an online retailer or a GPS-based routing system for a delivery firm.
Data controls: Though the cloud is well-established, some businesses still prefer to host their sensitive data on-site. This is largely due to security, compliance and control concerns — not every business wants to share a cloud platform with competitors or is allowed to do so by regulators.
Complex migrations: Unlike startups that can build and run all of their systems in the cloud from day one, legacy companies first need to untangle the complex web of IT systems and infrastructure they have built over the years before migrating them to a cloud platform. Migrating to the cloud can pose challenges, including the need to rewrite applications and find the right staff expertise. Without a clear plan at the outset, migration to the cloud can become complicated, time-consuming and expensive.
Switching cloud providers — getting your data out of one cloud into another is not always straight forward. Be sure to understand how your data will be provided to you if you decide not to renew the service.
Common Cloud Examples
Cloud computing is behind many of the services people use today for work and play. Consider the multiservice platforms offered by companies like Google and Apple, which allow users to access their music, photos, videos and cloud storage on many devices using a single sign-on.
Another common use case is streaming content, dominated by the likes of Netflix and Spotify. These cloud platforms allow customers to access an enormous collection of videos, music, podcasts and other media on any device. Moreover, customer data is collected and stored centrally, so suggestion algorithms for new films or music are based on the latest and most complete customer profiles.
When it comes to business operations, cloud ERP is among the most frequently used cloud applications, along with HR, productivity and finance delivered as a service. Generally used as part of a hybrid cloud deployment, a cloud-based ERP system provides core financial and accounting functionality, with modules tailored to specific departments and industries. Because it doesn't need to set up hardware, a business can get up and running quickly.
Types of Cloud Service Models
In addition to various deployment types, cloud computing is offered via different service models. The model or models a company chooses will depend on its computing, scalability and security requirements.
Infrastructure-as-a-service (IaaS)
Users rent servers, storage and networking infrastructure in a cloud environment. An IaaS model is particularly attractive to companies that want to build proprietary applications themselves and control every element of their management. IaaS is commonly adopted by firms that want to simply purchase compute power as a utility and that have the technical skills and staff to manage end user access and devices, virtual machines and the applications themselves.
Software-as-a-service (SaaS)
SaaS is the most popular form of cloud computing. Unlike IaaS and PaaS, end users need have no visibility or interest in the hardware and operating system behind their SaaS solutions; they simply gain access to the applications they need over the internet, pay for licenses as needed and decide what access employees need.
Most consumer-facing cloud services are built on a SaaS delivery model. Increasingly, businesses are also running their own applications in SaaS environments to benefit from greater scalability and flexibility in their delivery — and to gain desirable subscription revenue.
Platform-as-a-service (PaaS)
In the PaaS model, cloud service providers deliver the software and operating systems developers need to build cloud-based applications on top of their own storage and network infrastructures. Software ranges from database management tools to middleware, providing developers with a robust environment in which to build and manage cloud-based services. Some organizations also rely on PaaS cloud systems for their network security, which they can customize to meet their needs.
Serverless
"Serverless" systems are so called because developers have no visibility into how the IT infrastructure underneath a serverless platform is managed. Companies tend to opt for this approach when they need to build new applications but don't have the time, budget or logistical need to manage their own cloud-based servers (virtual or physical) and related IT infrastructure.
Cloud Security
As more companies conduct business online and head to the cloud, cybersecurity has become a growing concern. While it can be daunting to hand over data security and compliance responsibility to an external vendor, the truth is that many cloud providers are better equipped to keep sensitive data and intellectual property secure compared with individual companies.
Is cloud computing secure?
Leading cloud computing vendors have built up years of IT security experience and commit best-in-class protection to their customers' data that most organizations would struggle to develop in-house. A multitude of cloud security tools have also come to market in recent years that help safeguard data and block attackers.
These technologies are specifically designed to track data as it moves between on-premises and cloud systems, in a hybrid deployment model, or between cloud applications in a multicloud stack. To complement their IT security measures, businesses should train employees to understand the security implications of cloud computing and factor needed protection mechanisms into their daily operations.
Trends in Cloud Computing
Cloud computing is not new, but many businesses are still in the early days of cloud adoption and innovation. Other businesses are still considering which elements of their IT infrastructure and services they can migrate to the cloud and must weigh the advantages and disadvantages of various deployment models.
Several trends are emerging that can guide their thinking.
Hybrid cloud and multicloud gain traction: The choice between public and private cloud computing is not always clear-cut. Public cloud environments remain popular, especially for consumer-facing services, but businesses are expected to increasingly gravitate toward a mix of solutions.
Hybrid and multicloud environments will become increasingly attractive, allowing companies to pick and choose the optimal mix of solutions to suit their business needs. This trend will also see cloud vendors join forces and deliver combined offerings that bridge their capabilities into a single, flexible cloud computing service for a given customer.
PaaS on the rise: SaaS accounts for the highest proportion of cloud computing use cases, but cloud platform solutions are growing fast, too. The shift to remote work brought on by the pandemic has forced businesses to find new ways for their employees to access high-performance applications and development environments from any location, and PaaS cloud computing services are ideally suited to that end.
AI unlocks new cloud capabilities: Across industries, companies are experimenting with AI and machine learning to extract more value from their data and make sound business decisions more quickly. Many will rely on cloud-based access to AI/ML functionality, rather than developing and testing algorithms themselves. Cloud computing vendors are answering the call with sophisticated services that will lead to more growth in AI/ML adoption.
Cloud becomes a digitization platform: The cloud is becoming a prime environment for digitization projects that reshape business models. By using cloud computing to break down silos, improve the flow of data between teams and speed up processes, companies will remove many of the structural and administrative roadblocks that have traditionally slowed down their organization. In parallel, they will use cloud-based development environments to quickly build and test new services to keep up with customer and market expectations.
Cloud Computing Case Studies
Cloud computing is seeing growth in virtually every industry. Some organizations use it for specific operational needs, such as ERP or CRM, while others embrace an integrated platform to make their entire operations more efficient and scalable.
Consider a fashion brand or other retailer looking to increase customer loyalty. A cloud ERP platform that encompasses financial, accounting, order management and inventory management systems can provide the company with end-to-end visibility of its data and supply chain, enhancing its ability to provide a personalized, simplified customer experience.
Meanwhile, cloud CRM systems are gaining traction in the B2B sales sector, where customer data is crucial to lead conversion and accurate sales proposals. Today's cloud-based CRM systems consolidate and present customer data in a simple dashboard format, providing sales teams and their managers with insight that helps them to maximize pipeline efficiency.
The cloud is even driving efficiencies and improving fundraising efforts in the nonprofit sector. By hosting their financials and forecasting in the cloud, charities and public-sector organizations can cut valuable time from their financial reporting, monthly close processes and payment approvals. As a result, they can focus more time and energy on growth and boosting revenue to fund humanitarian and community-focused projects.
History of Cloud Computing
Cloud computing has its origins in the 1960s, though the term has been in use for only about 20 years. Computing-as-a-service, as it was previously known, came to life when businesses first began to rent time on a mainframe from computing bureaus. This was before personal computing became affordable.
Eventually, PCs replaced computing-as-a-service. This in turn led to the rise of corporate data centers, as businesses began to store all of the data generated by their burgeoning digital infrastructures. That's not to say companies stopped paying for access to computing power to enhance their operations: Grid computing, whereby users would use multiple connected computers to complete certain tasks, remained popular until the turn of the 21st century.
Cloud computing began to take its current form soon after, when the internet emerged, followed rapidly by ecommerce. The mid-1990s concept of B2B application service providers (ASPs) was a precursor to today's business SaaS providers. Shortly after, businesses began to collect and manage exponentially larger volumes of data, and consumers began to use multiple connected devices in their daily lives.
Today, the cloud computing market is on a rapid upward trajectory for businesses of all sizes. By 2024, more than 45% of traditional IT spending is expected to shift to the cloud, Gartner predicts.
NetSuite and Cloud Computing
Above all, cloud computing allows users to focus on their businesses rather than on managing hardware and software. With the burden of building, updating and monitoring information technology shifted to a cloud vendor, companies can take advantage of computing power limited only by their budgets while focusing on new strategies and reducing their upfront costs and administrative workloads. With NetSuite's cloud solutions, companies can oversee their IT operations with just a browser and internet connection. NetSuite manages their cloud applications, from ERP to ecommerce systems and the operating systems they run on, freeing businesses to use and benefit from their cloud investments.
Cloud computing makes it possible for growing businesses to build, scale and innovate quickly, while cutting costs and time from managing and storing everything themselves. By renting IT infrastructure and services from cloud providers instead of purchasing them, businesses can reduce significant capital expenses and benefit from increases in productivity, time to market and security. Migrating to the cloud requires a solid plan and decision-making — including cloud type and deployment model — and it won't happen at the same speed for every business.
But as the breadth of cloud services continues to grow, more businesses are expected to rise to the cloud.
Cloud Computing FAQs
Q: What is cloud computing with example?
A: Cloud computing is the delivery of computing, storage or business applications on demand via an internet connection. It can be used in virtually every industry and every department of a modern organization. Finance teams use ERP cloud systems to track and monitor business performance. HR teams use cloud platforms to manage the employee experience, from payroll to performance reviews. Marketing departments use customer relationship management (CRM) and analytics software in the cloud to get closer to customers and engage them with more personalized communications.
Q: What are the 3 types of cloud deployments?
A: Companies can deploy their cloud applications in the public cloud, a private cloud or a mix of both. The public cloud is more scalable but requires users to share technology infrastructure with other customers of the cloud service provider. The private cloud typically keeps businesses' data on-premises, behind internal firewalls; all resources are dedicated to one business only. This offers greater control but requires significant computing power to match the capabilities of a public offering.
A hybrid deployment includes both public and private cloud services, allowing businesses to choose the best of both worlds to suit different business needs.
Q: What are the 4 types of cloud computing?
A: The four most common forms of cloud computing are software-as-a-service (SaaS), platform-as-a-service (PaaS), infrastructure-as-a-service (IaaS) and serverless cloud. With SaaS, users pay for access to specific business software, with no access to the underlying infrastructure. With PaaS, users access a development platform for building or rolling out proprietary services. IaaS replaces on-premises IT infrastructure: users rent servers, storage and IT infrastructure in the cloud. Finally, serverless is a form of PaaS in which users have no visibility into the IT infrastructure behind the cloud platform they are renting.
Q: What is cloud computing and how it works?
A: Cloud computing allows businesses to access powerful computing and/or storage capabilities via the internet. Just like tenants who pay rent for an apartment but don't own it, companies pay to access the cloud for what they need, typically on a subscription basis.