Every invoice your business receives contains a hidden cost — the cost to process and pay the invoice. The exact amount of that hidden cost depends on whose research you're reading, but the trend across all is clear: Compared to manually reviewing and paying invoices, automating invoice processing saves companies a substantial amount of time and money. Invoice automation can lead to other savings for businesses, too, such as eliminating late fees that are incurred when a payment misses its due date. Invoice automation also leads to happy vendors, who appreciate being paid on time, and happy employees, who can be redeployed to work on more high-value projects.
What Is Invoice Automation?
Invoice automation, also called automated invoice processing or automated invoicing, relies on software to handle the end-to-end receipt, management and payment of vendor bills. Automating accounts payable (AP) substantially reduces the time it takes to process invoices manually, which in turns lowers operational costs and fosters better relationships with vendors. Indeed, invoice automation is estimated to save businesses $35,000 per year, according to Beanworks' 2021 survey of 600 AP employees.
Key Takeaways
Invoice automation reduces the time and costs involved in error-prone manual processing.
At the heart of an invoice automation system are a series of business rules and tolerances that mandate how and whether an invoice proceeds through the AP workflow.
Invoice automation helps a company manage its cash flow.
Invoice Automation Explained
An automated invoicing system receives vendor invoices and automatically manages their processing through payment via a specific workflow that is constructed around a series of "if this, then that" business rules. To understand invoice automation, consider how an email goes through a series of security tools, such as antivirus and anti-malware software, before it's deemed safe to land in the intended recipient's inbox.
With invoice automation, when a business receives an invoice — either electronically or a paper bill that must be scanned — software parses different bits of information from it and then decides what happens next based on predetermined rules. For instance, when the software identifies the purchase order on the invoice, it might query the purchase order database to ensure a matching number is on file. Then it moves to the next step in the process.
Think of invoice automation as a workflow. At each step, the software makes an either/or binary decision and, based on the result, moves to the corresponding next step.
How Does Automated Invoicing Work?
As a business grows and the volume of invoices it receives increases, the more time-consuming and labor-intensive it becomes for accounting teams to manually process and pay them. Automated invoicing shoulders the load, slashing processing time (and associated costs) and helping the business better manage cash flow by appropriately timing payments.
The automated invoicing process begins when a company receives a vendor invoice for goods purchased or services rendered and concludes when a payment is sent. The steps in between comprise the business's workflow — such as extracting data and routing invoices to approvers — all of which are accomplished using robust AP automation software that goes through a series of predetermined checks, or rules, to determine whether the invoice is correct and can be paid.
Automated Invoicing Workflow
Manual data entry and inefficient processes top the list of challenges AP professionals face, according to a 2021 survey from Levvel Research. Automation can address those pain points and other common invoicing problems, such as lost or missing invoices, fraudulent invoices and the inability to approve invoices in time to capture discounts. While the workflow from invoice receipt through payment can differ from one company to another, it typically includes the following steps.
Invoice received.

The vendor bill arrives, either in paper format to be scanned by a person or in electronic format (51% of the time for the latter, according to Beanworks). The text is extracted courtesy of optical character recognition (OCR) technology, and pertinent data, including the vendor (payee), purchase order number, payment due date and amount are entered into the AP system.

Invoice accounted for.

The data is entered into the company's accounting system and recorded as a credit in the AP account of the general ledger.

Data verified.

The system verifies that the payee exists and that the purchase order listed on the invoice is the same as the number on the original purchase order.

Data matched.

The AP system tries to match other invoice information to the purchase order information already on file. This is called two-way matching. If the company also tracks delivery data, then invoice automation could go one step further to verify a three-way match between the invoice, purchase order and delivery.

Invoice approved.

Assuming everything matches, the vendor bill is automatically approved or routed to the appropriate person for approval if the amount exceeds a predetermined threshold or another issue crops up that requires human attention.

Payment scheduled.

Approved invoices are automatically scheduled for payment. This might be the due date indicated on the invoice, or it might be an earlier date depending on specific terms and incentives, such as an early-payment discount.

Payment sent.

The workflow culminates with a payment issued to the vendor. The invoice is closed out as settled, after which it is removed from the AP account as a debit and added as a credit in the company's cash account.
Why Is Invoice Automation Important?
Invoice automation is important for any growing business that wants to streamline and scale its AP process over time as efficiently as possible. Automation decreases all costs associated with processing a single invoice, and these savings can multiply across an increasing number of vendor bills a business naturally receives as it expands. With their time freed from mundane, error-prone tasks that are a reality for processes handled manually, AP staff can be reassigned to more strategic projects. Invoice automation also helps a company manage its cash flow, pacing payments so as not to drain its coffers.
Benefits of Automated Invoice Processing
An invoice automation system offers many benefits, easing the burden of handling the AP process manually. Among these advantages, automated invoice processing:
Improves accuracy.

By removing risk associated with human error and manually entered data.

Reduces costs.

Associated with the time-consuming process of manually entering and routing invoices, fixing potential errors, as well as to cover paper and postage.

Reduces idle time.

Between steps of invoice processing.

Streamlines audits.

By quickly retrieving matching source documents and generating reports.

Increases productivity.

Allowing staff to work on higher-value projects.

Fosters consistency.

By routing all invoices through preset rules and establishing defined criteria for approvals.

Eliminates late fees.

That result when bills aren't paid on time.

Helps time cash outflows.

If offered, for companies that pay within a certain number of days.

Promotes positive relationships with vendors.

Who appreciate being paid on time.

Manages cash flow.

So the company doesn't come up short, which hurts its ability to grow.

Bolsters security.

By catching potentially fraudulent invoices and genuine mistakes.

Reduces carbon footprint.

By decreasing or even eliminating paper processes.
Invoice Automation Features
As with any software, it's important that it not only meets an organization's immediate needs but also addresses potential future needs as the company grows. Businesses may want to consider software automation features that:
Import vendor invoices.

Electronic invoices flow directly into the invoice automation system, sometimes straight out of an email.

Match information.

Vendor invoices are automatically matched against their purchase orders and delivery logs to ensure that the correct amount is being billed, the purchase was authorized and the company has received it.

Apply predefined rules.

At each step of the AP workflow, the invoice automation system applies customizable business rules to determine the next step. For example, if the system matches the invoice to its purchase order, the invoice can be routed for approval.

Accept tolerances.

The system allows for tolerances that permit invoices to move through the workflow despite a slight discrepancy, aligned with a company's materiality thresholds. For example, an invoice that is 3% above the amount on the purchase order might be considered close enough to merit automatic approval.

Flag exceptions.

The system automatically routes an exception, meaning a seemingly problematic invoice, to an authorized person to manage the approval — for instance, when an invoice arrives that is substantially higher than its corresponding purchase order indicates.
6 Invoice Processing Tasks to Automate
There is no shortage of articles and reports about the value of automation — how it saves companies money, makes for a more efficient workflow and frees staff of time-consuming, monotonous work so they can apply their talents to higher-value projects. These benefits apply to invoice processing, including these six tasks:
Invoice receipt.

With automation, the task of opening and sorting digital invoices and parsing scanned copies of paper receipts can be completed more quickly.

Vendor verification.

When verification is automated, it's one less piece of information that AP staff has to double check. Plus, additional information associated with a vendor, such as a promised discount for early payment, may slip through the cracks otherwise.

Purchase order lookup.

Automation allows companies to quickly locate the purchase order that goes with the just-received invoice.

Two-way and three-way matching.

Automatically comparing information across the vendor invoice and purchase order (two-way matching) or extending it to the delivery data (three-way matching) can be a significant time-saver.

Invoice routing, approval and payment.

Once the contents of an invoice have been verified, it can be automatically routed to the appropriate person for signoff, if required.

Payment.

Payment can be automatically scheduled and sent based on several factors, including when the invoice is due and cash flow considerations.
Partner with automation experts.
Automation is just the beginning. Check out this guide on how to find the right AR/AP automation solution for you!
Get Your Free Guide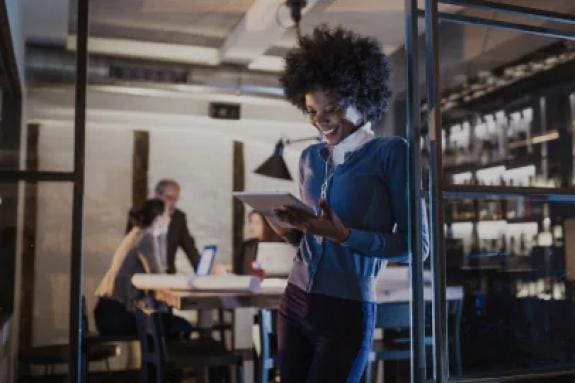 Choosing the Right Invoice Automation Software
Take a look at how invoices flow through your organization today. What is and isn't working? What capabilities would be helpful now — or in the future — that you don't already have? Analyzing your current process can help you narrow down the field of solutions to evaluate and ultimately select the right invoice automation software for your business. Key questions to ask include:
Can the software accurately capture invoice data from the various formats (such as emails and scanned paper bills) that I might receive from vendors?
Does the software include reporting capabilities and dashboard views so I can easily locate and track invoices? Is reporting customizable?
Does the software seamlessly integrate with other cloud accounting and enterprise resource planning (ERP) systems I have now or may acquire in the future?
How quickly can the software handle my invoice flow as it currently stands?
Can the software automatically issue payments?
Can I configure the software to match my workflow? For example, can I add a business rule?
Does the system scale? What will happen when my volume of vendor invoices grows?
Can staff access the software across different devices and from remote locations?
Are there other companies like mine that use, and are satisfied with, the automated software?
Accelerate Invoice Processing With Automation
If you think your AP process is costing you more than it should, you're probably right. As a business grows, manually processing vendor invoices can drag down the entire workflow and increase associated costs. Automation changes the game. NetSuite Accounts Payable speeds the entire AP process by automating all steps involved in processing and paying an invoice, including automating journal entries and handling approvals. The software also includes configurable dashboards that display key performance indicators — such as invoice aging, invoices in-process and payment in transit — as well as an integrated vendor database that contains all the information needed to make payments. These capabilities, and more, can help a company better manage its cash flow and grow.
The amount listed on a vendor invoice doesn't represent a business's actual expense, but rather the expense associated with necessary accounting processes. It's only after adding in the time and cost of processing the invoice manually does the true amount emerge. Invoice automation slashes most of that hidden cost by taking over the accounts payable workflow, which begins the moment a business receives a vendor invoice, winds its way through verification and approval, and culminates in payment. Fraudulent invoices are more likely to be flagged, cash flow can be better managed and accounting staff is freed to focus on more valuable work. Using robust AP automation software, manual, error-prone processes become a thing of the past.
Invoice Automation FAQs
What is automated invoicing?
Invoice automation, also called automated invoice processing or automated invoicing, relies on software to handle the end-to-end receipt, management and payment of vendor bills.
How do you automate an invoice process?
Software is required to automate an invoice process. Automation substantially reduces the time it takes an AP team to process invoices manually, which in turn lowers operational costs and fosters better relationships between vendors and customers.
What is automated invoicing software?
Automated invoice software is programmed to handle the receipt of vendor invoices, confirm their accuracy, route them for approval and pay them. Think of invoice automation as a workflow. At each step, the software makes an either/or binary decision and, based on the result, will move to the corresponding next step.
What is an AI invoice?
An AI invoice uses artificial intelligence to identify and extract its components, such as the purchase order number and amount due. AI can lead to greater business efficiencies, higher levels of productivity and significant cost savings.