Seasoned educators believe there is more than one way to teach—that students learn best when content is differentiated for their personal learning styles. And in business settings, research on 21st-century career realities from Deloitte shows companies that prioritize professional development and continuous learning achieve better financial returns, raise productivity and out-innovate their peers.
But learning and development can be expensive and time consuming, and in a world of declining employee tenure, managers sometimes question the return on that expense. Learning management system (LMS) technology aims for a resoundingly positive answer to questions about the value of professional development.
What Is Learning Management?
Learning management is a conceptual approach to conveying knowledge that enables learners to gain not only a practical grasp of a subject, but also a deeper, more critical understanding that they can use to generate new ideas and theories—or even products. It's not a rote "drill, memorize and repeat" method of teaching or training. A primary focus of learning management is on how knowledge is conveyed, so that information can be more easily digested by a wider variety of learners. This focus requires thoughtful consideration of the sequencing, pacing and presentation of curriculum.
Thus, learning management puts responsibility on teachers and institutions to find and flex their methods until they succeed at instilling in people that deep understanding, regardless of learning style. When done successfully, learning management closes the "knowing-doing" gap—the inability of many organizations to take action based on their knowledge.
By so doing, an LMS enables learners to do something tangible with their new knowledge.
What Is a Learning Management System (LMS)?
Learning management systems (LMSes) are robust, automated technology platforms that enable teachers and trainers to achieve learning management objectives. More specifically, LMSes are content repositories, content distribution channels and tools for tracking and measuring learning efficacy. There are hundreds of LMS platforms, and this market is still growing, fueled largely by demand for virtual, synchronous and asynchronous learning across academia, corporate training and customer service.
Key Takeaways
Learning management system technology enables teachers and trainers to create, store, manage, distribute and assess learning content in multiple formats.
The LMS market is growing fast in both the academic and corporate sectors.
LMSes have many features to aid differentiated, effective and efficient knowledge transfer to ultimately help an organization reach its underlying goals.
There are several LMS deployment types and pricing models to choose from.
Learning Management System Explained
Imagine being able to develop educational content, store it in meaningful ways that support easy and intuitive retrieval/discovery and push it out to the right users at the right time—or make it available on demand at any time, from anywhere and on any type of device. Now imagine being able to track the use and test the effectiveness of that content, and to motivate users with incentives to learn.
All of that begins to explain an LMS.
LMSes come in many forms, but typically they are web-enabled software that can be cloud-based or installed locally. Some are tailored to academic education, while others are geared for corporate training. Open source LMSes are available, too.
Every LMS has two kinds of administrators and a user community:
IT administrators are tasked with keeping the LMS up and running; they fine tune and customize the systems, troubleshoot and respond to user questions. The nature of IT administration varies significantly depending on the type of deployment.
Content creators/managers are administrators who develop the curricula. They post lectures, videos, assignments, breakout sessions and give tests through an LMS. In education, these tend to be teachers. In business, content creators are wide-ranging, including human resources staff, corporate trainers, marketers and product managers.
The users are learners—people who need actionable information. Learners are often students, staff, customers, partners and new hires.
What Does a Learning Management System Do?
LMSes facilitate e-learning through a long list of capabilities embodied in two main components: a central hub/repository and a user interface. The hub is a software platform that encompasses the following core functionality:
Content creation
Content housing and management
Content delivery
Learner authentication
Learner interaction tracking
Data analytics and reporting
An LMS user interface should make administration and learner interactions easy and intuitive. Often, the interface will be customized for an organization's skill set and be branded with its look and feel. Some LMSes can be localized for language and device preferences.
What Makes a Good Learning Management System?
Media theorist Marshall McLuhan liked to say that you can't have education without entertainment. But if McLuhan were alive today, he'd likely substitute "engagement" at the end of that sentence as a better internet-age proxy for winning people's attention. So, when it comes to LMSes, everything is better with collaboration and interaction that build engagement. Incorporating instructor-to-learner and peer-to-peer interaction, course evaluations and iterative course improvement makes training more engaging and results in better learning retention. A good LMS facilitates feedback, collaboration and bottom-up learning.
Key Features of an LMS
Diving into LMS functions, there are several features that are common to most LMS platforms. Specialty LMSes may offer other features that are more pertinent to specific niches, so it's worth investigating the myriad of software choices.
A baker's dozen of the most fundamental features are:
Integration with other enterprise systems or with outside organizations, especially where content is repeatedly curated, or to ecommerce gateways where how-to instructions are important to making a sale. Shareable Content Object Reference Model (SCORM) and Experience API (xAPI) compliance may be important integration features for organizations in industries that use these standards.
Data tracking captures learner interactions, performance and mastery.
Reporting and analytics that are easy to use and flexible, to provide insight and monitoring for things like learner's progress, content effectiveness or compliance status.
Assessment tools that can help identify retention, comprehension or gaps in learners' progress. Some also include test-out options.
Personalization that automatically adapts content offerings to a learner's profile and history can increase learner engagement. Sometimes this is supported by artificial intelligence (AI); other times it's rules-based.
Gamification features can provide learners with entertainment and incentives, such as scores, badges or leaderboards.
Social learning that encourages collaboration and connectivity to other learners and to other forums, like social media.
Robust content housing so that content managers can organize internally created and externally curated content of all types—slide decks, videos, written documents—on a single platform in a systematic way.
Multi-platform access so that content can be viewed, downloaded or rendered properly for online, offline and mobile use with a variety of devices. This may also extend to using multiple subdomains for various learner groups.
Scheduling tools to help make learning accessible at flexible times and to ensure attendance and accountability.
Automated administrator tools to reduce repetitive administrative tasks, such as activation, group assignments, course notifications, certification/retraining alerts and publish/subscribe reporting.
Security that ensures protection of content and user data.
Vendor support services that balance the right amount of help for a price that fits a budget.
What Businesses Benefit from LMS?
Any organization can benefit from an LMS, especially given the large number of systems on the market and their diverse capabilities. Beyond traditional academic institutions, large, small and midsize businesses all can reap rewards from LMSes.
Enterprises: Big companies have a large volume of learners who usually work in multiple, geographically dispersed locations, so LMSes can be a very cost-effective way to deliver and measure training. Additionally, LMSes can help differentiate content and formats for dealing with diverse languages, levels of tech savviness, functional backgrounds and compliance needs. Enterprises also tend to prioritize the consistency in tone, approach and branding that LMSes can provide.
Small-to-midsize businesses (SMBs): An LMS can provide a valuable framework for learning, especially in SMBs where employees play a variety of roles and the HR and employee-development function is shared or informal. SMBs benefit from personalized content as well as the efficiency of reusing/repurposing training materials. For companies that don't feel they can afford to have employees away from their regular jobs for training, LMSes can provide learning scenarios that help to avoid such costly productivity loss.
Contractors and one-person businesses: Professional development is critical for these business loners but is often backburnered in the face of immediate demands like running—and "being"—the business. For this group, subscribing to a third-party LMS can provide a lifeline to learning resources. Unlike large enterprises and SMBs that run their own LMSes, one-person businesses can pay to access industry-specific or skill-centered online training from commercial LMSes. On the supply side, many freelancers have had success providing content for enterprise and SMB LMSes based on their hands-on experiences.
Benefits of a Learning Management System
When evaluating technology solutions, having clearly defined objectives and goals helps decision-makers zero in on the features and benefits most important to their organization. This is particularly important with LMSes, because the variety of LMS solutions and their many bells and whistles can easily overwhelm decision-makers who don't have clear priorities.
The following seven benefits, however, should be universal for all LMSes:
Accessibility: Look for the convenience of web based, on-demand knowledge transfer.
Manageability: Admins will appreciate a central, secure location to store, organize and update learning materials in various formats.
Measurability: Data that monitors usage, progress, learning gaps and content needs will prove the system's ROI.
Consistency: Look for messaging, branding, tone and information suitable for your learners.
Efficiency: Reusable learning materials reduce the costs of in-person training, travel and hardcopy materials and minimize employee downtime.
Personalization: Look for the flexibility to put the right information in the right hands at the right time for ease of use, effective knowledge transfer and better engagement.
Business growth: Upskilled employees and satisfied customers drive business success.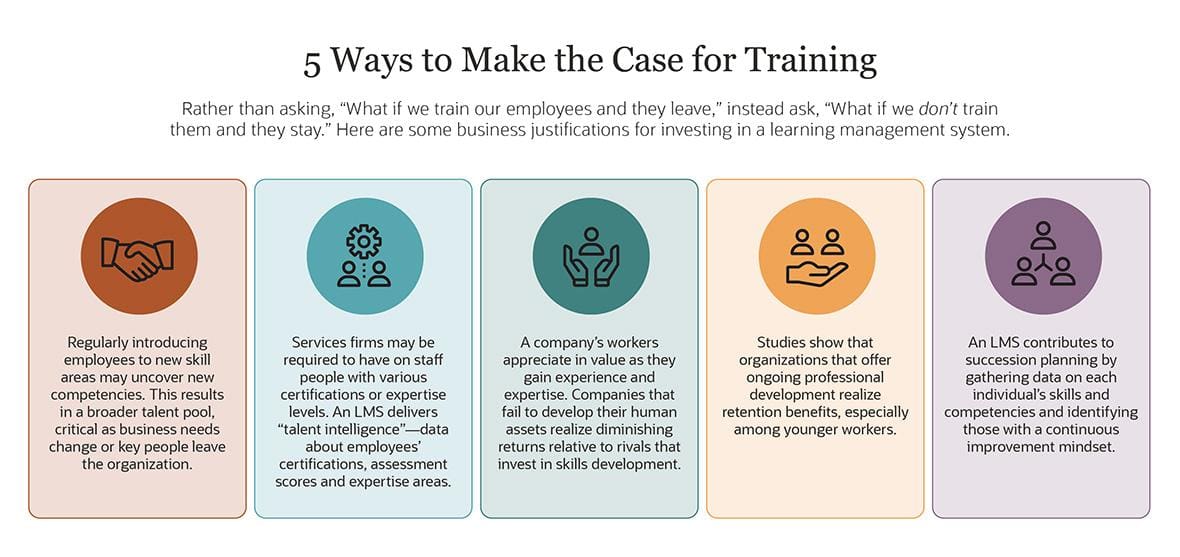 Top LMS Use Cases for Businesses
Organizations of all types have found many ways to use LMSes. Academic institutions use LMSes as learning forums for their student bodies as well as for continuing education. In the business world, use cases tend to center around employee training and "extending the enterprise"—a fancy way of referring to web-based communication between a business and its outside stakeholders.
Common LMS use cases for businesses include:
Training uses:
Professional and career development for employees.
Compliance and certification training to maintain staff licenses or accreditations.
Public-sector training for those who need to understand government regulations and laws.
Extended enterprise uses:
Franchise training to disseminate branding, policies and product information.
Sales channel training for partners, retailers and resellers about product/service features, benefits and policies.
Customer training to help buyers understand, deploy and use products, with information like troubleshooting videos, product demos and repair instruction.
For professional training companies, an LMS could act as a distribution tool—both an alternative to and a supplement for in-person training seminars.
Learning Management System Examples
LMSes are in use across many industries, with objectives aligned to the challenges unique to each. Some focus on employee learning and development, while others are more concerned with training external sales channels, like franchisees. Other LMSes have robust ecommerce features, and others excel at onboarding new staff.
Here are some practical examples of how LMSes have been applied to meet specific business needs across many different industries.
Hospitality firms and other industries with large numbers of seasonal employees use LMSes for rapid onboarding and compliance training.
Food and beverage companies rely on soft-skill training through LMSes to improve customer service.
Financial services and banking sectors use LMSes for compliance and product training, often enhanced by competitive gamification features.
Retail businesses look to extended enterprise features for customer training, such as demos, user manuals and troubleshooting.
Entertainment and media companies have achieved employee-retention objectives through LMS-sequenced curricula that enhance career progression.
Manufacturers have used LMSes to provide learning activities to their networks of international dealers in multiple languages with localized requirements. This has enhanced customer service and elevated brand experience.
Companies across many industries use LMSes to push out critical, time-sensitive training information to support virtual methods of doing business.
How Do You Develop a Learning Management System?
For all but the world's largest corporations, building an LMS from scratch is not an option. It requires too much time and investment. Determining the software architecture, design and features you need is a significant undertaking, yet is dwarfed by code testing. For these reasons, studies show that most companies purchase licensed LMSes, use an open-source LMS or subscribe to a software-as-a-service (SaaS) LMS.
Learning Management System Deployment Options
LMSes are generally deployed in one of four ways. Selecting the best deployment scenario largely depends on the amount of IT resources a company has available for implementation, maintenance and user support. The four LMS deployment options are:
Cloud-based: This is the most popular LMS deployment option, probably because it usually takes the shortest time to set up and has the lowest start-up costs. The software is hosted, maintained and updated by the LMS vendor in the cloud and accessed by authenticated users via the internet. All the data and content are hosted offsite by the LMS vendor.
Self-hosted: This approach requires local installation of licensed software on the buyer's own servers. IT staff are responsible for the platform and for updates.
Mobile application: An all-mobile LMS provides the ability to create and manage learning content from mobile devices and lets users access and complete training on the go. A mobile application puts content on the devices so that the LMS can be accessed both online and offline.
Desktop application: The LMS is installed on each user's desktop computer.
Learning Management Licensing Types
Organizations that decide to license LMS software instead of subscribing to LMS SaaS can choose from three licensing types. The best model typically depends on the level of programming experience in the organization. Looking at them from least to most required experience:
Paid license: Proprietary software purchased via a monthly or annual fee, which includes the highest level of support.
Free license: Proprietary software that is free for basic functionality. Customization or access to certain features require on-site programming. It's not uncommon for an LMS vendor to offer free and paid editions of their software.
Open source: Free software that is highly customizable but requires extensive programming skills to make modifications. All open-source LMSes are self-hosted. Support for open source LMS comes from a community of developers, rather than a vendor.
Learning Management System Pricing Models
The benefits of LMSes come with a price tag, and regardless of a business's size, it's important to find a pricing model that fits the company and its budget. LMS platform costs are a large piece of the total cost of ownership, even for so-called "free" options, but it's important to also consider start-up and staffing costs and the expenses involved in developing or procuring content. Pricing models for LMSes fall into three categories:
Licensing: Buyers pay an upfront or annual fee, usually for unlimited use. Other licensing models can be based on the number of registered users, the level of active use, the number of allowed accounts or various revenue-sharing models.
Subscription: Structured as regular, recurring payments for use of an LMS, either for the entire organization or on a per-user basis. Often, subscriptions are tiered for a range of users within a single business.
Freemium: A stepped pricing model that allows access to basic LMS functionality, with an "up-charge" when users access more complicated features.
Choosing a Learning Management System
There are hundreds of LMSes on the market, all of which are complex, multi-layered technology solutions. That makes choosing the right LMS for your organization a significant challenge.
Separating the field between academic and corporate LMSes is a good first step. Further narrowing the field requires a buyer to first define organizational objectives for the LMS in alignment with larger business goals. It's a good idea to create a list of LMS features and benefits in descending order of their importance to achieving those organizational objectives.
Create a checklist of top-priority features—it will help keep your decision-making team aligned and focused on what's important and help to surface the value that each LMS provider has to offer.
Involve representatives of each stakeholder group in the selection process. Additionally, taking a test drive is a good way to assess whether the LMS achieves the intended objectives. Sometimes, vendors will even offer a free trial period.
Finally, don't forget to consider the different deployment options and pricing models, from cloud-based to desktop software, and align them with your business's culture and financial requirements.
Bottom Line
An LMS may not be a must-have for every organization. But the rapid pace of business change means that a good LMS solution can deliver key competitive advantages for organizations with more than a few dozen employees by tying together newly skills and behavior with other elements of the business—but not within a silo.
When integrated with other business software such as ERP and HCM, LMSes create a systematic way to deliver the latest knowledge and insights to employees, thus helping organizations be more productive, generate better financial returns—and innovate to stay competitive in a fast-changing world.