What is NetSuite B2B Ecommerce?
NetSuite's B2B ecommerce solution, SuiteCommerce, empowers B2B sellers to create sites that engage business buyers, maximize their buying efforts and save time. Support online stores, in-house sales, distributors, manufacturers, brick-and-mortar locations and channel partners — all from a single platform. With SuiteCommerce, your web store is natively unified with NetSuite order and inventory management, ERP and CRM, providing a single source of data that allows merchants to deliver a more consistent and relevant customer experience while streamlining operations, better managing suppliers and stock, speeding fulfillment and improving customer service.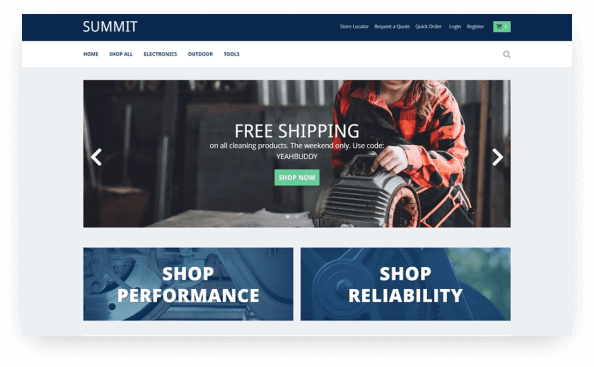 ---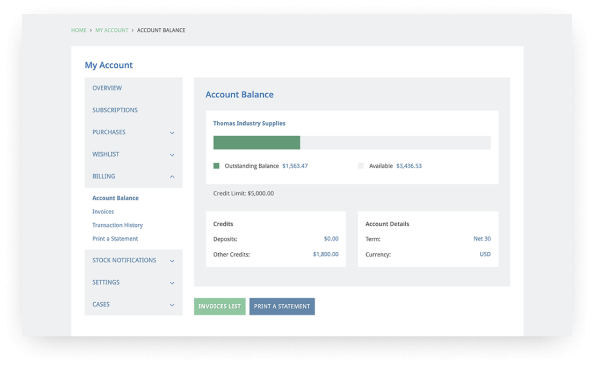 Make it Easy for Your B2B Buyers
Capabilities including converting online quotes to sales orders, paying invoices and checking order status and account balances enable business accounts to maximize their buying efforts and minimize manual work.
---
Rich Customer Profiles
Better serve your business accounts by leveraging a centralized repository of customer information from all channels and touchpoints.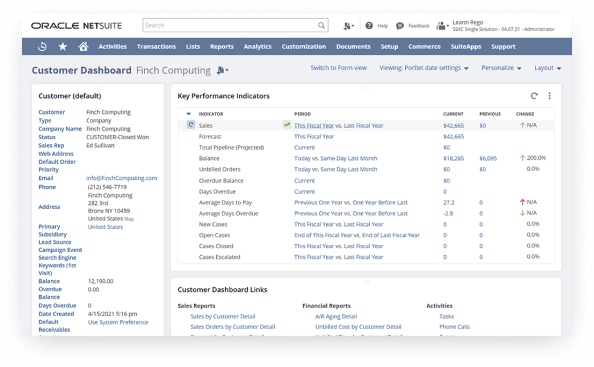 ---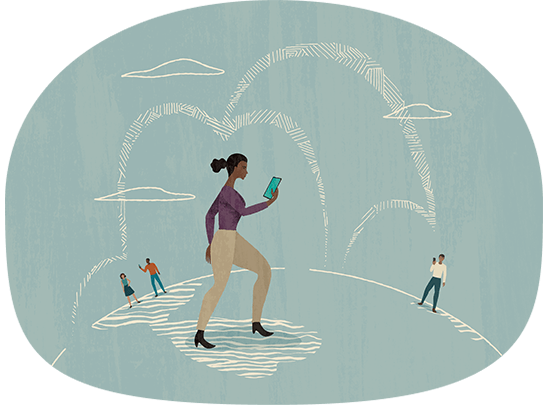 Accelerate Your Ecommerce Deployment
With experience from thousands of ecommerce deployments, we've developed a set of leading practices designed to get your site up and running in 30 days or less.
The idea of 30 days to launch our online store was super intimidating at first, but the timeline and price was right. It all came together and the end result was outstanding.
NetSuite B2B Ecommerce Benefits
---
NetSuite B2B Ecommerce Features
---
SuiteCommerce provides a host of capabilities suited for B2B ecommerce sites, aimed at solving the unique challenges faced by B2B sellers.
Storefront
Choose from a selection of prebuilt, mobile-optimized themes to provide the site design that best reflects your brand. Make it easy for shoppers to find, learn about and buy your products with a host of features, including alternative images, product comparisons, saved shopping carts and creation of lists.
Powerful site search, combined with faceted navigation, ensures shoppers locate the products they need quickly and easily. Intelligent product recommendations based on predictive algorithms enable merchants to present the most relevant upsells, cross-sells and related items for each shopper.
Purchasing
Provide the tools to easily purchase online, including routine, repeat and bulk ordering capabilities. Marry the supply side with the buy side through integration with vendors, distributors and manufacturing entities, all within the NetSuite platform. Online orders automatically convert to invoices with workflow management of approval, fulfillment and billing. With SuiteCommerce, you can:
Allow buyers to request a quote, check the status and once a company representative approves, convert the quote to an online sales order.
Easily reorder items from past purchases.
Create curated online catalogs tailored to different segments of shoppers based on factors like geographic region, previous transaction history or account type and status.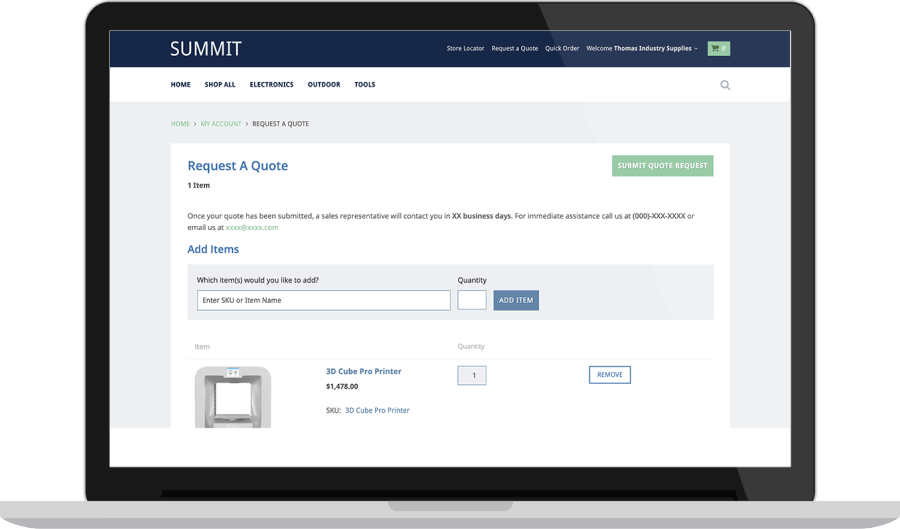 Billing
Automate and expedite your billing process by giving buyers the ability to review and manage payments online. Give business accounts their own negotiated prices, terms and credit limits, and offer payment methods like invoice billing and ACH processing. Customers can view invoices and make full or partial payments against single or multiple invoices.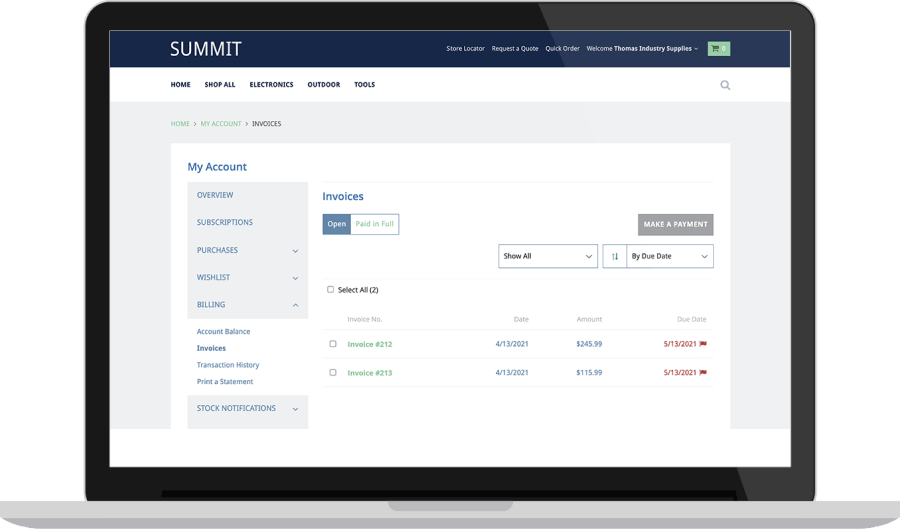 Account Management and Support
Help business buyers be more efficient by providing direct access to review account balances, deposits and credit memos. Enable self-service returns management so shoppers can initiate an online return authorization. Improve engagement and client satisfaction by enabling customers to submit queries directly to your support desk. Give customers complete access to their order histories and allow them to easily reorder items from past purchases.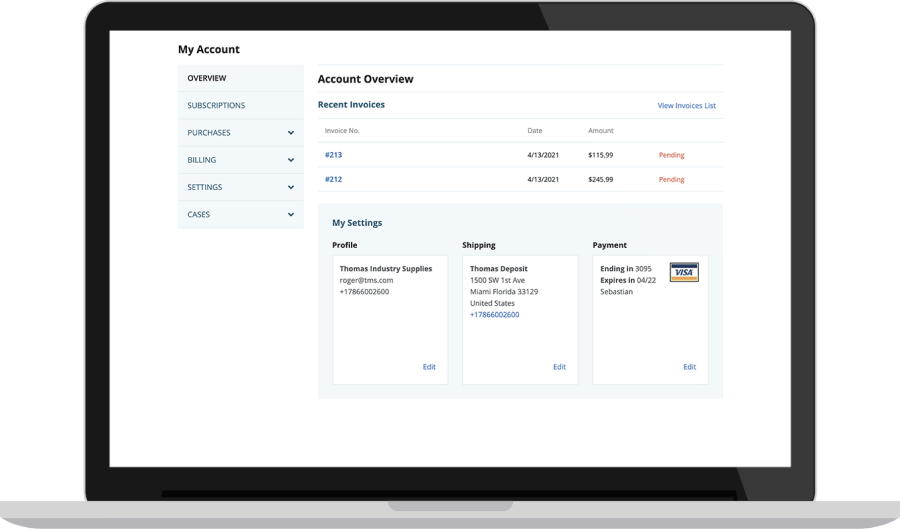 Access-Restricted Site
Limit your wholesale catalog's exposure to approved buyers. Qualify new wholesale account requests by setting up automated checkpoints to hold new registrations until final approval is granted by a reviewer.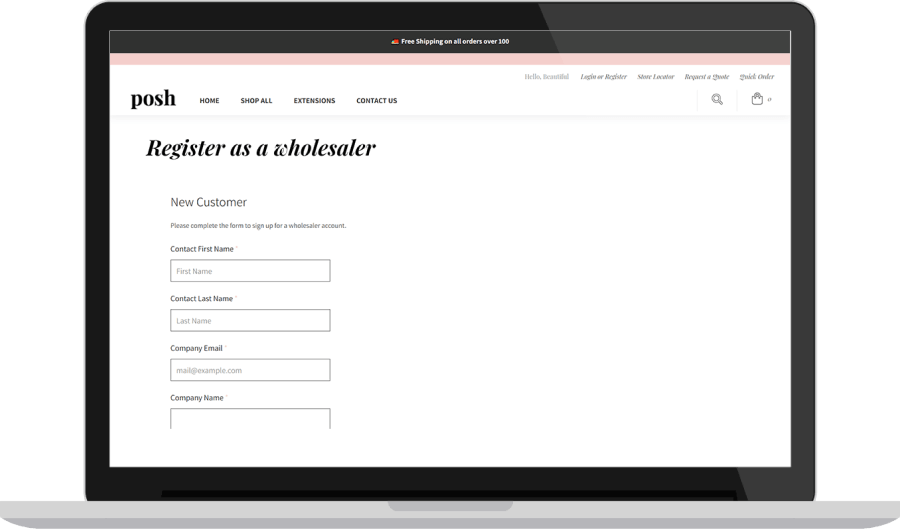 Site Management
Business users can leverage easy-to-use, drag-and-drop site management tools to add landing pages, enhance existing pages, manage content and commerce categories and subcategories and assign items to categories. Work on changes to your site and then schedule the changes to go live on your timeline or publish them immediately. All revisions are tracked and auditable.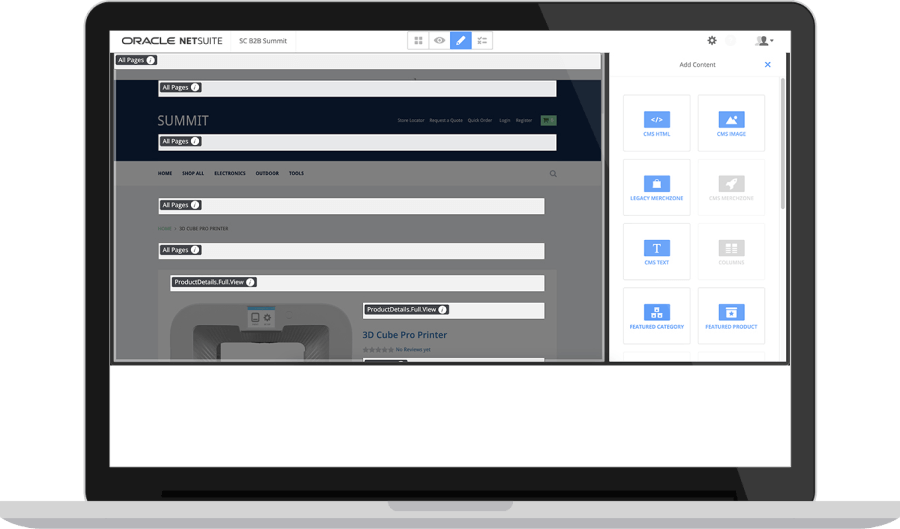 Cart and Checkout
A persistent cart and streamlined checkout allow shoppers to complete their orders with ease as a guest or registered user. Offer customers credit card, promotional code and gift card payment options. The entire shopping experience is secure, with HTTPS support, integration with common payment gateways for real-time credit card processing with PCI DSS compliance and multilevel fraud protection.
Reporting and Analytics
Help drive sales and optimize website performance with ecommerce dashboards, predefined reports and key performance indicators. Monitor in real time every aspect of your website, including online traffic, lead generation, page load times, web orders, average items per order, wholesale account registrations and back-in-stock requests. Gain insights into individual shopper activity like date of last visit, acquisition source, items browsed and cart additions to utilize in sales and marketing activities.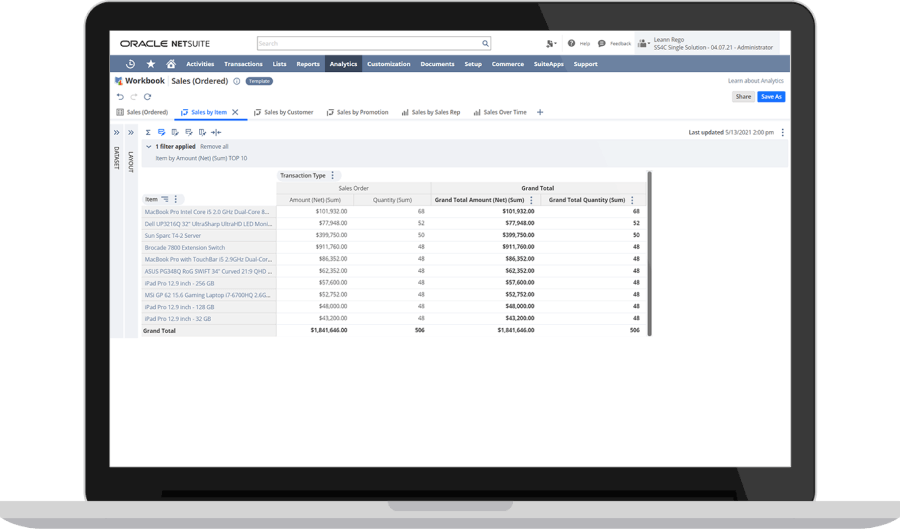 Intelligent Item Recommendations
Leverage data on customer purchase history and buying patterns to increase average order size and order frequency. NetSuite Intelligent Item Recommendations uses AI to provide personalized product recommendations. Recommendations are configurable to prioritize aggregate buying behavior such as "people who bought X also bought Y," recently added items, items the shopper has likely not seen before, and items similar to one another. These recommendations are presented when entering a sales order in NetSuite and also on a customer facing NetSuite ecommerce solution.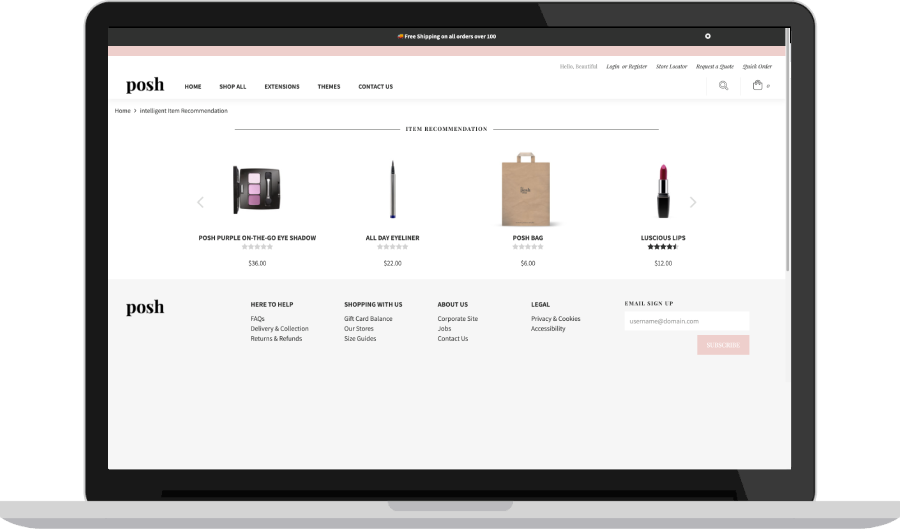 Challenges NetSuite B2B Ecommerce Solves
---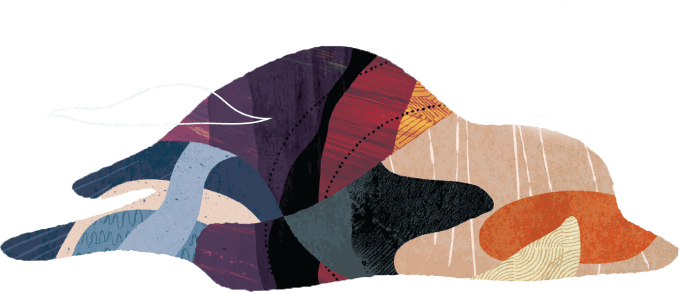 How Much Does NetSuite B2B Ecommerce Cost?
Companies of every size, from pre-revenue startups to fast-growing businesses, have made the move to NetSuite. Looking for a better way to run your business but wondering about the cost?
Users subscribe to NetSuite for an annual license fee. Your license is made up of three main components: core platform, optional modules and the number of users. There is also a one-time implementation fee for initial set up. As your business grows, you can easily activate new modules and add users — that's the beauty of cloud software.
NetSuite B2B ecommerce solution is available as an add-on module.