Because ERP consolidates and automates critical business processes like accounting, inventory management, HR, CRM, financial planning and more, implementing it is both an exciting and serious undertaking that takes time and resources to accomplish effectively.
Most organizations considering an ERP implementation must therefore build an ERP business case that goes beyond outlining pain points and into the overarching benefits of an ERP. The business case details and formally presents the costs and benefits of such an implementation, along with the opportunities and risks—and we'll outline that process for you here.
If your company is not yet enjoying the benefits of a modern ERP, the first step is to build a business case that illustrates the benefits, costs, opportunities and risks of launching an implementation project. By breaking down data silos, ERP connects the dots on business processes including accounting, operations, manufacturing, sales and HR; enables better FP&A and reporting; and adds efficiencies through automation technology.
A tailored ERP business case enables any organization to evaluate its specific benefits, costs and risks. The document may also serve as the basis of an ERP implementation plan because it provides the project team with clear direction on priorities and responsibilities.
Goals of Implementing ERP
Organizations typically decide to implement or upgrade an outdated ERP system because they need to solve problems caused by using a patchwork of different applications for different business processes such as finance, supply chain management and warehouse management. Pain points include dwindling productivity, an inability to provide insights into business growth, expensive inaccuracies and problems meeting customer expectations.
If business leaders can't take advantage of market opportunities because they're operating with information they can't trust, can't effectively use or both, that's a sign you need to consider buying an ERP.
ERP systems can help solve these problems by providing an integrated suite of applications that share common data. Typical goals of implementing ERP include:
Increased productivity: Because the system integrates information and processes across multiple departments, like finance, HR, sales and operations, employees can do more work and complete processes faster.
Reduced cost: Especially when delivered as software-as-a-servce (SaaS), ERP systems automate manual processes and eliminate the need to transfer data between systems, reducing cost.
Enhanced decision-making: Managers can get a clearer, more up-to-date view of information across the business, helping them better analyze trends and anticipate customer needs.
Higher customer satisfaction: Product-oriented organizations can better manage their supply chains to deliver customer orders on time with fewer errors and more easily track information across the entire order fulfillment process to support a better customer experience.
Why Build an ERP Business Case?
Implementing an ERP system typically requires a significant investment in data migration, change management and leader buy-in over three to four months of effort. Furthermore, the system will change the way that people do their jobs across the organization. Before implementing an ERP, leaders and departmental stakeholders need to be convinced that the effort is justified—particularly since some of the people expected to use the system will likely resist the change.
Building a business case for ERP solves that challenge. It gives the organization's stakeholders a tool for measuring the value that the system will deliver, so they can weigh that value against the costs and risks. It presents a variety of ERP use cases, describes exactly why the organization needs an ERP and the specific business benefits that the organization may expect.
For example, a business case may pinpoint the inefficiencies in order processing and fulfillment, show how the ERP system will improve those processes and estimate the business value of those improvements. That value can include both tangible benefits, such as cost reductions or the ability to handle more orders without hiring more staff, and intangible—but sometimes equally important—benefits such as higher customer satisfaction.
How to Build a Business Case
When an organization starts seriously investigating whether to implement an ERP, it generally sets up a project team that includes an executive sponsor—the CEO, CFO or other senior manager. One of the project team's first jobs is to build an ERP business case.
Often, the team enlists the help of an external consultant who can provide a fresh perspective and has the expertise to build an ERP requirements checklist to analyze how the system may help the business.
This isn't just a PowerPoint you throw together, but a thorough, numbers-based detailed analysis that is a process of documenting all of the benefits (both tangible and intangible), putting KPIs behind it all and weighing the benefits of ERP against the costs. The focus is detail how the investment will deliver true business value—why the project is needed and what benefits it will offer when finished.
7 Steps to Building an ERP Business Case
The process of building a business case generally includes at least seven major steps:
Identify and analyze current issues
Assess the benefits of ERP
Evaluate ERP options
Estimate project costs
Determine ROI
Identify implementation risks
Create a high-level ERP implementation plan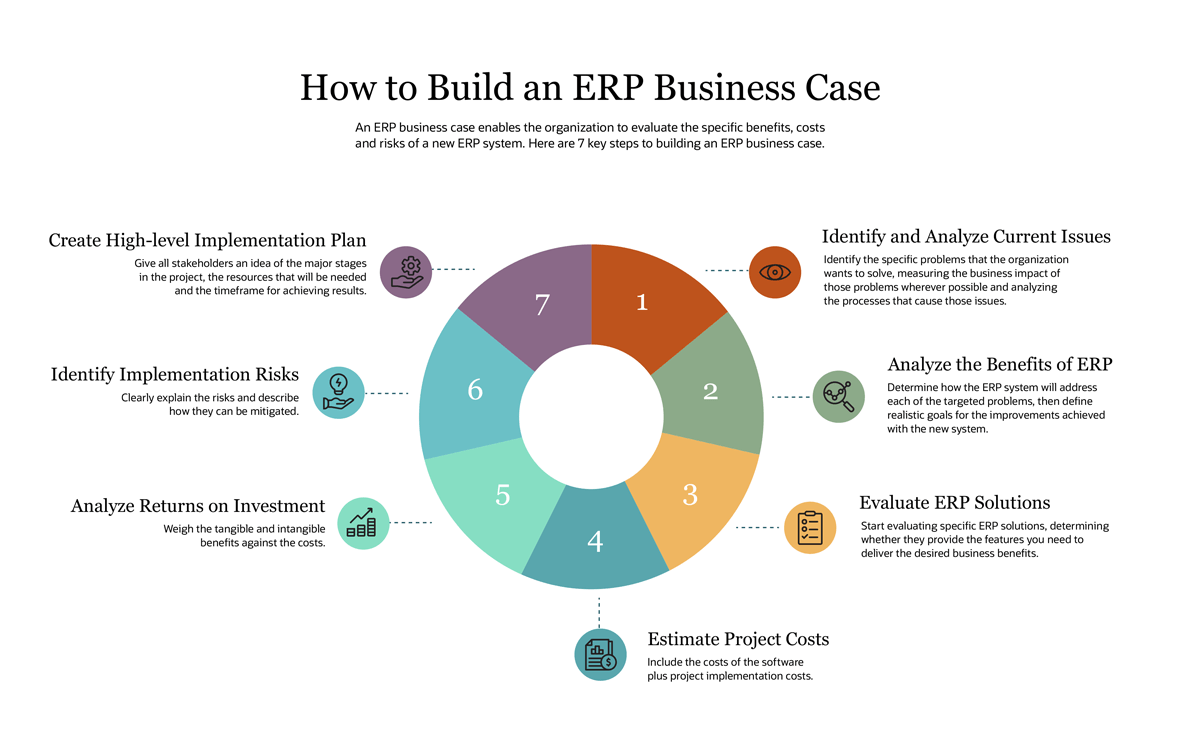 Identify and analyze current issues

The first step is to analyze the specific problems that the organization wants to solve, measuring the business impact of those problems wherever possible and analyzing the processes that cause those issues.

Typical issues include:

Costly process inefficiencies: Many organizations have processes that involve time-consuming, error-prone manual steps. Employees may have to reenter customer data into different systems, or manually extract order information from an online sales system and transfer it to another system for processing and fulfillment. It's often possible to quantify how much these processes cost and to use benchmarking information to compare your costs with those of other organizations. One local government found that its accounts payable staff, for example, was processing less than half as many invoices, on average, as comparable organizations. A pharmaceutical repackaging company found that the need to reenter data into multiple systems resulted in error rates of 15% to 25%—and as a result, it had to employ staff whose sole function was to check data accuracy.

Obstacles to growth: Business growth may be pushing current systems beyond their limits by requiring that you add more users, transactions or data than the tools can handle. An over-reliance on manual processes may limit your ability to grow without forcing costly finance hires before the company really needs that expertise. Or, you may need more sophisticated capabilities as your business grows globally—for example, the volume and complexity of sales data may expand to the point where it's almost impossible to analyze using spreadsheets.

Inability to meet customer expectations: Is the organization continually missing deadlines or shipment dates? Are orders frequently inaccurate, are there service disruptions? Resolving customer services issues such as order status and processing inquiries faster will avoid customer displeasure and may even reduce churn.

Lack of real-time data for decision-making: As the business grows and becomes more complex, it often becomes more difficult to find out what's happening across the organization in real time. While up-to-the-minute views are often necessary to enable managers to make decisions that help the business thrive, the data that managers need may be buried within various sales force automation, CRM, project management, inventory management, supply chain, human resource and customer service systems. People may spend more time trying to find data than analyzing it and making decisions.

Cost of existing systems: A business case should factor in the current cost of operating the multiple systems that will be replaced by ERP—including the cost of any technology staff as well as product licensing, IT infrastructure—such as servers, switches, routers, networks, etc.—and support.

Analyze the benefits of ERP

Next, the organization begins building a list of achievable goals for the ERP implementation.

At least initially, the list may be broad, but aim to address the main pain points identified in the previous step. Reexamine each pain point to analyze how the ERP system will address the issue, then define realistic goals.

To illustrate, consider a manufacturing company that has an inefficient raw materials purchasing process, which is becoming increasingly unmanageable as the business grows. Purchasing agents work with each supplier on contracts then create purchase orders and get internal approvals—all of which are manual processes.

An ERP expert hired by the company determines that the manufacturing plant is operating below capacity in part because the purchasing function is a bottleneck. The consultant uses their knowledge of ERP and the company's operations to show how, by implementing ERP, the company could redeploy or avoid adding purchasing staff while increasing manufacturing output, enabling the company to grow total sales revenue.

The consultant estimates the reductions in staff costs that can be achieved by automating the purchasing processes, as well as the additional potential revenue due to better utilization of manufacturing capacity. Both of these benefits become part of the business case, and the consultant moves on to examine the next process issue.

A best practice is to ensure that goals are specific, measurable, achievable, realistic and time-based—generally condensed to the acronym "SMART."

Examples of high-level SMART goals could include:

Reduce manufacturing defects by 20% this year.
Reduce inaccurate orders by 25% within six months of ERP implementation.
Increase the number of invoices processed per employee by 35% by August 1.

The types of benefits that companies realize by implementing ERP typically include:

Greater efficiency and productivity: The transition to ERP typically enables organizations to automate manual steps and eliminate the need to enter data, providing measurable reductions in the time needed for processes. The resulting improvements in productivity can also enable the organization to handle business growth without hiring more staff.

Optimized inventory levels: ERP systems give the organization a clear view across the supply chain, facilitating better demand forecasting and helping the organization optimize inventory. That can reduce inventory costs while ensuring the company can meet demand in a timely way, keeping customers happy.

Better cash flow: More efficient invoicing can help ensure faster payment, so the company has more cash available rather than tied up in receivables.

Improved customer service: With better visibility into customer information and orders, the organization can respond more quickly to customer requests and solve problems more easily.

Higher employee retention: With more processes automated, employees find their jobs to be easier and are more likely to stay with company.

Better workforce management: With a centralized data model, ERP systems can connect employee performance to business performance giving decision makers better insights on how to plan and manage the workforce.

Better decision-making: Managers have access to more complete data from across the business in real time, gathering data from sales, HR, financial and inventory. Executives can use this information to make more informed decisions and take advantage of new opportunities.

For example, with ERP, the CFO may have access to financial reports in a fraction of the time that would be required to extract and combine information from multiple systems. This also frees the CFO to spend more time on financial forecasting, finding areas for savings, producing better KPIs and other strategic activities.

Revenue and profitability: Greater productivity, accelerated processes and better relations with customers drive revenue and profitability.

Evaluate ERP solutions

If you haven't already begun evaluating specific ERP solutions, now is a good time to start. The analysis of current issues and desired benefits should give the organization a clear picture of the ERP modules and specific features that it needs. As with any important business decision, start by clarifying your goals and expectations to help you choose your ERP, and involve key stakeholders who have the most to gain from a successful implementation (and the most to lose if there are problems). Once you have an ERP implementation team, identify the offerings that might be appropriate for your business.

You have a wide variety of ERP solutions to choose from. They include cloud-based ERP systems, which you access over the internet and generally pay for on a subscription basis. There are also on-premises systems that an organization installs in its own data center and manages itself. Hybrid ERP is also a possibility.

Because organizations typically rely on the ERP system to run many aspects of the business, factors such as support and the long-term viability of the supplier are important considerations.

Estimate project costs

A realistic business case will depend on getting an accurate estimate of the cost of the new ERP system. There are several key factors to consider. The most obvious are the licensing costs for the software itself. If you're buying a cloud-based ERP system, you'll need to factor in a subscription cost based on factors such as the number of modules and users. If you're using an on-premises system, the cost will include software licenses, the hardware needed to run the system, and any technology experts or ERP professionals needed to install, run and maintain the system.

But you also need to consider the costs of implementing the new system. These include:

Software configuration and deployment: For all systems, you'll need to include the cost of setting up the system and customizing it to your business needs if necessary, for which you'll probably need professional help—or at least someone on your IT team who has experience and expertise with the system you're implementing. If you choose an on-premises system, also include the cost of on-site hardware and software licenses, plus the cost of the expertise needed for installation and maintenance.

Process redesign: Improved business processes are a key goal of many ERP implementations. Companies generally either need professional help or they need to allocate internal resources to determine how to redesign business processes. Data migration—moving data from legacy systems into the ERP is a time consuming and tedious process. Determine how much history you need in the new ERP and how you can still get historical information from the previous systems. Most companies take no more than 3 years of data forward into the new ERP to help reduce implementation costs.

Report writing: Most projects include a report writer who will develop customized reports for people throughout the company. Good ERP solutions will include a decent selection of standard reports; some of them make creating customized reports manageable for most power users.

Training: Include costs for training employees on how to use the system, plus any training required for the IT staff needed to install on-premises systems and other specialists, such as the report writer. Change management—change is inevitable with any ERP implementation. Not just for employees who use the new systems but also for customers who get a new looking invoice, suppliers who have to learn a new purchasing process or managers who receive new reports.

Analyze returns on investment

A comparison of the value of the anticipated business benefits with the costs involved is key in the decision whether to go forward. The analysis should include both tangible benefits, such as reduced costs and increased revenue, and less-tangible benefits, such as customer satisfaction. The ROI analysis will include a comparison of the cost of the ERP software with the operating costs of the systems it will replace.

In practice, ERP statistics show companies achieve a wide variety of measurable benefits. A Forrester analysis of four companies' experiences found that they reported average finance reporting and management efficiencies of more than $408,000 due to improved procurement efficiency and ability to reduce hiring, revenue growth due to improved customer and order management and communication and reduced and avoided IT costs of nearly $749,000.

Identify implementation risks

All major changes to the organization include risks, and a business plan should explain those risks—including the risk that the implementation may be unsuccessful. Careful planning of the ERP implementation can mitigate those risks.

For example, involving all departments that will use the ERP system during the design phase can help to ensure that users take full advantage of the system when it is deployed, improving the chances the organization will actually realize predicted benefits. Different implementation strategies can be used, depending on the organization's risk tolerance and how quickly it wants to reap the benefits of the new system. For example, rolling out an ERP system in stages is less risky than a "big bang" all-at-once deployment, but a staged approach may result in a slower payback.

Create a high-level implementation plan

The business case should include a high-level implementation strategy—not a detailed step-by-step description, but enough information to give everyone an idea of how the project will proceed, the resources that will be needed and the expected timeframe for achieving results.

Once you get buy-in, then it's time for a detailed ERP implementation checklist.
How to Convince Stakeholders
Multiple departments are likely to benefit from an ERP system implementation—but that also means that each of those departments may have to change the way they work, to some extent.
To convince them that it's worthwhile, the project's sponsor and ERP implementation team need to explain the business case in terms that are meaningful to the stakeholders. Take time to understand each stakeholder's agenda and prepare information that's tailored to address their values and concerns. For example, when speaking to customer service, the project team might focus on faster resolution of customer problems and the ability to interact with customers via different channels.
The CEO and corporate decision-makers generally need hard financial data to rationalize the investment. An ERP can be the power behind a mature financial modeling practice, for example.
Why Replace Your ERP System?
A new ERP system doesn't always replace a hodge-podge of older standalone applications. Sometimes an organization has an older system that it's outgrown, or that hasn't kept up with ERP trends such as mobility or machine learning. Some organizations have older on-premises or two-tier ERP systems that have been so highly customized over the years that it's extremely difficult to upgrade to new releases.
The process for building a business case is similar to the process described above: Analyze the issues, costs and potential benefits, explore some ERP implementation case studies, consider the risks and develop a high-level implementation plan.
By building a business case for your company that covers the benefits, costs, risks and opportunities of launching an implementation, you can take the first step towards reaping the benefits of a modern ERP.