If you're a business owner or finance leader, you likely already know the "what" of enterprise resource planning (ERP) software: It's a unified database and set of applications that brings together financials, supply chain, human resources, customer service and other data and business processes. An ERP implementation often delivers a fast return on investment via insights and efficiency gains that save the company money right away.
But how, exactly, do companies use these different ERP modules to realize benefits? What role does each piece of the ERP system play in helping businesses succeed? We'll describe common ERP use cases for each module and how they help different aspects of the business.
1. Inventory Management
Before: A retailer's operations team relies on physical counts, which it tracks in a spreadsheet, for current inventory levels. But warehouse workers have no confidence in this information, and items are regularly out of stock because the company orders more product only when the shelves are nearly empty. Fulfillment is slow and inefficient because warehouse employees frequently have trouble finding items.
After: The retailer adds an inventory management module, which displays real-time inventory levels and updates on stock that's en route to the warehouse. Every morning, an operations manager is able to compare available inventory to sales data to determine whether the business should place any purchase orders (POs). Additionally, the warehouse team fulfills more orders per day because the inventory management application shows the exact locations of all items.
2. Purchasing
A manufacturer spends too much time looking for suppliers and gathering quotes for the raw materials it needs to make products. An employee must manually send out quotes, compare them, select a winner and, finally, put in a PO. Staffers often forget to update the list of approved vendors and their contact information, further slowing down the process
After investing in a purchasing module, the manufacturer automates requests for quote, stores all responses in one place and can send out POs with a few clicks, saving a lot of time. The purchasing (or procurement) module keeps a current list of all suppliers and allows the manufacturer to track the status of each outstanding PO.
3. Sales and Marketing
A veteran sales team at a midsize distributor has grown increasingly frustrated with the work required to create quotes and sales orders. The reps struggle to keep track of where prospects are in the sales pipeline and which customers should be ready to reorder. The business also wants to reach a larger audience of potential buyers but has no way to manage marketing emails, contacts and digital ads.
With an ERP application for sales and marketing, reps can turn quotes into sales orders in a matter of minutes and then send system-generated invoices to customers. The sales and marketing teams can see where any customer is in the sales cycle to determine the best next steps. Marketing tools enable the distributor to import lists and target new prospects with emails and ads across multiple channels, which leads to a 10% bump in annual revenue.
4. Manufacturing
For its first few years, a small manufacturer used paper and spreadsheets to monitor available raw materials and daily production numbers. But as the business grew, those manual methods become a major roadblock—it's lost valuable production time after running out of materials and has a hard time calculating current manufacturing capacity.
After investing in a manufacturing ERP module, the manufacturer can see planned production for the next few months and compare that against available and on order supplies. It can track output against that plan and, if demand increases, scale up by ordering more materials and bringing in additional employees.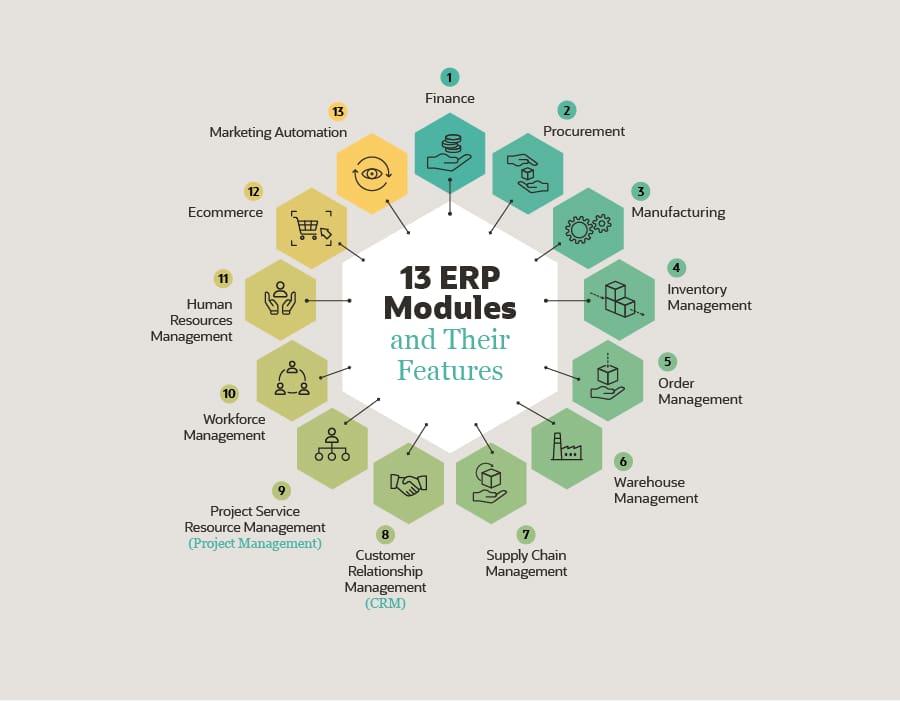 5. Financial Management
With a single-minded focus on excellent customer service, a direct-to-consumer (D2C) brand has a customer relationship management (CRM) and marketing automation platform, but it still relies on online banking tools and a jumble of spreadsheets to manage its finances. Manually tracking all purchase orders (accounts payable) and customer orders (accounts receivable) is not only time-consuming, a lack of insight has put the business in precarious financial spots several times.
The brand purchases a financial management module that automatically records all AP and AR transactions and manages the general ledger. Now, the company can better control cash flow and spending. The module makes the staff accountant's job easier by generating key financial documents like balance sheets, cash flow statements and payment receipts. The system even uses artificial intelligence (AI)—specifically, machine learning—to flag potential errors or fraudulent orders by comparing transactions to thousands of similar entries.
6. Customer Relationship Management (CRM)
Revenue plateaus for an industrial distributor as it deals with mounting competition. It wants to both find new customers and identify upsell opportunities with existing clients, but data on these groups is incomplete and inconsistent.
The distributor invests in a CRM ERP module. When a customer or prospect fills out a form on its website, that information flows into the CRM, which generates a notification so a sales rep can follow up promptly. The CRM centralizes purchase histories for all customers, allowing the business to target them with relevant products, like a new line from a certain brand or accessories. When customers have questions about or issues with a product, a customer service agent can resolve the situation more quickly because he can see all previous interactions with the buyer.
7. Supply Chain Management (SCM)
A fast-growing retailer struggles to keep up with a surging volume of orders—items often ship late, and it's drowning in returns. Although the company has an inventory and order management solutions, it's become increasingly difficult to keep track of all POs, customer orders and shipments.
A supply chain management (SCM) module helps the retailer organize purchase orders, monitor current production and compare that against demand and prioritize orders based on when the warehouse received them. With the SCM application, when customers return products, an associate scans each item, records its condition and, if necessary, initiates an exchange. The business is in a much better position to scale as sales continue to climb.
8. Human Resources Management (HRM)
What started as a small family business has doubled in headcount over the last three years. The company has a basic system that allows employees to clock in and out, but the owners have come to dread payroll because it's so time-consuming. Employee information, some of which is outdated, is buried in a spreadsheet.
The small business purchases an HRM ERP module. It automatically generates paychecks every two weeks—the owner just has to review them for accuracy—making payroll much faster and easier. The solution stores employee records, including contact information, employment forms and tax documents. It also walks managers and employees through the procedures for annual performance reviews. The HRM software can even personalize onboarding and training for new hires to quickly get them up to speed.
5 Key Components of HRM Success
Here's how to make the most of a human resources management system purchase:
If your IT ethos is forward-looking, explore systems that can use machine learning and predictive analytics now and that have an AI roadmap. The sooner you start feeding the system data, the better.
Different HRM systems excel in certain areas. Do you have a lot of turnover? Then look carefully at candidate management capabilities. Got a multi-state or -national workforce? Make sure the system can handle complex payroll scenarios.
To fully calculate ROI, focus not only on day-to-day functions but how the system will help retain talent, free up HR staff for value-added projects and minimize audit findings.
Look for self-service capabilities. There's no reason for an HR specialist to spend time assisting a manager with routine updates to hours worked, for example, or helping employees access forms like W-2s.
Fully use the human capital management and development capabilities. Within an HRM, HR can create training curriculum, personalize learning plans and career paths and set up mentorships.
9. Project Management
A boutique consulting firm has a basic accounting system, but tracking costs and resources for individual projects—critical for accurate billing—has become tedious and difficult as the firm adds more clients. Digging up all this information is no small task, and consultants end up helping calculate project costs. Bills often go out late, or customers discover errors after receiving them, which doesn't inspire confidence or help cash flow.
The company purchases a project management ERP module that tracks all this information by project. In addition to showing the status of projects, the module tracks consultants assigned, hours logged, travel expenses and communications with the client. When a project hits a certain milestone, the project management application automatically creates a bill and sends it to the client.
10. Compliance Monitoring
A manufacturer has a two-person accounting team and realizes the business, as it's currently set up, will not comply with a new accounting standard that takes effect in six months. The company soon realizes this will be a big project—far more than its small accounting team can handle—and hires an outside firm to help. Still, the audit process is touch and go.
The next year, the manufacturer trades in its entry-level accounting solution for a more robust system with compliance monitoring. Compliance standards change frequently, and the software will keep the business informed about modifications to local or industry regulations and new international standards, like IFRS 15. The accounting application links all relevant records to transactions as well, so preparing for an audit is much less daunting.
11. Asset Management
A technology startup recently completed a major round of funding and can now afford to hire more employees and move into a bigger office. That means it needs more furniture, as well as computers, monitors and other equipment for each new employee.
The asset management ERP module helps the startup manage the lifecycle of physical assets, from purchase order to depreciation to retirement. It keeps records detailing the value of IT equipment and other office supplies over time for compliance and reporting purposes. For real estate, it takes care of lease payments, amortization and other reporting to comply with lease accounting and tax standards.
12. Ecommerce
After hearing for years about the tremendous potential of direct-to-consumer (D2C) ecommerce, a B2B distributor that has sold exclusively to retailers decides it's time to diversify. The company asks a few employees to develop a strategy for the D2C channel and determine which products it will sell online.
The distributor then adds an ecommerce ERP module to turn its informational site into an online store that can process transactions. The module has user-friendly tools that allow the marketing team to list new items, change product content, quickly jump on ecommerce trends and update the site's look and feel. By choosing an ecommerce application that's unified with the ERP, there's no need for integrations to third-party solutions, like an order and inventory management solution or a CRM—all order, customer and payment information automatically flows into the ERP.
13. Business Intelligence (BI)
A business that sells software uses a leading ERP system to manage accounting, sales and marketing, customer service, human resources and more. While this data has tremendous value, the company needs a better way to manipulate and present the information if it hopes to attract a new funding round.
The software vendor adds a business intelligence module that can turn the data into charts and graphs to make it digestible for executives and potential investors. The tool can also help determine the best industries to target with its software or understand the potential market for a new solution it's considering developing. The business intelligence application can even use AI to better predict future financial performance based on internal and external data.
14. Multiplier Effects
When a company integrates a number of modules, it gains automated reporting and IT optimization benefits greater than the sum of the system's parts. For example, if CRM and ecommerce are connected, the ecommerce site could show personalized product recommendations or even a personalized home page based on the visitor's purchase or browsing history. That could increase average order value and conversion rate. Similarly, integrated HRM and SCM modules could allow a business to track the average number of orders fulfilled per hour or day by each employee. The employee's manager could then pull up this data as she prepares for the performance review to demonstrate that this employee exceeds expectations and explain to her department head why this person deserves a raise.
Automated Reporting
Many companies realize their warehouses are inefficient or that closing the books takes far too long, but they can't pinpoint the cause of those problems. Reporting often sheds light on underlying issues, like inefficient business processes, so leaders know what to focus on and can resolve them.
The more ERP modules used, the more data is available and the more robust the insights. Each module should have reporting capabilities for that aspect of the business, like HR or supply chain. The reports can be extremely broad (How do expenses in March compare to those in April?) or narrow (What was the average order value of customers from Texas last week?). When looking for an ERP solution, make sure reporting is simple and easy to customize.
IT Optimization
Businesses that use disparate systems for different departments and business functions do battle daily with a lot of manual work, inconsistent and duplicate data and other inefficiencies. Organizations gain this visibility when they adopt various ERP modules that all plug into a unified database, thus giving leaders a complete picture of the company's current state. An integrated system alleviates pressure on IT team, eliminates data-accuracy issues and helps your company scale without adding headcount at a commensurate rate.
Entry-level and disconnected systems also limit visibility across the organization—the operations department has no way to know about an upcoming marketing promotion that will generate a spike in orders.
Having multiple systems also adds the challenge of keeping users and IT trained on all of the technologies and raises IT operational costs. In addition, upgrades can become a major hassle: If one app needs to be upgraded, this can cause a domino effect where the other apps it might be "connected" to also need to be upgraded.
15. ERP System Benefits
An ERP system enables businesses of all sizes and across all industries to save time and money while avoiding unnecessary headaches. Automation is a primary source of those time and cost savings, as it eliminates manual tasks and frees employees to focus on other work. A single source of information also allows employees to spot potential errors early on and resolve them before they turn into bigger problems.
Even though there are tasks ERPs cannot automate, the system puts comprehensive information at decision-makers' fingertips to facilitate faster and better decisions and improve business processes. From basic information, like financial documents and customer records, to more advanced tools that leverage AI to optimize demand planning and production, employees can find whatever data or reports they need to make better, more informed decisions.
The software also helps ensure compliance with local and national and global regulations, which is critical to the long-term success of a business.
A cloud ERP sets up companies especially well for the future because it offers all these benefits along with advantages that on-premises solutions cannot match. For example, with cloud ERP, the vendor handles all maintenance and upgrades, which are included in the subscription fees the company pays every year, and the system scales smoothly as the company grows.
But what's most important is that an organization has an ERP that serves as a trustworthy source of information for all employees. It has become a required tool to win in today's hyper-competitive environment.