Looking to make the finance team more efficient and improve business operations? Today's enterprise resource planning (ERP) systems integrate and automate essential financial and operational functions and provide a trove of data insights from sources including general ledger (GL), accounts payable, accounts receivable, payroll and financial reporting. Modern ERP systems also help with inventory, order and supply chain management as well as procurement, production, distribution and fulfillment.
Companies that include human resource management (HRMS), customer relationship management (CRM) and ecommerce capabilities will see even greater benefits.
Understanding key ERP features makes it clear why this software plays a pivotal role. Here are a dozen capabilities to consider when evaluating ERP systems.
1. Integration
Data silos lead to inefficiency, missed opportunities and departments working at cross-purposes. The primary, and maybe most significant, benefit of ERP is a central view of essential financial, operational and business data that can be shared across the organization in near-real-time.
ERP systems provide the means to develop business intelligence by turning that data into reports and insights that a company can use to re-allocate resources or capitalize on new market opportunities, among other actions.
2. Automation
ERP provides the ability to automate repeatable business tasks, such as payroll, order processing, invoicing, reporting and more. Automation minimizes the time spent on manual data entry, reduces errors and lets employees focus on more value-added tasks.
The nature of an ERP system means that data entered by one user is available across the organization. So, for example, an inventory tracking module could automatically trigger a shipment and invoice when a certain SKU becomes available. That translates into more revenue and a better customer experience. Or, line-of-business executives could automatically receive up-to-date reports on cash flow and other metrics to inform decisions.
3. Data Analysis
Using data more effectively is a perennial priority for CFOs and business leaders alike, as Brainyard's Winter 2020 survey showed. The power of data analysis is enabling employees to gather a wide variety of information and spin it into actionable insights—on new business opportunities as well as ways to optimize current operations, reduce costs, spot fraud and better serve customers.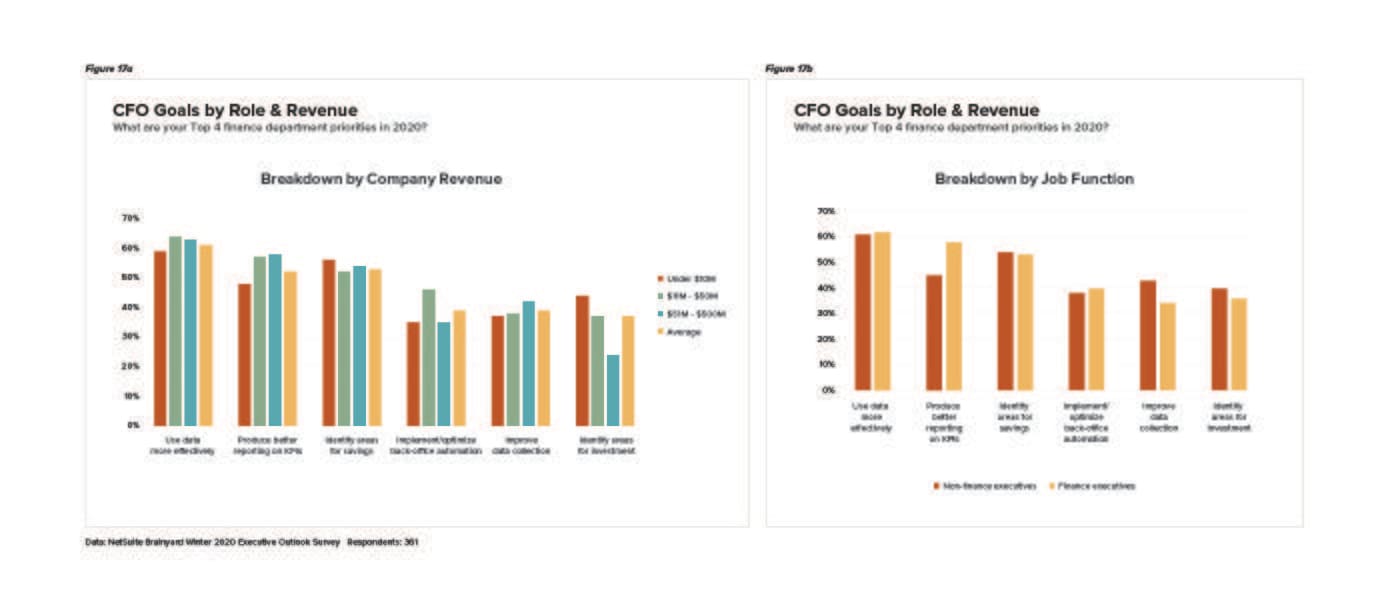 Data shows that CFOs' top goals include using data more effectively, reporting with more accuracy, identifying areas for savings, and implementing automation.
4. Reporting
Better reporting is almost as important to executives as more effective data usage. ERP reporting modules compile information about business operations into reports that empower stakeholders to make more informed decisions, enhance business processes and identify problem areas before the business suffers. Reports may include visual representations, such as charts, graphs and dashboards, hopefully revealing trends and patterns to improve business results.
5. Tracking and Visibility
ERP platforms allow companies to track, surface and understand business metrics—a powerful feature. They do this by facilitating companywide access to near-real-time data, breaking down information silos and offering reporting and analysis for every aspect of business operations.
6. Accounting
ERP accounting features deliver the ability to track, store and analyze financial data, such as accounts payable (AP), accounts receivable (AR), general ledger (GL), budgets and forecasting. Systems may perform more advanced tasks such as tax management, fixed assets management, revenue recognition and multi-currency reconciliation.
Time is money, and month-end closes always take longer than CFOs would like. This functionality decreases the time it takes to reconcile and close out monthly financial statements. It's critical for companies looking to move to continuous month-end closes.
7. Financial Management
Financial management(opens in a new tab) is a complex task that involves planning, organizing and determining the best use of funds for a business. Financial leaders must track and use financial data from all departments to make decisions about, for example, capital projects, funding sources, cash management and financial controls.
ERP systems assist finance teams with the management process by tracking, analyzing and reporting critical business data. In large, complex organizations, ERP systems are necessary tools for sound financial management.
8. Customer Relationship Management (CRM)
ERP systems with integrated CRM features bring customer relationship data into the mix, expanding the view of the business. All customer information—including contacts, order history, purchase orders and prospect status—is in a shared, easily accessible database.
CRM systems enable companies to automate processes like filling out POs, generating accounts receivable reminders and sending notifications for an account exec to follow-up when a prospect reaches a pre-defined point in a sales pipeline.
9. Sales and Marketing
ERP systems with integrated CRM also benefit marketing and sales teams by making it easier for them to sell, upsell, generate quotes and purchase orders, forecast, manage commissions and track key details like profit margins and ratios.
Marketing teams may benefit from an ability to drive more leads, quickly build and execute campaigns and track customer activity through the sales cycle.
Sales and marketing teams use ERP functions in close connection with finance and operations colleagues to provide a superior customer experience through the entire sales pipeline.
10. Human Resources (HR)
The HR component of an ERP system acts as an end-to-end employee management platform, handling payroll, hiring, onboarding, compensation management and timekeeping. Complex HR functions, like tax and benefits deductions, are automated with ERP-connected HR software, which saves time and money while reducing errors.
11. Supply Chain Management (SCM)
ERP systems offer insight into a company's supply chain management (SCM) efficiency by tracking demand, inventory, manufacturing processes, logistics and distribution. A fully automated and integrated supply chain enhances operations by suggesting purchase orders, work orders and transfer orders across multiple locations.
SCM systems can also help set inventory goals and simplify distribution resource planning. Real-time data on a company's supply chain helps identify areas of inefficiency, providing greater control and management over inventory.
12. Manufacturing
ERP as a function got its start in manufacturing. Today's systems create efficiency in manufacturing processes by assisting with product planning, sourcing raw materials, production monitoring and forecasting. Other components include modules for assembly management, bill of materials, work order management, shop-floor control, distribution planning and product tracking.
In conjunction with SCM, ERP manufacturing tools heighten an organization's ability to manage and automate major inventory planning and forecasting decisions.
All These Features in One Place with NetSuite ERP
NetSuite serves small to midsized businesses across all industries, offering real-time insights, better customer service and reduced supply chain costs by integrating and automating essential financial and operational functions including inventory, order and supply chain management as well as procurement, production, distribution and fulfillment. Learn how NetSuite ERP can take your organization to the next level.
ERP Features FAQs
What is ERP and its features?
Enterprise Resource Planning (ERP) is a software system used by organizations to manage and integrate essential parts of their business operations. It streamlines information flow among various business functions and manages external connections, being vital for many businesses across sizes and industries.
ERP's features include integration of different business processes like sales and finance, automation of manual tasks, data analysis tools for informed decision-making, tracking and visibility for enhanced operational insight, and compliance and reporting tools for adhering to regulations.
What are the 5 components of ERP?
The five key components of an ERP system are Human Resource Management, managing employee information and payroll; Customer Relationship Management, handling sales and customer service; Supply Chain Management, overseeing the flow of goods and services; Financial Management, dealing with accounting and financial reporting; and Manufacturing/Production Management, which manages production schedules and product quality.
What are the 3 characteristics of an ERP?
Three characteristics of ERP systems are their flexibility to adapt to unique business processes, modularity allowing for selective module integration, and a centralized database for consistent and up-to-date information across departments.
What are the 6 main benefits of ERP?
The main benefits of using an ERP system include improved efficiency through streamlined business processes, enhanced reporting and planning for better decision-making, integrated and consistent information across the organization, reduced operational and administrative costs, improved data security and quality, and better customer service through improved access to customer information. These benefits demonstrate how ERP systems are integral in managing the complex operations of modern businesses, offering a comprehensive solution for efficiently managing various departments and functions.