In short:
In a climate of unusually high employee turnover, scouting solid finance hires is more important than ever.
As the practice changes with technology and market conditions, top skills for candidates evolve too.
Here, leaders who've been to this rodeo a few times share their top tips for making great hires.
When we bring on a new finance team member, we're filled with hope, thinking about how this hire will move the organization forward. Often, though, the job descriptions recruiters work from are incomplete, dated or not reflective of pending business requirements.
That was always a problem, but in today's hiring climate, it's simply unacceptable. Most CFOs now face unusually high employee turnover, according to a PwC survey of Fortune 1000 and private companies conducted in August, and 81% expect a labor shortage to harm revenue growth.
Fewer than half of CFOs told PwC that they see the high turnover rate as transitory.
Finance team hiring has always been a complicated process as CFOs try to balance salary with skills and credentials. Sometimes, even with a flawed requisition, we get lucky with a new hire. More often, though, we regret not listing a particular requirement after a gap in operations becomes apparent.
To help fine-tune finance job descriptions, we chatted with executives and experts about their must-have skills for the back half of 2021: the capabilities they wish they'd asked for and the skills a new hire brought to the table that proved invaluable.
Brace yourself. Our experts had lots to say.
1. Fluency in regulations and compliance requirements
In a HIPAA/GDPR/PCI world, every finance employee needs to be familiar with the privacy regulations governing their companies. When one unprotected health record or credit card number can mean thousands of dollars in punitive fines and bad PR, ignorance of — or a willingness to bypass — the rules are unacceptable.
Joe Flanagan, senior employment advisor at Los Angeles-based career transition, outplacement and employer branding firm VelvetJobs, says the push to remote work has exacerbated concerns over familiarity with global compliance needs.
"As remote work and roles became the norm, many organizations started hiring talent from across the globe for the first time," says Flanagan. "Many of these were in the form of contractors or freelancers as well. Thus, the demand for finance managers who understand the gig economy, the regulations and the labor laws associated with global workers has gone up. Many organizations are specifically looking for finance experts who have experience in managing the accounts of a global workforce."
For Hosea Chang, COO at online clothing retailer Hayden Girls, an understanding of both compliance and the financial nuances of new and evolving business mandates is critical when evaluating candidates. For Chang, this translates to more than a good number cruncher. It's someone who's comfortable being a conduit between managers and teams tasked with innovation, technology and overall strategy, to keep them on track with mandates.
That's a challenge facing companies overall, according to Brainyard's Summer/Fall 2021 survey of 500 business leaders. Simply keeping up with turnover is tough — finding people able to understand the changing regulations affecting the business may seem impossible.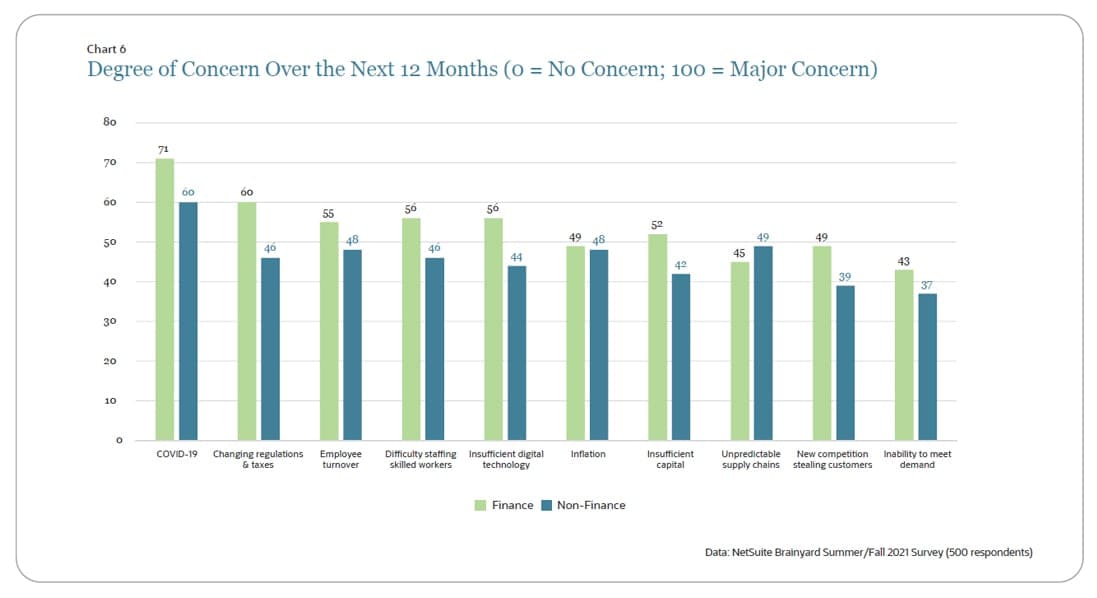 2. Data analysis skills
Proficiency with data analytics is far and away the most cited new-hire attribute our CFOs are looking for. In fact, in an informal Brainyard survey of 463 finance leaders, 62% said data analysis was the one skill they most want to see in new hires.
Today, companies live and die by data, so our experts say that the ability to make meaningful use of analytical tools, projection models and other data-related functions is extremely coveted in the finance domain.
"Right now, my company is in need of data analysis skills within our finance department," said Sudhir Khatwani, founder of cryptocurrency think tank The Money Mongers. "Key attributes of the person we are looking for [are] advanced critical thinking skills, presentation skills and someone with extensive experience with machine learning and statistical programming."
While that may sound more like a data analyst than an accountant, Khatwani says people from a finance background with data analysis experience, or data analysts who have finance backgrounds, are invaluable for firms like his that analyze lots of financial data internally.
"Today's finance teams are responsible for translating data into business advice," says Lundin Matthews, founder and CFO of AdminRemix, a software provider serving school districts. "It's important for the finance team to not only understand the data, but have a deep knowledge of how to interpret it and use it to make informed business decisions."
With so much data coming from a variety of sources, most companies need financial planning and analysis, forecasting and quantitative analysis capabilities to support new growth.
More Resources From NetSuite
XP&A denotes the discipline of creating a financial plan while considering decisions made beyond the finance department. Get an overview of this practice, and see why it could be critical in new hires.
Take data analysis off your perpetual to-do list, and watch it fuel smarter business decisions. Our guide provides three action items for making it happen THIS year. New hires can certainly help.
In the accounting department, technology know-how has been in demand for a long while. See a snapshot of the CPA of the future, as reflected by changes to the CPA Exam.
To identify this candidate, try giving them a set of data to interpret — don't make it super easy, but don't get too into the weeds, either — and see if their findings align with yours. In addition, Matthews says to ask candidates to talk about a result or business practice that was influenced by their data analysis.
Note that there will be competition for these hires: Brainyard's survey results show a clear demand for better use of data from both finance and non-finance respondents.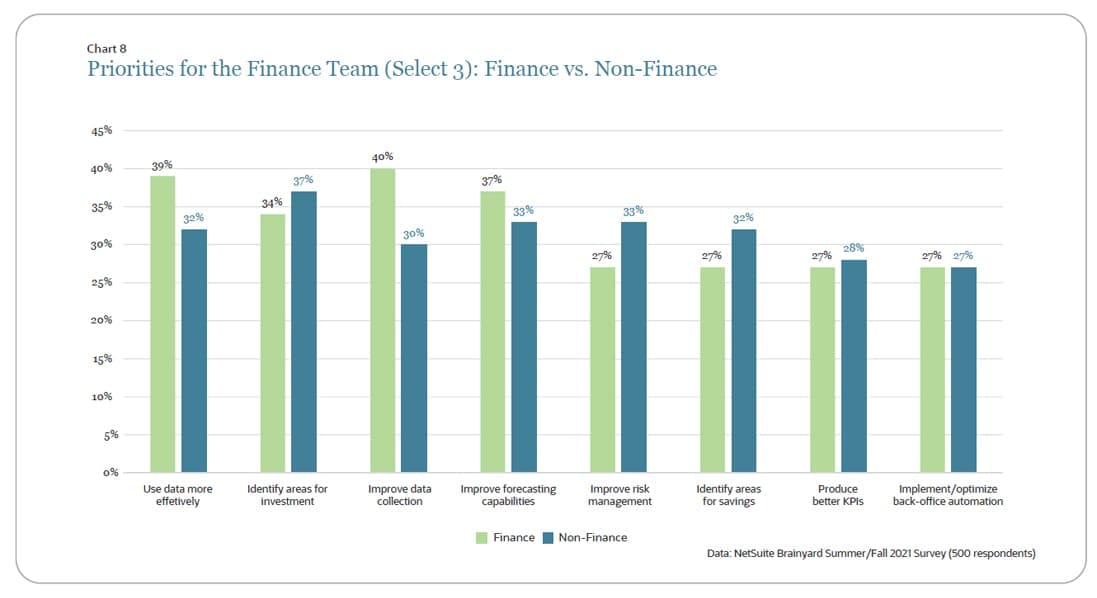 3. Business acumen, or understanding of the overall business
"Business acumen" is a portfolio of skills that allows individuals to support an organization in achieving its financial and strategic goals, and Nat Tsang, CEO at stock researcher Wall Street Zen, says those skills are a must in new finance hires.
"For the finance team to properly manage the organization's investment, they must make decisions based on the holistic interplay of employees, customers, the company and stakeholders," he says. "If they don't have business acumen, deciding on an important company decision can be challenging."
That doesn't mean that your new hire must know your business inside and out right off the bat, but look for folks with a solid understanding of business fundamentals and, potentially, experience with a company similar to yours. Can they tie spend to returns? Understand implicit risk? Evaluate a cost-benefit analysis? Understand the nuances of each department's contribution and how to budget accordingly? Make sure they can "speak business" over and above reconciling P&L statements.
For Jenna Lofton, a certified financial adviser, an understanding of business processes is her top hiring concern.
Business process expertise is the ability to understand the multiple layers on which an organization operates. Finance must be able to identify not only the problem but also the root cause. Again, it'll take time for new hires to know your processes inside and out, but the core skill set should be there. For instance, it's one thing to know that sales reps are submitting incomplete expense forms or that COGS is rising steeply. It's another thing to understand that sales reps are having trouble following protocol because the process is more time-consuming and has more touchpoints than anticipated or that the culprit in cost of goods sold is a 40% increase in shipping costs.
"For example, if a company were moving their manufacturing facilities overseas, it would be a business process improvement for them to find new suppliers locally so they could maintain relations with the government while still staying cost-efficient," Lofton explains. "The practice can range from organizational restructuring to changing up procedures on an individual basis."
In many firms, there is a misalignment of goals between the finance team and other functions. While finance professionals often assume the position of prudence, colleagues from other lines of business may not understand the principles behind that stance, says Michael Sena, founder of finance & accounting consultancy Senacea. Taking a proactive approach to understanding the challenges and objectives of all business units enables finance to get non-finance colleagues on board. For instance, finance professionals can provide valuable feedback to operations on how adding new supply chain sources impacts cash flow.
Still, that ability to translate finance to real-world advice is not easily found.
Lofton says to look for candidates who have previously worked across multiple functions. If a candidate has experience embedded within sales and a good sense of how business processes are handled from that end or has worked within client services and understands which resources reps need, that gives a CFO more confidence that the candidate can work across teams and functions.
4. Speaking in layman's terms
The ideal candidate doesn't merely understand the larger business picture. They're able to communicate finance's position to the rest of the organization. Like any other job function, finance has its own lingo, acronyms and KPIs. Knowledge that is at a finance employee's fingertips often flies over the heads of other stakeholders.
As the lines between finance, sales, marketing and operations continue to blur, new hires need to be able to translate "finance-speak" to the rest of the business.
This is especially important for small companies, says Zachary Hoffman, CEO of DigitalPR, where the finance team needs to be able to explain data, provide solid reasoning for making decisions and recommendations and translate findings into something that executives and leaders can understand.
So how do you find this wunderkind?
"To gauge their communication skills as they directly relate to finance, ask them to simplify a complex term or financial challenge," advises Hoffman.
5. Technology skills
Several of our experts cited intimate understanding of digital tools and, in an ideal world, financial management technology as critical to new-hire success.
Scott Spivack, marketing director of medical lending firm United Medical Credit, says experience with advanced financial management systems is coveted, if hard to find.
"If a candidate proves a thorough understanding of existing [financial systems] alongside an awareness of upcoming trends, they will jump to the top of the list," says Spivack.
In addition to the compliance skills mentioned above, VelvetJobs' Flanagan says there's been an uptick in use of digital tools and technologies within the finance function over the past year as the world shifts to a remote-work normal. Finance is no longer limited to processing data or automating repeat tasks; it also has to navigate enhanced cybersecurity and data protection, for example. Many finance teams, therefore, have been trained to manage technology, and Flanagan expects future finance hires to be proficient in a wider variety of digital tools.
6. Customer experience consideration
As we've previously discussed, customer experience (CX), sales, marketing and finance are increasingly being rolled up into "revenue operations," or RevOps, often under the purview of a chief revenue officer.
"What we actually need right now is a finance executive who has a 'product mindset,'" says Dave Herman, president of EZ Surety Bonds. "We need more finance people who truly care about delivering value to our customers. While this isn't really a skill often associated with finance functions, it can help drive true and lasting transformation in a society where customers are just numbers."
When hiring for finance roles, look for an understanding of how finance impacts CX in your organization.
Sales Therapy CEO Michael Hammelburger says it's important that finance professionals can handle revenue modeling for business development partnerships and growth strategies. Sales Therapy requires those skills because they help expand its client base.
Inversely, just as finance needs to understand business development analytics, biz dev today has to be able to handle forecasting and budgeting. Together, the teams can create a strategy that lifts business development while meeting finance's expectations.
The Bottom Line
Technology, methodologies and processes evolve quickly in the finance world, and our job postings need to keep up. From analytics to financial technology, compliance to CX, today's finance leaders have complex, advanced skills needs on their teams.
It isn't enough to hire a wiz with ERP and a 10-key. CFOs who can work with HR to hire savvy business professionals who understand overall strategy and can communicate finance's mandates to non-finance stakeholders will help their companies outpace the competition.
Kris Blackmon is the chief channel officer of industry consultancy JS Group. A veteran of the indirect sales channel, Blackmon has extensive experience in event programming, editorial and content creation, research and analysis, and community building. At JS Group, she consults on go-to-market strategies for organizations in the indirect channel.