Keeping your customers and winning new ones when competitive offerings are just a few clicks away is not an easy task. That's why customer satisfaction and good customer relationship tactics are so important. Fortunately, customer relationship management (CRM) tools can help growing businesses manage and keep track of a high volume of customer information, helping them to provide customers with the types of seamless experiences that will keep them coming back. Indeed, the benefits of implementing a CRM can enhance an organization's relationships with customers, streamline day-to-day business operations and more.
What Is CRM?
CRM, or customer relationship management, refers to the set of practices and guidelines a company follows for interacting with customers and their data. It also refers to the technology used by businesses to track customer data and manage processes regarding their customer relationships, as well as maximize value from those practices.
A CRM system works as a shared platform where all customer information is stored, organized and viewed by various business units, such as sales, marketing and customer service teams. For example, a CRM can help customer service teams quickly access a customer's purchase records and support history. Or it can be used for broader scenarios, like analyzing customer trends and patterns to create more accurate forecasts.
The global market for CRM software reached $69 billion(opens in new tab) in 2020, according to research firm Gartner. A variety of forecasts indicate the market will continue to grow.
15 CRM Benefits to Take Advantage of in 2022
Perhaps you're considering introducing a CRM system to help increase customer retention and streamline operations. Or maybe you've already adopted one and want to better understand what it offers. Either way, recognizing the benefits a CRM can bring to your company — and your customers — can help you get the most return out of your investment in CRM.
Automate mundane tasks:

CRM technology can save considerable time by automating mundane tasks like data entry. For example, a CRM can automatically capture key information from each customer interaction, remove duplicate data and ensure that all data is up to date. This automation eliminates the need to create spreadsheets that store customer information, while also providing a way for all relevant departments and/or employees to interact with relevant customer data on demand — without the need to manually share spreadsheets across departments.

Many CRM systems can also automate a variety of other tasks, including invoicing, forecasting, sending emails to customers and even customer segmentation — all of which can help save time and money, allowing employees to shift their focus to more value-adding tasks.

Keep data centralized and organized:

Once CRM software is deployed, customer service, sales and marketing teams can be assured their customer information is accurate and up to date. CRM solutions can show all collected data in one central database that's automatically updated any time new information is added. In addition, all customer-facing roles can access and filter information relevant to what they do within the company. For example, a sales team can readily access customer transaction data from the same CRM database that a customer service team uses to reference purchase history and support ticket info.

Visualize data:

CRM software typically shows data from both individual customers and segments of customers in graphical, easy-to-digest dashboards. Individual customer dashboards, for example, might show customer contact information, purchase history, a log of previous interactions, recent activity and support requests and resolutions. Combined, this data can improve customer support and enable a seamlessly personalized experience, regardless of which representative contacts the customer.

When dealing with customer segments, dashboards might include at-a-glance information regarding sales pipelines, repeat customers, social media engagements, campaign revenue, forecasting, KPIs on leads, customer contact rates, response times and more. CRM dashboards are usually customizable to a team or employee role, which helps ensure the right information reaches the right people at the right time.

Integrate CRM software with other services for a more holistic view of data:

CRM software usually allows for integration with third-party applications, such as enterprise resource planning (ERP) solutions, accounting software and calendars. This integration enables various key business applications to seamlessly share data to provide a big-picture, holistic view of your company's — and customers' — information. What's more, integrating CRM with other software eliminates the need to go back and forth between applications, improving employee productivity.

Increase collaboration:

When CRM systems are integrated with ERP solutions and other important business software, stored data can be seamlessly shared throughout the company. This encourages data transparency and lets all departments tap into detailed logs of customer data, making it easier for different departments to collaborate. Moreover, some CRMs allow employees and departments to communicate with each other — via emails and reminders, for instance — without leaving the platform. Ultimately, this helps employees work faster and more seamlessly, even between different departments.

Uncover customer insights:

When contrasted with a more manual, spreadsheet-centered customer relationship management approach, smartly designed CRM dashboards automatically organize and display data in charts and graphs. Visualized data can be easier to understand, empowering employees to garner a fuller view of customer trends, behaviors and patterns — all of which analysts can then turn into actionable insights that can improve customer service, sales or overall business productivity.

Use on-demand access to customer vitals to provide more proactive customer service:

Order history, search history, questions, support requests, personal information, contacts and more can be found within each customer profile stored in a CRM system. And with cloud-based solutions, this information can be accessed from anywhere, at any time, as long as the employee has the credentials to do so. On-demand access to customer vitals increases the chance of providing more proactive customer service, which can make for a better customer experience. For example, a keen salesperson might notice a certain customer routinely visits a web page for an out-of-stock item. With that data in mind, the salesperson may proactively reach out to the customer to alert them of an upcoming restock.

Engage in more efficient customer communication:

CRM systems can improve the customer service experience for both the customer and the representative. All records of interactions, conversations, emails and other representatives' notes about a particular customer will be stored, easily accessible and always up to date. This prevents customers from needing to repeat all of their information every time they call to ask a question or make a request. This can help make the experience more pleasant for both parties, as the representative will have all relevant information to help resolve the customer's request.

Cross-sell more effectively:

It's easy to recommend related or supplementary products or services to a customer when all of their historical purchases, searches and interests are available on a centralized platform. Sales reps and marketing teams that have access to a CRM database containing this information may be able to create more effective cross-selling and upselling strategies that leverage intelligent product recommendations — ultimately offering more personalized experiences for customers and potentially boosting revenue.

Increase customer retention:

Since acquiring new customers can be more costly than retaining existing ones, customer retention is often the main goal of implementing CRM software. All of its features come together to increase customer satisfaction and, therefore, the odds of turning a first-time customer into a repeating, loyal customer — maximizing their lifetime value and positively affecting a business's bottom line. Specifically, CRM systems enable companies to better manage interactions with both customers and prospects, thanks to a consolidated view of all documented customer interactions, transactions, contact information and preferences. This information can be used to provide insights about customers and establish more personalized relationships.

Achieve better customer segmentation:

More robust CRM systems can automate customer segmentation according to criteria such as location, age and purchase history. For example, companies may find it useful to generate automatic mailing lists to contact all customers who purchased a specific product in case of a recall or to alert all customers within a certain geographic radius about a new in-store product. Automatic customer segmentation can save time by eliminating the need to check every single customer profile or to manually enter contact information. Marketing teams can also benefit from a CRM's customer segmentation, as this feature can facilitate targeted campaign planning, for instance.

Accurately forecast sales:

To be able to predict future sales and revenue, one needs to analyze accurate past performance data. CRM software can positively impact a company's ability to accurately forecast customer demand by automatically tracking and reporting past sales, customer trends and prospect touches, thus allowing for more precise planning in subsequent sales cycles.

Increase sales:

While CRM systems can clearly make life better for customers, they can also be beneficial for businesses as a whole — especially when it comes to sales. For example, sales teams can access CRM dashboards that provide indispensable real-time data, including customer and prospect records, forecasts and predictions, and customer and prospect activity. This allows sales teams to more effectively learn about customers, know when and how to contact them, manage sales pipelines and more.

Seamlessly scale your business:

Growing businesses might want to consider scalability when choosing a CRM system. The software should be able to adapt and expand anytime there's a need for more data storage, users, servers, access locations or even customers. Once implemented, the right CRM can help businesses scale seamlessly by eliminating the need to migrate all data to another system once a limiting threshold is reached. This not only saves time, but it can also help prevent the loss or duplication of information — ensuring all data remains accurate and up to date.

More easily comply with data privacy and customer security regulations:

In this day and age, businesses have no choice but to comply with stringent data privacy requirements. A CRM system can help companies securely obtain and document their customers' and prospects' preferences and permissions. Doing so manually can be time-consuming and prone to errors that place a business at risk for penalties associated with noncompliance — not to mention the potentially irreversible damage that privacy controversies can have on a business's image. The right CRM, however, can automatically maintain customer preferences while keeping their data secure.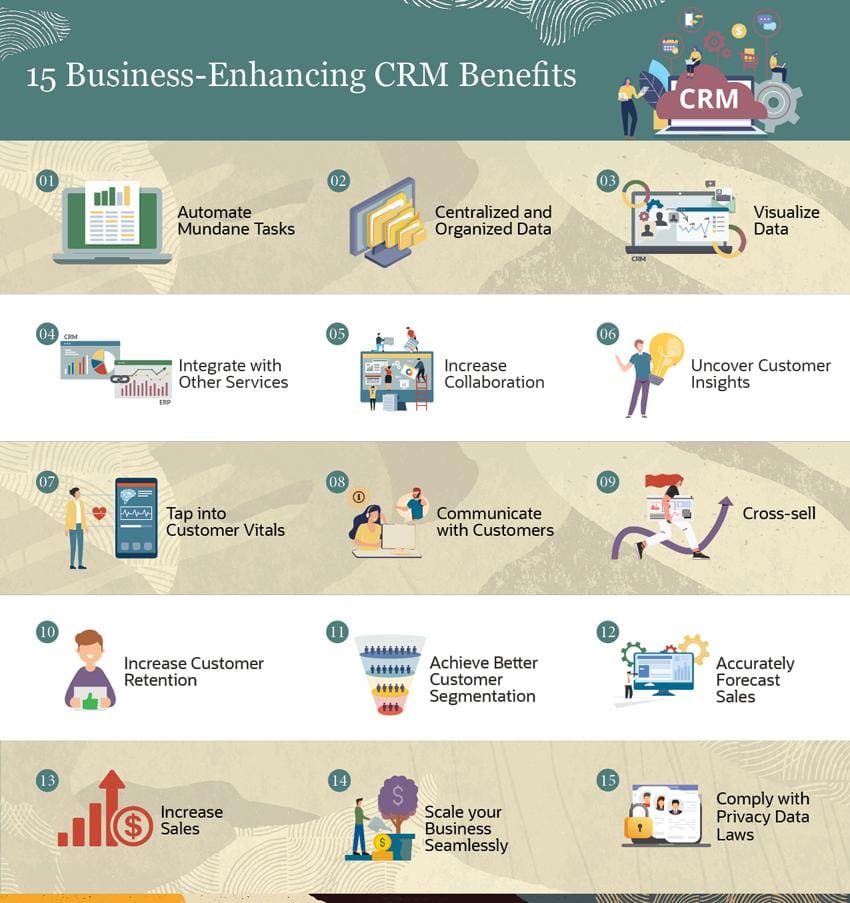 What Companies Benefit From CRM?
Deploying CRM technology can be especially beneficial for sales, marketing and customer service departments of businesses of all sizes and industries, whether B2B or B2C. In fact, research estimates show that 91% of businesses with 10 or more employees have some sort of automated CRM system in place.
In retail, for example, a CRM can improve operations by tracking and storing order history, customer interactions — via social media, phone or emails, for example — and trends that can be used to help plan marketing campaigns. Hospitality industries can use CRM software to record guest preferences and offer them a personalized experience regardless of which hotel employee, for example, they're interacting with. Meanwhile, banks and other financial services may benefit from the added layer of security CRM can provide when managing confidential financial information and tracking customer preferences and history.
If you find your company struggling to maintain spreadsheets with customer information or find that crucial customer information is getting buried in long lists, a CRM solution might be a good idea for your business. Another sign that your company needs a CRM is growth in sales and customer numbers. The better equipped you are to consistently manage customer interactions, the more likely your customers will return.
Bolster Business Growth With the Right CRM
Implementing any business software is an investment. And much like any other investment, it's important to understand what to expect from your new undertaking to help calculate the ROI. When it comes to a CRM, the right solution is the one that offers the most features that mesh with your particular business needs — all while providing your business with the most savings, higher customer satisfaction levels and an increase in sales.
NetSuite's Customer Relationship Management solution, for example, can seamlessly integrate with your company's existing ERP. This unified platform offers a collaborative way to gather and share key business information to ensure all data is reliable and can be consistently accessed across all relevant business departments. For example, a sales team can track their sales pipeline and view forecasts within the same system a customer services manager can gauge support requests and decide whether to hire more consultants. This comprehensive CRM system can boost organizational efficiency and customer satisfaction.
NetSuite's CRM also offers an online self-service customer portal that allows customers to submit support requests or inquiries, as well as visualize and manage their accounts, invoices and balances. From a marketing perspective, the CRM software streamlines customer segmentations, allowing marketers to deploy more targeted marketing campaigns and potentially see higher conversion rates.
For many businesses, CRM is an essential tool in winning customers, keeping them satisfied and retaining their interest. But the benefits extend far beyond that. Leading CRMs can help companies improve their day-to-day operations, from dealing with customers and increasing sales to uncovering unique customer insights and streamlining collaboration across business departments.
Video: Rural Utility Service Centralizes Communication in NetSuite CRM