In short:
Brainyard interviewed VCs to get their take on the landscape for early-stage investments in 2021.
Adoption of technology alongside increased VC deal flow equals good funding opportunities for entrepreneurs across major sectors.
Overall, the investment outlook is positive, but companies in search of funding must be able to communicate their market-changing ideas to VCs in a purely remote environment.
In 2021, the prevalence of remote work and unpredictable markets continue to impact businesses across every sector. These shifting conditions present questions for early-stage entrepreneurs looking to raise venture capital: Will it be easier or harder to get funded? Which skills will I need to close early-stage deals?
We asked top-tier VCs focused on seed and Series A investments to give us their perspectives for 2021. They broke down the major market trends, identified notable investment areas and explained what founders need to do differently to raise funds in 2021. Their assertions:
Early-stage VC interest remains strong.
"The VC landscape ... has been changing rapidly, but the market is [closing deals] at a high velocity," said Phil Boyer, partner at Crosslink Capital, an early-stage firm in San Francisco.
Many technology companies have benefitted as businesses adopt tools to help them sell online and manage an increasingly remote workforce, he added. Additionally, technology stocks' strong performance over the past year created what Boyer calls a "trickle-down effect" for the entire startup community, increasing investor interest in seed and Series A rounds.
Overall, there's "increased appetite" for deal-making, and "2021 looks like a pretty healthy market for fundraising," he said.
Technology adoption represents massive opportunities.
Overall opportunities:
"The Covid situation last year forced everyone to move faster on 'digital transformation,'" or technology-fueled changes to business process, business model, domain or company culture and organization, said Najib Khouri-Hadad, general partner at technology-focused Sway Ventures.
He said this trend will span multiple years, gaining steam alongside other trends like improved cellular technology, better video, collaboration tools, AI, 3-D printing and virtual reality technology and increased use of e-commerce.
Boyer refers to this period as "digital transformation (act II)" in his writing, referencing a number of effects that accompany it:
New design and developer tools are in demand.
Enterprises are "prioritizing improvement in their digital experiences across the board, but top design and engineering talent is scarce," Boyer writes. Thus, they're aiming to invest in better collaboration platforms and automated software development tools — and are interested in startups whose products and services can help them "keep pace with the rate of innovation required for companies to stay competitive."
Boyer predicts companies will move beyond digitalizing on-premises or paper-based processes and invest in tools powered by "technologies such as robotic process automation, computer vision, machine learning and low code/no code interfaces."
Startups stand to win if they automate tasks for "key roles that suffer from heavy data entry work or repetitive tasks," including customer service, finance and HR, Boyer adds.
Security and data reliability remain high-priority.
According to Boyer, the focus will be on built-in security at the foundation of applications and software development, ongoing protections to combat online fraud and new data privacy solutions that address heightened consumer concerns and an evolving data privacy landscape.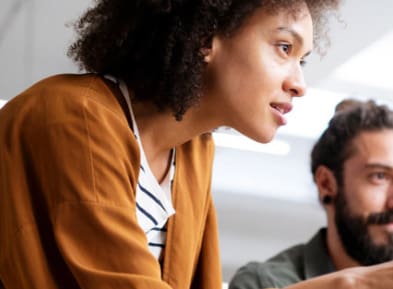 Sector-specific opportunities:
That fast-paced technology adoption spans industries, Boyer writes. The changes in these industries include: a mass of digital data to capture, analyze and assess; a slew of "labor-intensive processes to automate;" new technologies like AI and robotics moving from pilot stage into production; and a general integration of technologies once reserved for "digital-native companies" into "some of the oldest (and largest) industries in the world."
The VCs we spoke to cited specific opportunities for startups in a handful of industries:
Finance trends for 2021 include better online collaboration tools for financial workers, consumer-facing applications to eliminate manual processes (e.g., printing, signing and scanning documents) and more partnerships between banks and financial technology, or fintech, startups. According to Fintech Futures, financial companies will "seek out new fintech products with more robust feature sets" to stand out in a crowded, changing financial services market.
In the real estate industry, a long list of technology applications is giving a facelift to the process of buying, selling and managing properties. Leaders are using data analysis to define market trends, and AI platforms offer algorithms to help property managers manage energy consumption. Blockchain applications will record, store and transfer property deeds. Sales agents use CRM software and sales automation tools in the cloud. Buyers take 3-D home tours and submit applications, complete background checks and submit leases and rental payments online. These digital real estate trends are beginning to impact every facet of the industry.
Accordingly, Sway Ventures has dedicated two funds to fintech and "proptech" (i.e., property or real estate technology) in 2021. The company is looking to make seed investments under $1 million in companies with minimum viable products (MVPs).
Meanwhile, Eller Malchok of healthcare-focused investment firm Jumpstart Foundry cited opportunities in telehealth and at-home care. She also foresees fundraising success for businesses that support or replace doctors' offices, pharmacies and health-related services. Digital healthcare services like telehealth will be a "standard of care" moving forward, Malchok said, but that requires companies to step up and develop "all of the support services" as well.
Malchok's forecasted "rise of the health-focused, conscious consumer" is driving Jumpstart Foundry's pursuits. In her view, consumers want to take health and wellness into their own hands and "own their health data." Startups should build solutions that "make that data actionable," she said: They might use customer data to "suggest what to purchase at the grocery store" or make recommendations about exercise, nutrition, or behavioral and mental health practices. The opportunity lies in giving consumers and patients better ways to "use data to improve health."
In the manufacturing sector, 3-D printing and agile robotics solutions, which can learn, adapt and configure themselves to the environment and task, can now be "cost-effectively deployed for massive efficiency gains," Boyer writes. This could potentially reduce reliance on cross-border manufacturing by equipping companies to produce in-house, he added. He also notes a demand for more supply chain visibility via process automation, or the use of software or robotics to assist with complex tasks like production planning, procurement, assembly, inspection, inventory management and more.
Digital presentations will increasingly replace in-person pitches.
The transition to remote work, online meetings and virtual due diligence have led to deal-making at a faster pace across a wider geographic region. However, although VCs may be more accessible, entrepreneurs need to understand the nuances of conducting a successful virtual pitch.
Paul Clark, managing director of VentureSouth, gives 32 tips on pitching VCs virtually:
How to Prepare for a Virtual VC Pitch
1. Double check your tech.
Make sure your internet connection is solid, latest software updates are installed and that you're familiar with Zoom or other platforms you'll be using for your pitch. Close open browser tabs, and remove distracting pop-up blockers. Have a backup computer, presenter or audio dial-in ready in case something goes wrong.
2. Mind the visuals.
Use good lighting, a clean and organized background, professional attire and proper framing — not too close nor too far away from the camera — to make a professional first impression. Also, presentation slides should be more visually appealing in the age of digital presentations, to keep the audience's attention. Font size must be readable on smaller screens such as those on laptops or phones.
3. Find ways to engage.
A host of distractions can steal a VC's attention during a virtual pitch — emails, phones, kids, the family dog — so find ways to be extra engaging. A shorter presentation, strong eye contact, standing during your pitch, speaking loudly, varying your tone and exuding positive energy can help keep VCs interested. And as always, take a few minutes to connect on a personal level before diving into the pitch.
The Bottom Line
As the business world remains in a state of transition, it's a generally great time to be an entrepreneur looking for early-stage venture capital. VCs are accessible, deals are moving fast, and the wave of technology adoption in business has investors on the lookout for companies with bold, new, technology-oriented solutions.
Position your startup to seize the opportunities this climate presents, and be aware of the nuances of conducting a successful virtual pitch. Then, close that round.