In short:
Companies with the budgets and resources to do so need to step up their supply chain resilience efforts by investigating risks with tier 2, 3 and 4 suppliers.
Businesses can identify every supplier in their network by mapping the entire supply chain, and they can ask partners to complete detailed assessments to determine where to dedicate their time and attention.
Helping suppliers meet compliance standards, making an effort to be a good customer and even offering financial support in difficult times are all ways to make your key partners stronger.
Even after all the supply chain snafus of the past year, no event singularly illustrated the fragility of these global networks as well as a boat stuck in the Suez Canal in March. Pictures of the Ever Given, a massive container ship, with its bow stuck in the bank of the Egyptian waterway quickly went viral. It took six days and around-the-clock efforts from specialty salvage teams to free the ship, leading to major delays as it blocked a crucial passage through which 12% of global trade passes.
By the time the Ever Given got stuck, supply chains had already become a topic of casual conversation. It started with the scarcity of certain products in the early days of the pandemic and continues today with a microchip shortage that has curtailed production of new cars. More problems are surely looming, leaving businesses looking for ways to spot these risks and stay ahead of the next disruption. While there's no way to prepare for every possible situation, there are practical steps companies with more resources and bigger budgets can take to mitigate their risks.
Consider the chip shortage. Ford recently said it expects to make only half as many cars in the second quarter of 2021 as initially planned and predicts annual production will drop by more than 1 million vehicles as a result of the global shortage. Compare that to Toyota, which remains largely unscathed by a crisis that could cost automakers $60 billion because it stockpiled four months' worth of chips, Bloomberg reports. Toyota had that extra inventory because it identified semiconductors as one of 1,500 critical components for which it needed reserves in the wake of the tragic 2011 Japanese tsunami that rattled its operations. The Japanese carmaker made a strategic decision to stock these chips, and now it's in an enviable position compared to its peers.
As Ford's situation illustrates, these issues have the potential to slash revenue and end relationships with existing and prospective customers. They can also result in lasting reputational damage. At the same time, the framework under which companies view their supply chains and the liabilities within have both broadened.
While most larger companies already had some type of supply chain resilience strategy — even if it wasn't sufficient for a pandemic — they are looking for new ways to reduce risk in this network. In this article, we'll explain why enterprises need to be aware of the risks upstream suppliers present, how they can uncover and gauge those risks, and the technology they need to bring it all together.
Our Sources
For this article, we spoke with:
Steven Melnyk, supply chain management professor at Michigan State University
A long-time supply chain management professor, Steven Melnyk's research focus includes supply chain risk and resilience, as well as strategic supply chain management.
Jim Yarbrough, global intelligence program manager at BSI Group
BSI Group is a London-based trade and development firm that consults businesses worldwide on practices ranging from data management to handling supply chain risk.
Joe Sarkis, supply chain management professor at Worcester Polytechnic Institute
A professor of over 30 years, Joe Sarkis's research is primarily in environmentally-focused operations, technology and supply chains.
Peter Bolstorff, EVP of the Association for Supply Chain Management
As the world's largest nonprofit association for supply chain, the Association for Supply Chain Management connects companies to thought leadership on all aspects of supply chain.
Tony Nuzio, founder and CEO of ICC Logistics Services
ICC Logistics Services helps executives throughout the U.S. identify and erase inefficiencies in their transportation and logistics processes.
Chris Nicholson, CEO of Pathmind
Pathmind's software product applies AI to industrial operations, allowing businesses to apply machine learning to real-world scenarios without needing data science expertise.
Looking Beyond Obvious Supply Chain Risks
Established companies typically have a handle on the risks — namely economic, environmental, political and ethical — presented by the suppliers they work with directly (i.e., tier 1 suppliers). In many cases, they have already addressed these concerns by finding alternative suppliers in another location or cutting ties with those that posed too great a liability.
But the scope of supply chain resilience has grown to account for the issues posed by more distant suppliers at the second, third and even fourth tier. Often, these suppliers to a company's suppliers are essentially invisible to the company selling goods or services to end users. The working assumption has been that a business manages its immediate suppliers, those suppliers manage their suppliers and so on. But that approach is no longer sufficient.
"Now you've got to work across your supply chain," said Steven Melnyk, professor of supply chain management at Michigan State University. "That means you've got to work with your first tier, your second tier, your third tier, your fourth tier. Guess what? [In the past, companies] basically developed strategies that are driven to work with your first tier."
There are numerous examples of businesses suffering serious reputational and economic damage because they failed to conduct due diligence on upstream suppliers. In 2016, The Guardian released an explosive report that connected Vauxhall, BMW, Volkswagen and Audi to a mica mine in India that had children as young as 10 working in harsh conditions. After being bought and sold multiple times, that mica was eventually used in the paint of those big-name car manufacturers. Almost a decade before that, Toymaker Mattel recalled nearly a million toys because a Chinese supplier had covered them with lead paint.
New regulations could augment the impact of these errors in judgement. The EU is working on supply-chain legislation that requires businesses to conduct due diligence on any organization in their supply chain to ensure these partners are not committing human rights violations, breaking environmental regulations or supporting corruption. If the EU finds that a business's tier 4 supplier is paying off government officials to ignore harmful labor practices, for instance, it can levy large fines on that business.
Additionally, the United States-Mexico-Canada (USMCA) trade agreement that took effect this past summer requires businesses operating in or sourcing anything from these three countries to follow certain labor standards. All countries must adopt laws that protect workers' right to collectively bargain, ban forced labor and child labor and prohibit employment discrimination.
Without knowledge of who and where these partners are, it's of course impossible to know whether all of your suppliers are in compliance with such a regulation. And 90% of chief procurement officers surveyed by Deloitte in 2020 said they have "very low to moderate visibility" into tier 2 partners and beyond. In fact, only half even have "high or very high visibility" into their tier 1 suppliers.
So how can organizations gain greater transparency?
Mapping Your Supplier Network to Identify Risks
One proven approach is supply chain mapping. The deeper you can go in mapping out each node, the better. Jim Yarbrough, a global intelligence program manager at BSI Group, has seen large enterprises map their supplier networks all the way down to the raw materials level. That level of traceability is critical in industries like pharmaceuticals or food production.
Mapping should be a collaborative effort. Yarbrough noted that at bigger companies, individual departments often have different views on who is even part of their supply chain because each interacts with different vendors. If you have a lot of suppliers — more than 20 or 30, let's say — this can get quite complicated. That's when companies often turn to supply chain mapping software.
This type of system can note whether suppliers are primary or backup providers of a certain material or good, and users can sort them by compliance score, overall threat rating or other factors. As a business adds or removes suppliers, it can update the digital map accordingly, without remapping the entire network. Such a system also helps stakeholders who don't work in procurement and manage these contracts on a daily basis keep track of any changes.
Once that exercise is complete, you can begin assessing the risk of each party involved in this network. There are a number of formulas you can use to rate the risk of various suppliers, which we covered in detail in our first story on identifying and mitigating supply chain risks.
Supplier assessments are another way to understand the threats vendors at each tier of your supply chain present. This assessment often takes the form of a questionnaire that's sent out to some or all partners. It could include anywhere from 100-2,000 questions (yes, 2,000 questions could be overkill in many cases) framed around best practices, according to Yarbrough. Respondents not only answer the questions but also provide evidence of their compliance by uploading documents into your system.
This assessment will highlight risks like a high rate of crime, poor working conditions or lax enforcement of regulations. Operational leaders can use that information to decide where to focus their attention. From there, they can evaluate the strategies below to determine the best way to help partners.
Strengthening Your Suppliers
Helping suppliers improve upon their biggest weaknesses not only reduces risk for your business but also should also strengthen supplier relationships, which can carry a lot of weight when an issue arises. In those situations, vendors will often prioritize customers that have demonstrated they value the partnership.
Obviously, you could find a new vendor in most cases, but that comes with its own challenges. With that in mind, let's walk through a few other options to consider.
Implement compliance standards.
Simply telling vendors to make improvements isn't enough; executing your suggestions might not even be feasible for your vendors without your guidance and assistance. Large standards organizations like BSI have developed standards in areas like supply chain security, business continuity and risk management. Committees of experts from trade associations, research organizations and governments, as well as standards users and consumers, draw up BSI's standards, which include both "recommendations" and "requirements." The standard for business continuity management, for example, mandates that a business continuity policy has objectives aligned with the company's strategic goals, creates a clear plan of action and is reviewed regularly. Other large standards organizations include the International Organization for Standardization (ISO), and more specialized groups are the Association for Supply Chain Management (ASCM) and the Council of Supply Chain Management Professionals (CSCMP).
A business could ask its suppliers to review standards from one of these groups, then perform a gap assessment to understand where they fall short, perhaps with the goal of receiving certification from a body like BSI. This process often requires assistance from an outside consultant, which your company would likely need to pay for. Suppliers understand that what's good for one customer could also make them more appealing to another, so they're usually happy to cooperate, Yarbrough said.
Lend your expertise.
In most cases, your organization will have skills or knowledge from which your supplier could benefit, especially if it's a smaller entity. Melnyk uses the example of a supplier looking for cybersecurity software, and the customer recommending a few vendors it's already vetted. Another way a larger organization could lend its expertise is by giving a supplier access to its legal staff to help write and review contracts or assist with other documentation. In any case, it reduces the time and money your partners have to spend dealing with challenges.
Offer financial support.
As the pandemic brought many businesses to the brink, some companies offered financial assistance to their suppliers, said Joe Sarkis, a supply chain management professor at Worcester Polytechnic Institute. For example, some customers paid ahead for future orders to provide immediate cash flow. In general, 80% of large consumer electronics businesses lend financial support to suppliers in times of crisis, according to a report from the ASCM and The Economist Intelligence Unit. While this isn't an option for everyone, it is perhaps the strongest move a business could make to earn a partner's goodwill.
"Once you help them, they become part of your company," Sarkis said. "It's not a full vertical integration, but they become loyal to you, so when the crisis does come up, they're willing to bend over backwards because you've delivered this."
"Once you help a supplier … they become loyal to you, so when the crisis does come up, they're willing to bend over backwards."

Joe Sarkis
Understand what matters
In a survey Melnyk conducted of 1,300 suppliers to a U.S. military branch, the five factors they rated as defining a "good" customer were: mutual trust and respect, profitability, joint problem-solving, simple and complete RFQs and timely awarding of contracts. Consider that many of these traits speak to responsiveness, communication and the general nature of interactions. In other words, being a favored customer is about more than just spending a lot of money with a supplier.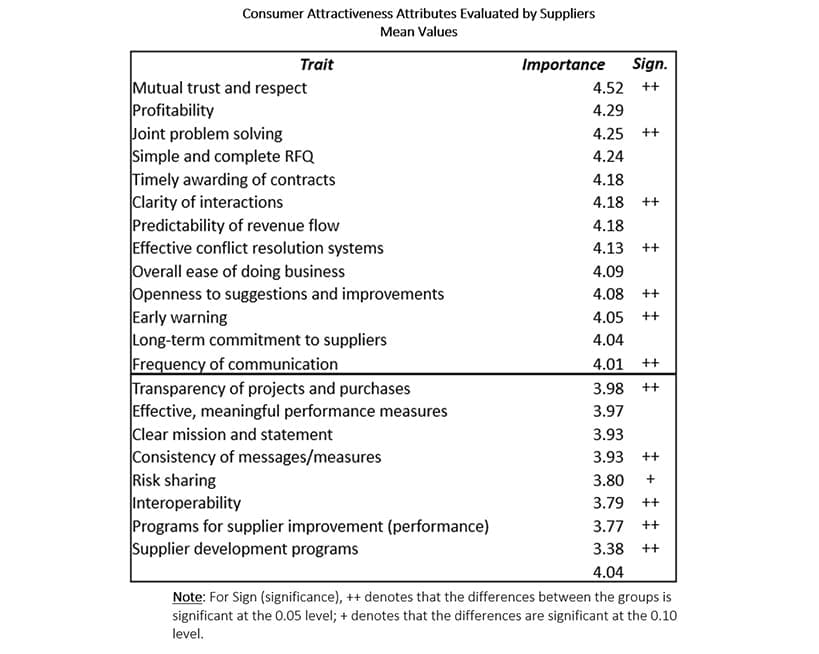 Companies are realizing the need to think of suppliers as strategic partners, and they're making strides in the right direction. "Greater collaboration with external supply chain partners" ranked third among the ways businesses plan to build resilience moving forward, ASCM said.
"The amount of maturity that I've seen in organizations devoting time and effort to their suppliers is just so much better than it was a decade ago," Yarbrough said. "You're getting really savvy supply chains now; you're getting people understanding, 'I need to develop that relationship; I need to make them understand why this is so important to us.'"
What if Diversifying My Supply Chain Isn't Possible?
One of the most obvious and effective ways to limit risks in your supply chain is to find secondary suppliers for components or items that are crucial to generating revenue. These suppliers should be spread across various regions so that an event with regional impact doesn't take out all of your suppliers.
But in certain cases, a company requires a material that's only found in a certain part of the world, or sourcing a particular component elsewhere is cost-prohibitive. In either case, there's little opportunity for geographic diversification, and redundant suppliers in the same region only eliminate so much risk. Examples of such materials are Carrara marble (Italy) and silk (China, and, to a lesser extent, India). It may seem like an unsolvable situation, but there are a few strategies to tackle it.
In this scenario, the first and most obvious option is to carry more of that hard-to-source inventory. Companies could also consider looking for an alternative material or part with similar characteristics that could act as a replacement. Or, if possible, they could reengineer the product in a way that doesn't require those components, said ASCM EVP Peter Bolstorff. Neither are quick fixes, and both require a sizable R&D investment, but they merit consideration for businesses that find themselves in this situation and have the human and capital resources. A third and more creative solution is repurposing used materials instead of sourcing them new. Sarkis said organizations should consider "mining" existing waste to see what can be reused.
"Right now, it might be cheaper to buy from those other sources, but the risk could be very high," he said. "So if you set up a network to reuse materials, this may actually improve the resilience of your supply chain."
This is the "circular supply chain," in which items can be repurposed at end-of-life instead of sent to a landfill. The concept is gaining traction and could shape supply chain strategy in the future.
Realizing That Suppliers Have Power, Too
Many businesses, especially bigger ones, make the assumption that as the customer, they should always set the terms of relationships with their suppliers. After all, they're the ones paying for services. But it's not always that simple.
Expecting "compliance-driven behavior," in which the supplier bends to your demands, might not always be the best approach. For example, not all partners might agree to adhere to compliance standards like those suggested earlier. The best suppliers — and those providing a unique product or service — often have options when it comes to whom they work with. It's especially problematic to risk deterring suppliers that aren't easily replaceable.
"Most of the time when we look at critical suppliers, we look at how much do we buy from them," Melnyk said. "We don't look at the question the other way — if they were to leave, how easy would they be to replace?"
"Most of the time when we look at critical suppliers, we look at how much do we buy from them. We don't look at the question the other way — if they were to leave, how easy would they be to replace?

Steven Melnyk
Government agencies, for instance, often have an extensive list of requirements their suppliers must meet. As a result, the U.S. Department of Defense's supplier base has shrunk 27% even as its budget increased 39%, according to Melnyk. The cost of meeting exhaustive standards can be steep, and some decide it's simply not worth their time and energy.
Decision-makers should also consider that suppliers can turn them down — and that staying in good standing has real business benefits. Consider the annual Supplier Working Relations Index (WRI) from Plante Moran, which surveys more than 500 tier 1 suppliers to six of the world's largest automakers. For the past decade, Toyota has had the highest WRI, with Honda usually in second place.
These "strong working relations reduce the cost to OEMs of doing business, help improve efficiency and productivity and reduce time to market," Plante Moran said. Toyota recognizes the "power of being a good customer," Melnyk said, and acts accordingly.
Cost savings are not the only reason to develop strong, collaborative relationships with suppliers. As organizations attempt to gain a clearer picture of their tier 2, 3 and 4 suppliers, they often have to go through those tier 1 or 2 partners they already communicate with regularly. Those downstream suppliers are much less likely to help you build that bridge to their vendors if they don't feel a sense of appreciation and respect, Melnyk noted.
Additionally, suppliers can be a "phenomenal early-warning device" of impending disruptions, he said, because they work with an array of customers. They may be aware of problems not yet on your radar.
"It's no longer investing in risk like an insurance policy. It's now thinking differently about supply chains; it's thinking about relationships," Melnyk said. "So suddenly, what we're starting to find is that the skills that companies develop to deal with the pandemic — the companies that survive had good relationships, they were able to work with their suppliers — are the very same skills that we need to deal with risk and resilience."
More Supply Chain Resources
Get an overview of this critical discipline, which basically describes how your company drives the flow of goods from procurement to delivery. Supply chain execution is also a major cost center — and we've got strategies to create savings.
Moving pieces of your supply chain to local regions can yield more insight into your suppliers' operations. In this guide, we'll run through: major costs to consider, potential barriers, and the steps to take if you choose this route.
This feature offers a clean snapshot of inventory, demand and supply across your entire supply chain. It can also predict potential late purchase orders, sales orders and transfer orders. Watch NetSuite's supply chain control tower in action.
Strike that delicate balance between demand and supply throughout your supply chain with this tool. Get more details on the supply chain control tower, as well as features that calculate/predict demand, generate purchase orders, and more.
Building a Supply Chain Control Tower
The supply chains underpinning the global economy rely on technology, and they have for some time. The types and functionality of software and hardware that keep everything running smoothly, however, continue to evolve.
The growing volume of data produced by the receipt, production and delivery of supplies has led to the idea of a supply chain control. A supply chain control tower pulls information from all of your supply chain information systems — procurement, manufacturing, inventory management, order management, warehouse management and more — to offer a comprehensive, real-time view of supply and demand, highlighting the most important KPIs and updates.
"The control tower would have the ability to take all the information so that when you get to the sales side of it, they'd be able to look at it and say, 'We've got a problem because my supplier in Qingdao said they were going to make 40,000 widgets a week, but they can only make 20,000,'" said Tony Nuzio, founder and CEO of ICC Logistics Services. "They'd be able to see that [and work to compensate for it]."
As businesses realize how much supplier issues can affect their bottom line, they're increasingly interested in being able to access partners' systems to see the most up-to-date information. Seeing that a supplier is running behind schedule on production of two components you need could give you enough time to get in touch with an alternative provider so you don't run out of stock. Although more than half of respondents in the ASCM survey said they estimate supply and demand based only on internal information, tighter integration with suppliers could soon be more common.
"I think we're going to see contracts that demand a lot more granular data from suppliers up the chain, with continuous monitoring as well as access to historical performance under adverse conditions," said Chris Nicholson, CEO of Pathmind, whose software product applies AI to industrial operations.
"I think we're going to see contracts that demand a lot more granular data from suppliers up the chain."

Chis Nicholson
Enterprises are finding more uses for internet of things (IoT) devices in their supply chains, as well. A vehicle tracking device could show the exact location of a truck bringing products to your warehouse or whether there's a dock available for unloading. RFID tags attached to pallets could tell you whether a retail partner received its latest shipment. All of this data can feed into the control tower, giving enterprises an even more detailed, up-to-the-minute view of their vast networks.
The Bottom Line
Before the coronavirus slowed and shut down many factories, warehouses and ports, many companies were "fat, dumb and happy," to use Nuzio's words. Outsourcing much of the supply chain to distant countries had lowered costs and, for the most part, worked perfectly well for the past three decades. The lack of visibility into tier 2 and 3 suppliers was not a pressing concern, and organizations learned to work around long lead times.
But 2020 changed that outlook, perhaps for good. Businesses are focused on finding and addressing risks with their supply chain partners and will take a closer look at potential partners before bringing them in. It's the logical path forward, and the value of these efforts will show soon enough.
"The pandemic, the chip shortage — all of those tell us in no uncertain terms how the system has gone wrong," Melnyk said. "Management is aware of it. Newspapers are full of the failures. If you want to bring about a change, this is the time to do it."