In short:
Third-party logistics providers are specialists that offer a range of services, from inventory to shipping to managing returns.
A 3PL can almost always improve your customer service upon entering peak selling season.
The tricky part is choosing the right match for your business from hundreds of providers.
Retailers partner with third-party logistics providers for a variety of reasons: to handle scaling or spiking demand, to fulfill orders faster and more accurately, to lower shipping costs, to expand to new geographies, to handle returns more economically.
It all boils down to one imperative — keeping fickle customers happy.
We spoke with 3PL providers and consultants to see what these companies can offer retailers in what's looking to be a wild peak season — eMarketer and Insider Intelligence predict 2021 holiday ecommerce sales of $6.21 billion, up from $4.13 billion last year. That's 18.9% of total holiday retail sales. And analysts predict that shopping will again start early, potentially well before Black Friday.
Our Sources
For this article, we spoke with:
Stephen L. Miller, manager of special projects, and Maria Haggerty, CEO and founder, Dotcom Distribution
Dotcom Distribution has provided B2C and B2B fulfillment and distribution services for 21 years. Specialties include ecommerce and omnichannel solutions, fulfillment, production, assembly and kitting services for luxury and lifestyle brands in the beauty, fashion and other specialty industries, including Vineyard Vines, Birchbox and Kenneth Cole.
James Khoury, CEO of Zendbox
Zendbox is a U.K.-based fulfillment provider.
Tony Nuzio, supply chain and logistics consultant
Tony Nuzio has spent 45 years as a supply chain and logistics consultant and educator. He has taught at Nassau Community College, the U.S. Merchant Marine Academy and BOCES of Nassau County and created logistics and transportation training programs for employees at companies including Cahners Publishing, La-Z-Boy Chair Co., PPG Industries and IBM. He is the former publisher and editor-in-chief of the Transport Deregulation Report, a graduate of the Institute of Logistical Management and has held positions as a logistics professional for several organizations.
As retailers face continued supply chain disruptions, constrained and pricy shipping and ballooning return volumes, many are calling in reinforcements.
"Current shipping and supply chain challenges center around getting expected stock ready for sale before peak season begins and getting the assurance that it will be shipped out on time to customers," says Stephen L. Miller, manager special projects for Dotcom Distribution, who sees many clients still working to adjust their own projections.
"Setting realistic customer expectations is tough, but keeping the promises you make to your customers is critical," he says.
Shipping is a particular issue this year, end to end.
"Resource allocation by shippers is a concern," says Miller. "In fact, carriers have started looking for client forecasts two months earlier than last year."
Container demand in 2021 will increase 7.5%, while deployed capacity will rise just 3.5%. That's the first time since mid-2017 that demand growth has outpaced supply, according to consultancy IHS Markit, which predicts this shortfall will persist for the next few years.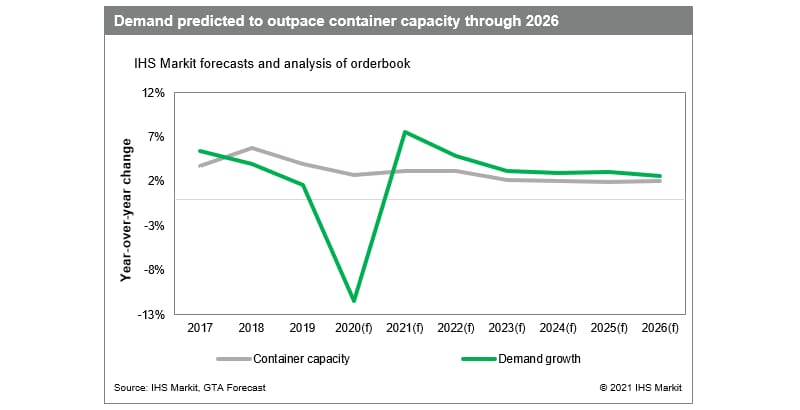 Once you get stock into your warehouse, demand for parcel shipping also exceeds supply, a situation experts also see worsening in the coming months. That's pushing costs up. Retailers that depend on FedEx, UPS and the U.S. Postal Service but don't have enough volume to negotiate favorable terms may find themselves struggling to get packages to customers at a competitive cost.
A 3PL can help by consolidating shipping with air, trucking and rail carriers, including managing LTL (less than truckload) logistics. There are specialists that focus on batch fulfillment for product launches and shipping high-value, oversize or special-handling-required products.
"3PLs have higher volumes than individual companies and can therefore command lower shipping rates and demand more frequent pickups than a smaller shipper," says Miller. "These savings help offset peak surcharges, fuel surcharges and other increasing carrier costs that eat into margins."
A 3PL might even connect you with regional and specialty parcel carriers and help implement curbside pickup/BOPIS where feasible or recommend creative alternatives, like parcel lockers.
The Basics of 3PL and 4PL
Third-party logistics, or 3PL, refers to situations in which an activity is outsourced to a third party. These activities fall into five main categories: logistics, warehousing, transportation, technology and specialty services.
What Can a 3PL Do for Me?
Functions manufacturers and retailers often outsource include:
Logistics: Supply chain and inventory management, payment processing, omnichannel commerce. Air, sea and land shipping in both small and large — pallet or shipping container — volumes. Last-mile delivery, often with specialized services like signature on receipt.
So-called "4PL" providers take 3PL capabilities to the next level with end-to-end supply chain management — essentially, everything except production of the product.
Warehousing: Beyond storage to include pick and pack, subassembly, fulfillment, ecommerce drop shipping, packaging.
Specialty services: Foreign trade operations, import/export through customs, marketing and call center services, consulting and reverse logistics, i.e. returns.
Large 3PLs will offer many or even all of these, while smaller logistics providers may be more limited.
3PLs serve verticals beyond retail. Manufacturers, wholesalers, services companies that manage physical products, government agencies, global sellers and transport providers may engage 3PLs.
As an example, an accounting services firm might provide new clients with branded high-volume scanners to digitize paper documents. That hardware may need subassembly to add the firm's logo and stickers with phone numbers and other information, then it must be shipped via a transportation provider that offers "white glove" delivery with expert setup at the customer's site.
Businesses may outsource an entire process or select operations. Many retailers start their 3PL journeys with fulfillment; they may add returns handling, but their initial concern is getting orders to customers. The upside is that these specialists deliver economies of scale: They can negotiate favorable rates with carriers and other providers. And, they have people and processes fine-tuned to execute services inexpensively and efficiently.
"Customer demand for fast, low-cost and hassle-free shipping has never been higher," says James Khoury, CEO of U.K.-based fulfillment provider Zendbox.
If you can't get orders turned around quickly and economically, consider a 3PL.
A potential downside of going beyond basic services like shipping is that you're disaggregating higher-level elements of the customer relationship, so make sure any 3PL that will have direct contact with your buyers delivers an experience that's up to your standards. Effortless returns, for example, is a differentiator.
Khoury adds that deciding whether you need a 3PL — and choosing one — requires a needs assessment that addresses these areas:
Is our stock processed and booked in as quickly as it should be, and do we have a clear idea of our current stock levels?
Are our orders being picked and packed efficiently? Do we know how much picking errors and returns are costing us?
Do we have visibility into delayed orders or oversold items?
Are our shipping methods cost-effective?
Can we scale?
And maybe most importantly, are our customers happy with the service we're providing?
We'd add a seventh: Are we serving new types of customers? A retailer just starting its D2C journey, for example, may be expert at shipping in large quantities, not so good at one-offs.
"Competitive advantage now belongs to those retailers that can better react to ever-changing customer demands," says Tony Nuzio, who's spent 45 years as a supply chain and logistics consultant. From a logistics standpoint, 3PL providers are specialists, with the expertise to improve on a retailers' internal operations — if the retailer treats the 3PL as an extension of the business.
"The real key in establishing successful relationships lies in the ability for the retailer and third-party logistics provider to marry their operations," Nuzio says.
Of course, that requires a high level of trust. You're giving the 3PL insight into customer data and your internal operations, while depending on it to act as a client-facing extension of your company.
How to Choose a 3PL Partner
The first step is deciding exactly which services you need to get through the holidays and beyond. Warehousing, order fulfillment, shipping and reverse logistics? Some of the above?
Then, calculate volume. For warehousing, the 3PL will ask about the number of pallets of inventory to be received: fewer than 10, 11 to 50, more than 50? Does it matter where its warehouses are located?
How many orders do you expect to process per month? Buckets are normally fewer than 200, 200 to 500, 500 to 1,000 or more than 1,000.
Reverse logistics providers set pricing based on factors including monthly return volume — commonly fewer than 500, 500 to 1,500 or more than 1,500 — and whether you want a branded online return and exchange service, customized return policies, analytics and reporting to spot trends and/or integration with other 3PL providers or your internal ecommerce, ERP or CRM systems.
Who will handle disposition of returned items sure to flow back to you in January? For goods that you expect to restock and resell, ensure a 3PL provider can rate the condition of the item and provide refurbishment or repackaging as needed. If you'll send items to a secondary retail outlet, the 3PL may have those relationships. Most will also facilitate donating, recycling or destroying goods that cannot be resold, sometimes due to health regulations. And again, make sure it can integrate with accounting systems to issue refunds.
From there, Maria Haggerty, CEO and founder of Dotcom Distribution, suggests asking potential partners 10 questions.
1. Do you have experience with clients in industries similar to ours?
This is particularly relevant for retailers with special requirements, such as those selling perishable, very fragile or high-value products.
2. Do you have the operational capacity and spatial availability to handle our brand's workload and hold our SKUs?
Ask about accuracy rates — and get specifics. Incorrect or incomplete shipments are expensive in both dollars and customer goodwill.
Conversely, a good 3PL can make you look good.
Questions to ask: Will you provide a dedicated point person for our account, and do you have a team that provides 7x24 support? Are there hidden fees beyond a typical onboarding charge then, for ecommerce, receiving, storage, pick and pack and outbound shipping? What will you charge for inbound shipping and return handling and account management? What's your order minimum, and which shippers do you have relationships with? Do you have orders-per-week or account minimums for shipping and freight?
3. In addition to meeting existing needs, can you scale with increasing order volumes that come with the holidays and beyond as we grow?
A smaller, regional retailer might assume it's better off staying with a smaller, regional 3PL, but Miller disagrees — sometimes.
"The size of the 3PL doesn't matter as much as the systems they have in place and the services they can offer," he says. "A larger company will tend to have more robust systems with greater features that allow greater options for shipping and for product handling. A larger company will also tend to work across multiple channels."
Large, experienced, successful 3PLs also tend to be more adept at planning for people, resources and space. And they can grow with you and provide insights into best practices. A smaller 3PL, however, may offer a higher level of personalization and customer experience.
"A lot depends on what expectation you set for your customer through your brand promise," he says. "If you're selling a luxury good, best to have the package delivered with an 'experiential' delivery comprising tissue paper, bows, stickers. Larger 3PLs might not be able to offer that level of personalization."
It's possible to work with multiple 3PLs, but Nuzio stresses the need to view each as a valued partner versus just another supplier.
4. Do you have the proper technology stack to maximize efficiency in every stage of the logistics and fulfillment process?
Some baseline technologies must be in place in order to work and integrate successfully with a 3PL. These include a warehouse management system (WMS), a technology Miller calls "absolutely necessary" to keep track of product and orders.
Another essential technology capability is a transit management system that will offer rate shopping across multiple carriers. This ensures that you are getting either the best price for a package going to a specific destination or the best time in transit, whichever is the priority.
"Minimally, you'll want to integrate your web store with your 3PL's WMS," says Miller. "If the 3PL also has an online reporting suite, you might not need your own ERP/CRM from the start of the program, but make sure you can integrate some kind of order management system in the future, as needed."
Ask which reports are available, the timeliness of the data you'll receive, how the 3PL will handle customer service requests where applicable and which direct integrations with your internal systems, like an existing or pending ERP or CRM, are possible.
More Resources From NetSuite
Understand the basics of a WMS so you can properly vet potential 3PL partners. Our guide explains why a WMS is critical for retailers that need to keep up with customer expectations.
"Seamless online purchases" rank highly on this list of trends — brief yourself on the rest so you can better determine whether a potential 3PL partner will help you remain cutting-edge.
Get your website and marketing emails mobile-ready for the holiday season with this step-by-step guide.
5. Can you leverage relationships with carriers to provide fast, less expensive shipping?
Lower-volume retailers will want to leverage the 3PL's negotiated shipping rates. A 3PL will also be versed in holiday shipping deadlines for each carrier and can provide you with cutoffs for submitting orders to process and ship same-day.
And again, consider special requirements, like shipping oversize items or products containing hazardous chemicals such as lithium-ion batteries.
6. Can you handle international shipments to expand our business?
Haggerty says international orders are either Delivered Duty Paid (DDP) or Delivered Duty Unpaid (DDU). The best model for your company depends on a number of factors; the 3PL should be able to work with you to set up a program.
Ask also about capabilities to help you with local currency conversions and tax requirements.
7. Can you offer real-time inventory data for our employees and customers?
Buyers want to know exactly where their orders are and when they will arrive, especially during the holidays. Ask how and to which level of detail the 3PL will provide updates.
8. Are your facilities strategically located to provide efficient delivery?
Haggerty lists proximity to ports, highways, railways and airports; proximity to customers; and average time in transit as critical to explore.
If you offer overnight or two-day premium delivery options, the 3PL needs to be close to a carrier hub and able to expedite.
9. Will you provide regular operational updates and guidance to help us grow our business?
As a consultant, Nuzio often works with retailers that can't pinpoint exactly what they're seeking to accomplish. And those that do know often have very specific services in mind and thus may miss out on value-adds or deeper partnerships that could help the business grow.
He also says retailers may not regularly revisit the offerings available. That's a mistake, because in his experience, 3PLs are more than happy to help their clients grow their businesses, but they need to be pulled into planning.
"Today's very competitive retail marketplace requires all retailers to continually benchmark their internal operations against the services offered by the expanding and powerful 3PLs," says Nuzio — because these services are also available to your competitors.
10. Can you help us create an omnichannel experience?
3PLs work with retailers entering the multi-channel selling world in various ways, says Miller.
He's seen companies begin fulfilling ecommerce orders out of the back of a store and decide that's diverting focus, so they sub out individual order fulfillment. Another might not have the space, time or experience to ship to retailers and distribution centers.
"An experienced 3PL will be able to start a seller in one channel and then guide the seller to open another channel," he says. "In the case of shipping to stores and distribution centers, you're using a completely different communications protocol, electronic data interchange [EDI], where retail systems do the talking with the 3PL's systems to route cartons and pallets of products within defined delivery windows, with special rules that govern deliveries."
Conversely, a company that's good at warehousing orders and moving truckloads of product might not be adept at handling orders in which one or two items go into a box, as is the case in a traditional ecommerce program. The key is finding a 3PL with experience supporting the channels your business wants to use.
Haggerty's company provides an extended guidebook on these and other factors. All experts stress that the right fit is critical, and you can't find that unless you know your weaknesses.
As a consultant, Nuzio starts with a needs assessment. While time is tight to do this for holidays 2021, it's worth issuing some RFIs to 3PLs of interest or working with a consultant with experience in your industry and knowledge of logistics provider capabilities.
And most of all, he stresses, view this as a partnership, not simply an outsourcing arrangement.
"The relationship must be a true strategic alliance partnership where both sides gain," he says. "If either party is looking to gain an advantage over the other party, the relationship will be doomed to failure."
With 3PLs, Timing Is Everything
So is it too late for a retailer to sign on with a 3PL to handle shipping and reverse logistics for the coming peak season?
Khoury says not necessarily, but to be leery of "self-serve" offers in which companies waive onboarding fees but require you to "talk to a computer." Especially for an initial engagement, look for an onboarding team that will work with you to get a program up and running.
Depending on the complexity of the project, the average onboarding time is three to four days once the retailer is scheduled and involves a dedicated onboarding manager and, most importantly, a testing stage to ensure the customer's data is correct.
"Never pass on testing," he says, "or you'll end up with a string of errors and unhappy customers."