In short:
There's a science to figuring out when a new sales rep will deliver on revenue expectations.
Rank sales leaders and reps on objective criteria — then supplement those hard numbers with surveys for nuance.
Still, self-measuring has its limits. If your sales team consistently underperforms, consider a tune-up from an outside consultant.
A sales automation system can help reps prioritize tasks and efficiently use their time.
New technology, evolving customer needs and the events of 2020 mean business-to-business sales best practices in 2021 look nothing like state-of-the-art for 2011, or even 2016. Success now is metric- and software-driven, and B2B companies need to up their teams' technical skills significantly.
We have an expert to advise entrepreneurs looking to build or improve their B2B sales practices.
Our Source
For this article, we spoke with:
Lori Richardson: founder & CEO of Score More Sales, partner with Objective Management Group, expert with wiseHer
Score More Sales is a sales strategy consulting, training and coaching firm for midsize companies in technology, manufacturing, distribution, telecom and professional services. Objective Management Group is a consultancy that specializes in salesforce evaluations and sales candidate screening. The firm has a system to keep sales teams on track to meet their goals via specialized tools and processes. We'll reference some of them here as examples of how to enable and measure both sales leaders and representatives. Richardson is also an expert with wiseHer, an advice network for entrepreneurs to help accelerate their business and career growth.
Entrepreneurs will want to tailor this plan to the B2B realities of their businesses, so we've kept guidance flexible. What Richardson does not recommend is winging it, or going with the sales VP's gut feeling on hires. Sales is a numbers game and as such is highly measurable, on a granular level.
And as we know, what you measure is what you can manage effectively. Let's get started.
One Key Assessment Tool for Sales Rep Candidates
One tricky thing about hiring salespeople is that if they're good at what they do, they can talk their way into a job even if they're not the right fit. Richardson uses a tool from Objective Management Group to evaluate candidates, but there are methods that don't require laying out money for an assessment platform.
Real-time role playing is her go-to way to get a sense of how a candidate's mind works. After you're satisfied a prospect understands your product and your customer base, ask the potential rep to put a presentation together focusing on, say, ROI. Give robust feedback during this exercise to see if they're receptive to coaching. For Richardson, being open to feedback is indicative of a sales rep's ability to dust off and get back in the saddle after an unproductive call.
In fact, she says, the ability to handle rejection and criticism without losing confidence is one of the most important characteristics for a sales rep. When hiring, look for grit, a thick skin and a relentless focus on closing deals.
Richardson points out that salespeople deal with challenges that successful founders may not fully grasp.
"Every day I come into work, I don't know how many people are going to want to talk to me, and I don't know whether I'm going to close a deal," she says. "There's an uncertainty you don't have in marketing, or finance, or the warehouse. It's a different kind of person that can handle rejection and stay in the moment."
How to Measure Success — and Know When to Let Go
In his study "Sales Longevity: The Science of Predicting Sales Turnover," Dave Kurlan of Objective Management Group says that business leaders should use a measure called the "new salesperson return on investment," or NSROI, when evaluating sales rep performance. NSROI tells us how long a sales rep must remain with a company to produce an acceptable return on its investment in hiring and training. Consistent use of NSROI is a smart way to manage a sales team hiring and development budget and provides an objective way to determine when to cut ties with an underperforming employee.
The first step in calculating NSROI is figuring out what Kurlan calls "ramp-up time." That's the length of the sales cycle, in months, plus the length of time before the salesperson can have an intelligent conversation about your product or service plus an onboarding period, usually about a month. During onboarding and ramp up, you're essentially subsidizing this learning period with salary.
"For example, if you have an eight-month sales cycle, your learning curve is three months, and we add one month for transition, the ramp-up time is one year," according to Kurlan's study. "Once we know the ramp-up time, expectations about the new salesperson's performance can be set. While you would have to be patient — for a year — before you begin to see consistent results, you would be guilty of allowing mediocrity or failure if you show too much patience. If you show too little patience, you won't allow the salesperson enough time to succeed."
Use this NSROI formula to determine how long it will take a rep to provide the desired ROI:

Say you want a 10:1 return on your investment in a rep with a one-year ramp up and during the ramp-up time, you've paid $60,000 in salary. Your rep's monthly revenue goal is $75,000, and you need a 30% net margin.
(10 x $60,000) / ($75,000 x .30) = 26.67 months + 12 months = 38.67
It will take a little over three years to get your 10:1 NSROI. If the rep hits that goal in less time, you've made a great hire and can identify that person as worthy of additional investment. If not, consider cutting ties — continued investment in an underperforming salesperson costs you the opportunity to hire a good performer.
Evaluating Sales Reps: Let's Get Granular
When it comes to measuring the effectiveness of sales teams, Richardson says to assess sales-specific competencies rather than common metrics like emails sent or calls made. She uses an Objective Management Group tool to gauge factors like how often reps close sales, how they advance relationships through the pipeline and how often they connect with actual decision-makers. Again, your business may have its own metrics; B2B firms often watch new pipeline creation and progress toward closed deals, for example. The point is that, by applying numerical rankings to the areas that matter to your business's success, you gain an objective view of a sales rep's strengths and weaknesses.
A few areas Richardson measures:
Qualification
Richardson hates a long qualification process, especially when it becomes clear that the answer's going to be "no." By asking proven qualifying questions regularly, you can avoid hours of wasted time getting the even-more-dreaded "slow no."
And, each stage of the pipeline needs to be meticulously documented in your CRM so that leaders can know at a glance what their reps' pipelines look like. Documentation will also help with developing qualifying questions and identifying trends.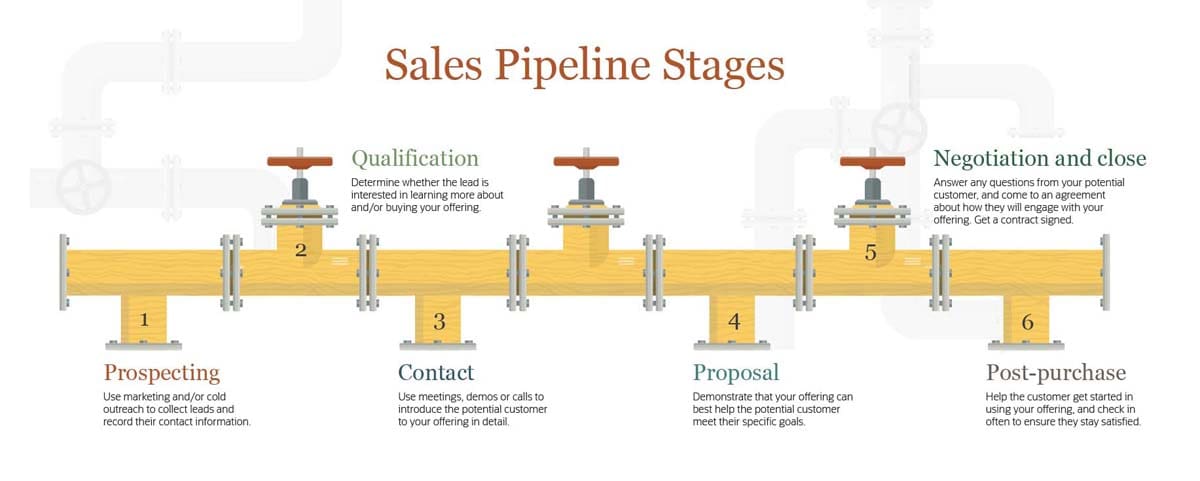 It's hard for a sales team to be effective without solid processes and tools. Don't just have a CRM. Really exploit every capability it has. You should know average order sizes, closing percentages, number of new meetings, and how long on average it takes to close a deal. Tracking all this manually is error-prone and usually more expensive in terms of staff time than implementing a CRM.
In fact, some companies track the amount of time reps spend using provided tools as part of their ROI analyses.
"How many conversations are moving forward? How many deals are coming to closure? It should be documented in the notes section of the CRM why those deals were won," Richardson says. "At any given point, I should be able to see, for example, if someone is spending too much time in the qualifying phase and not having enough conversations that get the deal to the next stage in the pipeline."
CRM data can answer questions like: What are gaps in the qualification process? Are reps uncovering customers' real budget numbers? Are they comfortable discussing those finances? Are they asking tons of questions, documenting the answers and, critically, understanding why a specific prospect will or won't buy?
Pipeline management
Leaders need to track how each team member handles each stage in the pipeline. Does a rep exceed sales qualified lead quotas but have a track record of losing business in the presentation stage? That needs to be addressed.
Leaders should also listen to call recordings, or at the very least shadow a great many sales calls, to determine the strength of client relationships and a rep's tenacity in follow-ups and knowledge of prospects' budgets.
Value, not price
Hopefully your team is skilled at selling based on value versus price; this is a major focus of Richardson's consulting practice. Both leaders and reps need to be comfortable discussing money with prospects, then positioning that budget conversation against the ROI of whatever they're selling. They should ask tough questions to learn why target prospects will buy — and why they won't.
Track whether reps learn from experience and get steadily better at overcoming objections.
More Resources for Sales Teams, From NetSuite
Easily determine whether your reps are on track to meet their monthly sales goals with a sales dashboard. See examples of dashboards — and learn about what they track — in this overview.
Create a seamless flow of customer information across the entire sales cycle with our CRM tool which also displays progress on sales goals like actual vs. forecast and pipeline by stage.
Building Stronger Customer Relationships
In this free webinar, see how a CRM can help reps close deals faster by giving all teams access to the same, detailed customer information.
Presentation approach
Lots of people think that a good script, a snazzy PowerPoint and a strong speaking voice are all you need to make a good presentation. And if you're standing onstage at an event, that might be true. But a sales presentation is a different beast. It requires interaction, conversation and active listening. Reps should be constantly asking questions and sparking conversations, not just rattling off a list of features and benefits.
As much as possible, the conversation should be about the prospect's business, not the rep's spiel. Each presentation is an opportunity to engage the prospect in a dialog about their pain points and how your product or service can help.
Use of systems and processes
Reps should be submitting call reports, and leaders should have access to their team members' meetings and calendars. Leaders should also track revenue per salesperson, where team members are in relation to their monthly or quarterly goals and their top opportunities. The goal is to waste as little time as possible, so sales leaders should invest considerable resources into finding and eliminating inefficiencies in the sales process.
Richardson says sales automation platforms convey a big advantage. These tools help reps know what they need to do next, so prioritization improves. A modern sales automation platform with call-recording capability can even capture buyer sentiment, to show the ideal tone to hit. When your reps turn on their computers in the morning, these platforms will tell them who to call and which emails to respond to first to maximize closed deals. These tools can be expensive, but when compared with a sales team's wasted time, Richardson says the cost is often justified.
Even if you can't invest in a sales automation platform, consider software that allows you to record your sales reps' calls. These systems help identify strengths and weaknesses so leaders can address issues. What could they have said differently? Which objections are they consistently tripping over? You can't coach effectively if you don't have insight into how a rep is interacting with customers.
The closing competency
When it comes to closing, says Richardson, key skills include actually getting a meeting with the decision-maker. It sounds obvious, but too many salespeople focus on influencers rather than the person signing off on the deal, relying on influencers to make the case for them. Salespeople who've spent a lot of time selling to enterprise clients, at which influencers are key, often fall prey to this tendency.
Sales reps shouldn't accept "I'll think it over" as a conversation-ender. Why isn't the prospect agreeing to the sale today? Which specific objection needs to be addressed?
Finally, there's a reason "always be closing" is a classic motivational motto for sales pros. Look for a sense of urgency around finalizing deals.
Evaluating Sales Leaders: Measuring Success
Richardson is adamant that sales leaders should live and breathe data. She uses interviews and Objective Management Group's assessment tools to measure sales leader competencies in eight areas:
Coaching
Sales leadership
Strategic thinking
Relationship development
Personal communication
Recruiting
Holding others accountable
Motivating the sales team
Each competency area is further divided into specific attributes. For coaching, for example, Richardson grades leaders on consistency, whether they ask the right questions, if they're able to control emotions, how effectively they handle joint sales calls and so forth.
She supplements those findings with results of surveys deployed to both sales managers and sales reps. Those surveys measure intangibles, like whether each role respects the other, whether enough time is spent coaching and strength of the relationship. Often, these surveys uncover discrepancies in how sales managers see themselves versus how their teams see them.
Finally, she breaks down the types of coaching offered. Is it primarily technical help? Proposal help? Pipeline help? Tactical? These assessments help sales leaders identify where they're over-rotating and where they should spend more time.
5 More Keys to B2B Sales Success
Industry understanding: A company that sells into, say, construction firms should know the lingo and specialized needs of those businesses, like retainage, job costing and subcontractor management.
An existing network: Related, sales people who already have connections with decision-makers in your industry can realize NSROI more quickly.
Awareness of marketing's value: Whether you have in-house marketers or use an agency, sales pros should embrace a two-way relationship, sharing insights from sales calls so marketers can develop better product messaging.
Ability to position themselves as advisers: Marketers can provide collateral that enables salespeople to add real value for customers. Think surveys of your industry, insights from experts, webinars and other content that position them as advisers, not sellers.
Awareness of new buying process realities: B2B decision-makers are also consumers, and they're bringing habits like online and social research and peer recommendations to work with them. Sales pros need to embrace that.
After the Analysis
It isn't enough to pinpoint areas where team members, both leaders and reps, need to improve. Once you've mapped out your competencies, skills and processes in a repeatable, numerical way, you need a plan to actively work on weaker areas.
Prioritize what you'll address first. Recognize that while the list will be different for leaders and reps, success is inextricably intertwined. Your sales rep's bad presentation skills are linked, at least in part, to ineffective coaching.
However, if you're measuring KPIs consistently and holding team members accountable, it's possible to improve your salesforce.
When to Call in Reinforcements
Organizations have two options for assessments: Use a consultant or conduct them in-house. Richardson says an outside expert who's got that process down to a science is often more cost-effective, possibly to the tune of 40% and 80%, in her experience.
"Unlike internal resourced employees, where deadlines can often get pushed due to other pressing issues, a consultant is able to focus on the sole project while reaching agreed-upon deadlines," says Richardson.
Characteristics to look for in a consultant:
A record of previous project successes in which they helped sales teams in companies similar to yours improve in measurable ways.
People skills to bring all constituents together, help craft surveys and understand the big picture and divergent points of view.
Without naming names, a willingness to share creative solutions and KPI ranges that they've seen in other, similarly-sized B2B organizations.
A toolset of established processes and the ability to advise on technology selection and implementation.
It's certainly possible to develop solid assessment methods in-house; it's just time- and resource-intensive. Whether you go homegrown or hire a consultant, success comes from religiously following the assessment process, mandating a metrics-driven management structure and baking respect for measurability into the sales team's culture.