In 2020, U.S. consumers spent more than $861 billion online, up 44% compared with 2019. That study, from researcher Digital Commerce 360, also predicts another significant jump in the percentage of sales coming through ecommerce channels for 2021.
While forward-looking retailers have been bullish on omnichannel commerce for some time, the pace of change is accelerating. All companies must adapt to a world where customers want to make purchases, find information, share their thoughts and request assistance on various channels: mobile, online, in chat, through call centers — and yes, in brick-and-mortar stores.
What Is Omnichannel?
Omnichannel means fulfilling customers' needs at every touchpoint and providing the same functionality and experience across channels, no matter how a buyer chooses to interact. Companies must be attentive at each stage of the customer journey — discovery, research, purchase, support, customer service and returns, and building an ongoing relationship. Simply put, omnichannel is about meeting customers wherever they are and providing excellent service at every touchpoint, including:
Brick-and-mortar stores
Over the phone
Branded websites
Online marketplaces such as Shopify or Amazon
Mobile apps
Mobile messages, chats and push notifications
Social media
Email
Catalogs and other mail-order options
Retail stores were among the earliest adopters of cross-channel strategies, but the home goods, grocery, cosmetics and automotive industries are gaining ground fast.
Key Takeaways
Omnichannel strategies are designed as fluid, customer-centric experiences across multiple touchpoints.
An omnichannel approach requires a comprehensive view of every channel and reliable customer and inventory data.
Omnichannel has significant benefits for customers, operations and revenue.
The right technology ensures that an omnichannel strategy is consistent, engaging and effective.
Omnichannel Explained
With an omnichannel, also known as a cross-channel, strategy, data is shared among platforms, and customers can switch seamlessly between them. Moving freely from one touchpoint to the other is essential to today's consumers: 95% of customers use at least three channels in a single interaction with a company, research firm Forrester found, and 62% of them change devices midstream.
An omnichannel strategy eliminates siloed touchpoints and makes the entire customer experience a personalized, effortless journey. The core elements of a cross-channel framework include:
Completeness of data:
Omnichannel experiences take into account all current and past customer interactions and purchases and the plethora of information available from sources including website cookies, social media activities, email lists and Internet of Things (IoT) data.
Automation:
An omnichannel platform uses that data to automatically generate marketing content, recommend products, provide customer service, manage inventory and handle other related activities — all in real-time.
Communication:
There is an unfettered, two-way interaction between customers and companies via websites, apps, email, phone and in-store interactions, all informed by complete data.
How Omnichannel Works
Omnichannel programs may have many moving parts, but they work as a single, coordinated mechanism. Each touchpoint should provide a distinct but connected experience that builds on previous interactions and moves the customer through the journey to a desired result.
Consider a homeowner looking to replace a kitchen faucet. The customer sees an ad on television for an attractive and functional unit and runs a search for that product on his laptop. He finds the manufacturer's site and sees it offers a merchant locator function that shows the desired model available at a local plumbing supply store. He sends a link to the product page to his partner, who does some research on a tablet, chats with a customer service specialist at the manufacturer, then puts the item in a cart at the retailer site.
The homeowners want to see the item in person before purchasing, however, so they download the retailer's app and access the cart on a smartphone on their way to the store. When they arrive, they check the app to make sure the item is still in stock, see how many are available and where to find a demo model. Ideally, the customer would then be able to use a QR code or near-field technology to transfer the cart from the phone to the POS system, complete the sale and take the item home.
An omnichannel strategy across the manufacturer and specialized retail partners makes all of this happen seamlessly without forcing the customer to input the same data, perform the same tasks or ask the same questions in multiple channels.
Omnichannel vs. Multichannel vs. Single-Channel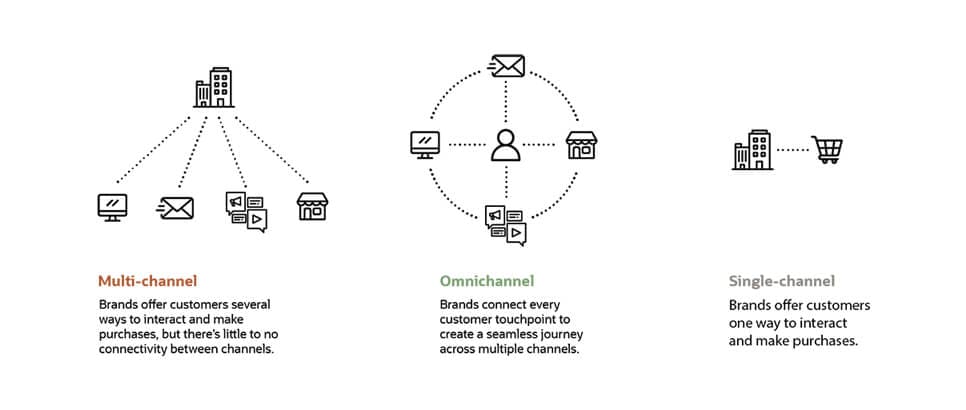 This graphic shows how omnichannel builds on the other two strategies, multi-channel and single-channel.
Omnichannel strategies build on single-channel and multichannel efforts to provide comprehensive customer experiences and operational business benefits. However, there are notable differences between each approach and each one has benefits, even in the growing cross-channel environment.
Single-channel
With single-channel strategies, companies have a single touchpoint with customers — maybe a website, a catalog or one or more brick-and-mortar locations. Because the business uses only one channel to interact with buyers, costs, customer service interactions and inventory are relatively easy to manage. Single-channel is a common strategy for small companies that don't have the capital to expand their reach or that are unable to share customer communications and inventory data.
While there is less chance of customers becoming frustrated by, for example, not being able to check online to see if an item is in stock locally, these businesses run the risk of missing opportunities and eventually losing customers to competitors that offer more comprehensive experiences.
As an example, if our faucet manufacturer was sinking all its budget in TV ads on home-decorating-focused shows and just hoping that big-box retail partners would carry its items and feature them on their own websites, it may have lost that sale.
Multichannel
Multichannel strategies use various touchpoints, and customers can often perform the same actions on any of them. Unlike omnichannel, however, these touchpoints are generally independent of one another, and there is little to no data integration or crossover between channels. The most common example is a physical store that has a website but lacks a shared inventory function. Marketing, sales and post-purchase actions, such as returns, may be made on one or more of the available channels, but the actions don't propagate across platforms.
Multichannel strategies are channel-focused rather than customer-focused. That means it's relatively easy to determine which channels are more successful at various metrics, such as sales or customer satisfaction. But our homeowners would be unable to begin a purchase on an app and transfer it to an in-store point-of-sale system, and the retailer would have no insight into the chat the customers had engaged in.
Omnichannel
One of the most significant distinctions between single-channel, multichannel and omnichannel approaches is that multichannel and single-channel strategies are driven by a company's offerings and provide customers with few options.
Omnichannel, on the other hand, is customer-centric. It puts customers in control of their interactions with a company and provides a myriad of options for conducting business with a brand.
Why Choose Omnichannel?
With omnichannel, channels aren't just parallel to one another but synced. Companies can guide the customer journey more effectively by tailoring marketing content, upselling corresponding goods and services and preemptively overcoming objections.
Once the customer is ready to buy, omnichannel allows them to do so on whichever platform they're currently using, eliminating a detachment point that could make them lose interest or be scooped up by a competitor engaging in retargeting.
And even if they pause at this point, a cross-channel system allows businesses to reengage customers via email, text, mobile push notifications and website pop-ups to remind them of pending cart items or products they've recently viewed. Customers can then pick up where they left off, even if it's on another channel. This makes the purchase process seamless and is one of the most significant benefits of omnichannel strategies over other approaches.
Benefits of Omnichannel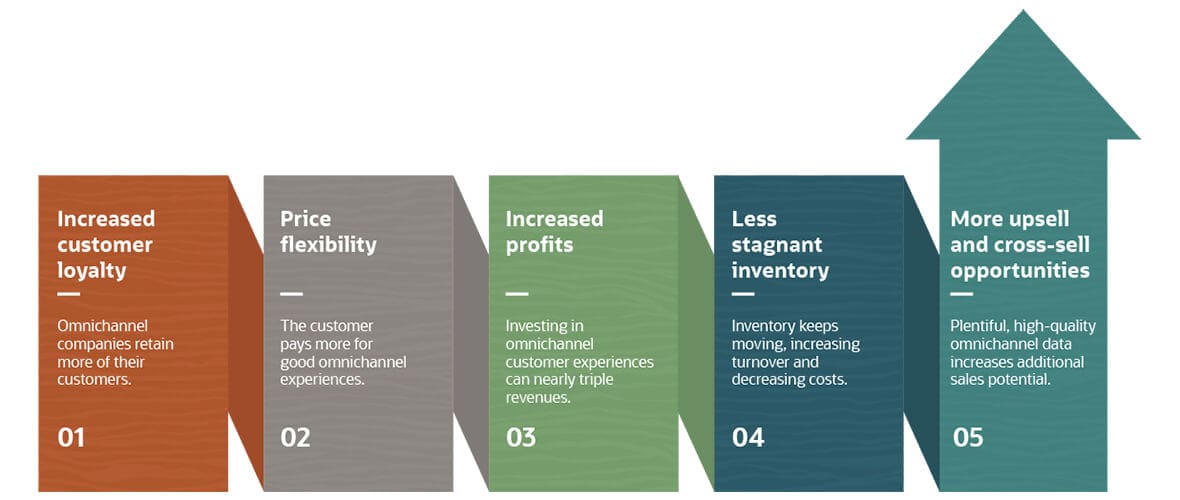 Should your company switch to omnichannel? The benefits outweigh the challenges for most businesses.
What does omnichannel mean for business operations and objectives? From higher customer satisfaction to improved inventory management, companies enjoy five key benefits when they execute a cross-channel approach.
Customer expectations:

41% of leaders say ecommerce is their most effective sales route, beating out in-person (37%) and video (31%), according to a new McKinsey & Co. omnichannel survey. And, while nearly all respondents say they will be able to connect with customers in physical locations by the start of 2022, only 15% of business-to-business (B2B) sellers expect in-person to be the norm going forward.

Price flexibility:

A good experience trumps price for many consumers, with customers being willing to pay 17% more for items if the seller is known for outstanding service, says American Express. That means businesses can provide high-quality products and high levels of service without worrying excessively about the costs of doing so — and make decisions accordingly. That opens a number of intriguing possibilities around creative pricing strategies.

Less stagnant inventory:

Omnichannel systems share stock data across channels, decreasing the risk of inventory staying static and unsold. That decreases storage and opportunity costs. One of the best uses of cross-channel inventory management is the "endless aisle" concept practiced by retailers such as Coach, Kohl's Best Buy, Sears, Macy's and Walmart. These companies let in-store shoppers browse online inventory and have items delivered to them or available to pick up in a different store.

Increased profits:

Investing in customer experience can have a considerable impact on revenue, with Qualtrics research estimating that companies that earn $1 billion gain an average of $700 million annually within three years of focusing on customer experience. An omnichannel strategy is an effective way to improve customer experiences and, in turn, increase revenue.

More upsell and cross-sell opportunities:

With the data and access to customers that cross-channel strategies provide, businesses can send emails, texts, push notifications and even direct mail to recommend complementary items and upgrades. In-store, an excellent example of this idea is the ship-to-store feature, which saves customers on delivery costs while opening opportunities for in-store purchases of complimentary items or impulse buys.
How to Implement Omnichannel
A cross-channel program needs three key things: consistency across channels, engagement with customers and effectiveness in meeting business objectives. Achieving this trifecta involves a cross-channel strategy that incorporates some critical elements.
Customer experience focused
One of the most significant aspects of a cross-channel approach is how omnichannel benefits customers — but businesses must understand their customer's needs. From there, they can determine how, where and what elements of an omnichannel plan deliver the most value while meeting those needs.
For instance, digital experiences should mimic in-store interactions as much as possible by allowing customers to zoom in and see items from different angles, leveraging the strengths of both online and in-store experiences.
After the sale, an omnichannel strategy should ensure that replacements and returns can be completed from any channel, from processing a return via an app and dropping the item off at the nearest retail location to a seamless integration with reverse-logistics providers.
Accurate inventory
Omnichannel requires a comprehensive, bird's eye view of a business's entire inventory, both in-store and online stock. Everyone — retail store staff, order fulfillment, accounting and more — needs the ability to access this real-time information from every channel and business department. A sound inventory management system is necessary here to track each in-store, online and in-app purchase, returns and items that have timed out of carts and adjust inventory counts accordingly in real-time.
Data-driven decision making
With these deep inventory insights, customers are constantly receiving accurate information. And just as important, this data enables internal company stakeholders to make confident business decisions.
That means integrating data from several sources, including:
Customer relationship management (CRM) software
Marketing databases
Email lists and social media interactions
Ad and website traffic analytics
Inventory management systems that minimize manual inventory updates
Competitor intelligence
Having a single platform that gathers, organizes and analyzes all of this information in real-time allows for more knowledgeable decision-making regarding customer-side activities, such as marketing and customer service, and back-office tasks, such as revenue forecasting and inventory management.
Segmentation
High-quality information also facilitates more effective segmentation. That means that omnichannel segmentation is organized by traditional segments, such as age, gender, income geography and household status, but also goes deeper, considering behavioral groups designated by website and app usage, device preferences and shopping habits. Categories that account for lifestyle choices, attitudes and opinions are also essential.
Together, these segments allow businesses to design better customer experiences based on actual data rather than best-guesses.
Personalization
Customers want personalized experiences with every interaction on any platform. That means providing tailored marketing, shopping experiences and customer service based on data from previous purchases, social media, website cookies, email lists, in-store interactions and other sources. Personalization capabilities ensure that marketing and shopping experiences are engaging and effective, resulting in higher revenues.
How to Create An Omnichannel Campaign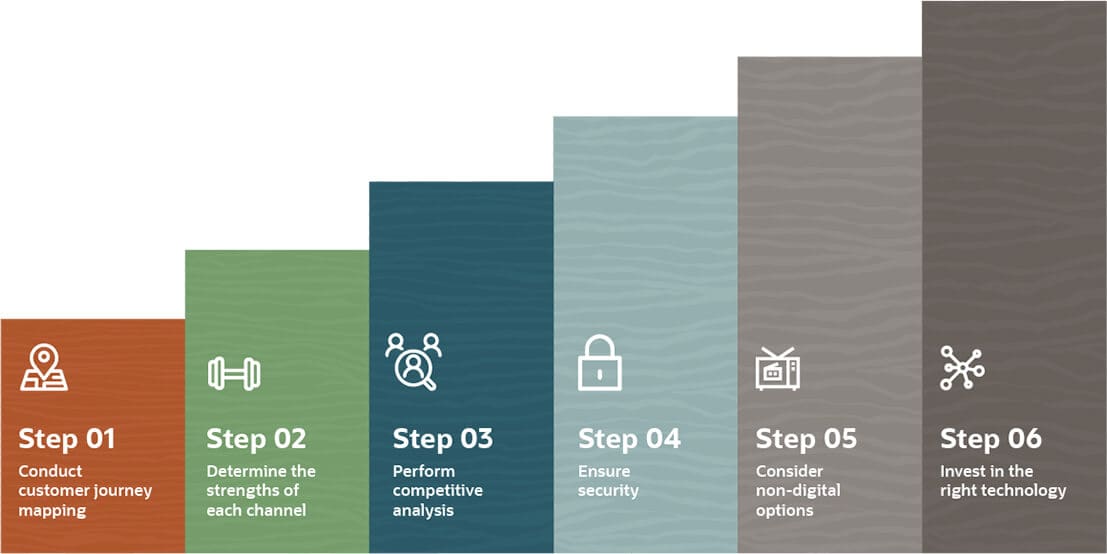 This graph shows the six steps of developing an omnichannel strategy that places customers first.
Developing an omnichannel strategy requires a shift from a channel-centric approach to a customer-centric framework. This evolution can be accomplished in six steps.
1. Conduct customer-journey mapping:
Understanding the path a customer takes from first learning about a product or service to becoming a loyal customer is fundamental to creating an effective cross-channel strategy. This step is known as customer mapping and includes:
Developing buyer personas and segmenting customers appropriately so that their needs and expectations are fully met.
Determining the bottlenecks, pain points and drop-off points for each channel.
Identifying the best methods and channels to reengage potential and existing customers if a purchase isn't made
It's also imperative that all five stages of the customer journey — discovery, research, purchase, support and ongoing relationship — are accounted for, no matter what channel a customer uses to engage. A buyer should be able to complete every step by using any combination of touchpoints.
2. Determine the strengths of each channel:
Each touchpoint has strengths and weaknesses depending on what the customer wants to do. For example, using an app can be more convenient to make a quick purchase, but apps may lack customer service channels. Having specific questions answered is more convenient in person, on a chat or over the phone.
For example, companies using social media or email to reengage customers after a lull in interactions or when browsing fails to result in a purchase can easily personalize the experience without pulling marketing resources away from the funnel's acquisition portion, where these channels are most effective.
3. Perform competitive analysis:
Understanding where competitors excel in omnichannel experiences can provide a benchmark for improvement or a prototype to apply and hone. Likewise, knowing where competitors fall short provides companies with targeted opportunities to lure away customers and gain market share.
4. Ensure security:
Multiple channels mean multiple points of vulnerability, and each touchpoint is susceptible to different threats. Data and payment security are a top priority for customers, especially when their information is shared across wide omnichannel networks. Having a single platform through which all channels flow can mitigate the risk of security breaches at every stage of a transaction.
ERP software with cutting-edge security features can also analyze customer and business data and monitor every channel in real-time for atypical behavior or other threats.
5. Consider non-digital options:
Many companies feel that TV, radio, mail and other "analog" channels are outdated mediums, but they may want to take another look. For example, millennials report higher interest in printed catalogs than consumers have expressed for decades, stating that they enjoy the novelty of receiving mail. Well-targeted catalog marketing can result in an average return of between $3 and $9 per $1 spent — a better ROI than paid search in some cases. In an omnichannel strategy, publishing digital and print versions of a catalog is an excellent way to cover multiple demographics.
6. Invest in the right technology:
Existing tech infrastructure often falls short of the capabilities required for an effective omnichannel strategy. Companies need to be able to organize and monitor data from every channel to ensure that back-office decision-makers, supply chain managers and employees, retail staff and customers are all working with the same information. Ensure you can also analyze data gathered across channels and develop accurate forecasts and what-if scenarios.
Winning Omnichannel Case Studies
For many, the questions that remain are, "What does omnichannel mean for my business's growth and revenue?" and, "What omnichannel strategy is best for my company?"
Answers depend on many factors, including your existing capabilities, the type of goods and services offered and your willingness to take on new customer interaction channels. However, what's clear is that many types of businesses have found real-world success with cross-channel strategies.
Retail: Meeting omnichannel demand
A family-owned business started in 1989, Rally House was ready for expansion, but success was hindered by an operation of dozens of disconnected systems and applications. The online and brick-and-mortar retailer with hyper-localized sports apparel and gifts needed to simplify its IT infrastructure to be more competitive in the sports apparel industry, while also having a platform that was flexible and scalable enough to grow with the company.
By implementing NetSuite's cloud-based ERP software with real-time inventory dashboards, Rally House was able display item availability by store on its website. Optimizing even more, Rally House moved its inventory to the stores themselves — shutting down its distribution center. Fulfilling online orders from stores is a huge cost savings and provides customers a greater selection and faster shipping.
Health and Fitness: Increasing omnichannel revenue
Global Fitness and Leisure, a fitness equipment retailer based in Australia, was developing an omnichannel solution for its growing lineup of bikes and fitness and playground equipment. The company needed a system that simplified accounting and inventory control while also supporting the growth of a web store, two Australian retail locations and hundreds of global retail partners.
With NetSuite's omnichannel commerce ERP system, GFL experienced a 70% increase in ecommerce sales, doubled the number of warehouses it uses and expanded its international dealer and retailer partnerships.
Ecommerce: Facilitating omnichannel efficiency
When modern-furniture merchant Life Interiors expanded from an eBay store into a Sydney retail store in 2009, it saw even more growth opportunities. The company wanted to deliver personalized omnichannel customer experiences that stood out among competitors, but it needed to unite the retail and online stores' disparate accounting, inventory and order management processes.
With NetSuite's ERP solution, the company increased visibility within the supply chain with real-time data and optimized inventory management across channels. The retailer was also able to efficiently manage 5,000 SKUs and 120 suppliers shared between in-store and online B2B and B2C channels. As a result, Life Interiors went from $50,000 in annual turnover in 2009 to $15 million by 2018 and opened two new showrooms, growth fueled by the ability to increase order volume without increasing overhead.
Future of Omnichannel
When consumers start moving en masse toward a trend, businesses must follow if they want to remain relevant. Even companies like the ones above that have embraced omnichannel must stay on top of new developments including:
Social integration: Social media posts and ads allow customers to make purchases without leaving the social media platform, reducing the steps in completing a sale — and decreasing the chance of customers changing their minds. Integration also allows companies to further the use of social media influencers to boost sales.
Automated warehouses: To keep up with rapidly increasing cross-channel demand, companies may outfit their warehouses with automated inventory management and order processing. Automation allows companies to manage online, app-based and brick-and-mortar orders while also taking in-store inventory into account to ensure a steady supply that matches demand. Increasingly popular micro-fulfillment centers (MFCs) are an example of this concept in action.
Local service: In-store traffic has decreased in recent years, even before the pandemic, but customers still want the convenience of having some goods on the same day that they buy them. Future omnichannel strategies can cater to this need with MFCs integrated into unused retail or warehouse spaces to serve as local inventory and distribution hubs.
Deliver An Omnichannel Experience With NetSuite
When it comes to the technology underpinning a successful cross-channel strategy, one must-have is powerful, omnichannel-capable ERP software. An ERP system that optimizes inventory management across channels is critical to ensure that companies can keep up with demand, no matter where it originates.
Complete, real-time visibility into inventory is also key to avoiding the pitfalls of overstocking or understocking. Finally, a single platform for customer-facing, back-office and order-fulfillment tasks simplifies the gathering, organization and analysis of cross-channel data, allowing for greater personalization of customer experiences.
Companies are making significant investments in digital technology to power omnichannel after seeing ecommerce sales increase significantly in 2020 over the prior year, from ecommerce sites and online payment options to customer service and supply chains. Companies waiting to make investments to power omnichannel risk losing customers — and the revenue they need to finance initiatives — to competitors that are making moves now.