In short:
Many e-commerce businesses mistakenly target SEO keywords that garner the most traffic, instead of those that will increase sales. They need to understand the difference between transactional and informational queries.
Technical SEO — which refers to a search engine's ability to crawl and index your website, schema markup and more — plays a critical role in your site's ranking. Google Search Console is a helpful tool for improving it.
Google now bases search rankings on the mobile version, not the desktop version, of sites. Other recent trends include increasingly ignoring thin and duplicate pages, a knowledge of which can help your site perform on SEO in the coming year.
Any business that sells products online understands the fundamental importance of search engine optimization (SEO). A search engine query often marks the beginning of a shopper's journey, and first impressions matter.
However, SEO has become such a complicated equation that it can be tough for e-commerce businesses to figure out where to start. Here, we'll walk you through the steps.
Technical SEO for E-Commerce Sites
Technical SEO is the foundation for a successful SEO strategy and a wise place to kick off your journey.
Before any other ranking factors come into play, search engines must be able to crawl and index your site.
In other words, a search engine must be able to read your site to determine whether one of your pages should be a top result for a certain query. The indexability and crawlability of a site, as well as factors like site speed, lack of duplicate content, schema markup and user-friendliness are all part of technical SEO.
As far as which search engines to optimize for, Google should be your primary concern, because it accounts for at least 70% of searches worldwide. However, it should not be your sole focus, as Bing draws billions of searches every month and also powers Yahoo!, the third-most popular search engine in the U.S. Many of the fundamentals of what you'll do to optimize your efforts for Google will also apply to Bing, so keep that in mind.
Google Search Console is useful when optimizing for the leading search engine because it will show you how Google indexes your e-commerce site.
Per Google Search Console, pages fit into four categories:
Error
Valid with warnings
Valid
Excluded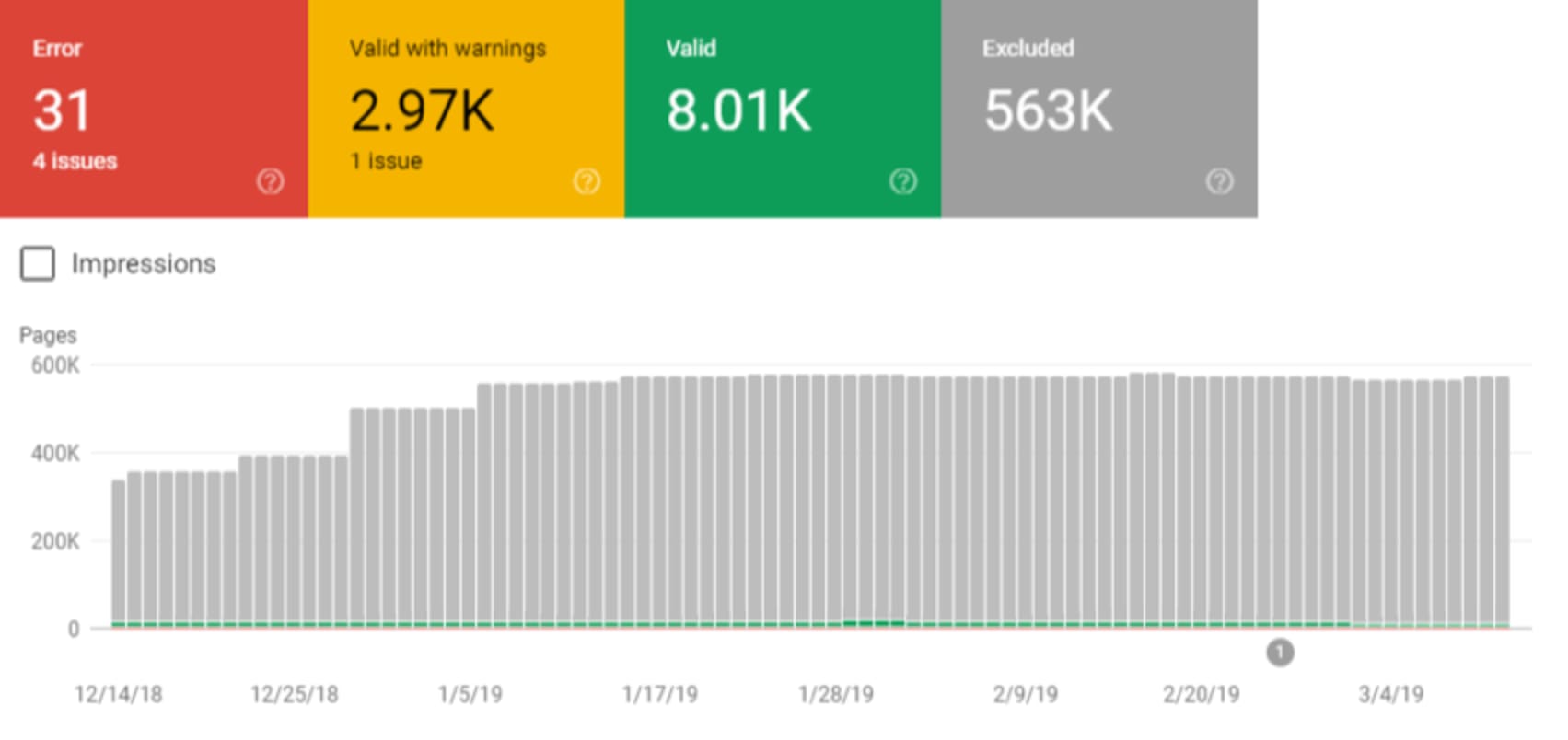 Know from the start that the end goal is not for every page to be labeled "valid," said Diego Gallo, an SEO expert who help companies build and enhance their search engine strategies. A breakdown of each type:
👉 Pages with "errors" should be the first thing you address, because Google cannot index these pages.
Google Search Console will tell you what the "errors" are – often it's 404 error pages triggered by an outdated sitemap, out-of-stock items or a server error, which is usually temporary. The good news is those errors generally have a simple fix, according to Gallo.
👉 "Valid with warnings" means Google is indexing your pages but found small problems like HTML errors, missing tags or missing meta titles and descriptions.
However, the issue may be even more minor than that. For example, the search engine will mark a product detail page as "valid with warnings" if there are no customer reviews, which will fix itself as long as your site allows visitors to leave reviews.
👉 "Valid" means Google is finding and indexing the page without any issues.
👉 "Excluded" means the search engine is not indexing a page because of noindex tags in the code or robots.txt files tell the crawler to skip it.
There are certain pages, like thank you pages for form submissions and employee log-in pages, that you don't want to show up in search results, because they lack SEO value. Ensure these are the only ones "excluded" via these tags and files.
Once you resolve any issues, it's time to evaluate your keyword targeting and see which pages rank for those keywords.
This is when you use Google Search Console to evaluate the performance reports for certain keywords, look for any self-imposed competition and see if you're targeting the wrong type of keywords. (For more on the wrong type of keywords, see "How to Choose E-Commerce Keywords" below.)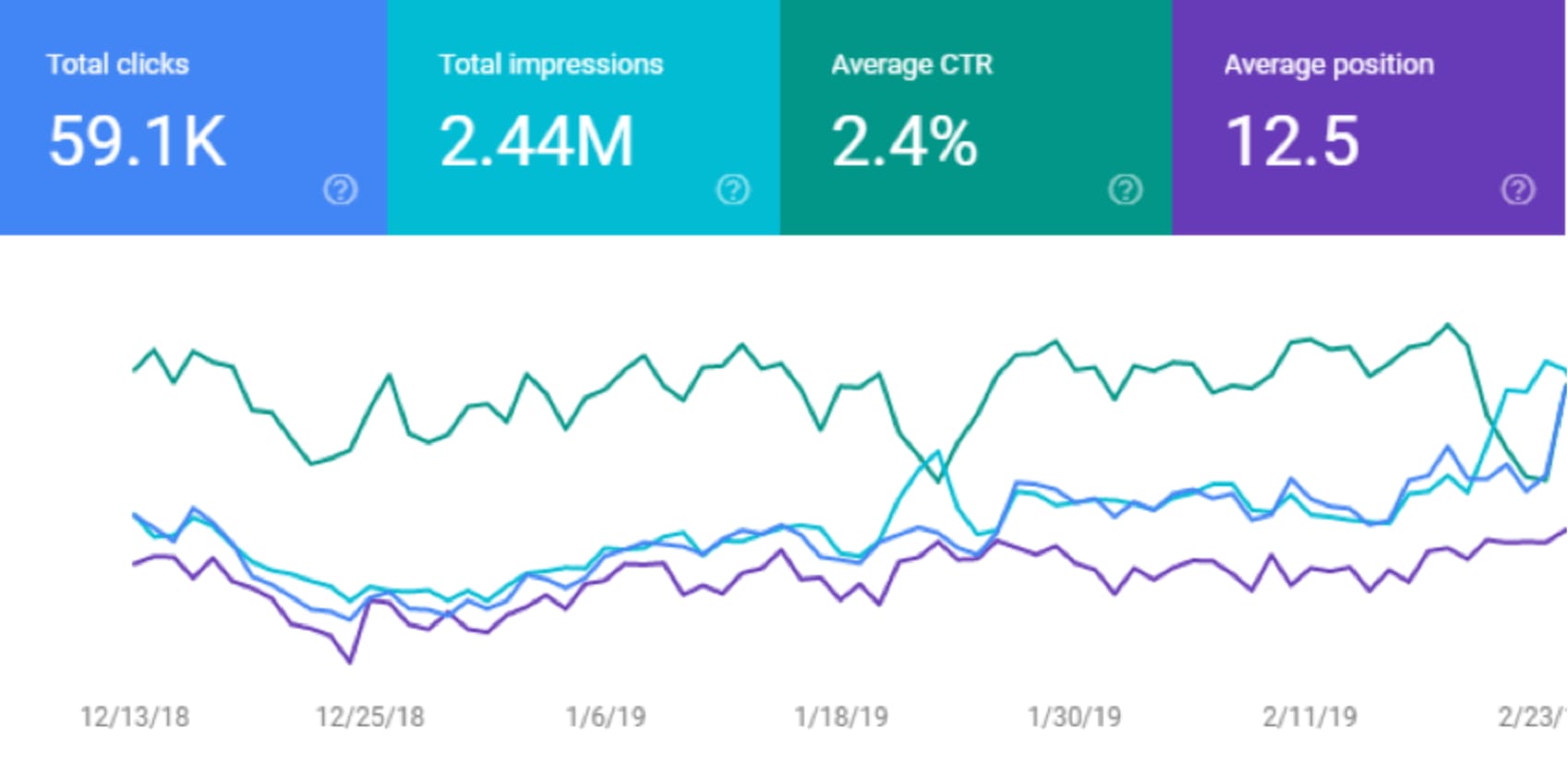 Particularly relevant for e-commerce is Google Search Console's products report.
This tool (found under "Enhancements") provides insight into how Google indexes the products on your website, rather than its pages. This report is especially valuable if you use schema markup, a chunk of HTML tags that allows Google to display your product's price, star rating, availability and more directly on the search results page.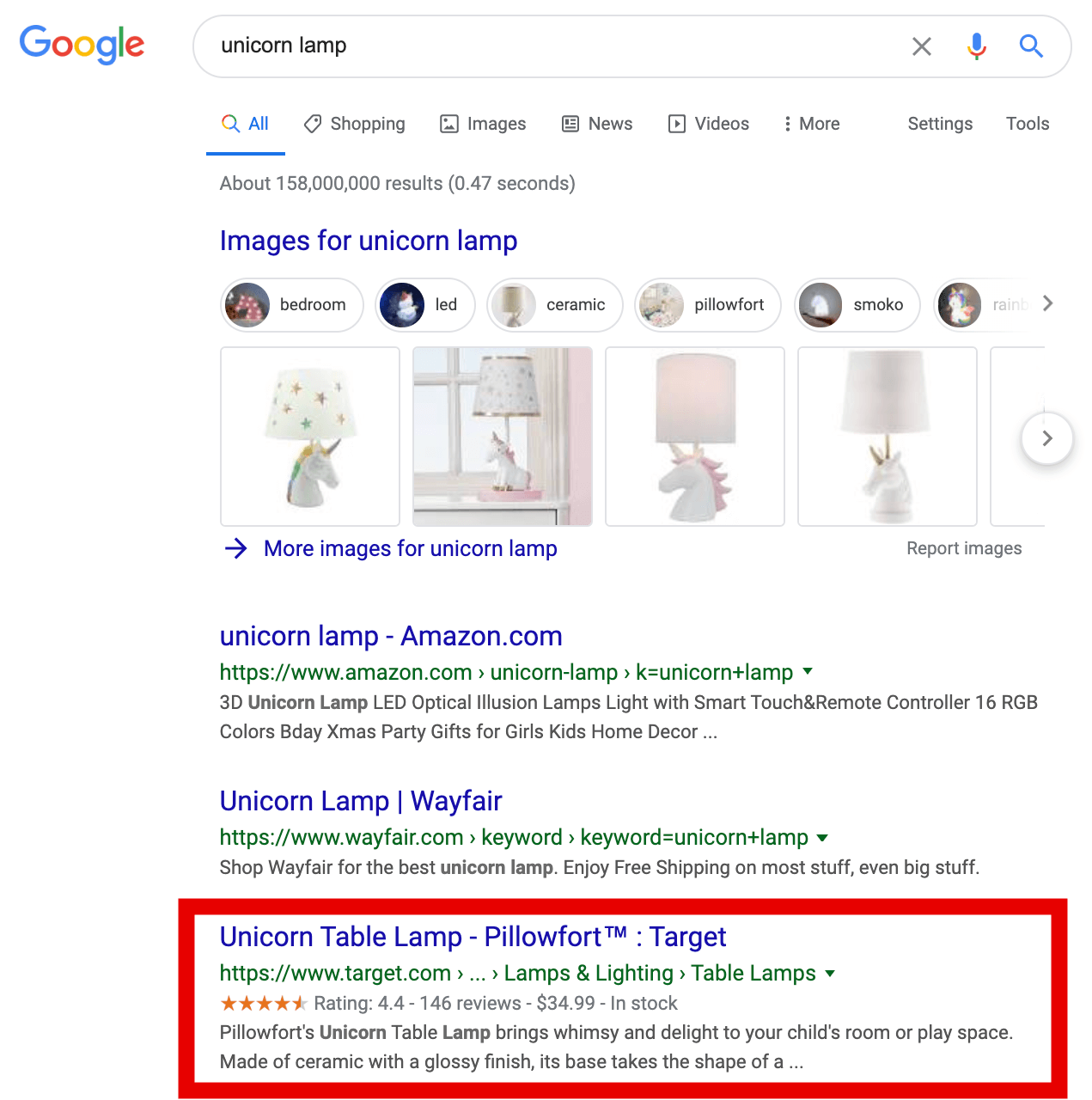 Schema markup is easy to add to your pages. It's critical to do so, because many pages for products, concerts, hotels and the like now use it, making them more attractive on the first page of results and in Google's Shopping tab.

Whenever you add new content or make other significant changes to your site, you should run reports in Google Search Console to see if anything changed on the SEO front — it's easy to break things. Maintaining technical SEO will be an ongoing effort, Gallo said.
After you optimize technical SEO, you can move on to other aspects of the ranking equation.
This may include ensuring the right pages are targeting transactional and informational keywords — keep reading for information about that — or asking influential blogs or YouTube channels to review your product. But those additional steps will be all the more effective once your technical SEO is in good shape.
Volume vs. Value: How to Choose E-Commerce SEO Keywords That Drive Sales
Once you've mastered technical SEO, it's time to ensure your site's content is dishing out precisely the kind of answers that searchers want to see.
Business owners and e-commerce site managers often go after the wrong keywords. The good news is that these mistakes are easy to correct, with some additional knowledge of the inner workings of Google's ranking algorithm.
A common mistake is to simply find the highest-volume keywords related to a brand and target those in an effort to drive more traffic.
But higher search volume does not necessarily equate to more sales, said Gallo and Kabir Merali, another SEO expert. For example, a business's home or "about us" page could draw a lot of visitors, but its value is low because many visitors have no intention of buying products or are in the early stages of the buying journey. A product detail page, on the other hand, will not attract nearly as much traffic, but it has greater value because many visitors arrive with high purchase intent.
Furthermore, it's much easier to rank for more specific keywords with lower search volume than generic ones that have high search volume. For example, in the auto parts world, there is far less SEO competition for "2018 Honda CR-V rims" than "rims" or "Honda rims." And yet, the "2018 Honda CR-V rims" keyword, which directs to a product detail page, will drive more conversions.
Keyword intention is another crucial – and often overlooked – consideration when searching for high-value e-commerce keywords.
When a user types in a query, the search engine finds pages related to the words in that search. This is how SEO has functioned since its beginning. But in 2015, Google introduced a machine-learning algorithm called RankBrain to help identify what kind of content users prefer.
Over time, searchers will usually show a preference for either transactional or informational content.
Transactional content directs the user to purchase something, so it's typically dominated by product detail pages and sometimes by subcategory or category pages. (In other words, it's critical for e-commerce.)
Informational content helps a user learn more about a product, event or topic and includes results like blog posts or e-commerce home pages.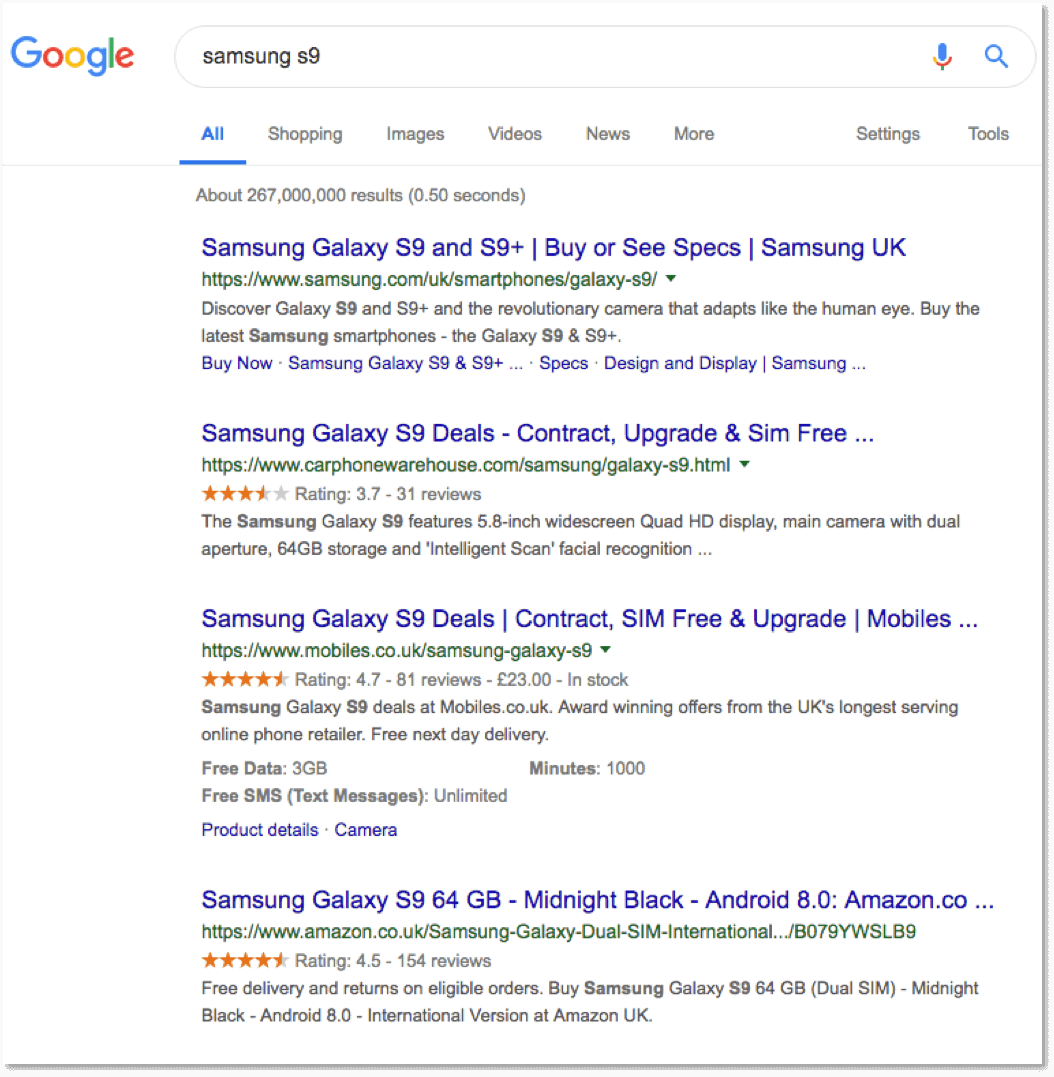 Gallo and Merali explained that when Google receives a new query, it will display both transactional and informational results at first. But, over time, RankBrain measures which links searchers click on most often to determine whether that query is "informational" or "transactional" by nature.
From then on, Google serves up primarily or exclusively one type of results. Today, RankBrain is one of the most important factors in determining how your site's pages rank on Google.
How to choose e-commerce keywords
Here's how e-commerce companies can ensure they're targeting the right keywords with the above information in mind, according to Gallo and Merali.
1. Figure out whether a certain keyword serves up transactional or informational results.
The best way to do this is a simple Google search of that term in Incognito Mode, so past search history doesn't influence results. See if the results for your term include mostly reviews, lists and articles (informational) or product detail pages to buy products (transactional). E-commerce companies should focus on transactional keywords since those will drive more revenue.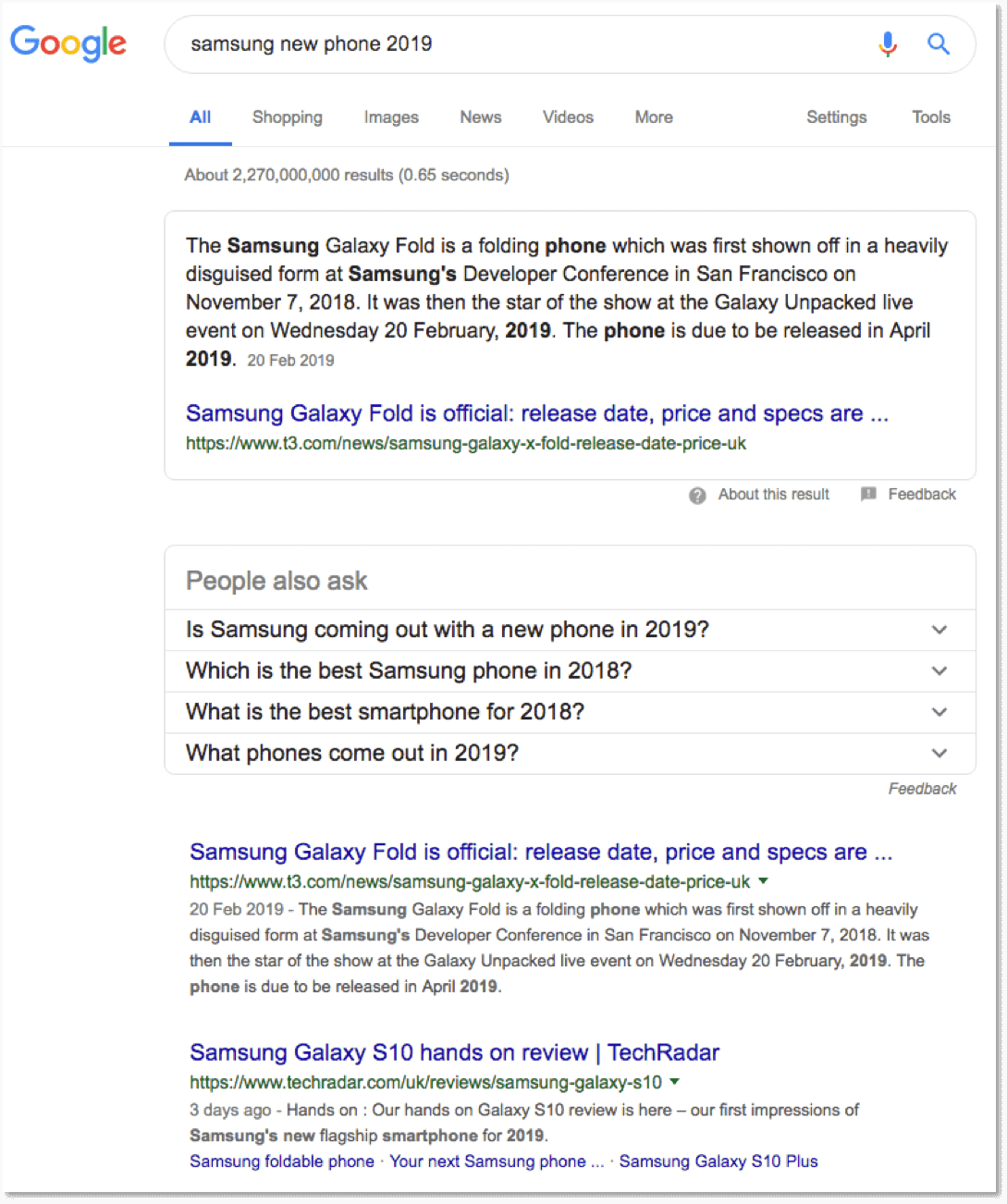 2. Once you identify keywords associated with transactional results, try to rank for them with shopping pages.
That means product detail pages where a shopper can add an item to their cart and, in some cases, subcategory and category pages that cover a specific group of products (for example, "men's gym shorts" or "Honda CR-V rims").
3. Make sure multiple pages on your site are not competing for the same keywords.
If both the home page and a product detail page rank for a query because they use the same transactional keyword, you're only hurting yourself. Google Search Console is a valuable tool here because it will reveal any self-inflicted competition. It shows the ranking position, clicks, impressions and click-through rate (CTR) for different pages on your website for a given search term.
4. Target less specific transactional keywords.
Once you've optimized product detail pages with the most impactful keywords like the product name, the next sensible step is to target keywords that aren't so obvious. Mixed queries, which have both transactional and informational results, could also be something to tackle after optimizing your most valuable pages.
4 Google Ranking Tips for E-Commerce Companies
So you've nailed technical SEO and ensured your site is targeting the right keywords. But you can almost never just sit back and watch your site's search authority climb. You've got to continue tweaking the site over time, because the algorithms search engines use are constantly changing. Even major changes can come suddenly, in part because so much control sits in the hands of Google.
Over the last year, Google has made some big changes to its ranking factors, which determine where your site ranks on its results pages. Let's walk through what those changes mean for businesses that sell online.
If you work at a company that sells via e-commerce, chances are you've already heard about mobile-first indexing. Essentially, this new system means the search engine will determine your site's ranking based on your mobile site's content rather than your desktop site. Google gradually began rolling out this change in December 2017, and it now uses mobile-first indexing across at least 90% of websites.
👉 Mobile-first indexing basically means Google now determines your site's ranking based on its mobile version, not its desktop version.
Previously, Google would crawl the desktop version of your site and use that to assess your site's search value. After that, the search engine would see if you had a mobile-friendly site and, if so, boost your rankings for mobile queries. But this approach doesn't make sense today – mobile searches have outnumbered desktop searches since early 2017.
🙋‍♂️ What it means for you: This may be stating the obvious, but your mobile site should be the focal point of your SEO work. Some companies may have only optimized keywords, schema markup, metadata and such on their desktop site, since that was a logical approach under the old rules.
It's also common practice to hide some content on mobile sites, like product descriptions or specs, with a "See More" button (which, of course, users can click to reveal the information). This is an effort to create a better user experience for visitors on smaller screens. However, that's no longer a best practice with mobile-first indexing. Now, Google only considers content visible on the mobile version of a site, Gallo said. Organizations must now find the precarious balance between creating a great user experience for smartphone/tablet visitors and maintaining enough visible content to boost their SEO rankings.
Now for the good news: if you have a responsive e-commerce site, i.e. a single version of the site that adjusts to different screen sizes, mobile-first indexing is of far less concern. You may need to make a few adjustments to your formatting, since any hidden content still has minimal ranking value, but this change should not have a big impact on your SEO plan.
Google recommends a responsive site design, with the caveat that it does not prefer a certain format. Responsive design may not directly impact SEO, but all pages having a single URL minimizes issues related to duplicate content and redirects while making it easier to get backlinks.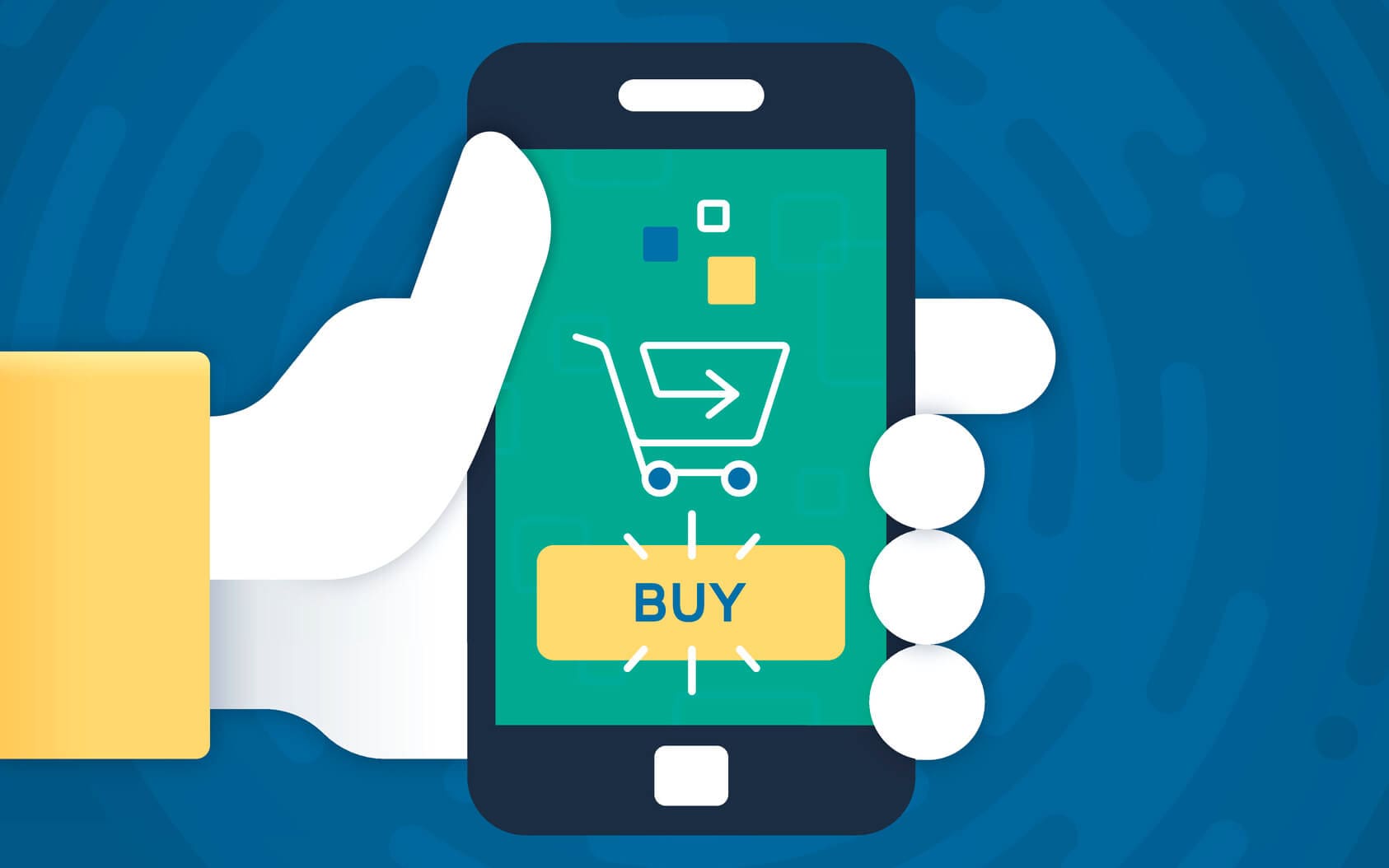 Mobile page speed and HTTPS
Page speed is how long it takes a certain web page to load or the time it takes for the browser to get the first bite of information from a web server (a.k.a. "time to first byte").The speed of desktop sites has long been correlated with search rankings, because faster load times reduce bounce rates and improve other user metrics. But in recent years, it's been a direct ranking factor, and it became an even stronger one when Google introduced mobile-first indexing. (Unsurprisingly, speed is even more important to mobile users than desktop ones.)
👉 The speed of desktop sites has been a direct ranking factor for years, and it became an even stronger one when Google introduced mobile-first indexing.
A website that supports HTTPS is encrypted. Anyone who uses Google Chrome has likely seen a "Not Secure" warning in the browser address bar (denoting a URL that starts with "HTTP") or a closed lock symbol (and a corresponding URL starting with "HTTPS") since mid-2018. Google has rewarded HTTPS sites for years, but site encryption is now a direct ranking factor.
👉 Google has rewarded HTTPS sites (vs. non-secure, HTTP ones) for years, but site encryption is now a direct ranking factor.
🙋‍♂ What it means for you: Page speed is already a priority for many e-commerce brands because it can have a substantial impact on conversions and customer satisfaction. SEO is yet another reason to hasten page load times. There are a lot of different ways to speed up your site – smaller photo files, fewer plugins, no unnecessary scripts and requesting only the necessary files are a few proven methods. But it's best to enlist someone with e-commerce expertise to take a deep look at your site and determine what's slowing it down.
Moving to HTTPS requires getting an SSL certificate. The host of your site will often configure the SSL certificate, and after that, you must move links and 301 redirects to HTTPS. It's well worth the time and effort, especially as shoppers become increasingly concerned about the security of their personal data.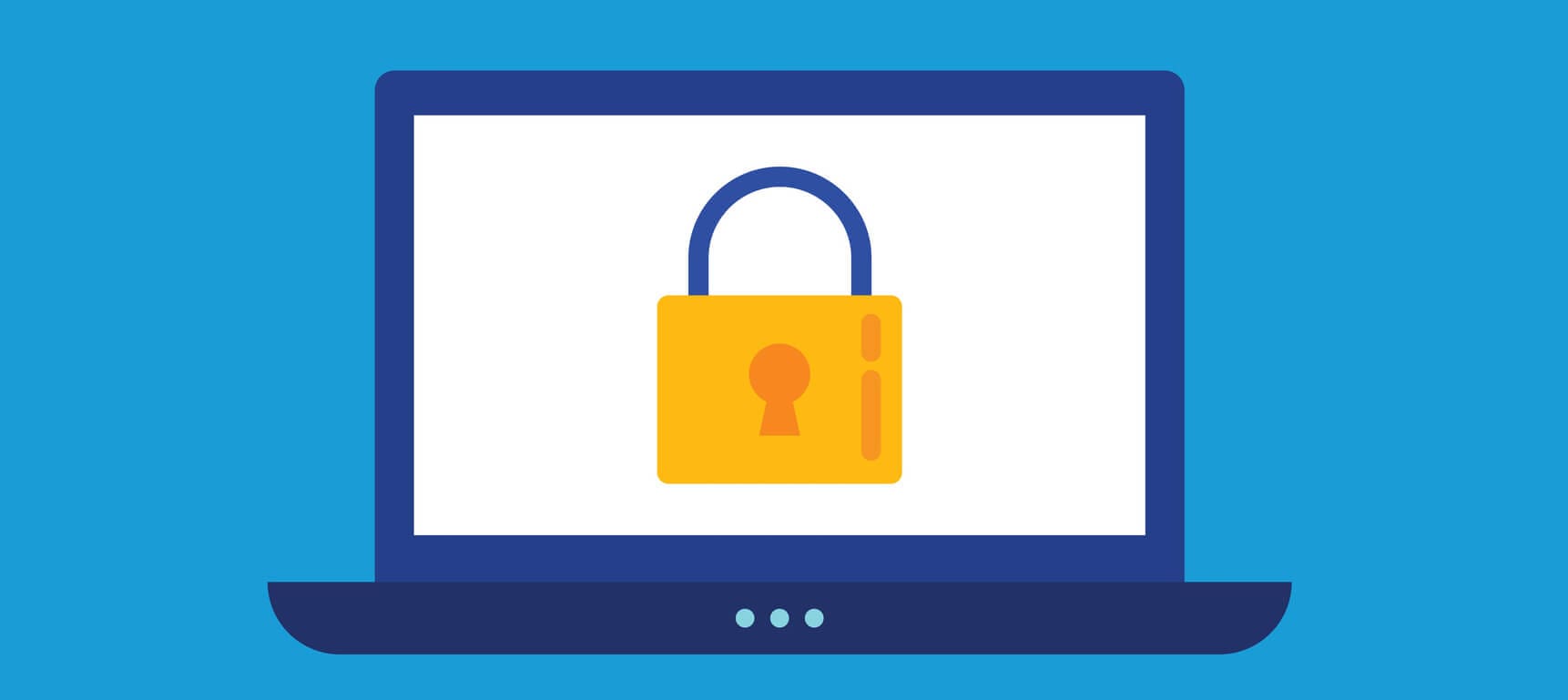 While quality content is not a new ranking factor, Google is increasingly committed to promoting unique, high quality content and ignoring thin and duplicate content.
Google's definition of duplicate content may be different than what you imagine – if 60% of a page's information matches that of another page, it might be considered duplicate, according to Gallo. A product display page lacking a distinct description or images specific to that item, for example, signals thin content to the search engine.
👉 If 60% of a page's information matches that of another page, it might be considered duplicate.
In both cases, Google will not index these pages because it doesn't think the pages will satisfy users' search intention. And when Google doesn't index your pages, they have no shot at landing anywhere near the top search results.
🙋‍♂ What it means for you: In the past, it made sense to create as many individual URLs and category pages for the same product in different sizes, colors, etc. because that offered the chance to rank for as many queries as possible. But now, Google may consider those separate pages for a different size or color duplicates, so it's best to consolidate all those options onto a single page with one URL. For sites that use URL parameters to manage colors and sizes, another option is applying canonical tags that point back to the main URL, so that only the main page gets indexed.
Furthermore, all of the pages your business wants to index should have detailed product descriptions, images, ratings, specs and other information unique to that item. While building out that content is time-consuming, it will allow more customers to find your online store.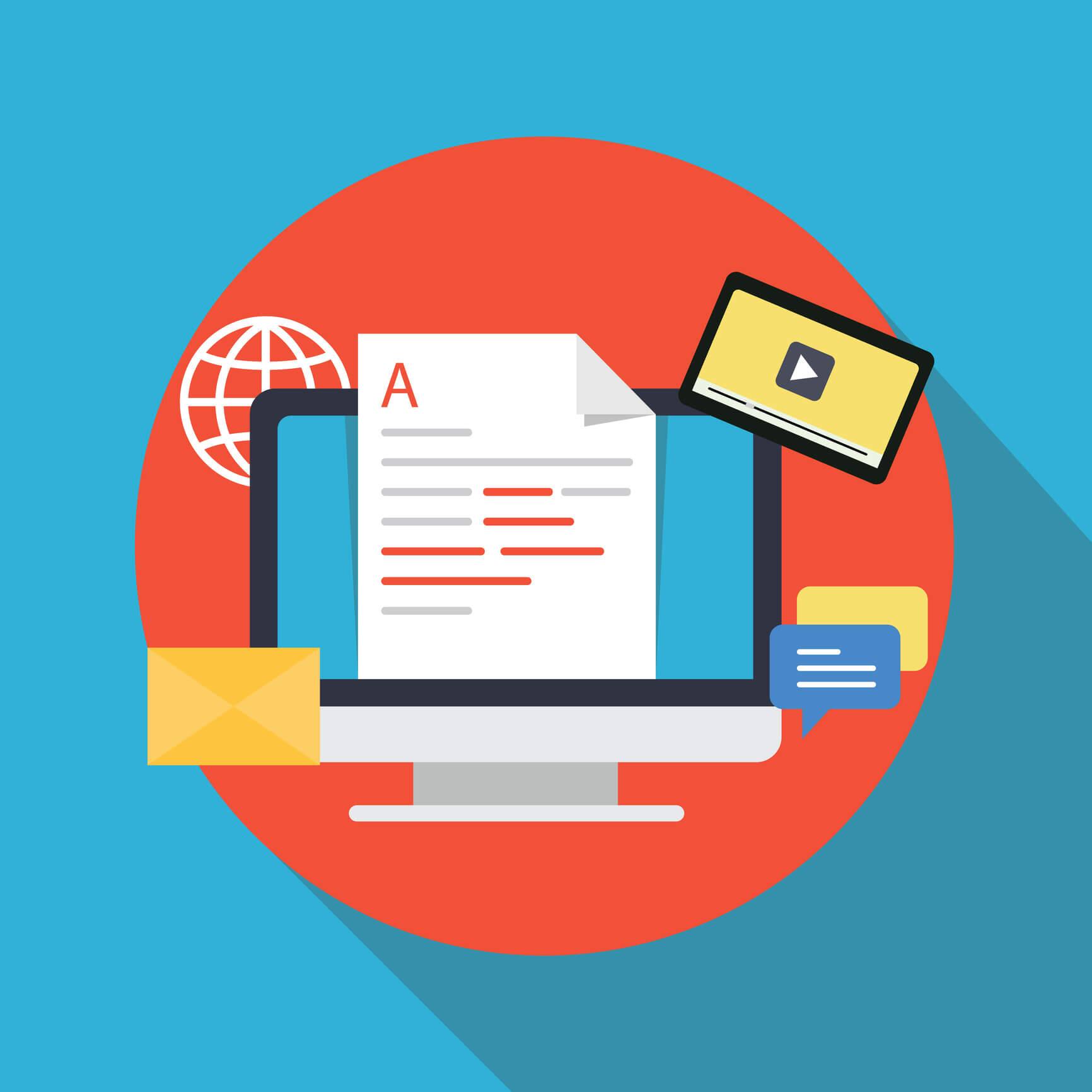 Google Web Rendering Service
E-commerce sites built on JavaScript present a challenge for Google's crawling bot. Traditionally, Google only reads HTML, so JavaScript websites use a prerendering tool to convert that code into HTML that a Googlebot can read. While that tool is still needed, Google now has its own method to read JavaScript called Web Rendering Service (WRS).
👉 Google Web Rendering Service allows Google to read JavaScript sites on its own, increasing the likelihood Google will find those sites' hidden content.
Google will still crawl and index a site as it always has, which is why prerendering is still necessary. But within two weeks of that first crawl, the search engine now indexes the site a second time using Google WRS to render the page like a browser would, resolving many of the issues Google had with reading JavaScript pages, Gallo says. The search engine can now find all content on those JavaScript pages, including hidden content.
🙋‍♂ What it means for you: Organizations with e-commerce sites built on JavaScript need to ensure Google renders pages how they want it to. They also need to realize that WRS has some limitations and rules that will affect how developers code JavaScript-based sites. There are now two renderings to worry about, instead of one.
To start addressing these issues before they become a bigger problem, check out the URL Inspection tool within Google Search Console. It will let you see a rendered page as Googlebot sees it, so you can make sure everything shows up as you would like. Google's mobile-friendly test tool also offers feedback that will help companies debug their sites.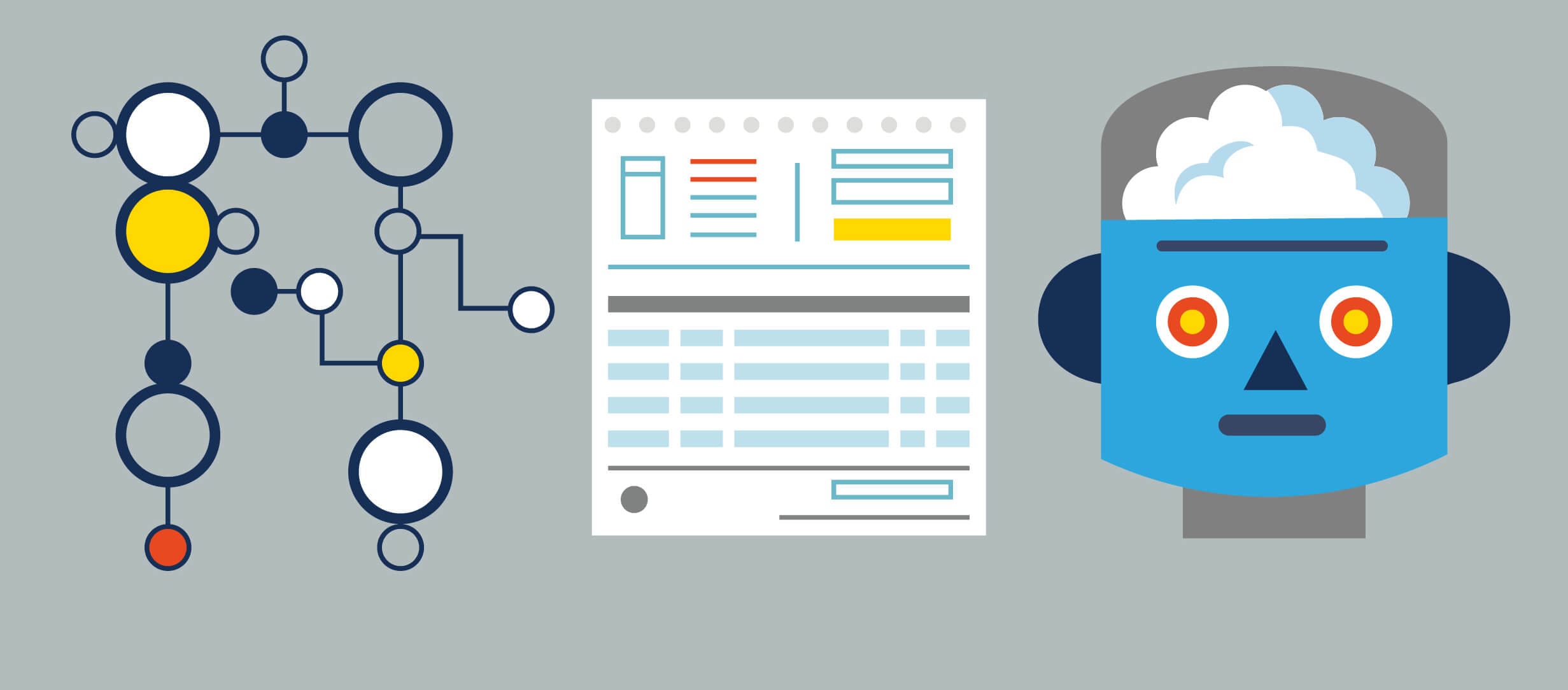 🌱The bottom line
By focusing on three topic areas, your e-commerce site can step up its SEO game.
First, remember that the more queries for which your e-commerce site shows up on the first page of results, the more sales your business will make. And that all starts with technical SEO.
Targeting the wrong types of keywords is a common mistake, and it's easy to see why it happens. But no matter how much you try, a transactional page will never rank very highly for a query Google determined is informational. Adjust your SEO strategy with these factors in mind, and remember to prioritize driving sales over traffic when mapping out that strategy.
Finally, audit your site for mobile-friendliness, speed, HTTPS encryption, quality content and duplicate content. It's the only way to keep its rankings trending in the right direction.
This may seem like a lot of things to keep in mind. But SEO is a delicate, ever-shifting dance, and it's essential that e-commerce businesses not only stay up to date with major changes but respond to them.