Whether your offering is a commodity product or a highly customized service, if you sell online, effective ecommerce marketing is a significant factor in your business's success. While some tried-and-true marketing best practices translate to the digital era, there are a number of new — and essential — approaches that move businesses from siloed selling channels to an integrated strategy that seamlessly presents your brand in its best light.
Keep reading to learn our top 17 top ecommerce marketing tips and how you can accelerate sales and grow profits.
What Is Ecommerce Marketing?
Ecommerce marketing comprises best practices to drive online sales for any business. It extends and adapts the essentials of marketing — promoting and selling products or services — to digital channels. Ecommerce marketing is only growing in importance as online purchasing continues to gain in popularity: In 2020, U.S. consumers spent more than $861 billion online, up 44% compared with 2019, per a study from researcher Digital Commerce 360 that also predicts another significant jump in the percentage of sales coming through ecommerce channels for 2021.
Ecommerce marketing is a holistic practice that includes buyer research, advertising and website optimization, among other activities. When working on your strategy, consider the "four Ps" of marketing: product, place, price and promotion.
Just as a soft drink company wants its product to be on trend, prominently placed on grocery store end caps, priced right for customers and the company's profitability and backed by a winning marketing campaign, digital companies must pay close attention to a similar formula.
Let's explore types of ecommerce marketing, how to build an ecommerce marketing strategy and ecommerce marketing best practices to turn web browsers into buyers.
Types of Ecommerce Marketing
There are many types of ecommerce marketing. To succeed, you must put your product or offer in front of the right audience at the right time. The idea is to build brand recognition and help your target customer recognize a want or need that your product or service can solve.
Here are examples of types of ecommerce marketing to help you reach that goal:
Social media marketing: Social media marketing strategies utilize social networks like Facebook, Twitter, Instagram, Pinterest, or TikTok, among others. Success requires posting your own content and engaging with existing and prospective customers. Don't forget LinkedIn as a B2B social marketing channel — four out of five LinkedIn users help drive business decisions.
Influencer marketing: Partnering with people and brands with large online followings can amplify your brand message. For example, clothing, food or beverage brands may pay for a noteworthy Instagram account to showcase their products.
Content marketing: Content marketing is a strategy of creating your own useful blog posts, articles, videos or podcasts to entertain and educate your audience. Quality, impactful content is helpful, shows your expertise, burnishes your brand and encourages sales. If you create useful content, it may get shared and referred by other websites.
Email marketing: Email marketers use email to engage with your audience and encourage sales. This strategy requires care — you don't want recipients of your emails to hit the spam button and risk your messages not landing in inboxes.
Local marketing: Local marketing optimizes your business to show up in local search results. That places you in a prime position on apps like Google Maps, Yelp or TripAdvisor and can bring locals or tourists to your door. Marketers may also find good success engaging with local media.
Search engine marketing: Search engine marketing (SEM) is a strategy that requires optimizing your website content to land high in search results. While difficult to execute, SEM can drive a lot of traffic to your website without the need to pay for advertising. That is why search engine optimization (SEO) experts are so in-demand.
Paid Search and Social Advertising: Several of the biggest tech companies make their money through advertising. You can pay Facebook, Instagram, Google and other websites to place your advertisements in user feeds and sidebars. But make sure to keep track of your return on ad spend to ensure your marketing efforts are reaching the expected audience.
Along those lines, ecommerce marketing campaigns may not have as direct and measurable an ROI as more traditional ads, but it's important to track KPIs.
Build an Ecommerce Marketing Strategy
Now that you have an idea of what ecommerce marketing entails, consider these steps to build your own successful strategy:
Understand your target audience: Start by doing some customer analysis. Who would find your product or service most useful? Consider developing a marketing persona — that is, is a fully fleshed out profile of your ideal customer — to help target your plan.
Determine where your customers spend time online: Once you understand your audience, you can figure out where they spend time online. Whether that's a social network, gaming app or another type of website, that is a good place to target marketing efforts.
Build an engaging website: When someone lands on your website, you don't want them to leave right away. "Bounce rate" is a KPI that calculates the number of visitors who leave your site almost immediately compared with the number who stick around. Making your site educational, entertaining and/or helpful will keep users around and encourage them to come back for future visits.
Optimize for sales: If someone finds a blog post on your site, it doesn't have to be all about your product. In fact, a tenet of content marketing is that it should not be promotional. However, there should be somewhere on the page a visitor can opt in to subscribe to a list, get a product tour or click a buy button. Make the process natural, and consider offering a reward, like free shipping, or some premium content in exchange for an email address.
Make it easy to buy: When someone wants to check out, your shopping cart should just work and accept a variety of payment methods on the first try. Confusing or poorly built checkout processes have lost many sales. You don't want dollars going to a competitor because someone can't figure out how to pay. When shoppers do abandon their carts, your ecommerce platform should enable you to take action, such as sending them a coupon for the product they were considering that is valid for a limited time or following up with a drip marketing campaign that sends a sequence of emails until the shopper completes the purchase.
Put trust front and center: Investor Warren Buffett once said, "It takes 20 years to build a reputation and five minutes to ruin it." Trust is essential online. Don't be afraid to show your own face, show off your team and make your business personal. Honesty and transparency go a long way in building trust with an online community.
Ecommerce Marketing Tips & Best Practices
If you look at high-performing companies, you will notice common best practices that work well across industries. Consider incorporating these action items as you ramp up ecommerce marketing:
Integrate social media: Give website visitors easy options to hit the "like" button. Use automated platforms to share your website and video content across your active social networks.
Upsell and cross-sell: When someone is interested in purchasing, put the best upsell or cross-sell option in front of the customer. If you have a short product list, you can do this manually. Otherwise you'll need personalization capabilities to feed targeted promotions that will appeal to that individual.
Grow your email subscriber list: An email subscriber list is the crown jewels of an ecommerce marketing program, as it gives you direct access to potential customers' inboxes. Make it easy to opt in, and use automation to encourage list growth.
Improve your marketing campaigns: Modern ecommerce marketing systems make it easy to conduct A/B tests to find what messaging or design works best with your target customers. Optimize and fine-tune your marketing campaigns to convert the highest number of subscribers into customers.
Simplify the online shopping experience: Convoluted sales processes quickly confuse and lose customers. Make checkout simple and easy.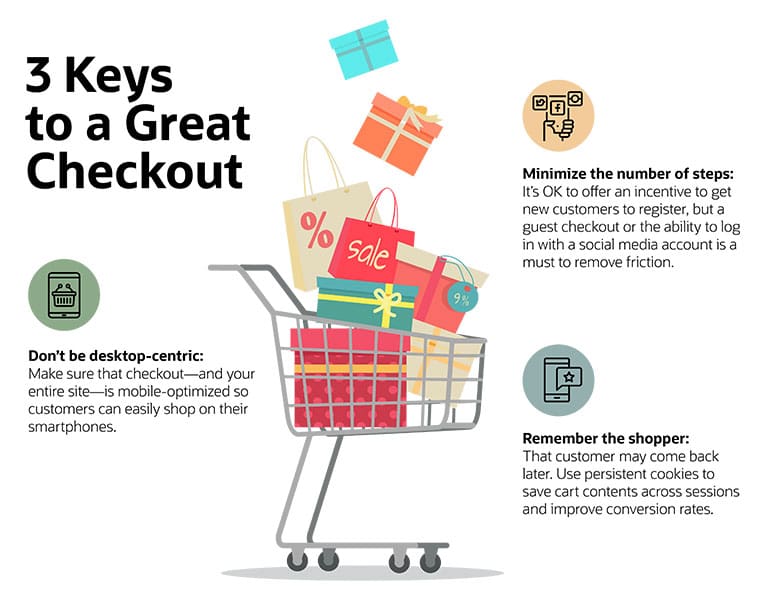 Personalize the online shopping experience: Cookies and audience targeting allow you to customize and personalize the website experience. Just as major social networks may show your name and photo at the top of the page when you arrive, you can personalize for your customers.
Create and promote a customer loyalty program: Loyalty programs get customers excited about your product. Turning your customers into evangelists and rewarding them for repeat business is a proven way to build a loyal customer base.
Invest in technology: Incorporating high-tech systems can further help personalization and improve sales and margins. For example, a powerful ecommerce platform can integrate siloed ecommerce and in-store systems for better order and inventory management, merchandising and marketing.
Target your ideal customers: If your customers are primarily women in their 50s, you shouldn't expend marketing resources on sites that appeal to men in their 20s. Ecommerce marketing allows for highly targeted campaigns.
Include reviews: Consider including reviews as social proof for products, whether they're built into your platform or as third-party add-ons. Even the simple presence of some less-than-perfect assessments can build trust that your product or service is legitimate and a good value and that you're not artificially inflating your ratings.
Optimize your site for search: Spend time on your ecommerce SEO strategy so people searching on Google and other search engines will find your product or service when typing in related keywords.
Monetize your social media: Instagram now includes powerful tools to buy without leaving the user account. Turn on Instagram Shopping features so customers can buy directly from Instagram where it makes sense.
Mitigate shopping cart abandonment: Shopping cart abandonment rates are an important KPI to watch. High rates show customers were very close to buying and gave up. Besides optimizing your checkout process, think about other reasons a customer might bail, such as improper tax calculations or expensive shipping.
Clarify return policies: When customers can't visit a brick-and-mortar store, they want to know what happens if something goes wrong. Make it easy to find the return policy on your website or sales pages, including who pays for shipping.
Give access to customer support: When someone needs help, make it easy to reach actual help. While FAQ pages and libraries answer many customer questions, a phone number, email address or live chat option that gets shoppers to a human goes a long way to improve the customer experience.
Ensure trust: If someone can't trust your business or verify that it's trusted through other means, you could lose revenue. Show that you have a brand people can rely on. It's much easier to lose trust than regain it, so never lose track of your company's integrity and reputation.
As you can see, there are many moving pieces online selling. Look for an ecommerce marketing platform that can build rich customer profiles, help provide personalized offers and recommendations and assist with email marketing and KPI monitoring.
Remember, you don't have to be everywhere online, and you don't have to do everything. Focusing your marketing plan on your target customers and consistently refining your strategy should put you on track for ecommerce marketing success.
Ecommerce Marketing FAQs
Q: What is the difference between ecommerce marketing and ecommerce advertising?
A: Ecommerce marketing is an all-encompassing term for strategies to build online sales. Ecommerce advertising, paying for ad placements on search or social, is a part of ecommerce marketing.
Q: How do I market my ecommerce business?
A: Ecommerce marketing requires a combination of strategies. Consider utilizing search engine marketing, social media marketing and online advertising as starting points for ecommerce marketing.
Q: How search marketing can help drive your ecommerce business.
A: Search engine marketing helps your ecommerce business in several ways. It can help bring new visitors to your website and build brand awareness. Once visitors arrive, they are more likely to engage with your brand and make a purchase.