Through sheer grit and determination, you've built a solid business with a stable of devoted small and midsize customers. Now it's time to stalk that elusive, hard-to-capture enterprise sale.
Financial leaders, especially those with big-company experience, know that while enterprise accounts can be cash cows — not to mention trophy logos that stoke marketing efforts — they're also fraught with headaches, red tape and endless bureaucracy.
Definitions of what qualifies as an enterprise-size company vary by source and industry, but generally speaking, organizations with more than 250 employees and $50 million-plus in annual revenue are defined as enterprise companies(opens in new tab). Average deal sizes vary too, but typically these contracts are larger and longer in duration, which is why they're worth the effort.
Key Takeaways
Enterprise customers can be a steady source of revenue, but navigating the long sales cycle and Byzentine payment terms may strain your cash flow.
While standard lead-generation activities will help with enterprise prospecting, your best source is referrals.
Enterprise decision-makers are their own breed — they travel in packs, have ambiguous authority and respond to different motivators vs. SMB buyers.
Our Sources
For this article, we spoke with:
Kathryn Rose, CEO at wiseHer
WiseHer is an advice network to help entrepreneurs accelerate their business and career growth via on-demand access to top consultants, mentors and more.
Peter Melby, CEO at Greystone Technology
Greystone Technology is an IT service provider based in Denver that has grown 40% year-over-year for the past 12 years.
Geoff Clauss, head of sales at Anchorage Digital
Anchorage Digital is a platform that gives institutions access to cryptocurrency custody, trading, financing, staking and governance services.
Doug C. Brown, CEO at Business Success Factors
With 40 years of entrepreneurial experience at 35 companies, Doug C. Brown runs sales consultancy Business Success Factors.
Happiest Hunting Ground: Your Rolodex
Kathryn Rose, CEO of wiseHer(opens in new tab), an advice network to help entrepreneurs accelerate their business and career growth, landed her first enterprise account within just a few weeks of opening her business. But then, Rose could lean on 25 years of professional relationships.
In fact, most experts say referrals are the best way to get an enterprise "in."
Peter Melby, CEO of fast-growing Denver-based IT service provider Greystone Technology(opens in new tab), says most of the company's enterprise leads are via referrals. Greystone sells mainly into the small and midsize markets but began landing big-company deals a few years ago.
Its most valued source of leads for enterprise prospects? People who worked with Greystone at smaller firms and have since gone to larger companies, along with consultants or other firms that bid on enterprise contracts and have a place for Greystone as a subcontractor.
Those satisfied customer and partner connections are gold, says Melby.
"The opportunity we're pursuing now came from a previous deal," he says. "A firm placed a bid to manage all of this organization's operations, and IT was a part of that. They asked us to bid on that piece, and we won the right to be included in the overall bid."
Unfortunately, that firm lost its initial bid, but Greystone's effort still paid off.
"We could have seen it as a failure," says Melby. "But we made a great impression internally, so they asked if we'd be interested in being included in four other opportunities. One of them is about to close, with another hot on the heels of that."
Which brings us to the first rule of enterprise selling.
Enterprise Selling Rule 1: Be Prepared for a Long Haul.
Enterprise sales cycles are much longer than those in the SMB market. It's not uncommon to take upwards of a year to close a deal because you have more internal stakeholders to convince, a longer procurement process to navigate and more intensive contract negotiations for your legal team. While the eventual payoff for salespeople — a hefty commission — is attractive, long cycles can be tough to weather.
Our experts advise restructuring a portion of your sales team, and rejiggering the compensation process, to incentivize that long game.
"If you are going to start selling into the enterprise, your sales model may have to change," says Rose. "You may have to bring on specialized sales people who understand the ins and outs and give them compensation for the time it will take to close these types of accounts. Many times, if you have a salesperson who's not experienced selling into the enterprise, they may focus almost completely on closing that one account and neglect everything else in their pipelines."
Geoff Clauss, head of sales at Anchorage Digital(opens in new tab), a platform for cryptocurrency investments, says that smaller companies and startups generally do not have the luxury of carving out an enterprise business development sales role. They have to structure goals and compensation for their teams that address the range of customers each member must work with while meeting the needs of multiple internal stakeholders.
Larger companies can afford a team structure that mitigates the risk of burnout or turnover by creating specific roles to meet prospects' needs at different points in the sales cycle.
"I've had the opportunity to manage through both [sales team] scenarios, and there is one element that is critical to both: knowledge capture," says Clauss. "The most successful sales teams have both a CRM and processes to share knowledge as deals evolve from stage to stage, and ultimately to close."
Different Worlds
| SMB Sales | Needs Analysis: |
| --- | --- |
| Contributes to growth, price conscious, fast time to value. | Fit for long-term strategic goals, less budget-conscious, more concerned with vendor visibility. |
| Sales Cycle: | Sales Cycle: |
| Usually 1-3 months | Usually 6-18 months |
| Many leads, cold calls common | Fewer leads, difficult to penetrate without champion/referral |
| Unstructured | Highly structured with many steps |
| Buying decisions usually made by one exec | Requires consensus, often 5-10 stakeholders |
| Often do their own online research | Expect extensive, professional, tailored demos |
| Considerations: | Considerations: |
| Often a "handshake" deal, little desire for itemization or details on subcontracting/purchasing. | Formal, lengthy procurement process requiring itemized invoices. May have strict rules on purchasing and subcontracting. |
| Not uncommon for CEO to meet with account exec. Less focus on title. | Peer-to-peer: Require documentation of all members of buying team. Avoid title mismatches. |
| "Land and expand" possibilities limited by growth of customer business. | Once considered an approved supplier, upselling is an easier process. |
| Sales compensation commission-heavy. | Sales compensation salary-heavy. |
| Key KPIs: | Key KPIs: |
| Customer lifetime value, competitor pricing, lead-to-opportunity ratio, customer churn rate. | Customer acquisition cost, sales cycle length, cross-sell and upsell rates, avg. conversion time. |
Moreover, titles matter, says Doug C. Brown, CEO at sales consultancy Business Success Factors(opens in new tab). Scope out who is on the prospect's (likely large and diverse) decision-making team and match them, VP for VP.
"When selling long sales cycles, teams have to be structured to be able to sell peer-to-peer," says Brown. "If you have one salesperson selling to 11 other individuals who are not at a peer level, then the challenge — and the optics — is that the salesperson doesn't understand the needs of the influencer or decision-maker. You must structure your team into sub-teams and have each subteam sell at the peer level. Make sure communication is good amongst the subteams, and have one leader aggregating all of their information."
And, CFOs need to understand how those long cycles will affect cash flow for both the company
and
its sales pros.
Enterprise Selling Rule 2: Thou Shalt Build Realistic Financial Models, Including Compensation.
A major mistake smaller organizations new to selling into big companies make, Melby says, is continuing to measure KPIs like customer acquisition costs (CAC) and forecasts across the entire business. Your traditional customer base and enterprise prospects are different pipelines, and the metrics will be different as well.
Combine your enterprise and SMB opportunities, and you'll skew your numbers considerably. For Melby's IT services firm, for instance, a healthy SMB pipeline is $140,000 in monthly recurring revenue. It's four times that for enterprise.
Clauss says leaders must assess all inputs and outputs to generate accurate financial forecasts that reflect each channel. A strong partnership between the finance organization, from financial planning and analysis (FP&A) to the CFO, and marketing, legal and sales will be very important. Shared alignment and accountability are critical.
Compensation can also be tricky. While sales pros often prefer high commissions and lower base salaries with significant overall compensation upside potential, if a typical enterprise deal takes 12 months to close, your salesperson is going to need an adequate salary to live on until that commission is paid.
In response, Greystone structures sales differently. Its team is very lean and consists of senior people with deep industry relationships who know how to navigate complex situations, so salaries are very high. The commission structure is based on team targets, not individual performance, which encourages collaboration and offsets the long sales cycle and low probability that any given enterprise deal closes.
"Your typical IT services salesperson just trying to make $100,000 a year and close those $5,000 SMB monthly recurring revenue opportunities just isn't going to have the sophistication we need to close the enterprise," says Melby. "Plus, as a small business, we're not big enough that a rep could bring back an enterprise deal and just drop the paper on the service team's desk. So, our sales teams are lean so we can bring in our service leaders as sales engineers."
Greystone creates incentives based on company or service line growth goals, never by individual sales rep. It might be untraditional, says Melby, but it enables Greystone to go after a few enterprise deals every year. The team can invest the time without individuals staking their livelihoods on success selling to just one prospect.
Finally, think about how you'll seize and compensate for "land and expand" opportunities.
"The opportunities within an enterprise account are surprisingly numerous," says Rose. "If you've snagged an 'in' with the marketing department, for instance, you've already cleared the significant thresholds that are required to do business with an enterprise account and so have access to other lines of business like finance, legal or operations — not to mention any acquisitions or subsidiaries. You just have to be aware enough and savvy enough to recognize such opportunities and assert yourself as the provider of choice."
"The opportunities within an enterprise account are surprisingly numerous … You just have to be aware and savvy enough to recognize such opportunities and assert yourself."

- Kathryn Rose
Enterprise Selling Rule 3: Get Ready for Purchase by Committee.
The first thing Greystone learned about selling into the enterprise is that the decision-making structure is significantly different from the small-to-midsize market, where you're typically talking to someone in the C-suite, or at least at the executive level.
The decision-maker in an SMB isn't going to be a line-of-business manager, but it very well could be for the enterprise, where department heads have their own budgets and at least some discretionary buying power.
That said, Melby says these decisions don't typically roll up to any one individual. In his experience, you have to win over five to seven people before an enterprise sale is finally a wrap. He recalls the first time Greystone pitched to the enterprise. There were seven people in that first meeting, and Greystone's four-person team had done its homework on each person and their roles. The presentation went great, and Greystone thought it was off and running.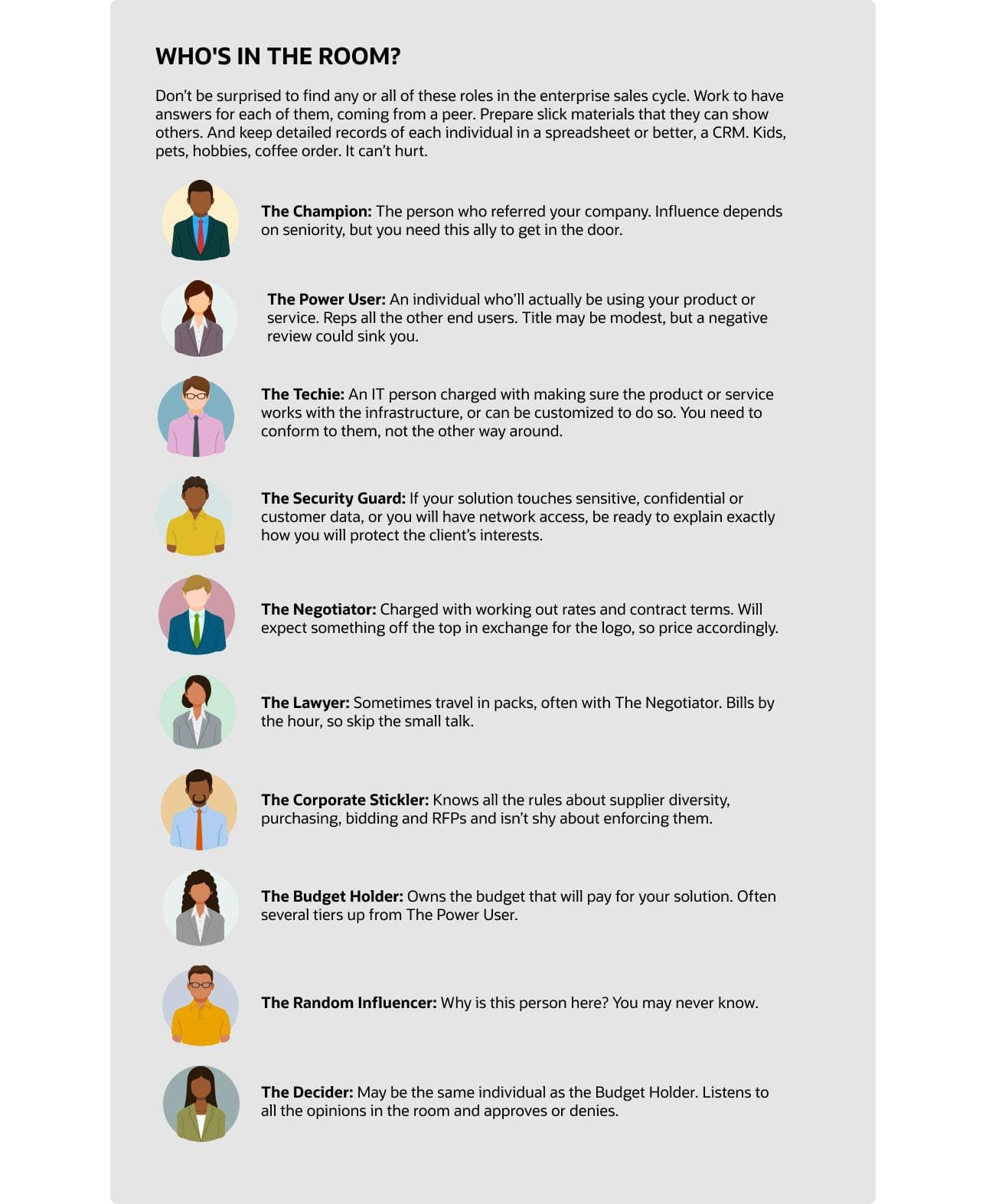 "Suddenly, they came back and said, 'Hey, we really liked that. Now we want to pull in this person,'" recalls Melby. "We'd been talking to a director and a VP, and now we had to talk to this senior director who didn't have any real decision-making authority, but was an influencer in the process. Another great presentation. Two weeks later, they say they're going to push it up to an SVP to get approval for it. We'd never heard of the SVP in this process."
Greystone had assumed that because the prospect was a large business, it had a sophisticated, straightforward decision-making structure, when in fact the opposite was true. This may not be so in every enterprise, but in Melby's experience, it's common.
"What I've found is that a lot of directors and senior directors make some decisions, but they don't make other decisions," he says. "And they don't always know what decisions they get to make on their own."
That opacity doesn't stop with the buying committee. Once you win the deal, the fun really starts.
Enterprise Selling Rule 4: Navigating Procurement Requires Detail-Orientation.
Brown says that often, salespeople think a deal is closed when they get an OK from the department head. Not so. You now need to get through procurement. Melby finds that closing the deal is, in some ways, only the beginning of the enterprise relationship, because once you move on from the line-of-business employees you've been selling to and start down the procurement path, it's a whole new process with entirely different people — who usually want to see the fine print.
When Melby's selling IT services to small organizations, clients tend to want more of an "all you can eat" offering, where Greystone assumes responsibility for IT functions overall. For many entrepreneurs, personal relationships are important, and clients don't need to see every line item broken down and accounted for. But the enterprise expects just that. His big-company clients expect a detailed breakdown of exactly what's going to happen, when and for what portion of costs. That may be because the contract will be split across several budgets, or simply to follow corporate rules.
"Navigating procurement is an art and a science," says Clauss. "The science is knowing what you are up against. What is the buyer's process? Who is involved? How many layers of negotiation do you have ahead of you? The art involves both thoughtful negotiations and creating a smooth process."
In fact, those peer-to-peer relationships forged during initial sales should extend to procurement and billing. Ensure someone is responsible for continually communicating with each member of the procurement group so that the order moves through smoothly and efficiently.
"Our business manager just makes best friends with these people, and they give all of the information about hoops to jump through, when they pay and all of that," Melby says. "Sometimes the best way to cut through that red tape is through those subject-matter relationships."
"Our business manager just makes best friends with procurement … Sometimes the best way to cut through that red tape is through those subject-matter relationships."

- Peter Melby
Bottom line, procurement exists to make sure that proper processes and company guidelines around suppliers are adhered to. An enterprise has a mandate that 25% of its suppliers must be minority-owned businesses? That's procurement. Specific insurance thresholds that must be met? Procurement. Who's tracking deliverables against the contract? Procurement.
You get the idea.
The twist, in Melby's experience, is that enterprises either come with a transactional list of extremely specific SKUs they want — or they have no subject matter understanding of what they need. For example, often an enterprise decides to go through its internal procurement department for the hardware and software needed for the solution that Greystone is managing. Greystone can't move forward until that gear is sourced.
Then it dawns on the enterprise that it makes more sense to have Greystone acquire the needed items. At that point, Greystone will gather quotes from the vendors best-suited to the project and present that data to procurement … which then reveals that the company requires multiple bids. Or, it wants to source through different companies because one recommended supplier is a competitor. Or someone decides they want to go through internal purchasing after all.
Melby says it's 10 times more difficult to get a procurement deal closed with an enterprise than a smaller organization.
"There are so many cooks in the kitchen," he says. "As soon as they have to get approval, someone's got an opinion about where they're buying it from, or where they're supposed to go, and there ends up being so much confusion."
To help mitigate this red tape, Greystone's procurement team put together a list of questions that need to be answered before it will move forward with a quote. Who has ultimate approval? Are there restrictions on vendors, such as that they have to be U.S.-based? Do a certain percentage have to be woman or minority owned? How many bids are required?
Before building this list of vetting questions, the company always wound up doing multiple quotes, which delayed the sale significantly.
Rose admits it can feel like the process is designed to keep your deal from closing. But in truth, she says, procurement can be your biggest advocate, if you're proactive about meeting their requirements. She also recommends standard questions, such as if you need to sign up with a specific global contracting system or complete a supplier profile.
"Understand that procurement's job is to question everything that you're charging the company," she says. Still, they want to avoid protracted processes as much as you do, so help them help you.
More Resources for Selling to the Enterprise, From NetSuite
An enterprise sales cycle can really show the value of CRM, which equips all employees with access to a trove of customer data. Understand more about how CRM can keep team members accountable while building trust between your customers and your organization.
Provide your enterprise customers with highly personalized, interactive service in the Customer Portal, where they can get answers to questions, complete transactions, submit support issues and query your knowledge base.
Securing a few enterprise customers can help your firm make major headway on the course from $10 million to $50 million. We'll be detailing adjustments to make in the sales department and beyond as you prep for this next chapter of growth.
Enterprise Selling Rule 5: The Financial Payout May Be Large. It's Also Going to Be Slow.
A long process with the line of business followed by a long procurement process. At this point, you're 12 to 18 months into the sale, and you have yet to see a dime.
It's how enterprises roll, and there's no getting around it. Hopefully, you built this possibility into your financial model or strategic forecast.
Many enterprises also have a standard net-90 day payment schedule, which means you're eating costs for three months and constantly trying to play catchup with cash flow. Luckily, says Melby, this is one factor that can be negotiated.
For Greystone's first enterprise contract, back when it was pulling in just a couple million a year, it was paying $100,000 in cost of goods sold (COGS) per month, but the client wasn't paying until 90 days later. That meant a $300,000 hit in its cash flow.
Luckily, the client was happy with Greystone. When it came time to renew the contract, Melby was able to renegotiate payment terms. Now, the client pays Greystone in six-month intervals, turning that hit into a $300,000 cash flow benefit. The impact of such a payment term on the business was massive.
Melby says it's important to realize that, unlike with smaller clients, with the enterprise, it's rarely an issue of whether the company can pay. It's a function of red tape.
"There are ways to leverage that, because a department has a budget, so understanding how to get paid earlier in that budget cycle, or getting paid for the entire budget year and then reconciling at the end — these approaches can actually be huge advantages to small businesses," he says. "As long as the money is not at risk, and they're not going to come back for a refund, then getting paid earlier can actually boost cash flow to the point that it creates a cushion."
The Bottom Line
WiseHer's Rose says that the more big-company logos you have, the less challenging new sales become, for several reasons.
"First, social proof and references mean a great deal to enterprise customers," she says. "Second, you show your solution is enterprise-ready, you can support a large customers, and last, but not least, you've likely learned some valuable lessons on the sales process — pricing, commission structures, and navigating procurement — that will help you set up and streamline your enterprise sales strategy."
Small and midsize companies looking to scale to the next level can generate big benefits from enterprise sales, but they need to be aware of everything that goes into success. Long sales cycles, multiple stakeholders, restructuring of sales teams, complex pipeline management and cash flow issues are common.
This isn't to say that the enterprise market isn't worth the effort. One big sale can have a dramatic, positive impact on an organization's sales revenue, ARR and MRR, growth trajectory and brand reputation. Just be aware of the complexities, document everything so you're not depending on memory and be creative in your approach.
Supercharge the Sales Process With NetSuite
Automation can help speed the enterprise sales process, optimizing staff time and increasing a company's ability to quickly identify opportunities, create sales forecasts and process quotes. NetSuite's Sales Force Automation provides sales teams with real-time analytics and customizable, role-based dashboards, enabling them to obtain visibility into every aspect of the customer relationship. These tools reveal key insights that help businesses efficiently sell, upsell and renew enterprise sales contracts.