This article is part of a Grow Wire Guide on how to get VC funding. Download the full Guide as an e-book.
There are many financing options for entrepreneurs looking to build their big ideas, but one of the most sought after is venture capital (VC) funding.
In this article, we'll cover the basics of VC, provide general tips on how to know if it's the right funding option for your company and give an overview of the process. We'll also explain the first three tiers of VC deals: pre-seed or startup, seed and first-round.
This first VC post will cover the ideas on a general level. However, we'll further explain the most critical lessons one-by-one in subsequent posts. So read up, do your homework, then get out there and begin pitching.
What is venture capital?
Entrepreneur.com offers the following definition for VC.
"Funds flowing into a company, generally during pre-IPO process, in the form of an investment rather than a loan. Controlled by an individual or small group known as venture capitalists (VCs), these investments require a high rate of return and are secured by a substantial ownership position in the business."
VC is also sometimes referred to as "risk capital," because there's a risk of VCs losing their money if the early-stage business doesn't succeed.
VC is funded by institutional and private investors.
Venture capital firms acquire funds from institutional investors such as pension funds, university endowments and financial firms or high net worth individuals like former entrepreneurs or angel investors. VCs then invest these funds in companies with hopes of achieving a significant return.
VCs invest in return for equity.
Venture capital investments are typically made in exchange for an equity stake, or part ownership, in a company, as opposed to being structured as loans.
VC investments include long-term partnerships between companies and venture capital firms.
Venture capitalists don't just give you money and walk away. They often want to attend your meetings, help make decisions and give their input on how to run your company. A VC firm will stick by your company's side until it "exits" by "going public" in an IPO or getting "acquired" or "bought out" by a private equity firm or larger company … and that can take a while.
"The median time to exit for VC-backed companies in the U.S. has crept to 8.2 years for an IPO and five years for acquisitions or buyouts," Adley Bowden of Pitchbook wrote on VentureBeat.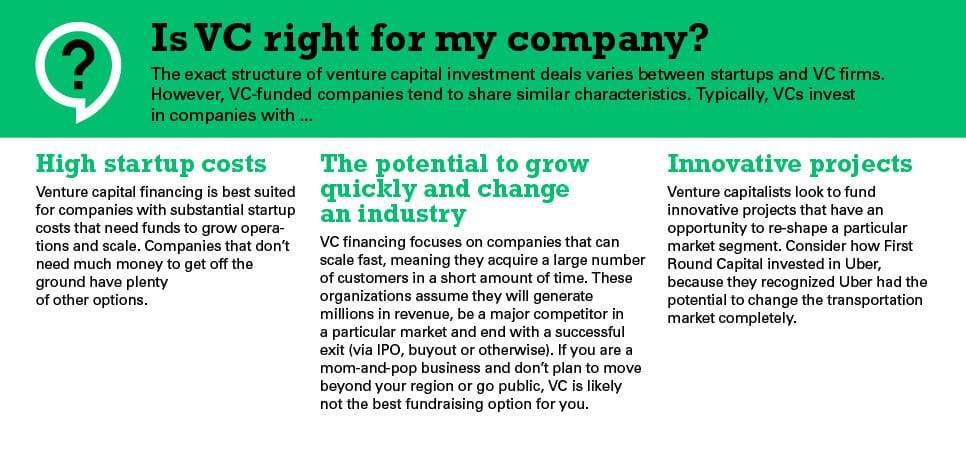 🙅‍ Don't think VC is right for your company? Learn about other financing options in "Everything You Need To Know About Financing A Business But Never Asked."
Is my company ready for VC?
The right moment to approach VCs for investment is different for each company. It's possible to attract a VC partner with only an idea, but the majority of deals are closed after a business has three concrete items:
a founding team
a minimum viable product (MVP)
customers
There are also more intangible assets a company must have, which VC Scott Maxwell describes–via questions–in an article for Inc.:
Is your product uniquely valuable?
Is your economic model attractive? (i.e. Does your business model have a solid way to make money?)
Is your business scalable? (i.e. Is there a large market for your business to serve? Is your business model aimed at generating millions in company revenue?)
Is your management team capable of growing the company?
Do you have any momentum? (i.e. Do you have initial customers, sales or analytics showing adoption of product or service?)
In our next post, we'll further explore how to discern if your company is the right type and stage for VC and what VCs look for when making investments.
If your business hasn't progressed far enough yet to attract venture capitalists, a business incubator might be a good first stop. Incubators like Amplify LA, 500 Startups and DreamIt Ventures offer resources, mentorship and office space, as well opportunities to get smaller amounts of capital (usually up to $100,000, whereas the average seed-round VC deal is $1.7 million).
The five steps to getting VC funding
So you've decided VC is the right financing channel for your company, and you think your company is mature enough to pursue it. Now you need to understand and prepare for the funding process.
As a business founder, you'll likely go through five steps on the path to VC funding: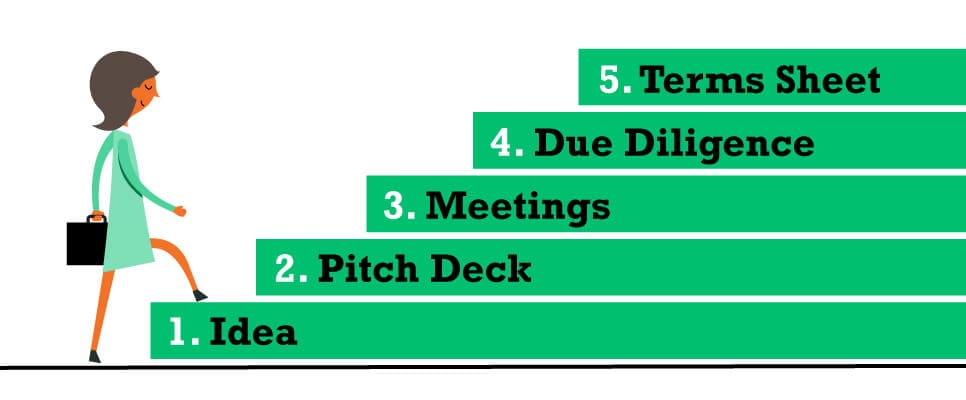 1. Idea
First of all, you need a great business idea. But as we've mentioned, not every business is right for a VC investment. Venture capital firms invest in specific kinds of companies: typically early-stage, highly-scalable businesses that can grow fast, dominate a market and go public through an IPO. If you want VC money, you'll have to ensure your business fits this bill; otherwise, a different type of financing is your best bet.
2. Pitch
A pitch deck is generally the first piece of marketing collateral you will share with a VC firm. A pitch deck can be cold-emailed to a firm, but the best-case scenario is to get a warm intro, which is when someone from your network introduces you to the VC.
Early-stage pitch decks are often conceptual and idea-based, whereas decks for later stages of funding are more complex, featuring KPIs such as engagement, traffic or revenue.
(Some entrepreneurs prefer to showcase their product in the first meeting in place of a deck. However, if the VC shows interest, the next step is almost always a traditional pitch deck or business plan.)
We'll explain how to make an epic early-stage pitch deck in an upcoming post.
3. Meetings
To secure financing for your business, you need to meet with VCs. Cold-emailing your pitch deck to VCs is a potential way to score a meeting. However, you'll be much better off utilizing your network as explained above.
To find the best fit, create a target list of VCs that align with your business. CB Insights offers an extensive database of firms that you can search to find financiers in your industry. Then, use your network for referrals to get in touch with VCs, or do cold outreach as a last resort.
The timeline for getting a meeting is different for everyone. If you have a hot idea and a network of business people with direct VC connections, it's possible to get meetings set up within a few weeks.
But if you don't have contacts, securing a meeting can take a long time. Bill Burnham, who worked as a VC and now manages the hedge fund Inductive Capital, offers 10 tips for making contact with a VCs on his blog. His advice includes targeting specific partners at each firm and searching through LinkedIn connections to find direct intros.
We'll provide more tips for targeting and getting in touch with VCs and running VC meetings in an upcoming post.
4. Due diligence
If your first meeting with a VC goes well, there will be additional meetings–the exact number varies greatly–and a series of due diligence steps before a VC offers a deal. According to MicroVentures, an equity crowdfunding investment platform, most VCs take a phased due diligence approach. Due diligence includes reviewing the founding team, product, industry, target market, company earnings power and financial viability of the company.
No matter how "done" your deal seems, the due diligence phase is necessary for all venture capital firms. The firm will take time to fact-check all important data and assess current assets alongside any potential risks, eventually determining whether the deal is a good fit.

5. Terms sheet & funding
If a VC wants to finance your company, they will send over a terms sheet that lays out the details of the proposed deal. The terms sheet is a negotiable document that both parties must agree upon. After finalizing a terms sheet, the company will receive funding. We'll cover the specifics of terms sheets in a future post.
These five steps are the general process of securing funding from a VC. It's not always a straight line to funding, so come prepared and remain persistent during the process.
How long will it take to get VC?
"Time and again, smart entrepreneurs with great ideas underestimate how long fundraising will take," VC Diane Fraiman of Voyager Capital wrote in an article for Fortune.
Fraiman mentioned that most entrepreneurs think they'll be able to close in 90 days, but it can take much longer.
"The simple answer is that 6-9 months is a prudent amount of time for raising money, although there is a significant amount of variation between companies (and over time)," Nic Brisbourne, a partner at early-stage VC firm Forward Partners, wrote on his blog.
You don't want to run out of money while building your business. So when approaching the VC funding process, it's imperative to give yourself plenty of time.
Grant Gyesky is the CEO of a cold brew coffee company, Rise Brewing Co. He described his path to venture capital funding as a long and arduous–but rewarding!– process.
"In 2018, I went on well over a hundred potential investor meetings," Gyesky told Grow Wire. "Getting financing takes a lot more time than people anticipate."
Whether it's to collect offers or deliberate which VC firm is the right fit, Gyesky recommends giving yourself more time than you estimate it'll take to secure VC.
The first three tiers of VC funding

For most businesses, the first interaction with a VC will take place in its early-growth stages. Early-stage financing includes three subdivisions: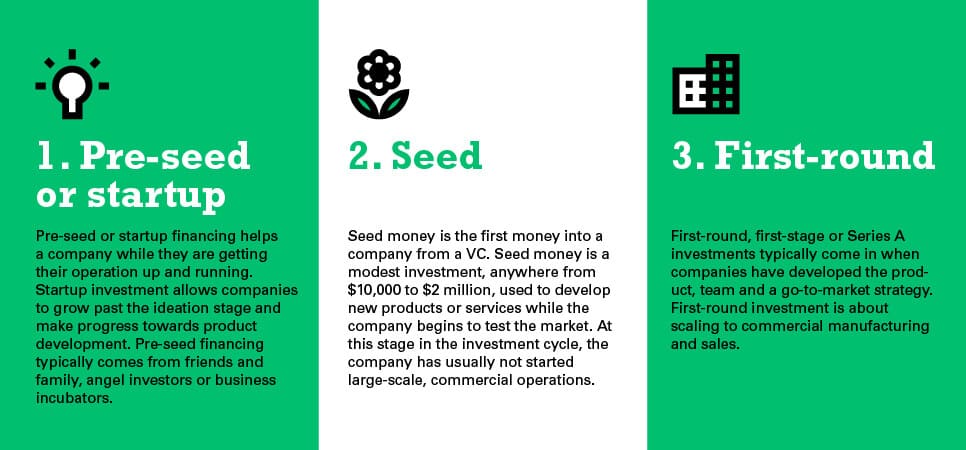 Venture capitalists can be involved in any of these early stages of a company. However, some entrepreneurs get their seed or startup money from friends and family, business loans, alternative lending sources or other financing devices before approaching VCs.
💡 Stay tuned: You can learn more about how to get VC funding in our upcoming articles.