An efficient accounts payable (AP) department can have a positive impact on the entire company. Paying suppliers promptly helps the company maintain strong relationships with vendors and avoid problems, such as delayed shipments of supplies and late-payment fees. Managing cash flow and controlling invoice processing costs are also key requirements. Accounts payable dashboards help the accounts payable team keep tabs on key metrics and analyze problems so they can keep the payment process running smoothly and efficiently.
What Is Accounts Payable (AP)?
The term "accounts payable" can refer to two different things: a class of account on a company's balance sheet or the team within the accounting department that handles those accounts.
On the balance sheet, accounts payable is a liability account that represents the short-term debts owed to creditors and suppliers. It includes all debts due within one year, including purchases from suppliers, obligations to creditors and any other financial commitments.
The AP team is tasked with paying these bills. This responsibility can include receiving invoices, validating their accuracy and compliance with company policy, matching them to purchase orders and shipments, stewarding the approval process, making timely and appropriate payments and maintaining the vendor database — however, procurement teams may be responsible for this. In larger companies, the AP team is a subgroup within the accounting function, with its own manager. How well the AP function addresses accounts payable challenges can impact many parts of a company's operations, such as inventory management, cash flow and vendor relations.
What Is an Accounts Payable (AP) Dashboard?
Like the controls and lights in an airplane cockpit, a dashboard shows information that the AP group needs to automate the AP process, monitor it and keep it running smoothly. An AP dashboard graphically displays key performance indicators (KPIs), important summary data, alerts, trends and more. The best dashboards display real-time financial and operational data and can be tailored to support different roles and display custom KPIs that meet the user's needs.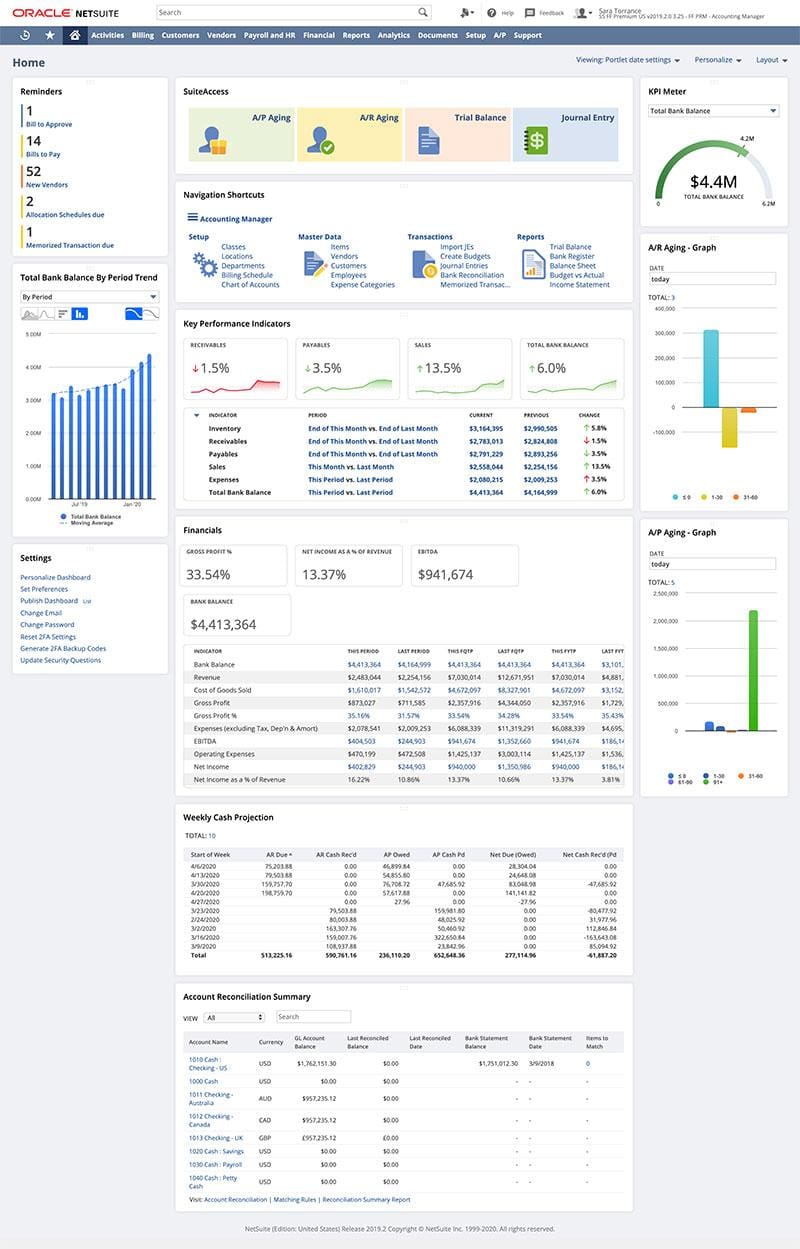 What Does an Accounts Payable (AP) Dashboard Track?
AP dashboards track the details and characteristics of outstanding payables and link to the underlying invoices that make up the AP balance. This includes KPIs, such as total, current and overdue accounts payable, as well as invoice aging reports and vendor information. The dashboard can also track the performance of the AP department, such as its processing output and ability to capture rebates or discounts.
Why Is an Accounts Payable (AP) Dashboard Important?
It's important to keep the AP workflow humming because the way a company handles AP can impact the rest of the organization. An AP dashboard helps keep the right metrics in front of the right people. Real-time access to summarized AP data can improve cash flow and forecasting, increase profitability and help the company effectively manage its suppliers.
In contrast, failure to track and optimize AP can result in poor relationships with vendors, delayed shipments of raw materials, late fees and penalties, and even AP fraud.
Who Uses an Accounts Payable (AP) Dashboard?
The size of an organization will determine who uses an AP dashboard and whether they need multiple versions tailored to different roles. Small companies may have a single AP dashboard that is shared by the bookkeeper and the owner. At a midsized business, there might be different dashboards for the AP analyst, the AP manager and the CFO, each with a unique level of detail appropriate for their role. Large enterprises may have additional layers of financial management, such as accounting managers, controllers and treasury managers. These managers tend to rely heavily on customized dashboards due to the higher invoice volume and the number of locations and staff involved.
Video: What Are AP Reports?
What Are the Benefits of an Accounts Payable (AP) Dashboard?
Companies use many different methods to track AP, including manual tools such as spreadsheets, whiteboards and checklists. However, an AP dashboard that's part of an accounting software solution allows the AP group to take a more strategic, proactive role, rather than simply executing a back-office housekeeping function. That's because automated AP dashboards provide several benefits that older manual methods do not, such as:
Real-time data at a glance provides the most current information for better budget monitoring, staying on top of expenses and timely decision-making.
Continuous visibility into KPIs, trends and other information to help manage to AP goals.
Deeper insights into processing productivity and potential bottlenecks, fostering better workflows and resource management.
These benefits enable tighter control of cash disbursements, more accurate forecasts, better vendor relationships and more efficient use of human resources — important advantages for any company.
Monthly Accounts Payable (AP) Dashboard Key Features
The specific information displayed on an AP dashboard differs depending on the user's role, but certain key features are universally important. These features illustrate the dynamic, real-time nature of AP dashboards and take advantage of integration with automated accounts payable systems.
Customization. Some AP dashboards are tailored to different roles, based on the user's log-in permissions. This ensures the dashboard displays the information that's most important to each user. An AP analyst has different priorities and needs different data than an AP manager, a controller or a CFO.

Automated alerts and reports. The accounting staff can set up recurring reports, reminders or alerts on key metrics related to their roles. They can also share the reports with other individuals.

Drill-down analysis capabilities. Filters and drill-down capabilities are helpful dashboard features that enable deeper exploration of the data. Filters allow users to view data for a specific time period, general ledger account group or location. The ability to drill down from a consolidated view at the financial statement level all the way through to the documentation for an individual transaction is a powerful investigative tool.

Data export. The ability to export data to Excel or another application for further analysis or email the data to share it with others is a convenient feature in an AP dashboard.
How to Set Up an Accounts Payable (AP) Dashboard
Setting up a new AP dashboard requires forethought and planning to ensure it provides the most valuable information for each user in an efficient and intuitive way. Some software provides templates with a selection of KPIs, which can be a good place to start. Your accounting or ERP software may include role-based AP dashboard templates; if not, look for a dashboard provider that can integrate with your business systems to ensure data integrity and the drill-down ability.
Here are three steps to set up a new AP dashboard:
Determine specific KPIs and data to be tracked. The user's role will influence the selections, as will the company's goals. An AP dashboard will typically include a mix of accounts payable information and KPIs that measure the AP department's performance.

Gather user input to customize the look and feel of the dashboard, as well as the information to be included. Determine how to use visualizations, such as charts and graphs, to present data so that it's easy to understand.

Consider how each person will use their dashboard, including the devices they'll use. The dashboard should be designed to render properly on all devices, including smartphones, tablets and desktops.
Monthly Accounts Payable (AP) Dashboard Example
Below is an example of an AP analyst's dashboard. AP analysts are the backbone of the AP department and help facilitate the entire bill processing workflow. The role-based dashboard example below shows the key information an AP analyst needs to do their job, including:
Reminders proactively identify time-sensitive to-do items, such as due dates, discount deadlines for payments, open items and new items requiring attention.

KPIs visually display real-time data for selected performance metrics using representations such as KPI meters. Users can toggle between different KPIs and view values for different periods.

Charts and graphs show key trends, including total monthly payables and spending by key vendors.

AP aging charts are an important dashboard element that shows unpaid invoices grouped into buckets based on their due dates.

Transaction search enables the user to search for detailed items anywhere in the AP workflow.

Navigation shortcuts provide quick access to AP reports and other resources, such as vendor lists.

Discount payments alert the AP analyst to deadlines for capturing vendor discounts (often for early payment) to maximize savings.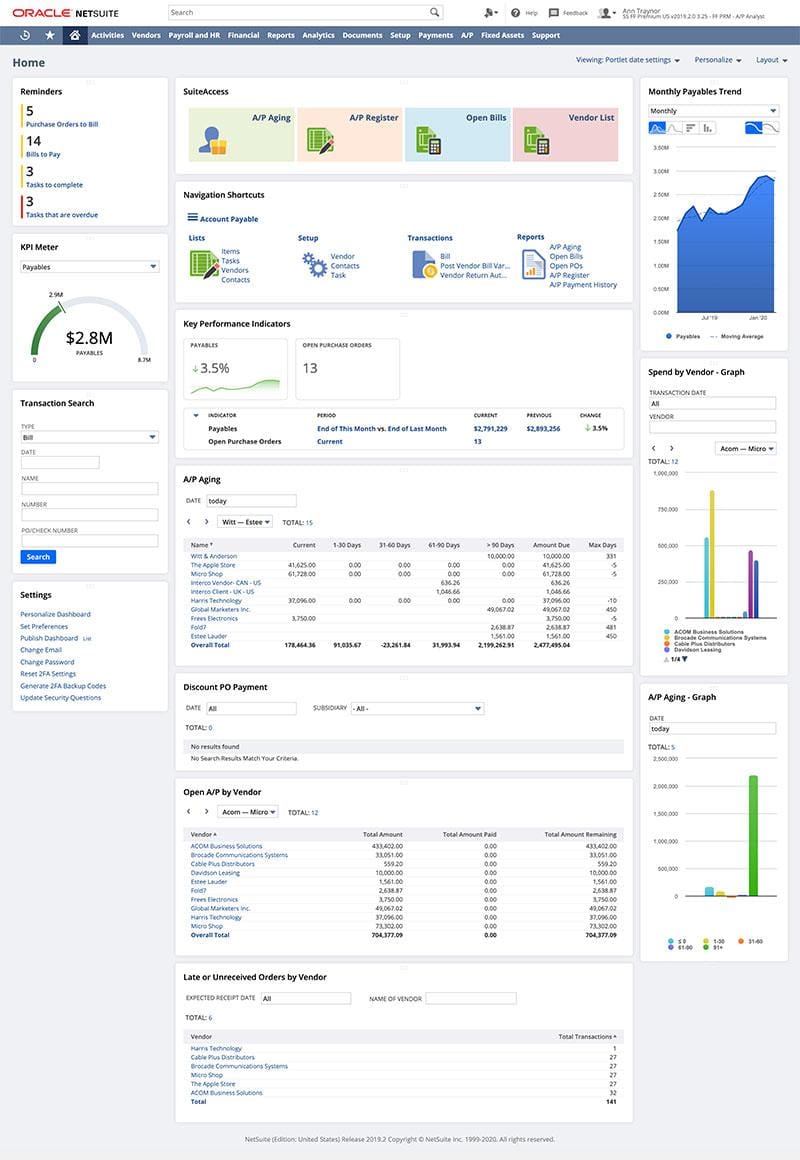 Accounts Payable (AP) Dashboard KPIs & Metrics
Closely monitoring KPIs is a proven best practice for managing AP. While every company may have its own unique set of goals, there are a number of commonly used metrics. AP dashboards typically monitor these KPIs, often comparing them to company goals, performance in prior periods or industry benchmarks. Dashboards should also allow users to drill down into each KPI to analyze problems or trends. The following list is a good foundation to build on when creating an AP dashboard.
AP KPIs for disbursement analysis. These KPIs relate to vendor accounts, cash flow control, payable balances and liability positions.
Total Accounts Payable: Shows the total amount owed to third parties at a specific point in time. AP dashboards typically compare the current status to historical trends or specific previous dates.

Current Accounts Payable: Measures whether the company pays its bills on time. It's the total value of supplier payments that are not yet due, divided by the total balance of all AP.

Overdue Accounts Payable: The total value of overdue payments. Dashboards may also display this as a percentage of the total AP balance.

Open and Cleared Invoices: Invoices that are open (still owed) and those that have been cleared (have been paid/satisfied).

Accounts Payable Aging: Groups all invoices based on the age of invoice. Invoices are typically bucketed in 30-day increments to provide an overview of the pace of cash outflows and the number of invoices that remain unpaid. Tracking AP aging is important for several reasons. One is that many companies with strong cash flow don't like to let debts remain unpaid after their due date. The AP aging chart can also indicate possible problems with your supply chain or accounts payable process. Invoices may be unpaid because the company hasn't received the associated goods or services from the vendor, or because the AP department is understaffed, for example.

Top Vendors: Lists the company's top vendors, helping it focus its supply chain and relationship management efforts. Lists are commonly ranked by either the total amount owed to each vendor or their transaction volume. Larger companies have procurement teams to manage this.

Accounts Payable Turnover: The turnover ratio reflects how many times a company pays off its average AP balance in a period, typically a year.

Days Payable Outstanding (DPO): Measures the average time, in days, that a company takes to pay for purchases obtained on vendor credit.
AP KPIs for department performance analysis. These KPIs measure the productivity and other aspects of the AP department's performance.
Invoice Volume: The total number of invoices processed by the department, invoice volume can be sliced many ways. For example, users may analyze volume by time period, employee, invoice type (electronic or paper) and processing status.

AP Expense as Percentage of Revenue: Measures the cost to run the AP department. It "common-sizes" the measurement by expressing it as a percentage of revenue.

Accounts Payable Process Cost: An efficiency metric that estimates the average cost of paying each bill owed to suppliers. The processing costs often include labor, bank charges, systems, overhead and mailing costs.

Top Payment Method: Analyzes the proportion of disbursements made by different payment methods, such as check, ACH, wire transfer, credit card, electronic funds transfer (EFT) and cash.

Payment Errors: Groups all processing errors for analysis in the aggregate or within certain subcategories like duplicates, omissions, incorrect values or incorrect vendor contact information. Errors are evaluated as a percentage of total invoices processed.

Average Time to Pay Invoices: Represents the time between when a company receives an invoice from a vendor and the business pays it. The time required to collect approvals may impact that number. Another key factor is whether the company has an automated AP system that can provide accelerated, straight-through processing for a percentage of the company's invoices.
Tracking Accounts Payable (AP) With Accounting Software
An efficient AP process can improve relationships with suppliers and partners, as well as save time and money. Automating AP using a solution such as NetSuite's cloud financials and accounting software can drive down a company's processing costs and help it better control and manage cash flow. An AP dashboard is a key element of an automated accounting solution, helping the various members of the AP department track the process and focus on meeting the company's most important KPIs.
The AP process has long been considered a necessary back-office expense. An AP dashboard can help transform this area of the business into a strategic advantage. An AP dashboard provides real-time visibility into the payments process to enable better control of cash flow, optimization of discounts and enhanced supply chain relationships with key vendors. At the same time, it helps increase the efficiency of the AP department and reduces processing costs.
Accounts Payable Dashboard FAQs
What does accounts payable mean on a balance sheet?
Accounts payable are the short-term liabilities owed by a company to vendors, suppliers and creditors.
What is an accounting dashboard?
An accounting dashboard is a graphic interface that shows KPIs, important financial data, alerts and reports, providing up-to-date summarized information at a glance.
How do you calculate accounts payable?
Accounts payable is the sum of all amounts owed to third parties. It consists of invoices that have been received but not yet paid.