The Built for NetSuite program is built on the foundation of Education, Consultation and Confirmation.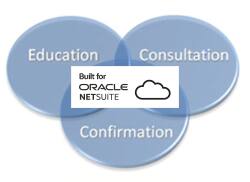 EDUCATION
Education consists of making information and resources available on the following:
NetSuite's SuiteApp development process mirrors the NetSuite development process, which is based on a mature, multi-stage model of plan, design, develop, test and deploy stages.
Design principles at key integration points intended to guide SDN Partners in making appropriate development choices in building their SuiteApps, including guidance directed toward improving SuiteApp performance, reliability and security.
Operational and technical security best practices recommended by security industry organizations and practiced at NetSuite.
Considerations regarding their software development process, licensing practices, data privacy, and customer agreements.
CONSULTATION:
NetSuite SDN team members are available for consultation with SDN Partners to:
Provide additional information on the Built for NetSuite program requirements.
Help SDN Partners throughout the SuiteApp development life cycle.
Help with questions and resolving issues while completing the questionnaire and other steps in the Built for NetSuite review process.
CONFIRMATION:
The confirmation process requires that the SDN Partners:
Submit a completed questionnaire confirming that the SuiteApp meets the program requirements.
Provide positive customer references and / or
Perform a product demonstration to the NetSuite SDN team.