Overview
Deloitte Consulting LLP (Deloitte) and NetSuite have formed an alliance to provide organizations with the world's leading cloud business management platform along with a full breadth of enterprise-class business and IT consulting services, including implementation, finance transformation and change management and more. Deloitte brings a strong repertoire of skills and resources in security and privacy as well as industry processes and insights from both national and global perspectives.
Deloitte helps organizations grow their businesses and enhance value by identifying actionable insights. More than 23,000 professionals provide capabilities across the human capital, strategy & operations and technology fields that are aligned to the particular needs of specific sectors, businesses and organizations. Deloitte provides clients with leading business insights that can help generate tangible and measurable results. As part of the alliance, NetSuite will refer clients to Deloitte for consulting services focusing on innovation, strategy and execution.
The NetSuite and Deloitte alliance will provide enterprise and mid-sized companies with:
Offers that support two-tier ERP strategy and implementation.

Assistance in automating adherence to revenue recognition rules via a cloud solution that integrates with existing ERP via the two-tier ERP model.

Broader options surrounding vendor contract management addressing policy to system functionality as related to NetSuite.
---
Brochures, White Papers and Point of Views
---
Video
Deloitte and NetSuite at the Speed of Business
Watch this video to learn how Deloitte and NetSuite spearheaded a fast-track implementation of NetSuite ERP solution at Circuit of the Americas™.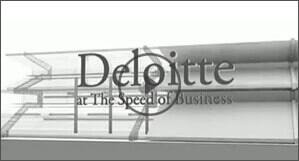 ---
Awards